Dhakeshwari is to Dhaka what Kali is to Kolkata or Meenakshi is to Madurai. Like many other towns and villages of the Indian subcontinent, Dhaka, the capital of Bengal in the Mughal era, derived its name from a goddess named Dhakeshwari — a form of Devi Durga. Its origin and inception are mingled with legend and history.
1/3A Kumartuli Street is a congested lane in Kolkata that houses the Dhakeshwari Mata Mandir, close to the place where the Kumartuli Sarbojonin Durgotsav pandal comes up. It is believed that the idol harks back to Akbar's time, when Mughal commander Man Singh invaded Bengal, coming up against King Pratapaditya. Most of the temple's visitors have Dhaka connections and are aware of the amazing migration story of this idol.
Legend Has It…
… that a covered Durga idol was found in the forest by King Ballal Sena in the 12th century. This original idol was long lost and another was created in the Mahishasur Mardini form of Devi Katyayani, astride a beast that is half horse and half dragon, felling a demon with her trident. In parity with how Durga is usually depicted now, the main idol is flanked by those of Lakshmi, Saraswati, Kartik and Ganesh. The silver throne on which Dhakeshwari now sits was made much later. These days, the idol is worshipped alongside Rama, Hanuman and others, but Dhakeshwari is the prime deity of the temple.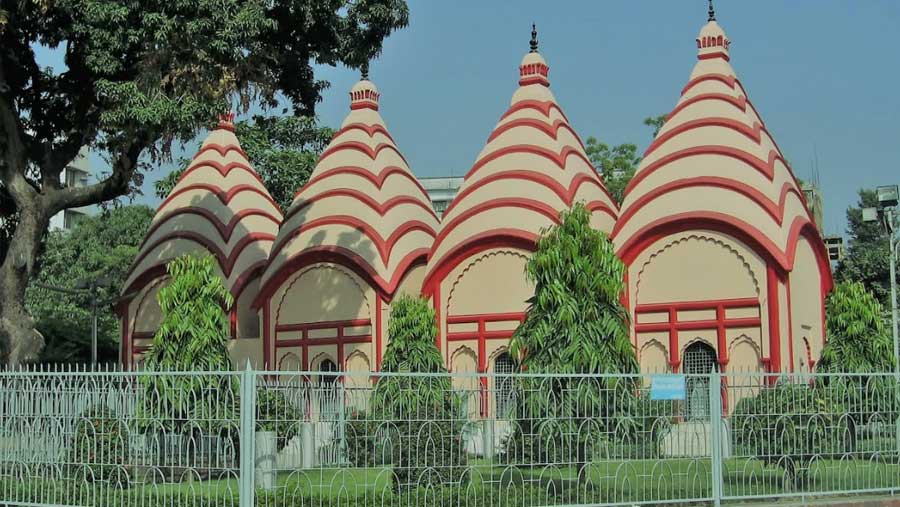 Dhakeshwari temple in Dhaka
Migration during Partition
Preempting vandalism of temples during the communal clashes in Bengal after Partition in 1947, some of the influential Hindus associated with the Dhakeshwari temple decided to move the idol to Kolkata. A special aircraft was arranged in 1948 and the idol was tucked into a box without its ornaments and attire. This was then packed into an ordinary suitcase, wrapped in newspaper and clothes, carried by two gentlemen named Harihar Chakravarty and Rajendra Kishore Tiwari, who was a sevaiyeet of the temple. A report published in Bengali daily, Jugantar Patrika, on June 27, 1950, also mentions a certain Brajendra Dube, known as Lalababu in Dhaka, who was among those who arrived in Kolkata with the idol.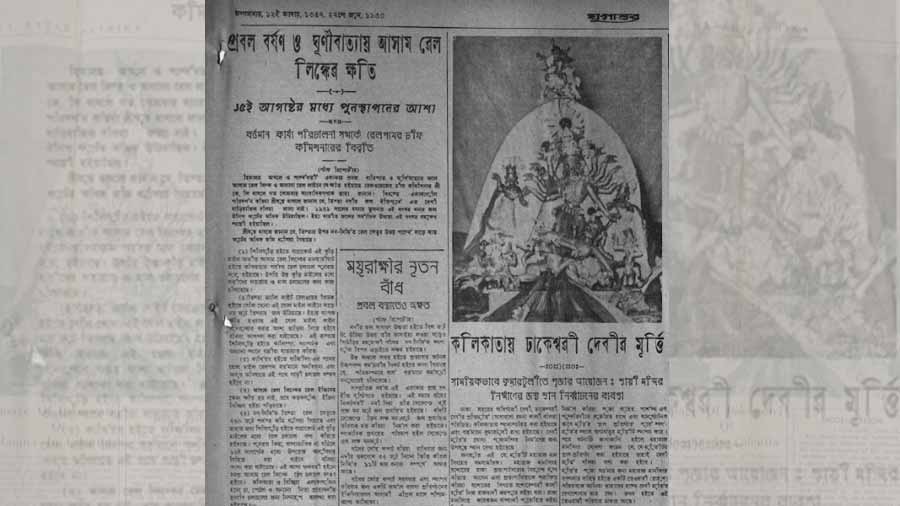 A report in Jugantar Patrika dated June 27, 1950, describing the legacy of the Dhakeswari idol and announcing the deity's arrival in Kolkata
In Kolkata, the idol found its first home in Harachandra Mallik Street, in the house of Debendranath Chowdhury, whose family were proprietors of the Banga Laxmi Cotton Mill. The Chowdhury family donated land in the Kumartuli area for the construction of a new temple and the idol from Dhaka's Dhakeshwari temple was reinstalled there, creating quite a sensation among the local people. The new temple in Kumartuli was also named Dhakeshwari Matar Mandir.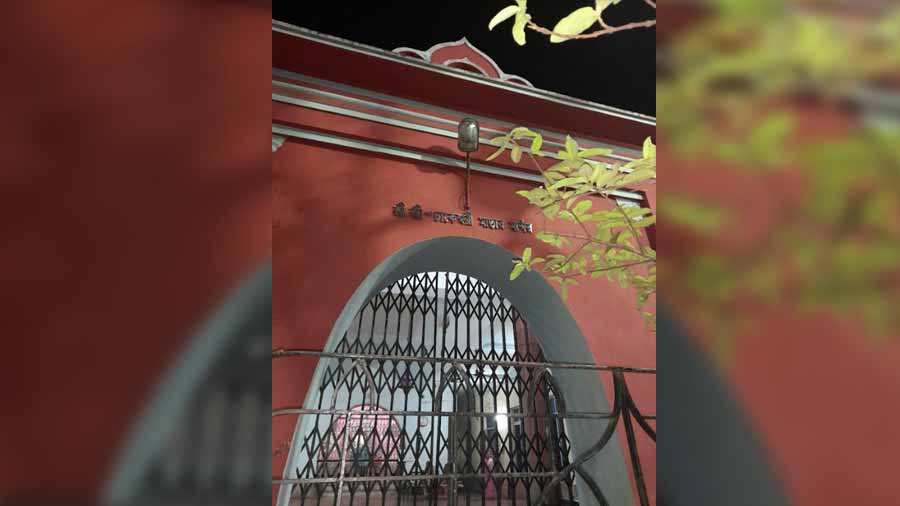 Dhakeshwari Mata temple in Kumartuli
The Idol: Old and New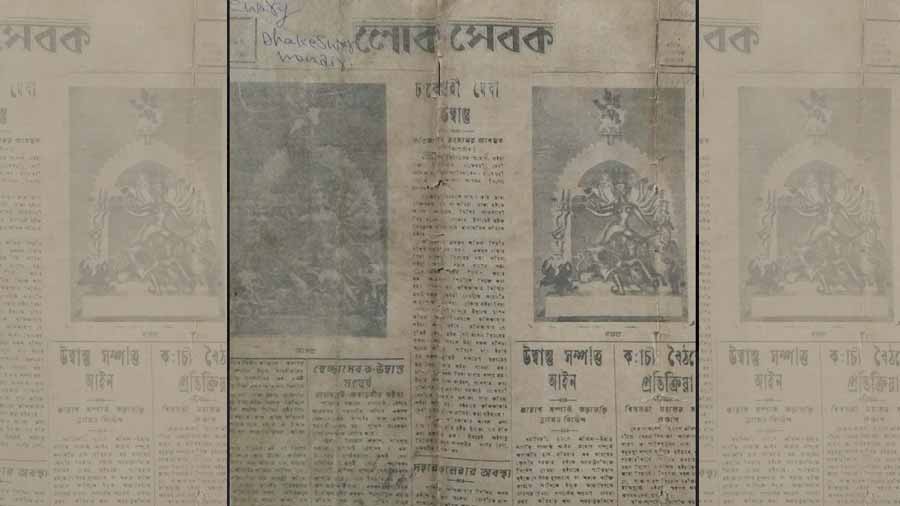 A Lok Sevak article on April 30, 1950, describes how the idol was smuggled to India from East Pakistan. In fact, a replica was made by a local artist named Shambhu Sen and this was installed in the Dhaka temple as soon as the original one was moved to Kolkata. This piece also carries pictures of both the original and the replica
Later, a temple management committee visited Kolkata to take photos of the original idol in order to make a new replica. However, no replica was eventually made. The idol currently enshrined in the Dhaka temple is not an exact replica of the original — this one has a distinctively contemporary appearance as it was made in the 90s. In Kolkata, the idol holds no weapon in her eight hands, while in Dhaka she holds a weapon in each. The original idol in Kolkata holds tridents in two hands only. Her other hands are either clasped closed or held open. The new idol in Dhaka holds weapons in her all hands, reminiscent of the Mahishashur Mardini Durga. Of course, both avatars are beautiful.
During Durga Puja in Kolkata, the devi is worshipped in a north Indian way; it is a celebration of nine days of Navratri and non-vegetarian food is not offered as bhog. Shakti Ghoshal, currently head priest, also adds that during Durga Puja, 12 earthen lamps are placed on the mangal ghat.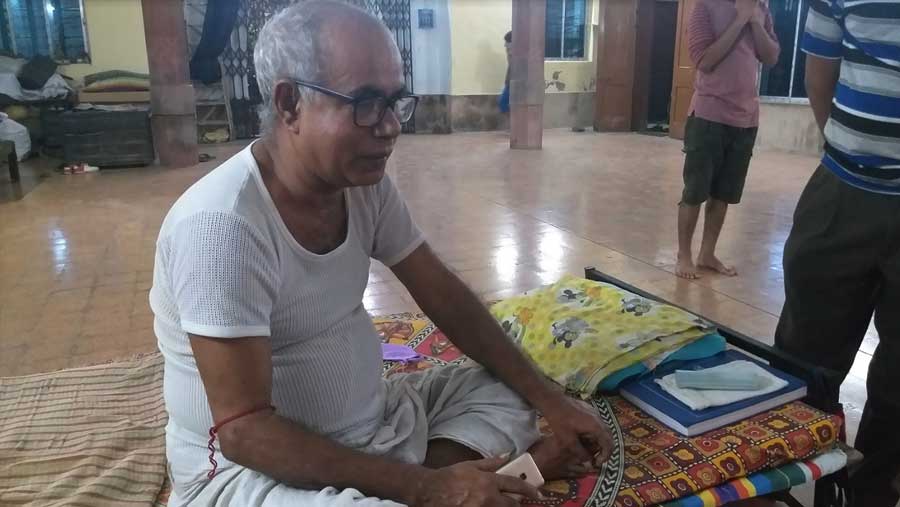 Shakti Ghoshal at Kumartuli's Dhakeshwari Mandir
"Kolkata has become the home of the original Dhakeshwari, but not a lot of people know about this," said Dr Shyamal Chowdhury, grandson of Debendranath Chowdhury, regretful that such a landmark event remains unknown to most citizens. "The whole operation was a secret to avoid the wrath of Bangladesh customs," he said, recalling family lore. "But now, I hope the story can be told."
Somen Sengupta is passionate about heritage and travelling and has been writing about it for 26 years. When he is not executing duties as a senior executive in an MNC, he keeps an eye out for intriguing historical trivia and unearths forgotten stories. This also makes him an avid quizzer.