As someone who strolls the streets with an iPhone, my objective is to discover the wondrous city of Kolkata at eye level. 
One morning when I was walking into Amrita Lal Bose Street, in North Kolkata, I chanced upon a hosepipe snaking across the street. I found this odd; at the end of the pipe was a lady in her morning maxi watering plants on the other side from where the pipe had originated. 
In a world where people are scarcely bothered about what lies outside their threshold, I found this odd: why would she be watering foliage pots on the other pavement? I banked on a safe conversation-starter: 'You do this every day?'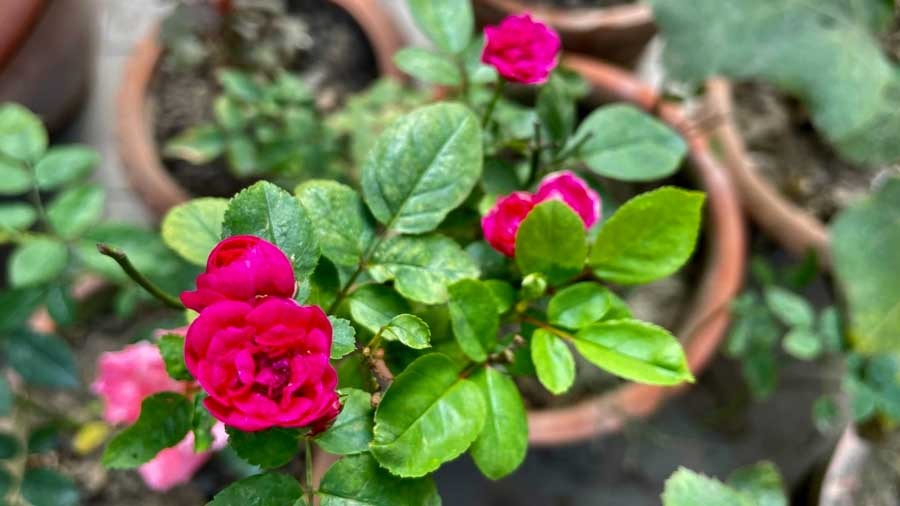 A burst of colours for passers-by to appreciate
Ask an inane question in an earnestly interested manner here and what you get is an autobiographical delivery that makes you regret why you never brought your pen and scribble pad along. This is the result of a curious 20 minutes spent in the company of Debjani Ganguly, whose large-ish pet dog hugged me in gratitude around the chest for taking an interest in her pavement 'garden'.
Let Debjani tell her story:
"There are a number of homemakers who are gifted in horticulture, but for most this is a pursuit for their personal pleasure. This could have been the case with me too except for the fact that I had a large number of pots that could not be accommodated at home and there was a widening interest in the subject, which needed additional space. The only option was to extend to the pavement, which is how the domestic garden space extended into Amrita Lal Bose Street."
"When I moved my plant and flower pots onto the street, the first reaction was one of distrust: 'Churi hoye jaabay!' That has been the fate with most items of any value on the streets anyway – whether it has been railings or iron parts salvaged for metal value. The general rejection of my plan was that the pots would disappear in no time because the moment people saw a good flower, they would carry the entire pot as opposed to only plucking the flower."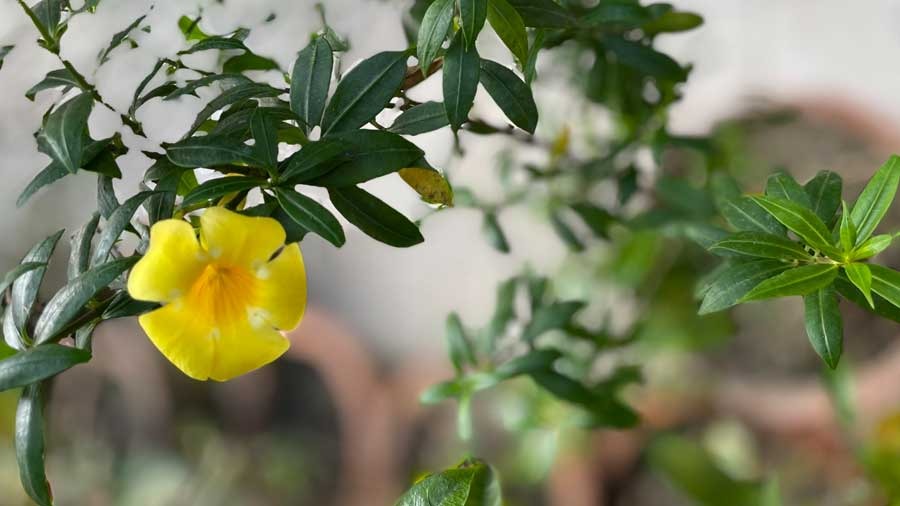 Neighbours have begun to respect and protect the pavement garden
"Why did people not carry the pots away? Three reasons: The pots were heavy and if you need to carry it some distance then you need a helper; anyone carrying pots would have to deal with the maati and overgrowth, which is not convenient in a closed or open vehicle; the third reason I will share later."
"This social and horticultural experiment started with simple foliage that people would not have taken the trouble to take home. But gradually one picked up courage; I moved to planting vegetables, flowers and even roses."
"It is not that there were no disappointments. Initially, the flowers would disappear in the morning, presumably by people needing to use it for their domestic pujo. The roses would disappear around Valentine's Day and Christmas. But thereafter something began to happen…"
Suddenly there is something worth protecting or fighting for
"The neighbours got involved. My immediate neighbour was supportive and permitted the pots to be placed on either side of his gate. Gradually, the neighbour's security person began to emotionally 'own' the plants. Thereafter vigilance increased; people began to get wary of plucking leaves or flowers at will. There is something more that began to happen: the pavement began to look greener, the neighbourhood more presentable and during the winter, a burst of colours on the street side."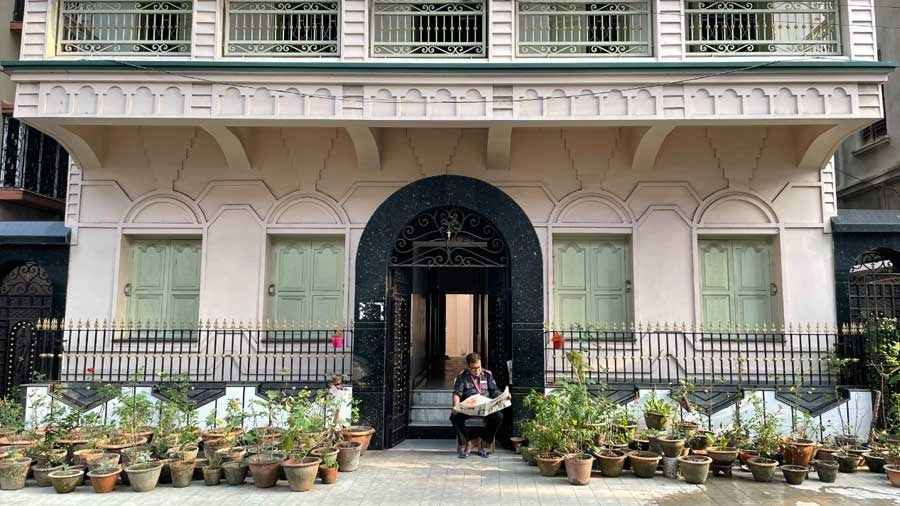 A security guard, who has developed an emotional bond with the plants, keeps an eye on the headlines and the garden
"Neighbourhood psychology is interesting; if things are bad, then nobody is bothered and the bad cold will turn to worse. The moment there is an improvement in the neighbourhood, it represents hope and means that things can get better from that point. Suddenly there is something worth protecting or fighting for, which is what happened in this case. The moment the pavement 'garden' began to take off, there was a sense of 'para' ownership. The neighbours may not have contributed towards it, but now that it was up and running, they would not let it be destroyed. I believe that in a neighbourhood with diverse opinions, the fact that residents have allowed this experiment to proceed unhindered represents in itself a decisive step forward."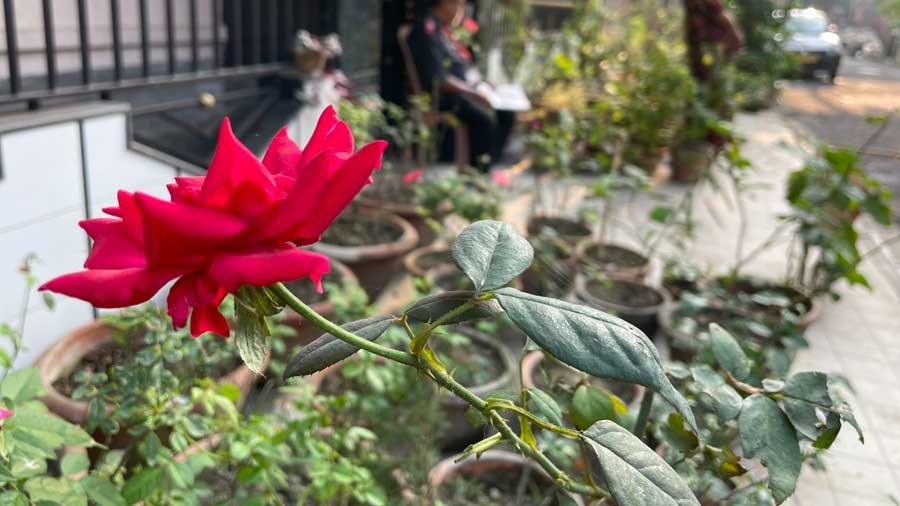 Raising roses by the roadside
"The number of pots that one has to attend to one-by-one for health and water needs is more than 250 (including what one has got at home). This means that I am out watering or checking for about three hours every single day (unless it has rained extensively). That is nearly 80 person hours a month dedicated to this and if you assume that one needs to put in a similar commitment across a large part of the year, then nearly a month of a year goes in addressing these plants – for private and public welfare."
'A personal commitment'
"There is a personal commitment to this exercise that has extended to arranging for a long plastic hosepipe. One has to extract this each morning, connect it to the water tap at home and take it across the street to the pavement on the other side as well. There is no 'Aamar log jol diye deybey'; I have to do it myself."
"The exercise is not just about watering; it is about pruning, de-weeding, adding nutrients and planning for the various seasons — which plants to suit the winter or summer. Gradually, one has become mindful of the fact that while this may have started as a personal obsession, the entire neighbourhood is watching with excited expectation: what will I 'present' this winter or what will I have to 'show' for spring?"
A social experiment in neighbourhood ethics, collaboration and pride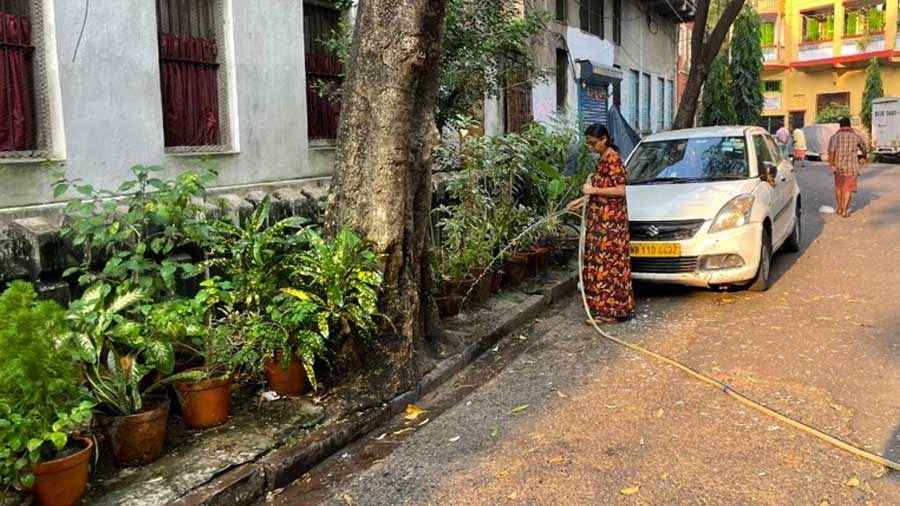 Debjani Ganguly waters the plants. 'The number of pots that one has to attend to for health and water needs is more than 250,' she says
"When I started, I was focused on protecting what I had across two pavements. I was pleasantly surprised when some months later, a resident across Chittaranjan Avenue (across the street where we live) began to do the same. Our successful experiment is now being replicated."
"From a limited sense, it is just another pavement 'garden'; from a wider perspective, it is a social experiment in neighbourhood ethics, collaboration, replication and pride. Anyone who walks into Amrita Lal Bose Street and sees flower pots gets the perspective that the neighbourhood is cohesive, civic-minded and progressive. It could be just another street at the end of the day, but it is not just another neighbourhood – and that is the difference that this humble pavement 'garden' has made!'
Mudar Patherya is a romantic who revels in Kolkata anecdotes, pictures, bylanes, characters and memorabilia. He is responsible for having kick-started the Rabindra Sarobar turnaround and the painted electricity boxes.