It might seem unusual to think only of colours when describing a place, but for Khirai, it is an apt choice. A two-hour drive from Kolkata, the little destination is a melange of oranges, pinks, yellows and purples.
This place is West Bengal's own Valley of Flowers, with swathes of flower fields from marigold to chrysanthemums, spread out almost as far as the eye can see. The primary occupation of Khirai's residents is horticulture and this is the perfect spot for a day-trip, where your eyes can feast on rainbow hues.
Road trip joys
Khirai railway station is about a kilometre on foot from the flower fields, and it is easy to reach the spot from Kolkata via train. However, if you can drive, the best way to reach Khirai is by road.
Since the driving time is only about two hours, you might find yourself planning to start your expedition at a leisurely hour of the morning. However, winter and weekends draw people from the city to the little flower growers' town, so it's best to get an early start to avoid the crowd that creeps in by noon.
A stop for breakfast at the famous Azad Hind Dhaba in Uluberia is always a good idea. Gorge on the delicious aloo paratha and anda bhurji and wash it down with a masala chai before heading on your way.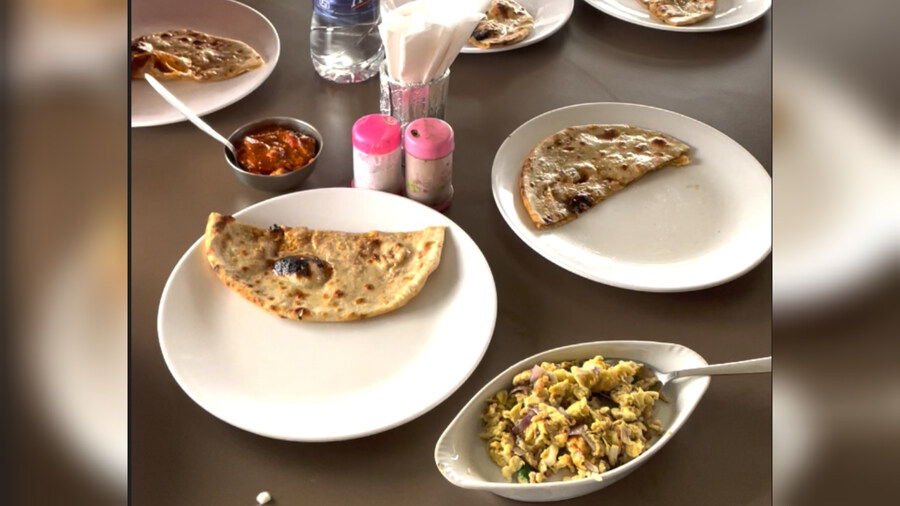 Azad Hind Dhaba in Uluberia is a perfect breakfast stop on the way
About 40 minutes from the dhaba on NH 16, Google Maps prompts you to get off the highway and take a left onto a single-lane village road hemmed with red soil. The anticipation of multihued flower fields envelopes the mood as you pass by rural roads that rise higher than the houses on the sides. Small fields and vegetable patches tell you that you are decidedly away from the city. A road leading down to a clearing under the rail bridge is your last stop on four wheels, where you park your car.
Flower lovers' paradise
The spot under the rail bridge has little make-shift stalls selling flowers and plants, along with a lone cha shop who sells rolls, Maggi and biscuits to have with your tea.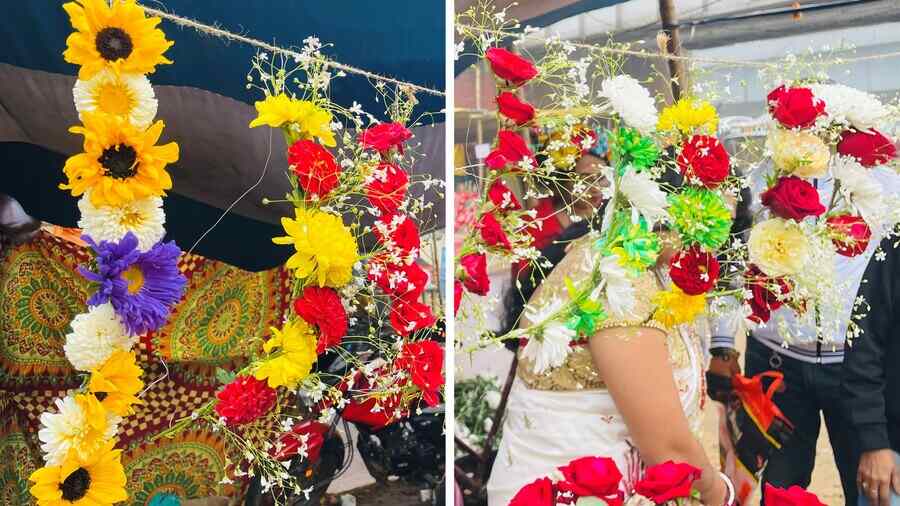 Flower crown made with wires and fresh blooms are a must-have accessory for photo-ops in Khirai's flower fields
One of the must-do activities here is to buy a customisable flower tiara that you can wear on your head comfortably throughout the day. Good bargaining skills will get you a crown of roses, roses, chrysanthemums, gypsy and wild flowers for just Rs 20.
Channeling your inner fay person, complete with a flower crown, walk like royals into the acres of land swathed in blossoms. With the morning sun peeking out from behind fluffy clouds, and golden slivers of sunshine making the flowers shone brighter, the whole setting looks like a painting.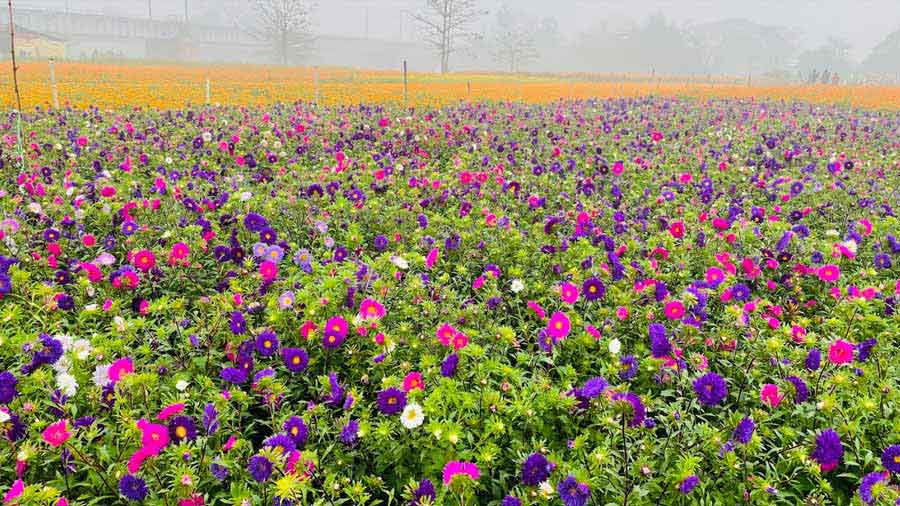 The flowers harvested at Khirai are sold are Kolaghat and Howrah and exported from there on
From marigold, chrysanthemums, dahlia to aster, dianthus and celosia, the fields seem to come alive as the bloom heads sway with the winter breeze. Narrow paths divide the fields and a wider one runs around the periphery, and you can walk through the fields to find yourself in the midst of a fragrant rainbow bouquet.
Hands that nurture
"We are flower farmers and our fields have a rich variety of flowers from November-end to Mid-April. At other times, we plant any vegetables we can grow to use the land," said Raju, a local farmer who also has a make-shift shop.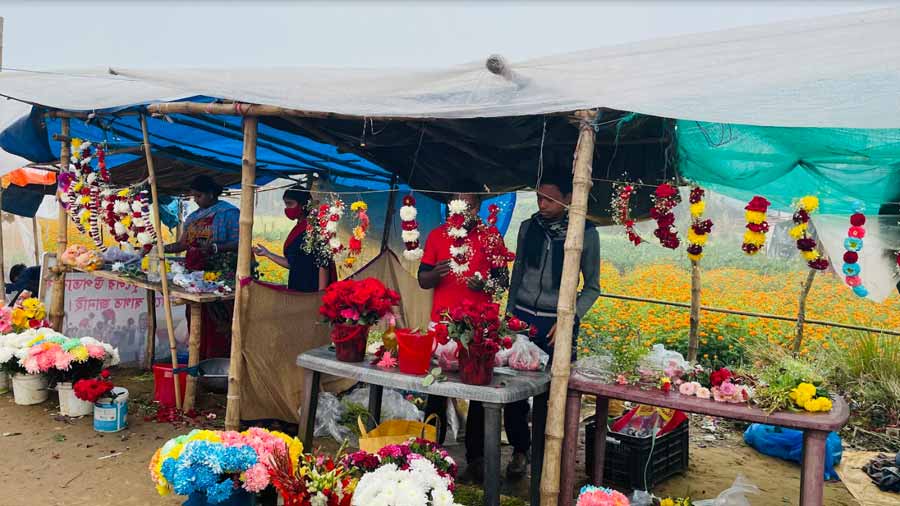 The stalls by the fields sell flowers and flower crowns to visitors, except for one which is the sole 'cha' shop
Following Google Maps brings you to the Dokanda Flower Garden, which is part of Khirai's flower fields. The nearby eponymous village is the name Bengal's flower valley is known by. The variety of flowers you will find in these fields are nurtured on a fertile land that lies next to the Kangsabati River, also called the Kasai River locally. 
"We take our flower harvest to Kolaghat and Howrah where it is sold and then exported to different parts of the country. Marigolds are abundant in our fields and they are the most popular, loved by all," said Moumita Patra whose family has acres of land growing flowers.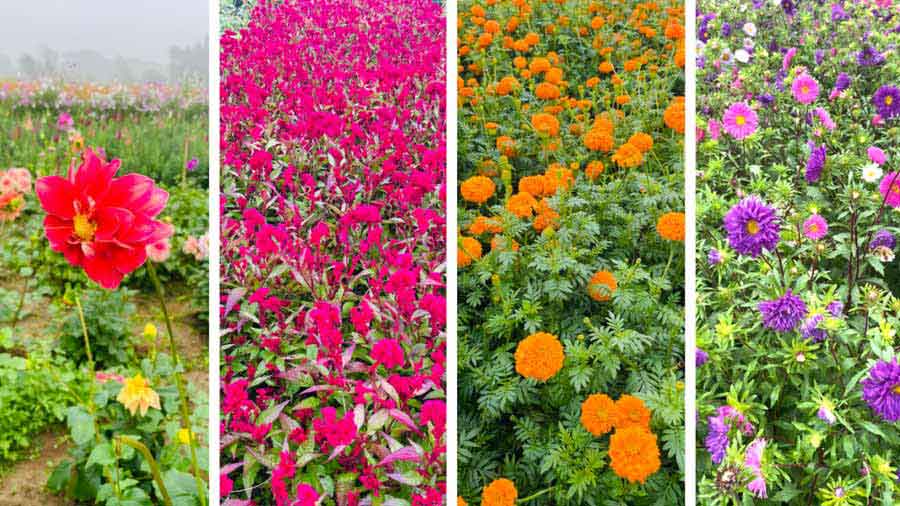 Marigold, chrysanthemums, dahlia, aster, and more are harvested in Khirai
Fragrant memories
A day spent basking in the winter sunshine amidst Khirai's flowers, and slicing photos to your heart's content is a welcome break from the everyday hustle of the city, and a chance to witness something magnificent. Souvenirs from Khirai are the best kind — sweet-smelling pops of colour that can brighten your day.
The drive back through Kolaghat is incomplete without a lunch stop at Sher-e-Punjab Dhaba, and if you reach by 2pm, you'll miss the rush. Don't miss out on their garlic naan, kebabs and chhole bhature.