A pre-colonial town of Hooghly, which was under the Danish crown for nearly 90 years, still brims with many tales from our storied past.
Though highly overcrowded now, a few tangible edifices of Danish rule are still visible in its many roads, lanes and bylanes. After prolonged negligence, recent direct support from the National Museum of Denmark and the local administration has resulted in some of the structures and buildings with Danish heritage getting back their sheen and vibe. A new wave of restoration projects is doing wonders by bringing back a slice of history to the present generation.
Like many other European countries in the 17th century, Denmark too tried its hand at setting up trade in India, and Bengal was one of the primary points of their establishment. And of the many structures the Danes built here, in the city of Serampore, stands out St Olav's — a large church established by Danish governor Colonel Ole Bie (who was actually a Norwegian).
At the time of its construction, Serampore already had a Roman Catholic church, but it was not large enough to serve the growing population.
The construction of St Olav's began in 1800 and was completed in 1806. At its inauguration ceremony, the music was rendered by none other than William Carey (an English missionary who founded the Serampore College and the Serampore University). In its report, Calcutta Review then referred it as a Lutheran church. The name, St Olav's, came a little later.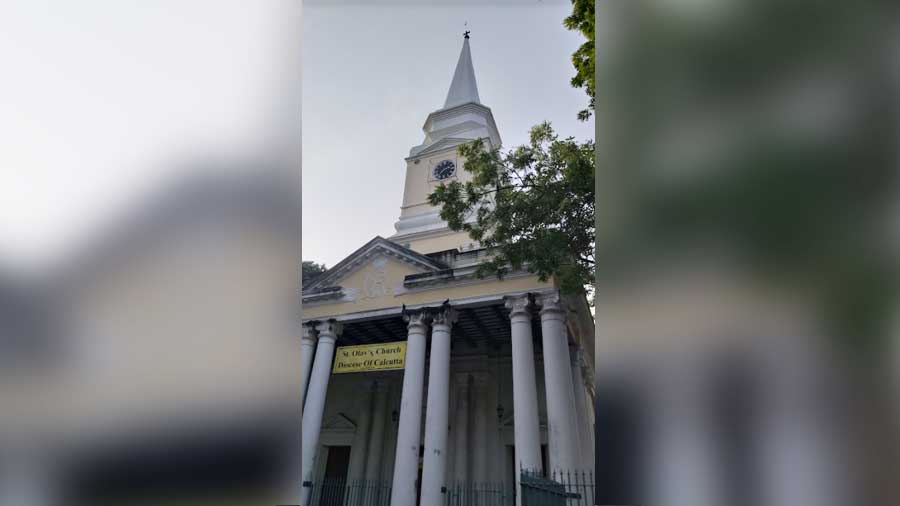 The superbly designed church, located on Panchu Gopal Bhaduri Sarani, has a cross on its towering pinnacle
Somen Sengupta
The total area it covered was 14,000 square feet and the construction cost was Rs 18,500. Apart from the funds from Calcutta and Serampore, a good amount came from Denmark. Even the British Governor-General of Bengal, Lord Wellesley, donated Rs 1,000 to its construction fund.
The superbly designed church, located on Panchu Gopal Bhaduri Sarani, has a cross on its towering pinnacle. The portico and bell tower were added later and the present form of the church finally came to be in 1821. The bell tower is also used as clock tower. The clock was gifted by Calcutta's Bishop Rev Daniel Wilson in 1831, when Serampore was still a Danish colony.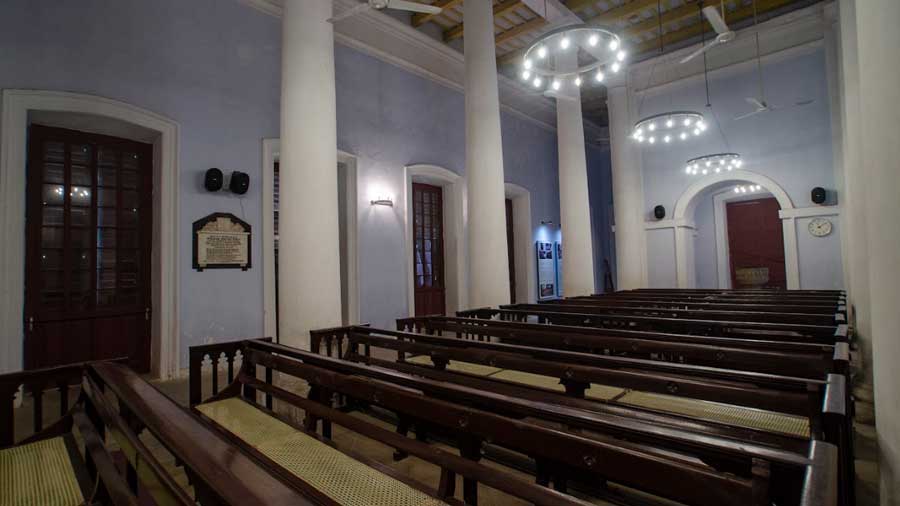 Being a Protestant church, St Olav's does not house any idol
Subhadeep Mukherjee
Lt Robert Armstrong was primary architect and it is evident from his design that he was influenced by St Martin-in-the-Fields church of central London. In that era, many churches of India were built as replica of St Martin's, of which, St Olav's of Serampore and St John's of Calcutta are two prime examples. Some even find similarities with the Church of Our Lady (Vor Frue Kirke), a church in Copenhagen, Denmark.
The front of the church has a large portico, balanced with a huge Greek pediment supported by eight decorated Corinthian pillars. In the middle of the pediment, the royal monogram of King Christian VII of Denmark is carved.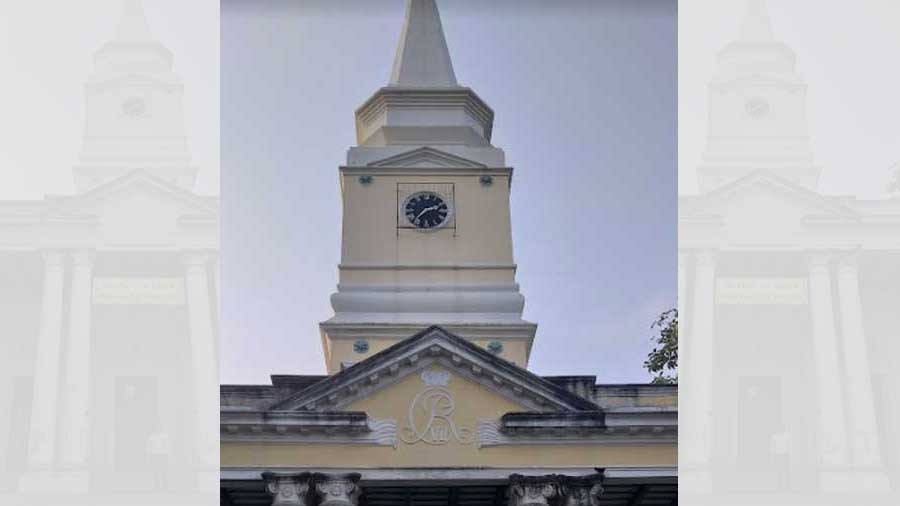 The royal monogram of King Christian VII of Denmark can be seen carved on the pediment
Somen Sengupta
There are six marble plaques inside the church, dedicated to Ole Bie, William Carey, Joshua Marshman, William Ward, Juliana Maria Wallich, JO Voigt and one as homage to Serampore Mission. There is some stucco work on the walls too.
Being a Protestant church, it does not house any idol. Instead, it has a cross before which a sizeable crowd prays every Sunday.
Imported bells
The flat-roofed church has two bells – one small and one big — that were imported from Denmark. The smaller one was made in a Danish iron foundry in 1804. The bigger one was brought in in 1853 — suggesting that it was imported by the British, not the Danish. Even the foundries in which they were made are mentioned on the bells. The smaller one was made in Fredericksberg and the bigger one in Stuttgart — though neither of the two work now.
In 1940, the then-chairman of Serampore municipality, Kanai Lal Goswami, accumulated 15 Danish cannons gathering dust at various places in the city and placed them in an island just in front of St Olav's.
From 2013 to 2019, the National Museum of Denmark and Serampore College undertook a massive restoration job and delivered excellent results — with the project even being rewarded by the 2016 UNESCO Asia Pacific Heritage Awards.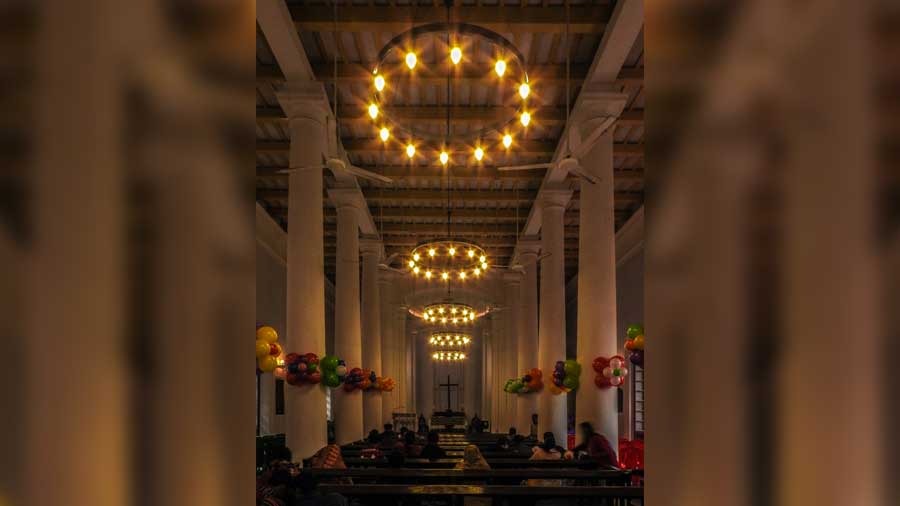 The illuminated interiors of the church during a past Christmas Day
Soumilya De
With a tasteful selection of colours like grey, white and yellow, St Olav's looks vibrant and inviting now. The church is illuminated during Christmas and continues to attract a large number of visitors from Chinsurah, Chandernagore and even Kolkata.
Somen Sengupta is passionate about heritage and travelling and has been writing about it for 26 years. When he is not executing duties as a senior executive in an MNC, he keeps an eye out for intriguing historical trivia and unearths forgotten stories. This also makes him an avid quizzer.