The mid-19th-century discovery of a coal belt in Bengal and Bihar, and it's subsequent mining, gave birth to many opportunities for the people of the region. It was also during this time that Asansol emerged as a major town in Bengal — after a large population started moving from rural areas to cities in search of jobs.
With this urbanisation, and especially with the railways started its operations here, Asansol soon became an important town. Needless to say, a large number of Europeans, as well as the local tribal population, moved to the town that then had a glut of jobs. As British investment in the railways rose, Asansol gained vital importance by connecting Bengal to the rest of India. It attracted people from all over India, making it a truly cosmopolitan place.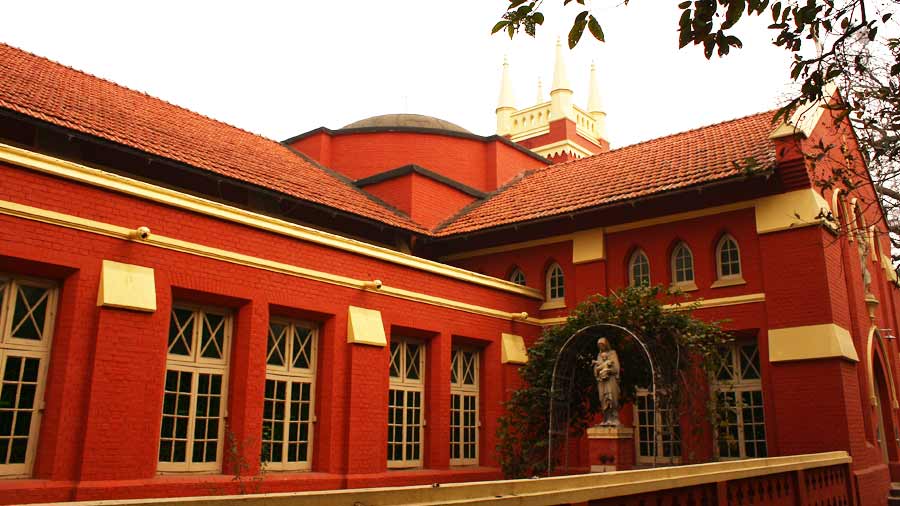 The church was first blessed on Christmas night in 1876
Tiyasa Das
During this time, the area also became a target zone for social and religious work by various Christian missionaries. In 1873, the Bengal Jesuit Mission under the leadership of a few Jesuit fathers from Calcutta, came to Asansol and acquired a piece of land just next to GT Road (near what is now called Bus Stand More).
There, in 1875, the Sacred Heart Church was built by the East Indian Railway Company. It is believed that the company imported the bricks from London. The church was finally blessed on Christmas night in 1876.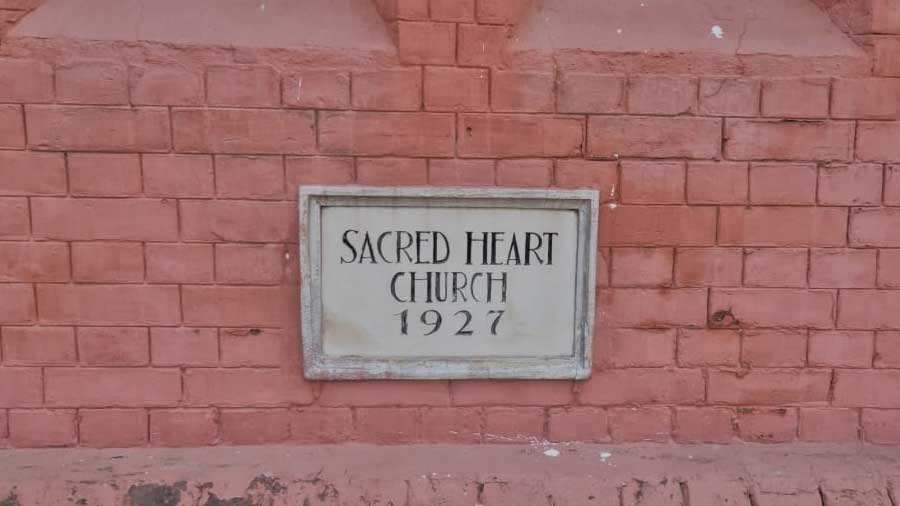 The present premises were built in 1927 when Asansol still had a sizable Catholic population
Aniket Mukherjee
Though initially started as only as a place of prayer, the church gradually became a centre of learning too. Soon after Independence, in 1949, a school for girls called St. Maria Goretti School, was established here.
The present church premises were built in 1927, when Asansol still had a sizable Catholic population. Since then, the compound has been embellished with several small grottos and a well-maintained garden that houses many sculptures.
The red-brick church building has its pinnacles coloured yellow and is shaped with two castle-like towers, each again crowned with four pinnacles. The central dome is thatched and sharply sloped. The front has a gate with a sharply pointed gothic arch and the walls of the church have arched windows.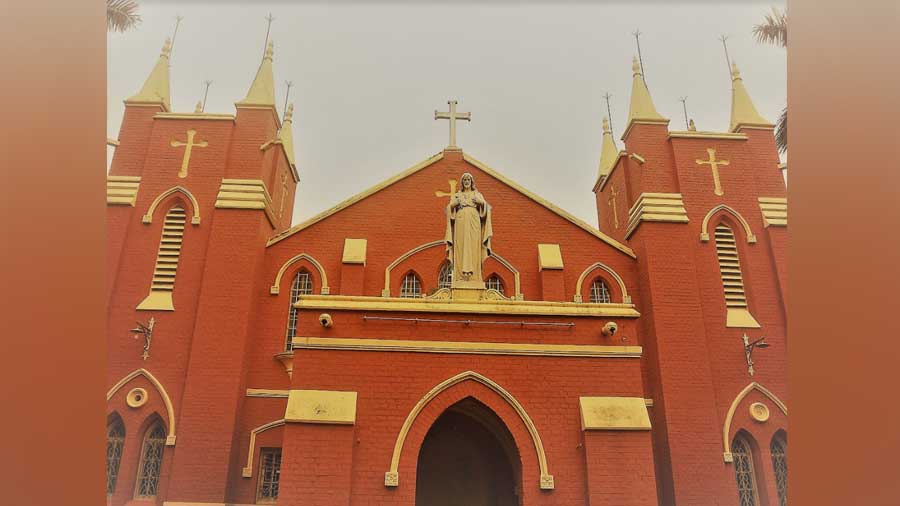 The red-brick church building has two castle-like towers, each crowned with four pinnacles
Somen Sengupta
The garden adjacent to the church has several beautiful statues. The best among those is inside a grotto called 'Our Lady of Lourdes', the sacred statue of Mother Mary. Another grotto houses a statue of Jesus resting on the lap of Mary after being dismounted from the Cross. The best open statue in the garden is of Jesus with a boy.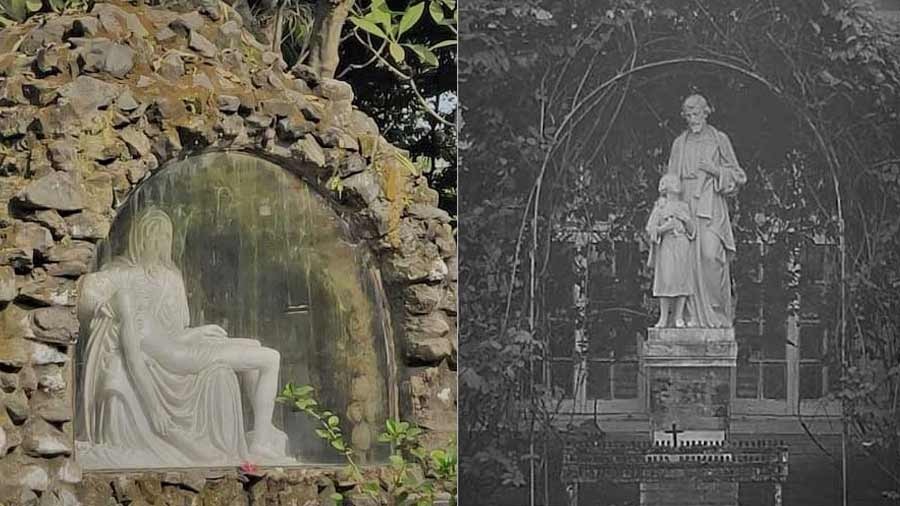 Two of the several beautiful sculptures in the compound
Aniket Mukherjee
There is also another excellent one on one side of the church, where Joseph holds baby Jesus by his right hand.
With the Catholic population having declining considerably in Asansol, the church remains open only on select days, though Sunday service is still offered from 8am in Bengali and English.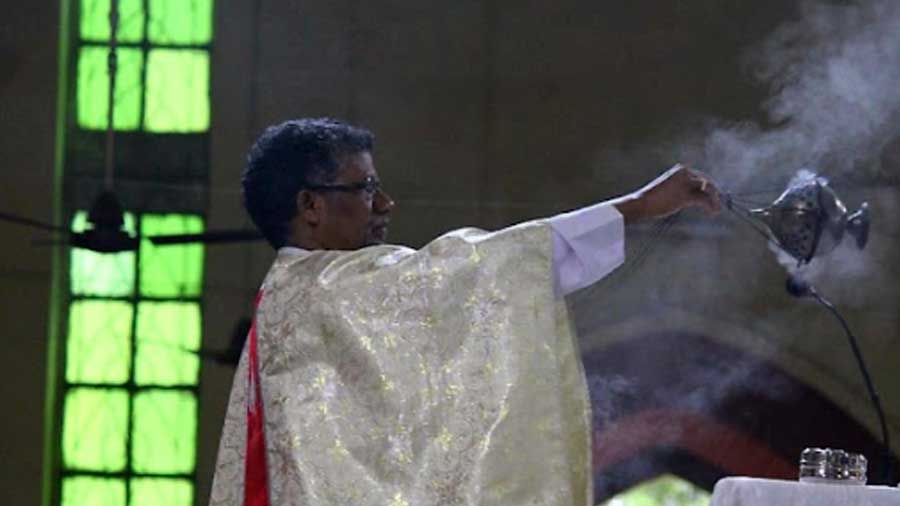 A Sunday morning service at the church
Tapas Das
During Christmas, the church is illuminated with colourful lights and people are allowed to enter the premises to celebrate.
Somen Sengupta is passionate about heritage and travelling and has been writing about it for 26 years. When he is not executing duties as a senior executive in an MNC, he keeps an eye out for intriguing historical trivia and unearths forgotten stories. This also makes him an avid quizzer.