Bridging the gap between home and star hotel luxury is the newly launched ITC Hotels App. Available for Android and iOS users, this app is loaded with features that enable guests to book their stay at over 55 hotels and resorts through a simple process, giving them access to the best rates.
There are extra perks for Club ITC members while business travellers can book their stays at their organisations contracted corporate rates via the app, making the whole reservation process hassle free and easily accessible at all times. Anil Chadha, divisional chief executive, ITC Hotels, said, "The new ITC Hotels mobile app is a natural progression for the brand that prides itself on moving with the times and serving its customers in the most modern and efficient way possible. We are living in a digital world and want our guests to enjoy the ITC Hotels experience with the convenience, efficacy, innovative and interactive interface that the new ITC Hotels app offers, along with multiple benefits and privileges."
That's not all! The app enables food delivery and takeaway across 14 cities — Delhi NCR, Mumbai, Calcutta  for ITC Royal Bengal and ITC Sonar, Chennai, Bengaluru, Hyderabad, Goa, Agra, Jaipur, Vadodara, Amritsar, Coimbatore, (Bhubaneswar and Guntur coming soon) too! So, be it a leisurely lunch, coffee with friends or a special dinner, there's options aplenty on the app, just a click away. Guests can now order home their favourites from the iconic cuisine brands through Gourmet Couch — ITC Hotels' pan-India food delivery initiative via the app. Guests can order through a Common Cart where they can place an order from multiple signature menus in one order, order combos or curated set menus. Another fave feature of the app is, it helps one reserve a table across around 75-plus ITC restaurants at ITC Hotels and Welcomhotels. All you need to do is fill in the city, hotel and choose from the restuarants on the list and tra la! We tried dishes from the Flavours menu that is broadly divided into cuisines like Indian Favourites, The Express Wok, Global Flavours and Dessert Jars.
"A harmony of fresh, seasonal produce and sustainable food selections, Flavours brings you a mindfully curated menu with much-loved culinary experiences from around the world. Be it online payments or contactless delivery, our DNV Platinum Certified WeAssure protocols will keep you safe at every step," said Vijay Malhotra, area executive chef, East.
Lastly, members of Club ITC and those who hold the Club ITC Culinaire membership have reason to celebrate the new app as it manages the account on their phones and keeps track of members points, transactions, tier status and much more. Guests can earn and redeem Club ITC points on eligible orders, gift a meal or schedule a meal using the new app. For those who want a new Club ITC membership, the app enables easy and free registrations instantly welcoming them to enjoy the benefits of the membership.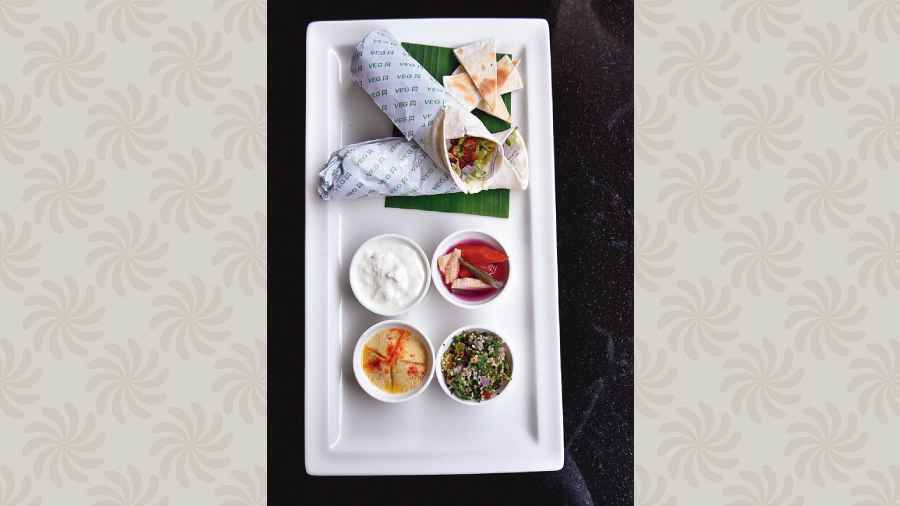 When it comes to ordering in food, there is always somebody who is looking for some non-oily and healthy options and Falafel Pita Wrap is just what you need! Loaded with the goodness of hummus, a mixed green salad and falafel, this one combines healthy and yummy!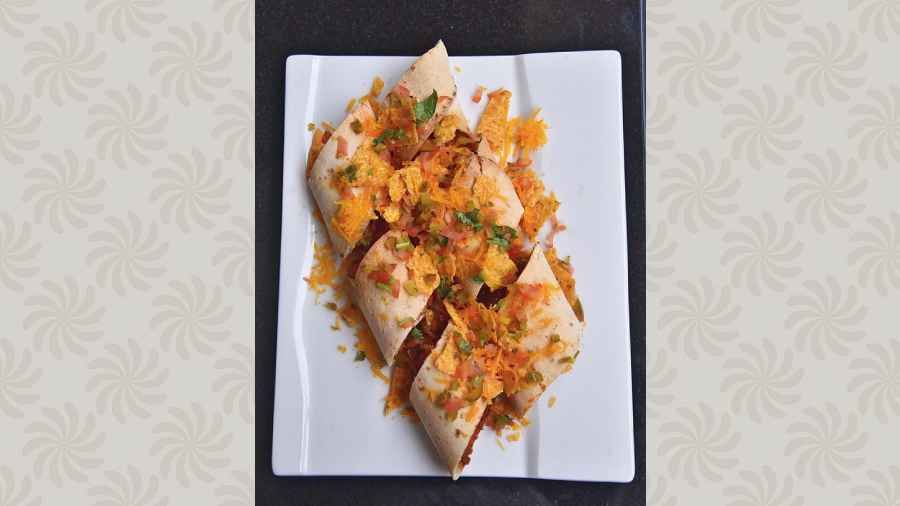 A unique dish on the menu is Peri Peri Prawn Burrito which the kids are bound to love if they love seafood flavourful food.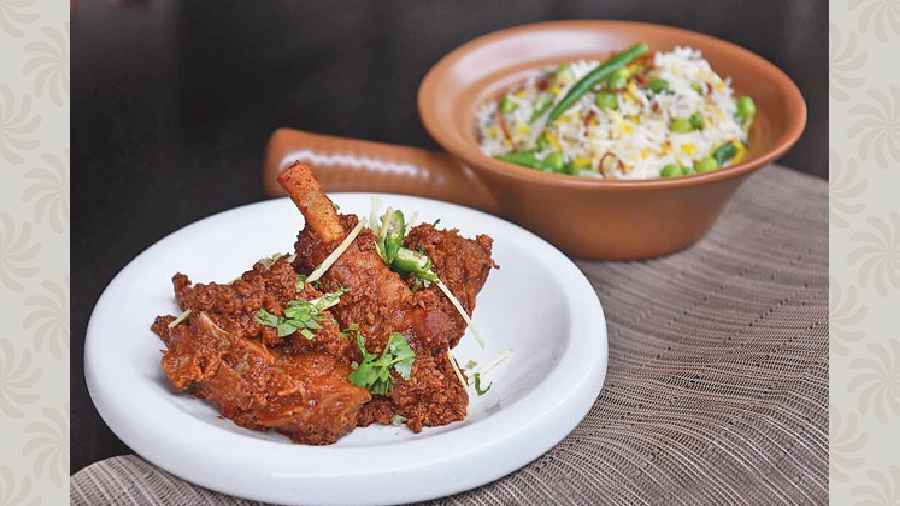 Rarha Gosh is a mutton delicacy made with minced mutton cooked in a rich and spicy brown gravy. Relish it with laccha paratha for best result.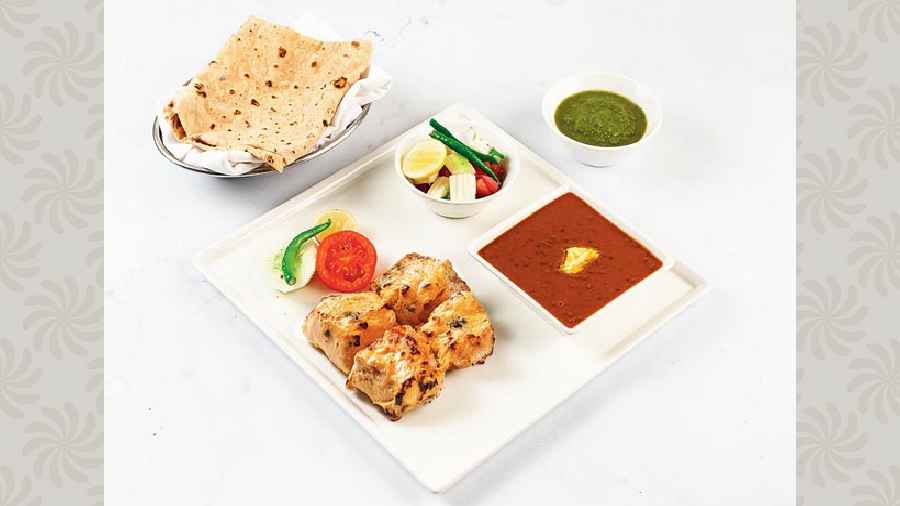 If you are craving desi khana, just call for Ajwaini Machali Tikka signature kebab box that has fresh bekti marinated with gram flour and ajwain batter and char grilled. This is accompanied by Mutter Pulao or Laccha Paratha.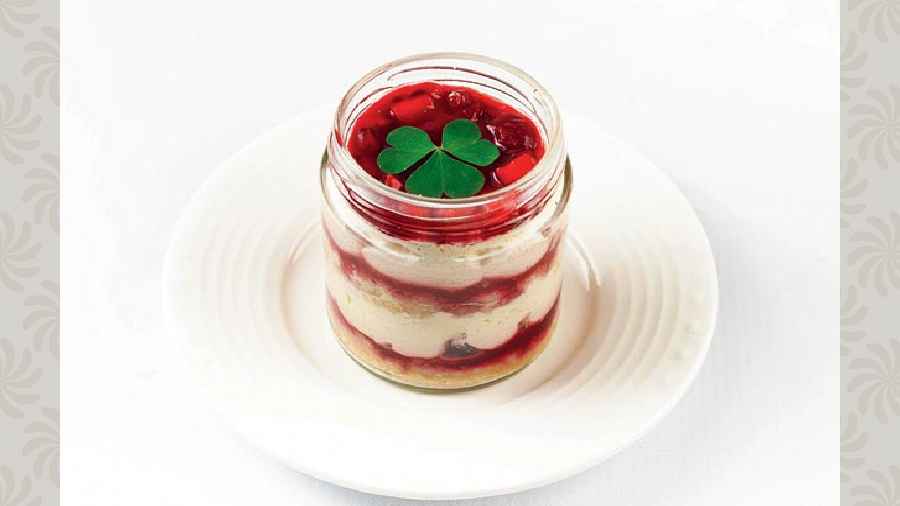 Citrus-infused cheesecake, alternatively layered with coconut meringe and raspberry cream, this dessert packs in a lot of fruitiness made with lot of love!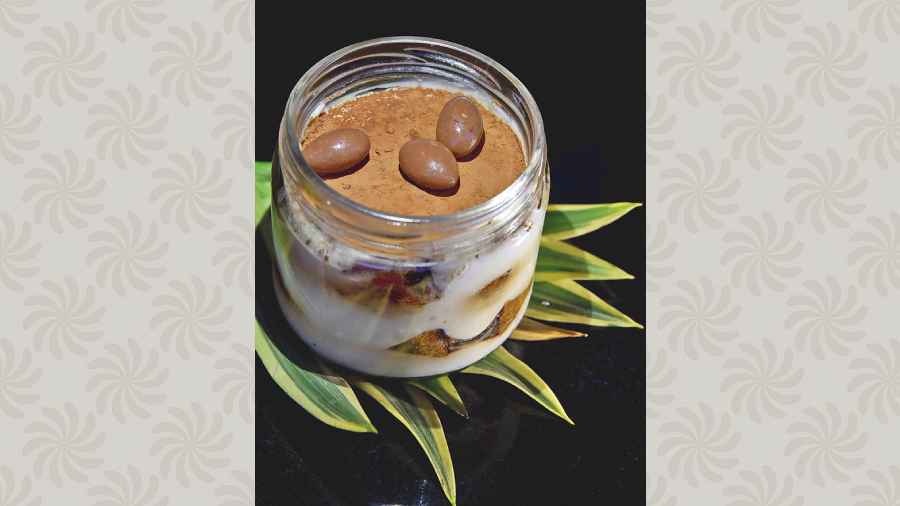 The Classic Tiramisu might not be a new dessert on the menu but you have to try it because it tastes heavenly courtesy mascarpone cream, spiced coffee liquor and Savioardi biscuit.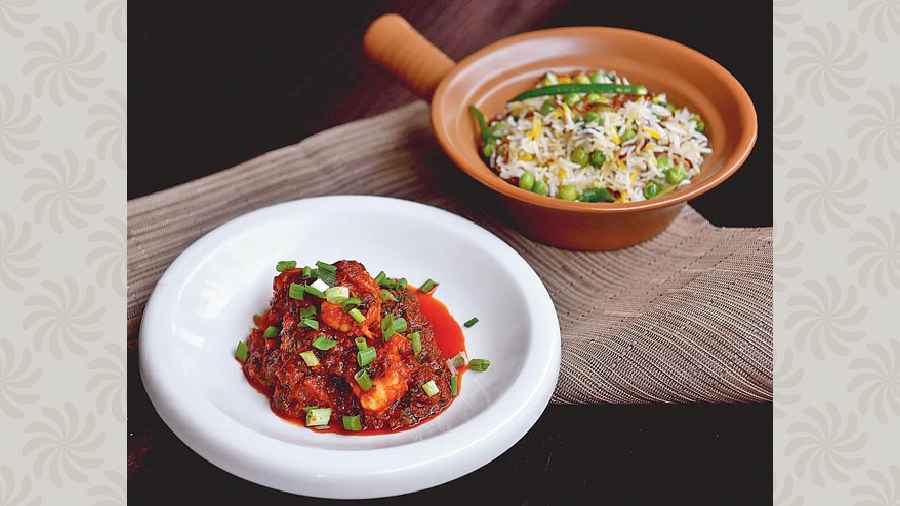 Jhinga Hara Masala is a dense and rich gravy that has succulent pieces of prawns cooked in coriander gravy with spring onions, garlic, mint, green chillies. Savour it with Mutter Pulao.
Pictures: B. Halder