Bow Barracks was the ungated-gated complex of my Sixties. 
I lived next street on Mission Row Extension. The closest I came to a Bow Barracks influence in my life was when I was dispatched with an ayah to play in the garden alongside BB. 
This excursion was accompanied by a family caveat to the ayah: "Tum aisa-waisa bachcha log ke saath nahi khilaayega." No one quite spelt it out, but the family Morse implied that while the Bengali children from Kapalitola could be 'tolerated', a safe distance was warranted from the children who emptied out of Bow Barracks.
Decades later, when I asked for plausible reasons, this is what I was told: One, the Barracks kids spoke casual English that could sound abusive (at worst) or pidgin (at best), neither of which would prepare me for a convent school admission. Two, the Barracks kids moved in a pack, picked up a fight at will and intimidated with size, scope and speed. Three, the Barracks kids played hockey and often carried sticks like weapons of mass intimidation. Four, they were more street-smartishly upstart than their cocooned peers (us). Five, they dressed in a manner (ganjee and shorts on the street was not unheard of) that parents corollarised with statements like "Unke jaisa banega to bigad jaayega".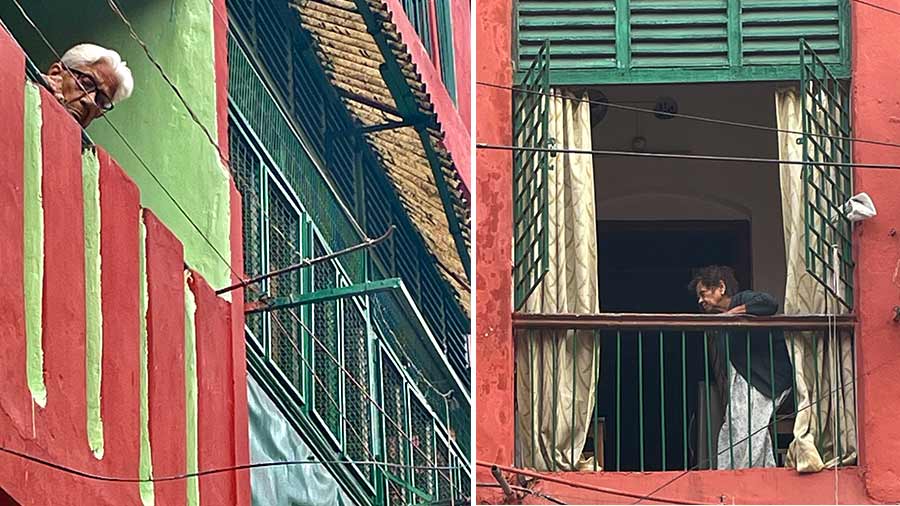 Elderly residents of Bow Barracks peer out of their homes.
Mudar Patherya
I stayed at Mission Row until I was 35. The only Bow Barracks acquaintance I succeeded in cultivating was Antony (D'Souza), whose inclusion into our Premier House group was proposed with a disclaimer: "His mother teaches at St. Mary's." Nothing more needed to be said; Antony was considered kosher; it was presumed he would not swear even when provoked and if he ever did, he would not corrupt us with the use of English slang, which meant that that if Antony was denied a plumb LBW, he was most likely to punch his open palm and say, "Oh shucks, what the hell", but no more.
Antony's membership to our 'privileged' Premier House club carried perks: he could be invited home, he could go with us to the Maidan for matches; he could be asked to lead the team (influenced by the fact that no one felt threatened in his company, considering that he would not bat an eyelid if first slip dropped a sitter); he had no friends in Bow Barracks, so he would not be empowered to educate us with British profanity.
The only time his background was held against him was when Bada Durwan (the Amrish Puri before Amrish Puri) swooped on us for playing cricket on the third-floor landing with three perpendicular lines drawn on the wall of the Pathak residence); we were let off as we were the children of the privileged; our nemesis singled the genteel Antony out as the corrupting influence with words I can still remember ("Woh Barracks ka ladka"). Antony retaliated with his equivalent of the Quit India Movement; slighted by the reference to his residential origin, he swore to never play in Premier House again, though by a technical loophole it did not prevent him from coming with us to the Maidan, where he continued to lead the side.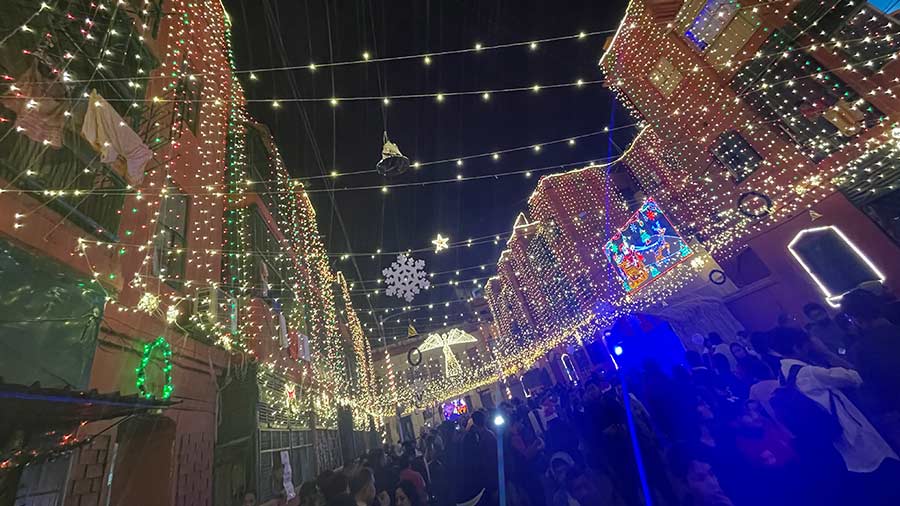 Bow Barracks looks resplendent in lights and decorations during Christmas 2022.
Mudar Patherya
Of Musical Bandbox and curved sticks
Bow Barracks of the Seventies was a brick-and-mortar spillover of Musical Bandbox. If you tuned in at 1pm on Sunday, an engaging young woman's voice communicated how Engelbert Humperdinck's Blue Spanish Eyes had been requested by "Sandra, Eugene, Clive, Aunty Martha and Uncle Olly from Ripon Street and joining them were Debra, Brenda, Jacqueline and Niki from Bow Barracks." The radio would be monopolised by the younger members of our family (sister mainly); she listened and perhaps even rhythmed an occasional shoulder (never ankle in a rules-bound Muslim family) but the writing on postcards to All India Radio would be left to the Lorettas and Angelinas of the city.
A brief radio window into the Anglo Indian world was how people lived inside Bow Barracks. We heard the programme; they lived it. If you walked through Bow Street, you could pick up a floating strain of Nat King Cole; if you turned up in the evening, the black and white TV would be beaming a picture but the stereo sound would be belting out The Beatles. My wife and I passed the ground floor Bow Barracks window an evening before Christmas 2022 and we picked up the deep baritone of Sinatra through fairly expensive speakers; we looked at each other and said, "How romantic" and pretended that it was the Sixties again.
There was another reason why we never encountered a peer community of like-minded kids from Bow Barracks: they were not like-minded. They did not tune in to Sushil Doshi or Jasdev Singh describing Sunil Gavaskar's straight drive off Jeff Thomson or Ian Botham or Michael Holding; they worshipped at the altar of the curved stick. The boys and girls of Bow Barracks played hockey; they carried their sticks as an extension of their arm; they did not just play at school; they played inside Bow Barracks.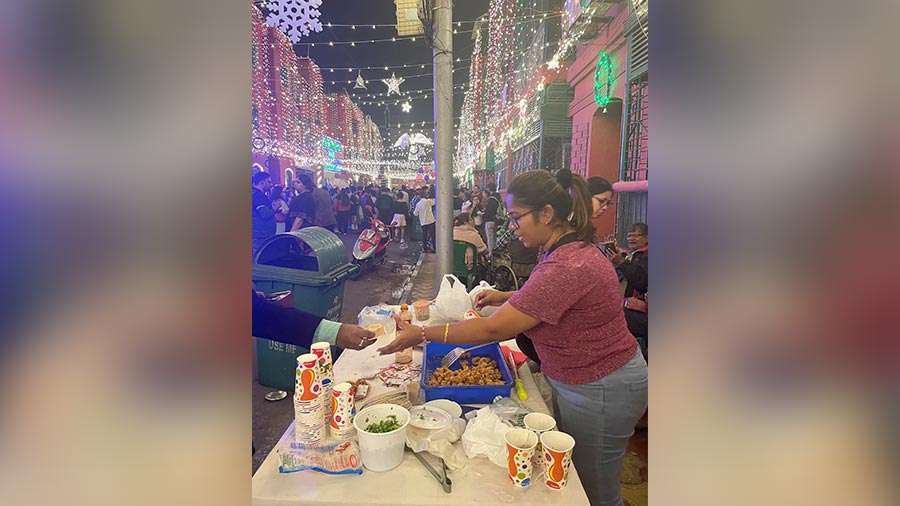 A kiosk selling goodies at Bow Barracks during Christmas 2022.
Mudar Patherya
I cannot think of a single community in Kolkata that championed hockey the way Bow Barracks did; the central 'well' of the Bow Barracks property was (and possibly still is) used as the poor man's astroturf, and what made this experience distinctive was that the spectators were not just ground-level passers-by; a majority of the spectators leaned out of their Bow Barracks verandahs: there was someone's Johnny holding up the backs, there was someone's Sammy in goal and there was someone's Peter dear in keds, shin pads and stockings leading the charge.
Something else about Bow Barracks does not have a Kolkata equal: the linear architecture of the buildings, the distance between the opposite pavements and the cheek by jowl apartments that helped create the closest one to a stadium-like feel without quite putting on one's blue-white chappals and stepping out. Let me describe a slice of the Sunday afternoon: Peter from the third floor of the BB building beside the Buddhist temple leads the charge but is obstructed by Andrew from the ground floor BB building across the CMDA Hall on Bow Street. Tempers rage — not as much on the ground as between verandahs across the 'street': "Wot men, dis is duhhttee, ahm going to show that Andrew boy when he comes off the field at half time, waitchyou see." Or another Bow Barracks verandah erupted with "Wot dis uncle Brown referee doing, men? Buggering up this match. Can't see for nuts!" The debate would extend beyond the match to BB-corner addas and cross-conversations across verandahs, interrupted by shrieks of "Let me speak first, then you speak!" The next morning, the evening agents of vitriol would have daubed deep red lipsticks, light perfume and waist-caressing dresses on their way to earn an honest living as stenographers and secretaries across multinational offices dotting the Kolkata of the Seventies.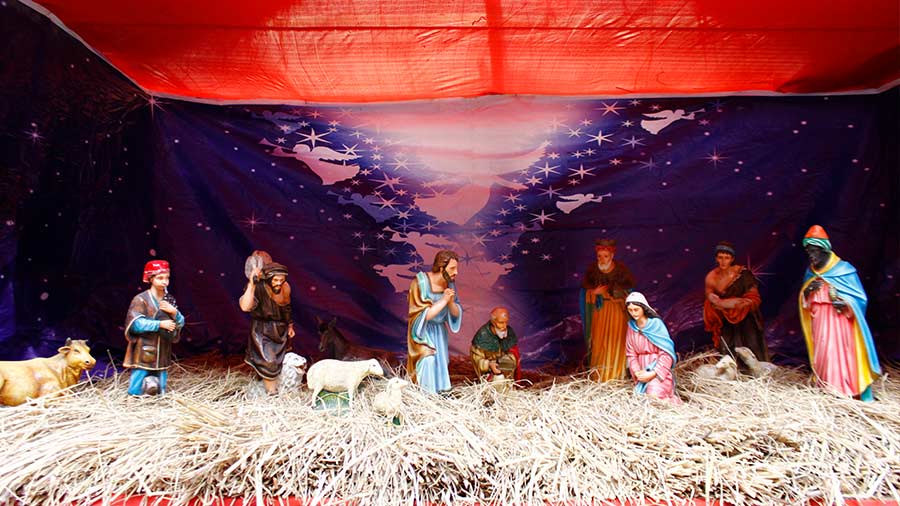 The Nativity Scene put up at Bow Barracks for Christmas this year.
Sourav Nandy
The Anglo Indian of Bow Barracks was a rare species: he or she was a combination of swag, English fluency, hockey and music. Earlier, if I had to place a metaphorical bet on where the next Peter Sarstedt or Cliff Richard would have come out of in Kolkata, I would have said: "Oh, Bow Barracks, where else?" If someone had asked me to make a scientific deduction of where the next Uncle Les (Claudius) would emerge, I would have concluded: "Bow Barracks, quite possibly."
Signs of Change
And here hangs a tale: Bow Barracks is yet to produce a CR, PS or LC, partly because it is too consumed with the romance of living life to the full and doesn't quite have the time to produce one. To become a world-class hockey player would mean that one would need to rise at 5am 255 days a year, run 2000km across the year, pump iron and go on a 365-day Lent (no booze or sweets). "We could," I heard a Bow Barracker say once, "but men, I have never seen the world before 7.30am." I have a friend who lives six buildings away and he has a term for all those who live in Bow Barracks; he calls it 'LAAL' — laidback at another level.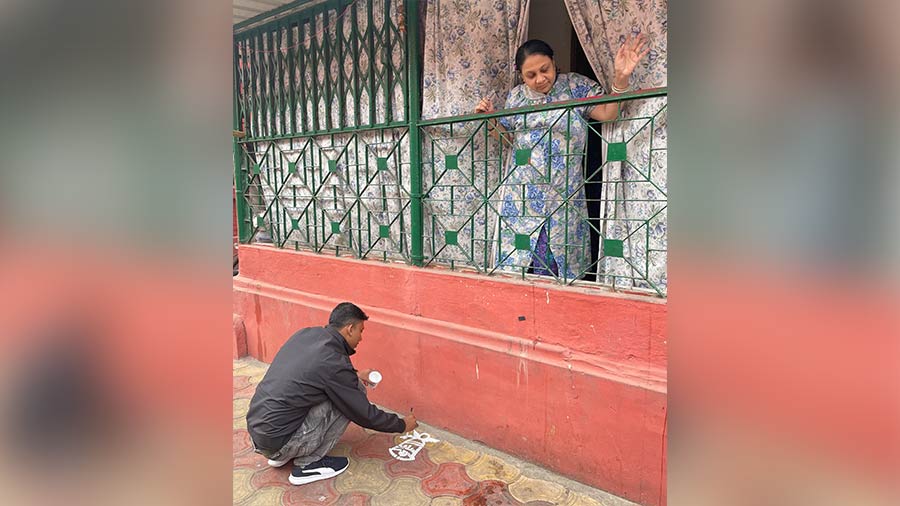 A man paints a Christmas bell 'alpona' in Bow Barracks during Christmas this year.
Mudar Patherya
I have a sneaking feeling that Bow Barracks may have changed. In early December while painting alponas anonymously outside the homes of Bow Barrackers, a grilled window suddenly opened to ask "Whochewdoing?" The lady watched with amused indulgence and even fetched a newspaper for our street artists to sit on. Suddenly, just when it appeared that she might warm up with an offer of a cup of tea, she excused herself: "I needchewgo. My class in Canada is just starting."
One can no longer find car parking space in Bow Barracks; the buildings are painted a fresh red courtesy the KMDA's sudden interest; the lingering sewerage smell of the past has gone; the inner courtyards are cleaner; the 2022 Christmas lights graduated BB into the poor man's Park Street; the crazy-packed Christmas music party continued into 3am or thereabouts; Steven vended home-made liquor brought down from his kitchen into the street but packaged in imported bottles, besides marketing some cake on the side; three buildings down a young lady marketed 'Thread Chicken' and 'Chicken Lollipop'.
Antony has long since migrated but I looked inside his home for old time's sake. The highlight of the evening was a hunched overweight man in a suit befitting the occasion. I recognised him by his gait. The last I had seen him was 40 years ago, a time when we lived under an embargo against BB engagements. In a moment I had unspooled the past to recollect just who he was — slightly soft in the head, completely guileless and perpetually smiling.
I sidled up, touched him on the shoulder and whispered "Rudy?" He turned, detached himself from the bidi, smiled ear to ear at a stranger and said: "Me?"