Even till a few years back, a visit to Belur was primarily taken as a sacred pilgrimage tour of the Ramkrishna-Vivekananda tourist circuit, Belur Math Ramakrishna temple and other heritage buildings connected with Swami Vivekananda.  
However, now, there is an additional attraction and reason to visit Belur town.
For the last couple of years, Belur has strongly featured on the list of weekend destinations near Kolkata thanks to a tastefully renovated riverside heritage property with all modern amenities.
This hidden gem, known as Belur Rashbari, is situated on the banks of the Hooghly, hardly a few minutes' walk from Belur Math. It is now attracting people who love heritage and solitude.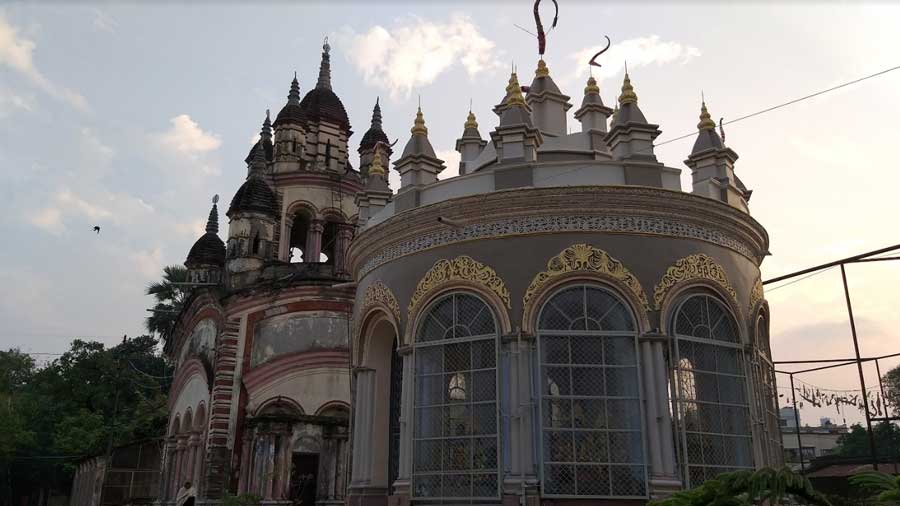 The Raas Mancha and the Navaratna temple of Radhakanta Jew
It is ideal for one looking for a short break, and a short drive, from the madding crowd of the city. The place has a huge Navaratna temple and votive Shiva temples, rasmancha, clock tower, nahabatkhana and a riverside pavilion — all inside one compound that also offers majestic river views from every single corner.
Belur Rashbari is owned by one of the richest families of Kolkata, whose show of wealth during Durgotsav was legendary. The old chronicles of Kolkata give evidence of how money spent on Durga Puja and other religious festivals by the Dawn family of Jorasanko was talk of the town for several years.
The history of the family, written by Haradhan Dutta, records that more than 100 years ago, the height of their Durga idol was 12 feet, and a gang of 45 loaders were needed to carry the idol on their shoulders for immersion.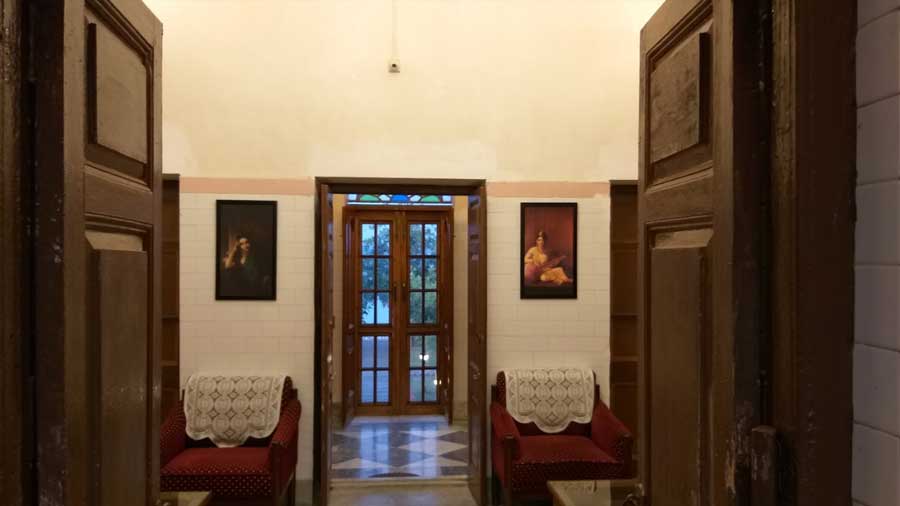 One of the rooms at Belur Rashbari
The 'Chalchitra' was designed by artists from Kalighat and many of the ornaments of the idols were designed and brought from Paris. Such was the extravaganza of Dawn family.
This riverside property was owned by one Purna Chandra Dawn, son of the famous Shiv Krishna Dawn, after whom a road in north Kolkata is named.
The property was taken in the mid-19th century and soon a massive nine-pinnacle temple in typical Bengal school of architecture style was built in 1890. It is dedicated to Radharaman Jew, the family deity of the Dawns, and is still worshipped in this temple.
Though the temple is not embellished with any significant terracotta panel, its slim structure still adds beauty to the panorama.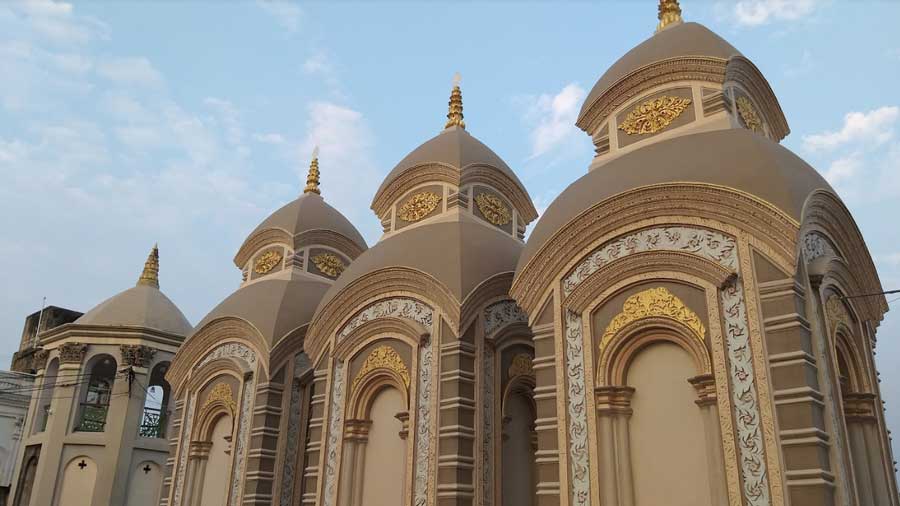 Six 'aatchala' Shiva temples stand as votive
Just behind the main temple, six 'aatchala' Shiva temples stand as votive. These temples are all in the typical 'aatchala' style of Bengal school, very commonly seen with Navaratna temples.
The complex houses a circular Rasa Mancha, where several clay models of Radha and Krishna are displayed. This Rasa Mancha becomes a theatre of festival during 'Pancham Dol', a very special festival celebrated here on the fifth day of Dol Yatra. The complex attracts a huge local crowd on Janmashtami as well.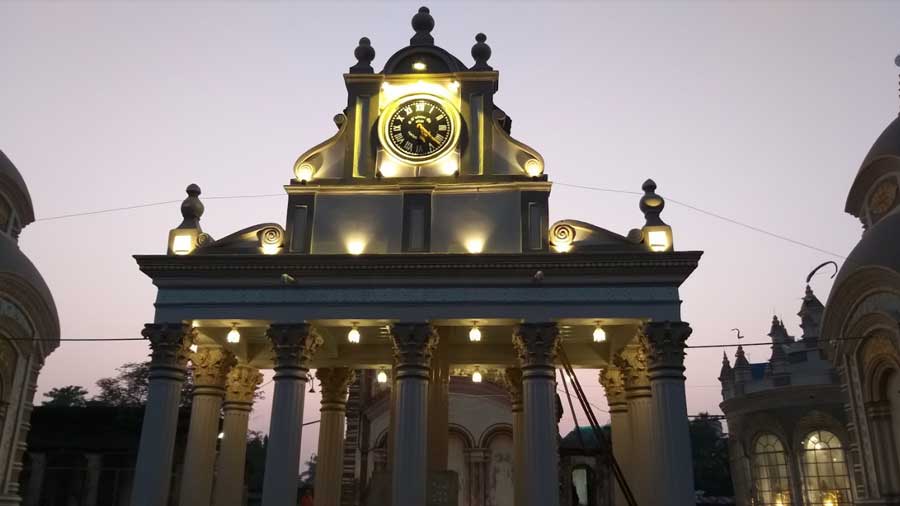 The clock tower, built on 12 Corinthian pillars, is lit up in the evenings
A touch of Indo-European architecture is visible in its Naatmandir, which is also a pavilion very strategically built between the river bank and the temple.
The roof contains a clock tower and is built on 12 Corinthian pillars with beautiful floral designs on their tops. The clock tower contains an active clock.
For visitors, the entire complex is free for entry, though entry to the temple is subject to permission. One has to take off his/her shoes before entering the temple and Raas Mancha.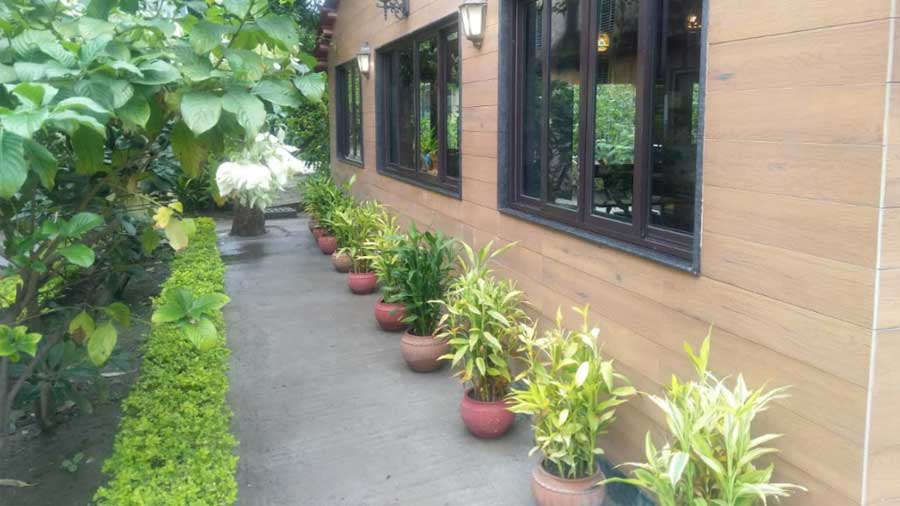 The café offers tea and snacks
A newly built café offers mouth-watering snacks and tea. The café has a sloped roof covered with terracotta tiles and its interiors are decorated with various handicrafts of Bengal.
Visitors can have their evening tea or morning breakfast by the riverbank as well. An expanded lawn runs from the complex to the gated bathing ghat of the river and there are provisions for evening get-togethers. The lawn provides a nice panorama of Kolkata on the other bank. The passing boats and the distant sound of their motors make the evening more magical.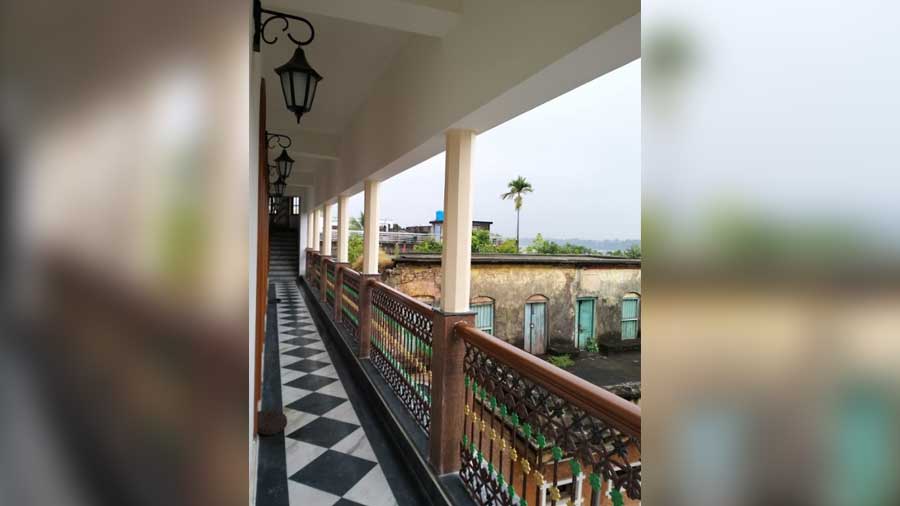 A European-style running veranda
The lodging is provided in a building named Kadambini Niwas, which has been tastefully renovated. It's European-style running veranda in front of every room is a unique provision to enjoy the view of the river. The sound of river waves breaking at the brink of the bank is audible from the room. Presently, four double-bed air-conditioned rooms are done up, with more to be added in the future.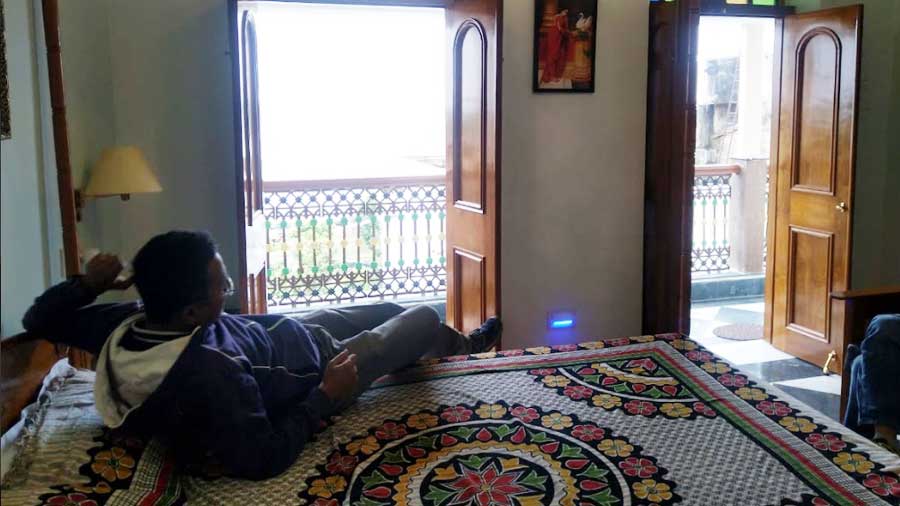 Presently, four double-bed air-conditioned rooms are available
Another heritage building that is renovated for evening get-togethers, and if needed, for small parties is also river-facing and its vintage furniture and other décor pieces catch every eye.
One of the finest touches of this property is its selection of exterior colour. The choice of light brown and yellow with bright golden is an excellent combination and its peerless beauty is exposed best when twilight passes over it.
As soon as the sun goes down, all the heritage structure are illuminated with excellent light design. Even the residential block is also very creatively lit. A massive statue of Swami Vivekananda is an added beauty of the spot.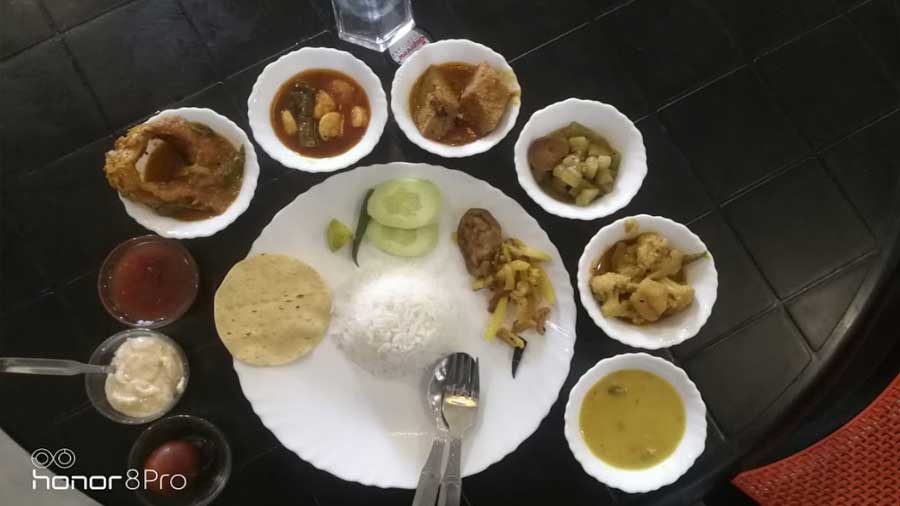 A typical lunch (though fish is only provided on special request)
The food is primarily vegetarian, but fish is provided on special request. Food is served in the dining room only, but tea and snacks can be ordered through room service. Consumption of any type of alcohol is forbidden as the property is under Shiv Kumar Dawn devottor estate.
Situated near Belur Math and bang opposite Baranagar of Kolkata on the other side of the river, Belur Rashbari is an ideal getaway from bustle and din of the city. The complex itself is loaded with heritage, but for those looking for more than that, the river bank comes as a perfect supplement.
[All photographs by Somen Sengupta]
Somen Sengupta is passionate about heritage and travelling and has been writing about it for 26 years. When he is not executing duties as a senior executive in an MNC, he keeps an eye out for intriguing historical trivia and unearths forgotten stories. This also makes him an avid quizzer.