I didn't realise it had been 15 long years since my last visit to Bangkok, and I am more than convinced that we have to look to the East for fantastic, value-for-money holidays. The food scene, from street vendors to Michelin-starred restaurants, is affordable, and there seems to be a variety of places to stay – from charming shop houses-turned-heritage hotels to service apartments and luxury accommodations that go above and beyond, offering an unparalleled experience at a fraction of the cost in Europe.
Despite being a top destination for Indian tourists, I still find a vacuum with regards to information about what to do in the city beyond its legendary nightlife. So, this time, I was determined to explore the city in a whole new light.
Finding the ideal stay: Capella, an urban sanctuary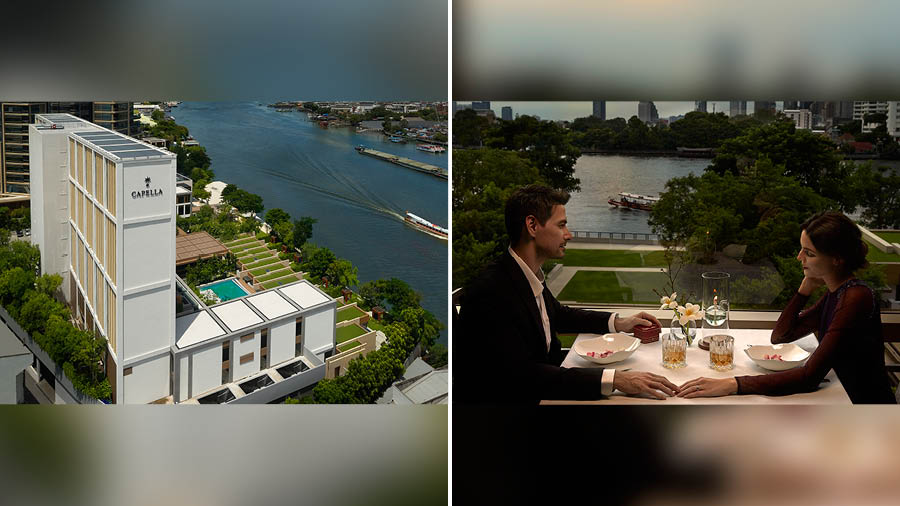 Capella is an urban sanctuary of sorts, with river-facing villas, surrounded by lush gardens and outdoor plunge pools
Courtesy: Capella Hotels & Resorts
In bustling Bangkok, you'll crave a stay that's both conveniently close to everything yet provides a luxurious escape from the city's chaos. Capella fits this bill perfectly. The hotel is an urban sanctuary of sorts, with river-facing villas, surrounded by lush gardens and outdoor plunge pools. It was recently voted the No.1 Best Hotel Brand in the World and No.1 Best Hotel in Bangkok by Travel + Leisure World. The average room size alone is equivalent to a junior suite in most hotels! I can't stop thinking about my villa – floor-to-ceiling glass walls allowed me to gaze at the serene Chao Phraya River amidst the bustling city.
The elegant decor, great service, stylish spaces that seamlessly blend indoor and outdoor areas, and the thoughtful touches like stunning flower arrangements, exquisite Wedgwood crockery served at Japanese high tea, and the leather and brocade lined tote bags in the room added a touch of luxury. The complimentary add-ons, like pressing, Cin Cin happy hour at Stella, and having a personal 'culturist' – a cross between a butler and concierge – made my stay even more special. The smooth airport transfers in a Mercedes S Class somehow managed to tame Bangkok's notorious traffic, and the boat shuttle to Icon Siam was a real plus. And let's not forget the jaw-dropping 1000 sq metre spa.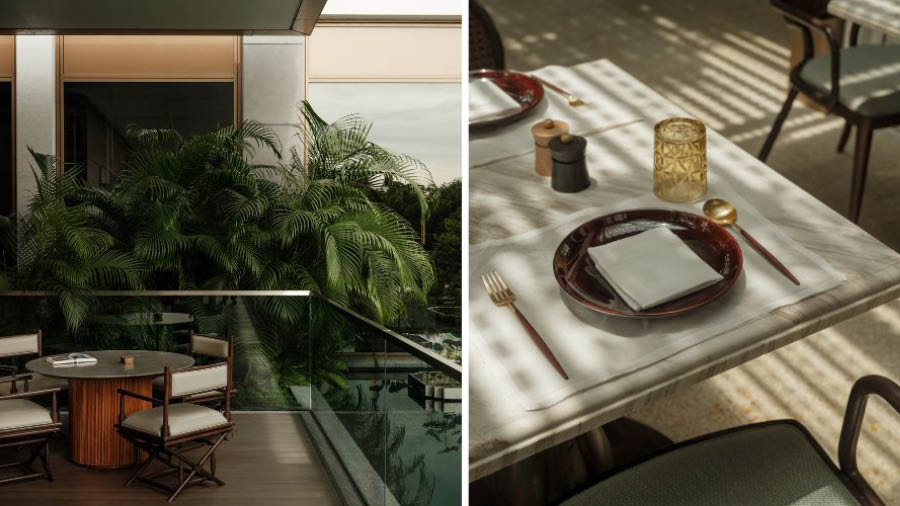 At Capella, the check-in desk is replaced by an inner sanctum called the Living Room and (right) perfection is in the details
Courtesy: Capella Hotels & Resorts
There's no mundane check-in desk either. At Capella, guests are welcomed into an exclusive inner sanctum called the Living Room – a large glass-enclosed enclave with sliding shutters and wood flooring, resembling a posh living room. Here, you can sip on a glass of bubbly or chilled coconut water while gazing out onto the lush gardens and pool.
Culinary delights at Capella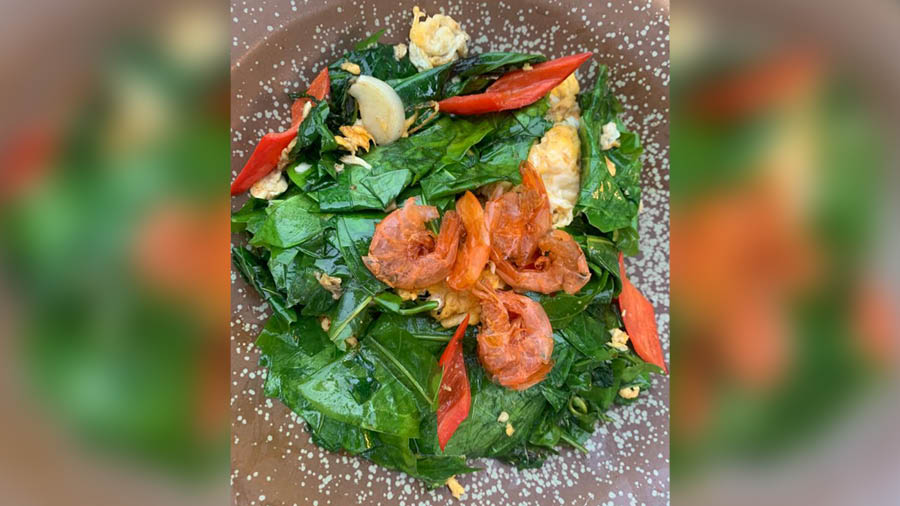 An offering from Capella's Thai restaurant, Phra Nakhon
Karen Anand
The food at Capella is stunning, with an enormous breakfast spread that includes a buffet and various local, Japanese, Chinese, and international a la carte options. But the real gem was their Thai restaurant, Phra Nakhon, overseen by the lovely Chef Kannika. They can tailor-make the spice level of the dishes, and you can choose to dine indoors or outdoors, taking in the charming ambience. A huge plus is the Michelin-starred restaurant Côte by Mauro Colagreco, the genius behind the famed Mirazur, a 3-Star Michelin restaurant that was once ranked the No.1 in the World's Best 50 restaurants. Michelin restaurants in the West have become outrageously expensive so this is a great opportunity to have a world-class experience without breaking the bank. I also liked the fact that I didn't have to do a long tasting menu like many fancy establishments insist. They offer 5, 7, or 9 course menus, and they even serve the first two options at lunch.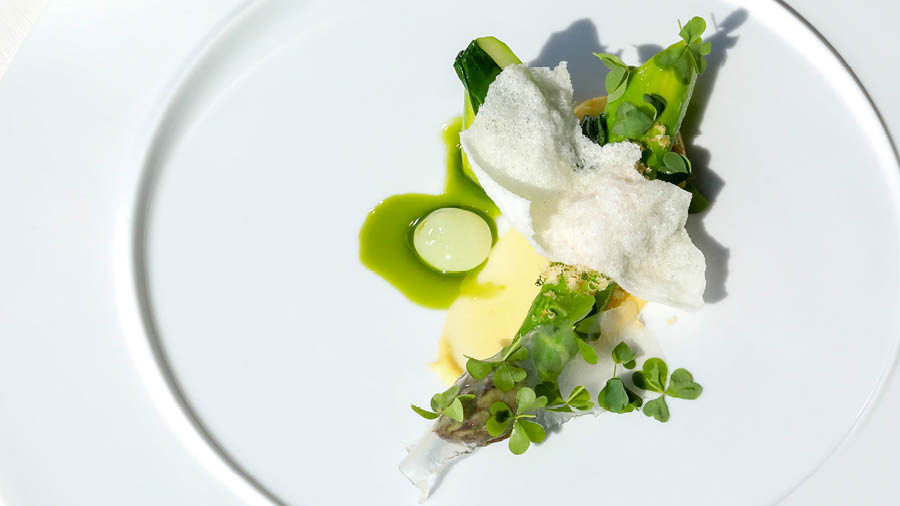 Seasonal changes in the menus at Michelin-starred restaurant Côte by Mauro Colagreco keeps things fresh
Karen Anand
The seasonal changes in the menus keep things fresh, and Chef Davide, Mauro's right-hand man, is always there to ensure a memorable dining experience. To me, Capella perfectly balances the effortless class of a grande dame with the charm and personality of a boutique property – catering to the "discerning, spirited traveller who who appreciates refinement with a side of whimsy". Easily one of the best city hotels I've stayed in for a long time!
A shopper's paradise: Icon Siam to Or Tor Kor Market
Everyone seems to shop in Bangkok and I can understand why. I decided to visit Icon Siam, the big fancy mall that opened in 2018, mainly to buy some Nespresso capsules. Now, I must admit, these large air-conditioned malls with international brands are neither new nor exciting for seasoned travellers, but Icon Siam's Food Court in the basement is an absolute revelation! It's like Harrods on steroids – I've never seen anything quite like it. Hundreds of food stalls, including an artificial floating market, offer lots of interesting things to buy and eat (just avoid weekends when it gets too jam-packed). Whether you're in the mood for fresh juices, new-age desserts, or bubble tea and smoothies, there's something for everyone, and it's very affordable. And if you really want to try something new – they even serve crocodile meat!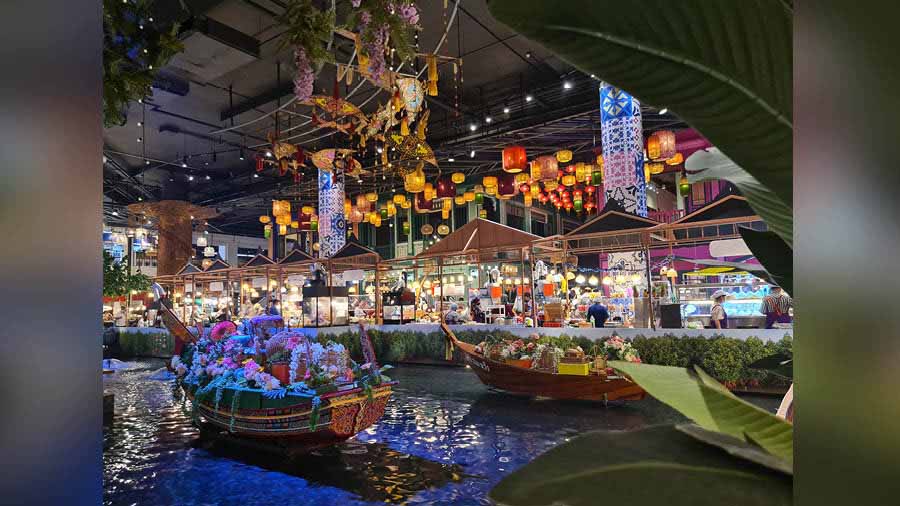 Icon Siam's food court in the basement has hundreds of food stalls, including an artificial floating market
Shutterstock
The next day, I headed off to somewhere more in my comfort zone – or Tor Kor market. Again, completely clean, hygienic and brimming with flavours – especially from Isaan which is in the north east of the country. Pork kebabs are made with rice so they ferment slightly, fish is slightly pickled and then fried, and the som tam and laab are amazing. There's a food court if you'd like to sit and eat. I bought packets of dry shrimp without shells – vacuum-packed and sealed so it was easy to carry back home. Locals say it's a bit expensive compared to real wet markets but the hygiene factor is a big plus.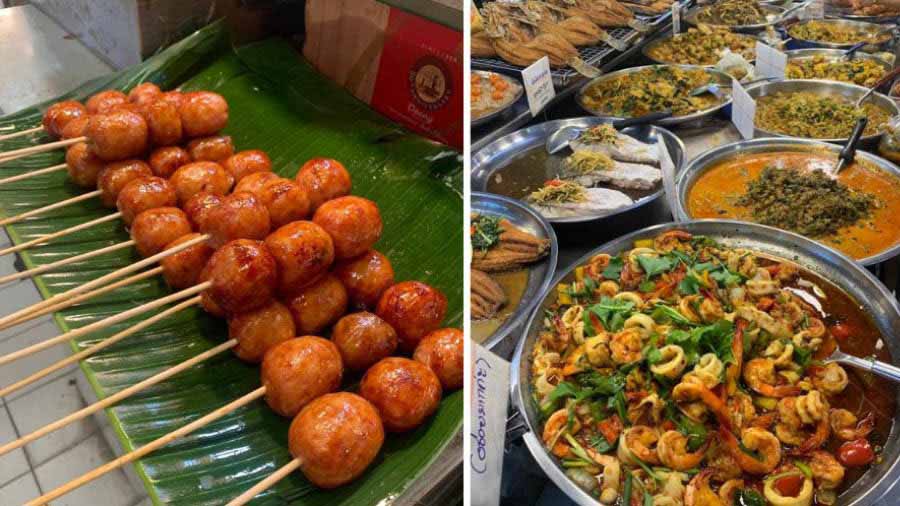 The dishes at Or Tor Kor market are punchy with spice and packed with flavour
Karen Anand
Right next door is the Flower Market – mostly for serious gardeners and city-dwellers. However, if you are an orchid lover, as I am, they have a few varieties worth picking up at bargain prices.
Chinatown and Talat Noi
As Bangkok evolves, it's starting to resemble Singapore with its clean eating spaces, many of which are air-conditioned for comfort. But if you want to get down and dirty, Chinatown night market is your place. This place is a melting pot of specialty food shops selling everything from shark fin to Chinese herbs. It reminded me of Wan Chai in Hong Kong. The street food scene is wild with different avatars of squid – cuttlefish, tentacles, eggs – grilled and served with sweet spicy Thai dressing. And don't miss out on the big seafood soups, crispy pork, and jumbo-sized fruits like lychees, mangosteen, longan, and rambutan! Try Rock Shell. In the UK they call baby versions of these, winkles. In France, slightly bigger sizes are served raw on seafood platters, and you pick out the flesh with a pin rather like escargot or snails. In Bangkok, they are whopper-size and therefore need to be steamed and are served with a tangy, spicy dressing. These shells often double up as tourist souvenirs.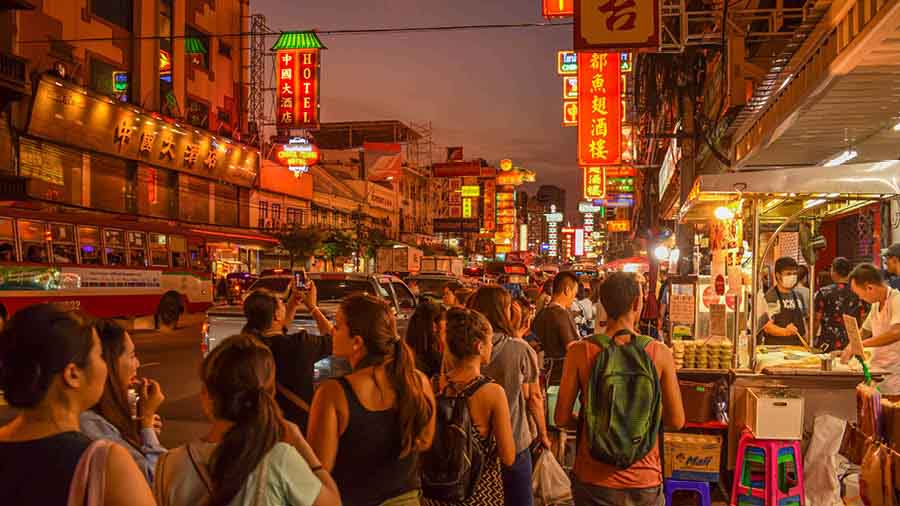 If you want to get down and dirty, Chinatown night market is your place – it is a melting pot of specialty food shops selling everything from shark fins to Chinese herbs
Shutterstock
Chinatown is sweaty, hot and pulsating. On the other hand, Talat Noi, just on the edge of Chinatown, is an example of a historic, resilient neighbourhood that meets trendy fashionable cafes, bars and art galleries. You'll still find old Chinese community houses, Chinese temples, and noodle shops, along with the trendiest coffee spots. Part of it borders the river, which is enchanting. Look out for local street foods, including the curry puffs that do brisk business here.
Bespoke tailoring at World Group
Now, here's a little tale. Many years ago my husband and I were staying at the Mandarin Oriental. We had booked to go on the Orient Express from Singapore to Bangkok and were very kindly given a couple of nights at the MO. I noticed all the service staff were really well-dressed, their uniforms impeccably tailored and asked rather impertinently who their tailor was. They directed me to a shop called World Group, just around the corner.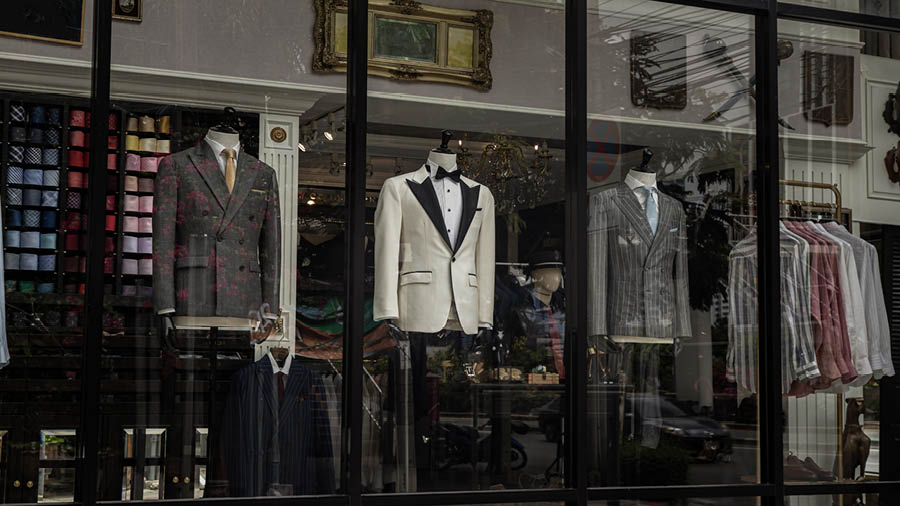 If you aren't a perfect size or have bulges here or there, the bespoke tailoring of Bangkok is perfect
Shutterstock
The next day, we walked into the shop, chose our fabrics and styles, and got measured up. To our surprise, they assured us that our suits and blouses (two for him and one for me with red silk lining) would be ready that very evening. We were sceptical – we were leaving the next morning. After dinner, we checked with the concierge, and there was no parcel. We went up to our room and in disbelief found everything hanging neatly in the wardrobe. Everything fit like a dream and was beautifully finished. In fact, I still have my suit and one day I hope to be able to fit into it again! On this trip, for the sake of nostalgia, I had to try and find it.
The concierge at Capella said although there were many tailoring shops in Bangkok, there were only two post-Covid that he would recommend and the closest was the World Group! I went.
The shop was exactly as I remembered it. Although prices had gone up considerably, I had to make a couple of shirts for the husband. I didn't have a sample or his measurements so we did a video on WhatsApp. They delivered the shirts that evening and they fit him like a glove. If you aren't a perfect size or have bulges here or there, this kind of bespoke tailoring is perfect.
Getting around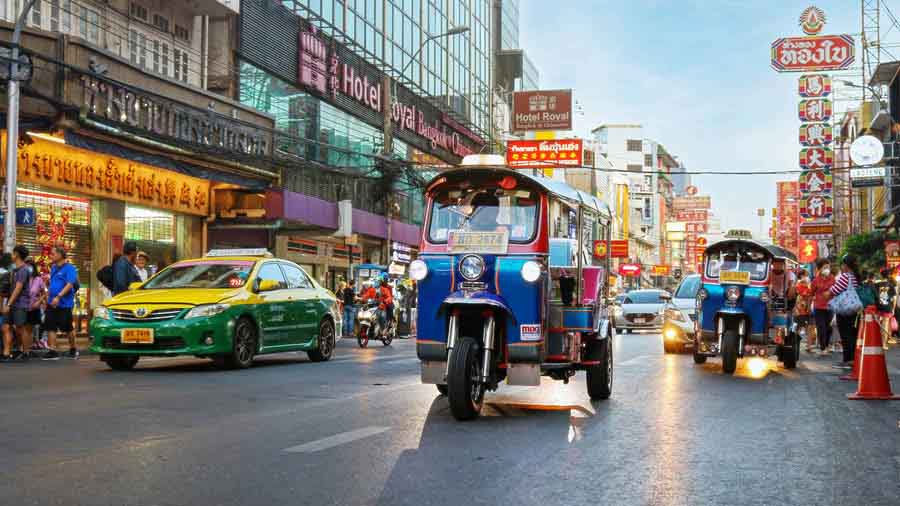 Haggling with taxis and tuk tuks can be a stressful task
Shutterstock
One challenge I did face as a single woman traveller in Bangkok was transport. Taxis and tuk tuks can be stressful, you have to negotiate the price before you sit. A better option is to download the Grab taxi app. If all else fails, head to the nearest mall or department store, where you'll always find a taxi stand.
So, that's my tale of doing Bangkok my way. Rediscover this vibrant city and I promise you'll be enchanted, just like I was! Happy travels.
Karen Anand is a food and travel writer, author, food consultant and founder of Markets by Karen Anand, a curated gourmet lifestyle market that takes place across India.