This October saw me on my first trip to Europe, fuelled by a plethora of literature and films that had already painted a romanticised picture of the continent in my head. And, boy, what a romance it was. From Rome's giddying alleys of cobbled stone leading you from wonder to wonder, to Milan's crisp high fashion against the backdrop of soaring spires and awe-inspiring facades, Italy was a whirlwind of art and culture, waiting to be consumed hungrily. The next destination, however, took the cake – sponge, icing, cherry, it all. As my train departed from Milan, my snubbed nose did not budge from the windowpane as the city's modern skyline slowly gave way to a charming Italian countryside. The journey unveiled picturesque villages with terracotta-roofed houses, lush vineyards, and olive groves stretching across the landscape. And all of a sudden – mountains. You're snaking through the Swiss Alps on either side, you're reflected in a pristine blue lake, you're surrounded by farms, by horses and cows that look like they belong in a child's picture book. And there you are, in the Swiss capital. Bern, lovely Bern.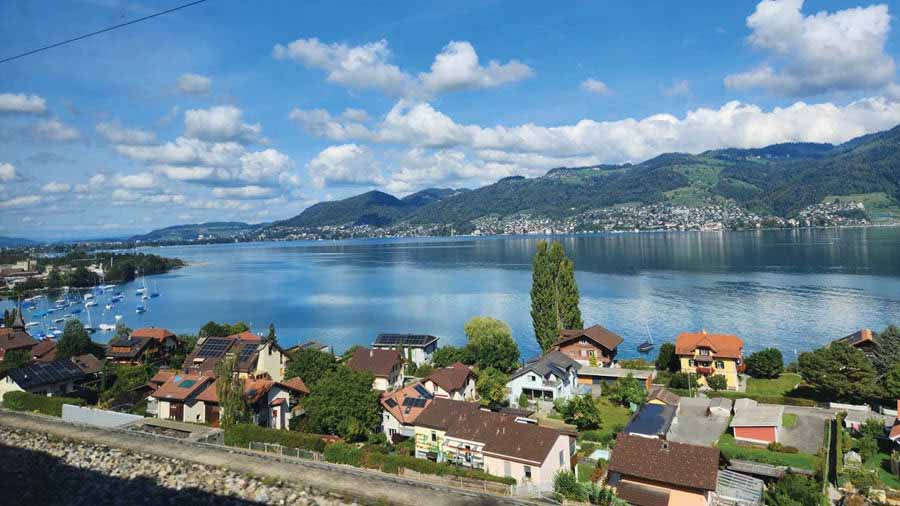 Captured enroute to Bern: the landscape changes the moment the train rolls into beautiful Switzerland
Bern is a city that watches on from the sidelines. She does not often make it onto every tourist's Swiss itinerary and is frequently overshadowed by the more popular destinations of Zurich and Zermatt. However, it is this pretty-as-a-picture sleepy city with its quiet content in itself that drew me in. After the washing machine spin cycle that was Rome, Bern was a leisurely soak in a bucket of warm water. The city takes you in, it accepts. Like pencil lines tracing a way on a map. Like a voice on the radio, snatched snippets between static, that sound like home.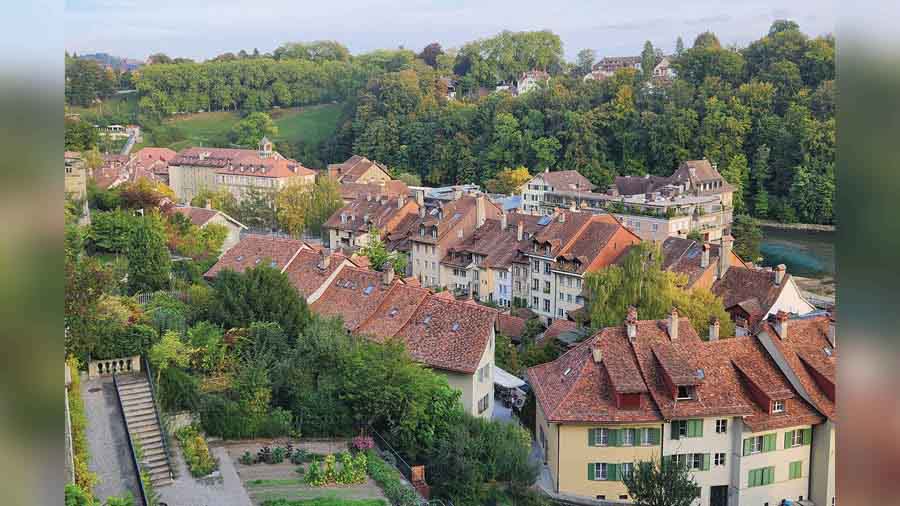 Most buildings in Bern maintain a quaint uniformity with their sloping red tiled roofs
One of the first things you must see in Bern is the Zytglogge. Nestled in the heart of the Old Town, the Zytglogge, when translated roughly from Bernese German, means "Time Bell". This is no ordinary clock tower, however. It is a whimsical astronomical timekeeper that transports you to a bygone era. This clock does not just count seconds like hypnotic heartbeats. It offers an hourly performance that includes a dancing jester, parading bears, and an hourglass-flipping God of Time – Chronos. Think Disney's cuckoo clock, but centuries older. The steady beat of the seconds hand seems to get louder and louder, burning itself into your mind, echoing the age-old adage: time marches on relentlessly, stopping for none.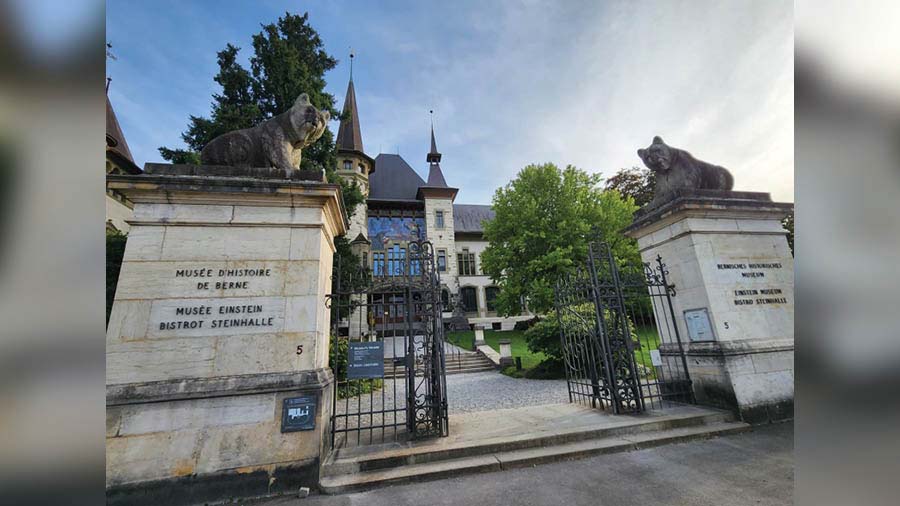 The city is home to Einsteinhaus and the Einstein Museum
The Zytglogge does more than cause visitors existential crises about the impending end of days, though. It is here that a young Albert Einstein, influenced by the song and dance of this very clock, began to plant in his mind the very first seeds of his theories on time, relativity, and space – theories that would soon prove to be groundbreaking and unchallenged in the world of physics. It comes as no surprise, then, that Bern is home to Einsteinhaus – the physicist's former residence which has now been converted into a museum dedicated to his life and work. Exploring Einstein's house provides a unique opportunity to walk in the footsteps of one of the greatest minds in history and gain a deeper understanding of his contributions to science. The museum is a testament to Einstein's time in Bern, marking a significant chapter in his remarkable journey.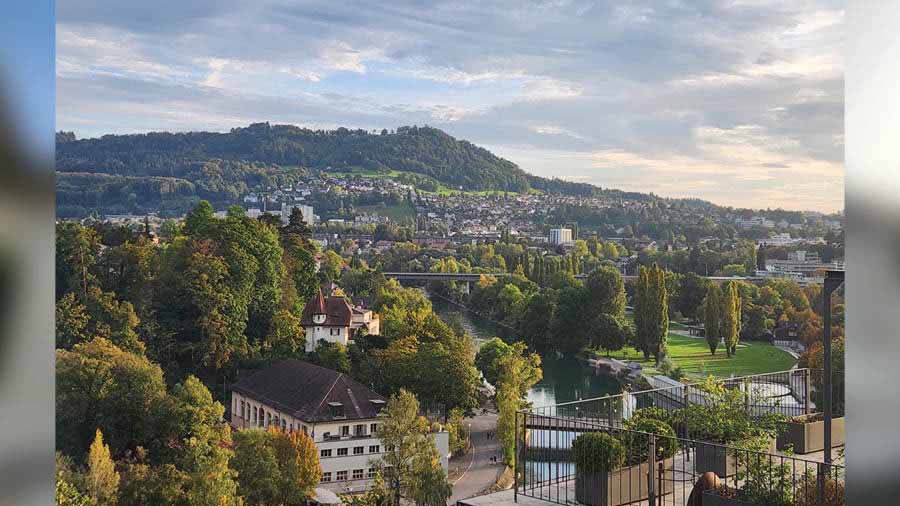 Where cityscape charisma and mountainous majesty come together in splendid harmony
The public transportation system in Bern is impeccable, and I harbour the softest spot I have for trams. I have decided, cue trumpeting flourish, that trams are my favourite mode of transport. Maybe it's the cable lines that satisfy me. They break the boring perfection of blue skies and angular buildings, and the mess of black criss-crosses itches a specific portion of my brain that I didn't even know was wriggling to be itched. There was one particular tram journey, a short one from Hirschengraben to Rosengarten, that stays on as a soft memory. In the seats in front of me sat two very old ladies clutching each other's hands. The tram's leisurely pace mirrored the unhurried pulse that their lives must be now. Sunshine pooling, moving, melting away. Slow-moving tram, slower-moving life. Yellow flickering lights. Tiredness etching itself, makes a home for itself in wrinkles, and hands heavy with rings of loves past. Life ambles along in the postcard city that is Bern, softly, quietly, protected by the Swiss Alps on either side, hugged by the Aare River. Time itself, it feels, lives here.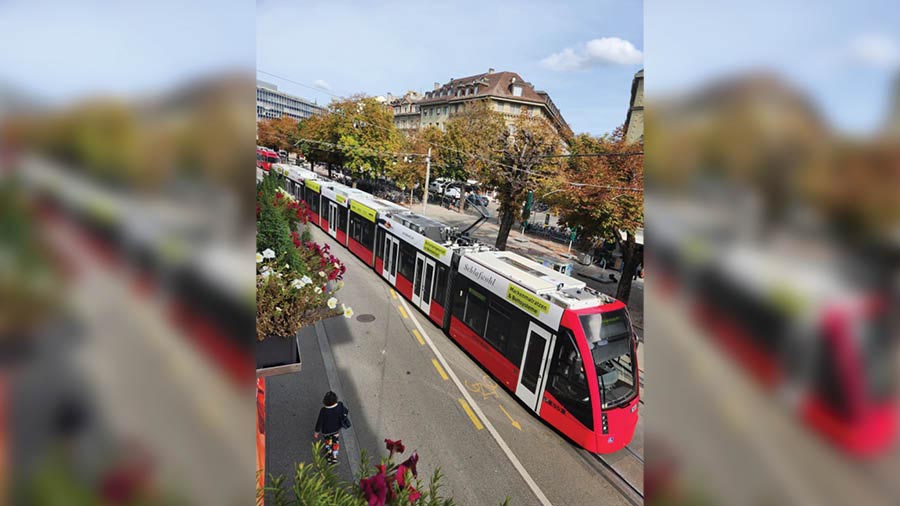 Slow moving trams, slower moving life. The tram station, which was very conveniently just across from my hotel. The soft mechanical sounds wafted through my room every night
I save the best for last, however, and I now come to my very reason for landing my dart on Bern in a country whose every city seems to compete with its neighbour in terms of beauty. I came for the Zentrum Paul Klee, a museum dedicated to the artist Klee that houses over seventy percent of his original work.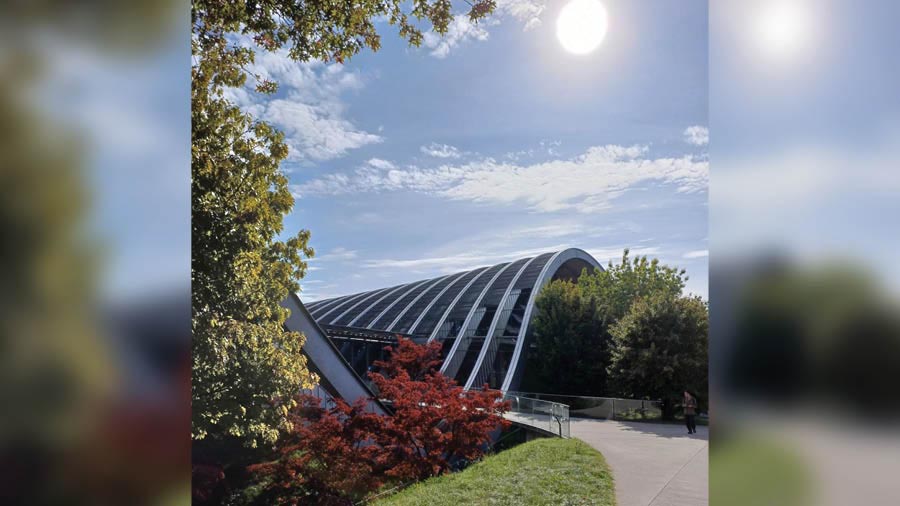 The facade of the Zentrum Paul Klee, designed by the artist Renzo Piano
Now, I must confess that I am no art critic, I am merely an excited enthusiast, and my knowledge and understanding of modern art is mediocre at best. Paul Klee, however, draws in people from all walks of life, with all levels of experience. He was a Swiss-German artist known for his unique style combining elements of expressionism, cubism, and surrealism. "Paul Klee. Alles wächst" or "Paul Klee. Everything grows" is one of the more popular exhibitions that the Zentrum offers, which highlights his artistic philosophy.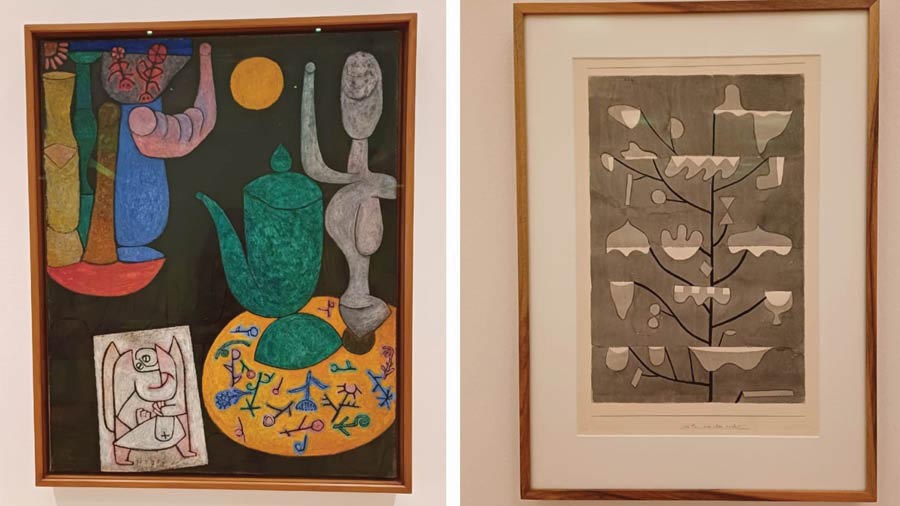 (L) Ohne Titel (letztes Stillleben ) or Untitled (last still life), 1940; (R) was alles wächst!, or How Everything Grows!, 1932, Paul Klee
"In Paul Klee's works," says the exhibition, "all kinds of things sprout, take root, climb, and blossom. A wide variety of plants, gardens, landscapes, and parks – but also stones, water, and weather phenomena – are recurring motifs in his oeuvre." Klee compared a single seed to a point – a dot – that enters into motion, becomes a line, and then develops into a plane and a form. The artist then becomes the creator, who, like nature, makes something new. The artists' works grow like plants, in a process that makes them come alive.
It is with a head full of Klee, a stomach full of Swiss hot chocolate, and a heart full of love that I leave this city, and I promise myself that I will throw all my coins into Roman fountains, and spin on my heel on all the Milanese bulls, just to be able to come back here someday.