The 2020s version of the hipster is a far cry from the beatniks or hippies of the swinging '60s. The modern hipster is likely to be a coffee snob, shop at an organic food store, profit from their creative pursuits. You're likely to bump into one of them in a songthaew or what tourists call red cars in Chiang Mai — a sort of repurposed pick-up truck that is used as public transport. Thailand's northern hub has long been at the centre of the country's culture, language and religion. Today it's also a magnet for solo travellers and pilgrims who have over 300 temples to choose from.
Ice breakers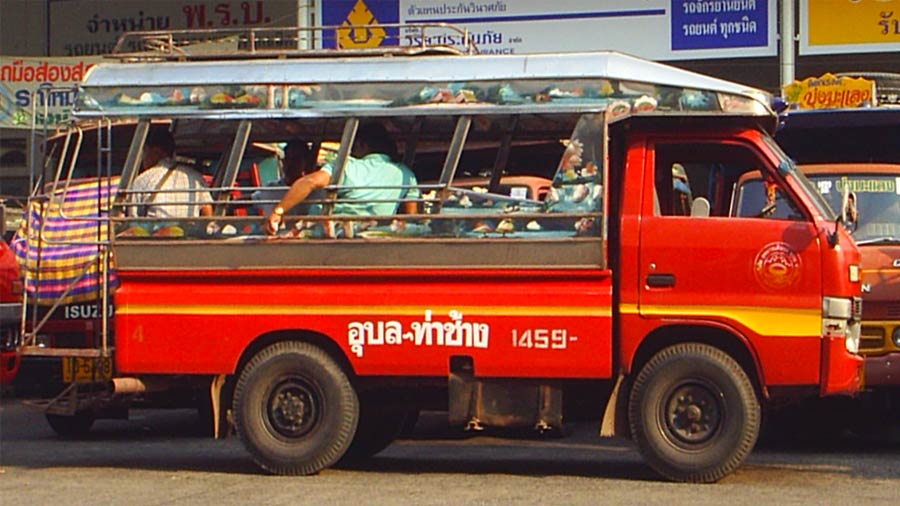 A songthaew or 'red car'
Wikimedia Commons
The word songthaew translates to 'two benches'. It describes the seating on these covered pick-up trucks where passengers are snugly seated in the back on two facing benches. I took my first ride on a songthaew within hours of touching down at Chiang Mai and discovered that these work more efficiently than cab hailing apps in the city. It's also the best spot to meet fellow global travellers — I met a chef from the US, bankers from Singapore and BTS fans from Korea. Almost each of these encounters allowed me to make new discoveries in this cultural hub.
309 steps and sweeping views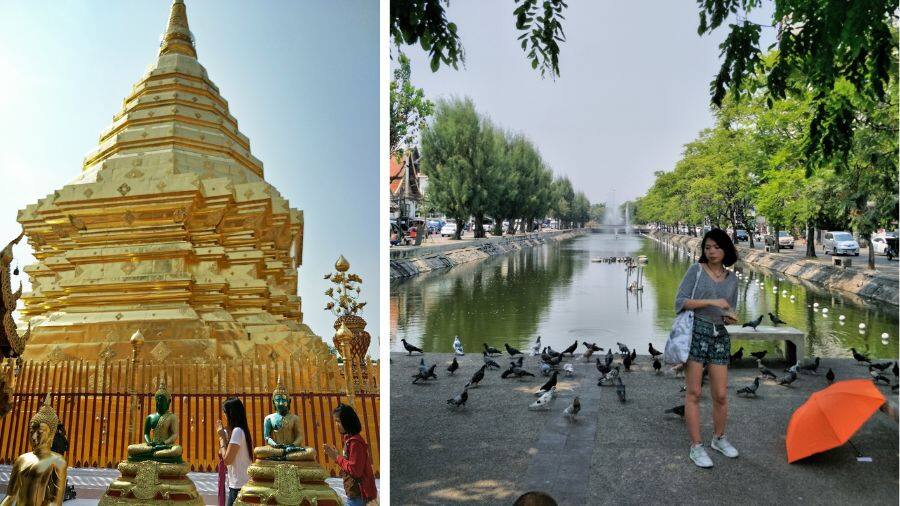 Wat Phra Doi Suthep, and (right) a park near the Tha Pae Gate, which has the historic fortifications from the Lan Na kingdom
The concierge at Le Meridien Chiang Mai suggested that I head to Wat Phra Doi Suthep, one of the most revered shrines in northern Thailand that dates back to the 14th century. A steep, 309-step climb takes you all the way to the pagoda and brings you close to the copper-plated chedi (stupa), the temple's holiest spot. You can opt for a tram ride too. The wat (temple) features both Hindu and Buddhist elements. Pilgrims and visitors queue up to seek blessings from an emerald Buddha and a towering statue of Lord Ganesh. I'd also recommend a visit to this temple for sweeping views of Chiang Mai.
The epicentre of the Lan Na kingdom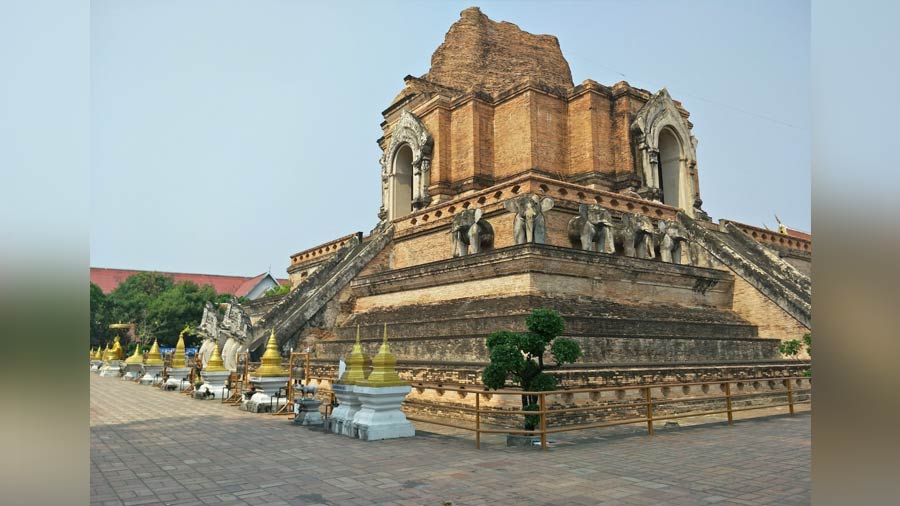 Wat Chedi Luang
Chiang Mai was once the capital of the Lan Na kingdom, one the country's two powerful empires. The other was the Ayutthaya kingdom in the south, closer to Bangkok. Wat Chedi Luang in the heart of Chiang Mai is probably the most esoteric shrine in the city. Locals agree that for almost five centuries (1296 to 1768) this Lan Na-style chedi was the largest structure in Chiang Mai, but disagree on what caused its damage. Some say it was an earthquake while others believe it was cannon fire during a fierce war with the Burmese in 1775. This was once the home to a legendary emerald Buddha that is now housed in Bangkok's Wat Phra Kaew or The Temple of the Emerald Buddha.
Walking Street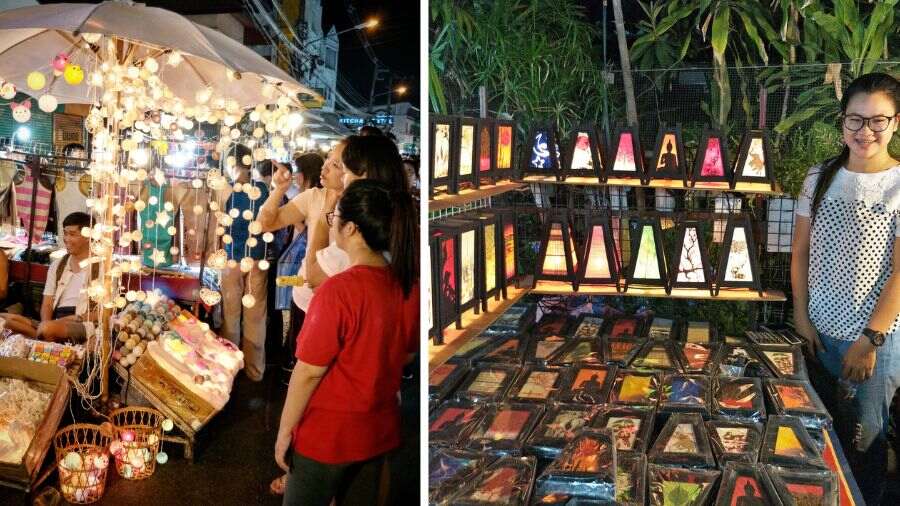 Stalls selling lights and handmade items at Wua Lai Walking Street
You can still see sections of the old fortification at the Tha Pae Gate, which connects the city with its glorious past. It's one of the many structures that have benefited from an ambitious restoration project by UNESCO and the Japanese government. This section of town gets particularly busy during the weekend. The Wua Lai Walking Street is one of my favourite night markets in Southeast Asia. It's packed with a wide range of handmade products by local artisans, I call them the city's hipsters who put their best creative foot forward. There's everything from engraved mobile cases, gourmet snacks, to lights and handcrafted silver jewellery in the mix.
A slice of Melbourne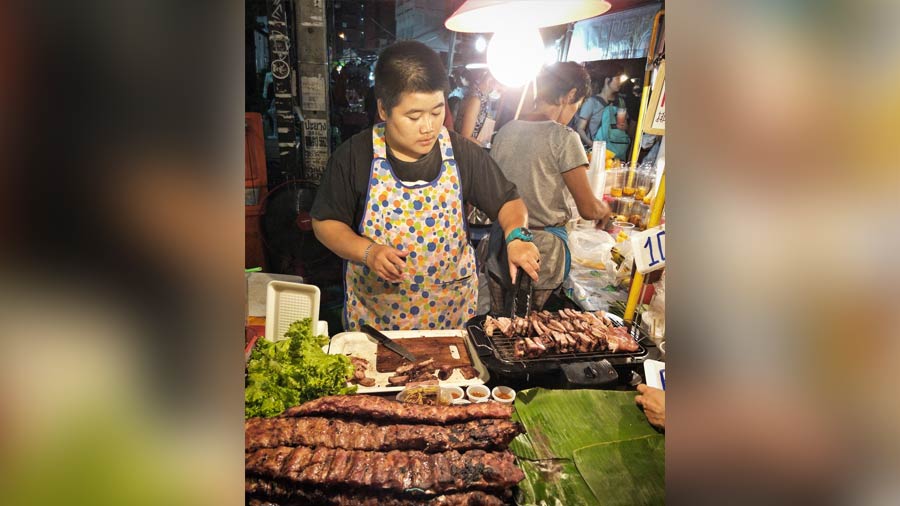 There are numerous options for the foodie traveller at Chiang Mai
In a city where hipsters converge, the Nimman neighbourhood, close to the city's university is ground zero of sorts. You will find coffee snobs attempting to educate baristas at Ristr8to, an award-winning café that seeks inspiration from Melbourne's coffee culture. Chiang Mai is a haven for gourmands from Thailand and abroad who come here to explore the cuisine of northern Thailand, which shares influences and flavours with Burmese and Laotian food. The weekend market is a great place to start. My local friends made me try the Laotian-style meat salad called larb, the famous Chiang Mai sausage and the Khanom Kro, sweet dumplings made with rice flour and coconut.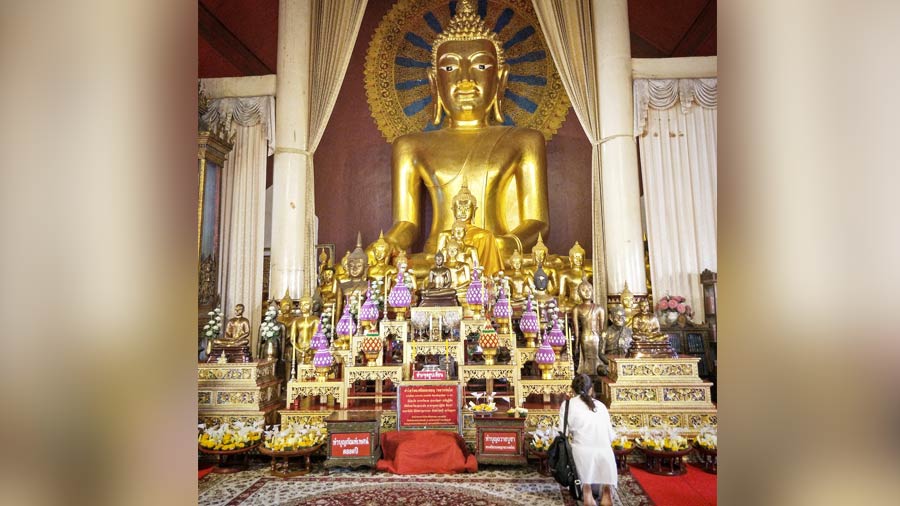 The Golden Buddha at the 14th-century Wat Phra Singh
You will never run out of culinary options here, just like you'll never run out of temples to visit. There are over 300 temples at Chiang Mai — do stop at the Wat Phra Singh and be mesmerised by the Golden Buddha. This unique mix of travel experiences, where there's something for everyone, is what makes Chiang Mai — which translates to 'new city' — a great getaway.
I attempted to fit everything into a three-day trip and failed. This is a city where you need to wake up and smell the coffee. At least that's what I learned during all my rides in the city's 'red cars'.