The Italians were never part of the colonial power games in Sri Lanka, and yet, there's a Little Rome here. It's one of the first things I heard when I checked into Club Hotel Dolphin. This was supposed to be a workcation, where I do more work and less play, but Negombo had other plans for me. If there's one reason I'd recommend the historic city of Negombo to travellers from India looking for a short break, it is its proximity to Colombo's Bandaranaike International Airport. I breezed through immigration – it's faster if you secure your ETA (Electronic Travel Authorisation) via the official website instead of opting for an on-arrival visa. I was in my beach-facing villa within 30 minutes of securing my bags at the airport.
Cinnamon battles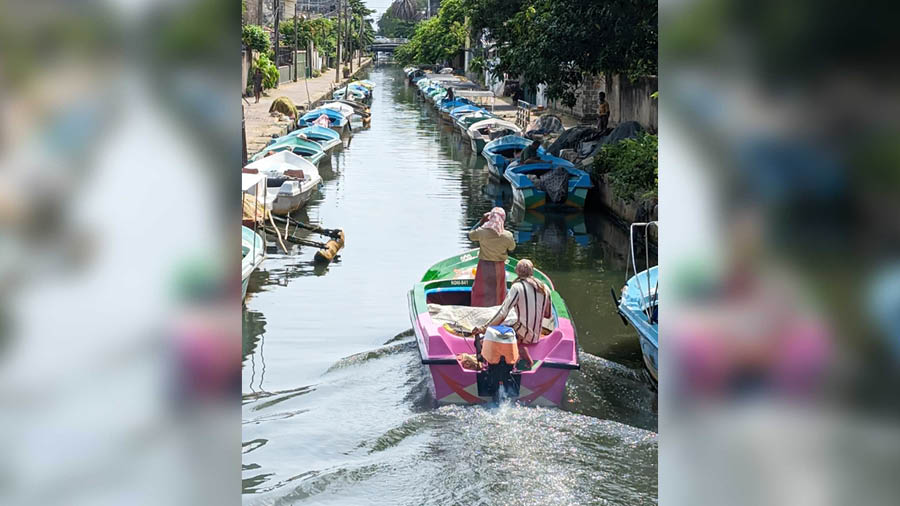 A slice of Venice in little Rome!
Ashwin Rajagopalan
"The very best in the universe, as well as the most abundant". The Dutch were clearly sold on Sri Lankan cinnamon. They controlled the cinnamon trade for almost 150 years. But it was the Portuguese who got here first. They wrested control of this strategic coastal town from the Jaffna Kingdom in the 16th century. Negombo is the Portuguese version of its Tamil name Neerkolombu. The Dutch arrived here in the 17th century and left a lasting impact on Negombo. The most visible sign of the Dutch occupation is the canal system – a slice of Venice in little Rome! The Hamilton Canal eased the flow of goods, particularly cinnamon all the way to the scenic Negombo estuary. You can also view the exteriors of the Negombo fort that is used as a prison
Sri Lanka's seafood capital?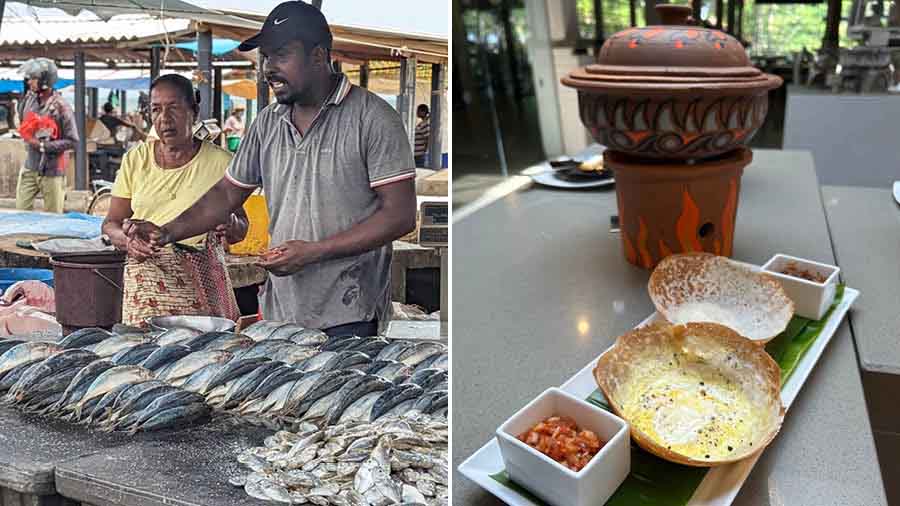 A stall at the Negombo fish market and Sri-Lankan style hoppers (appams)
Ashwin Rajagopalan
There was always a queue at the seafood counters at the Club Hotel Dolphin buffet. The buffets also allow you to explore local staples like hoppers (appams) served with the fiery sambols. Most locals travel to Negombo for their seafood fix. Colombo is just an hour away and Negombo's seafood shacks are part of its appeal. If you are at home in crowded, action-packed spaces, I'd suggest a stop at Negombo's fish market. This is not a spot where you can compose the perfect shot with a DSLR, but where your 'quick draw' mobile photography skills come to the fore as locals haggle for the best price. Almost everyone's a fisherman/woman in Negombo and it's not unusual to spot locals standing in line along the estuary with fishing rods. I even spotted a couple of locals with their bike helmets, stopping for a 'quick bite' on their way home.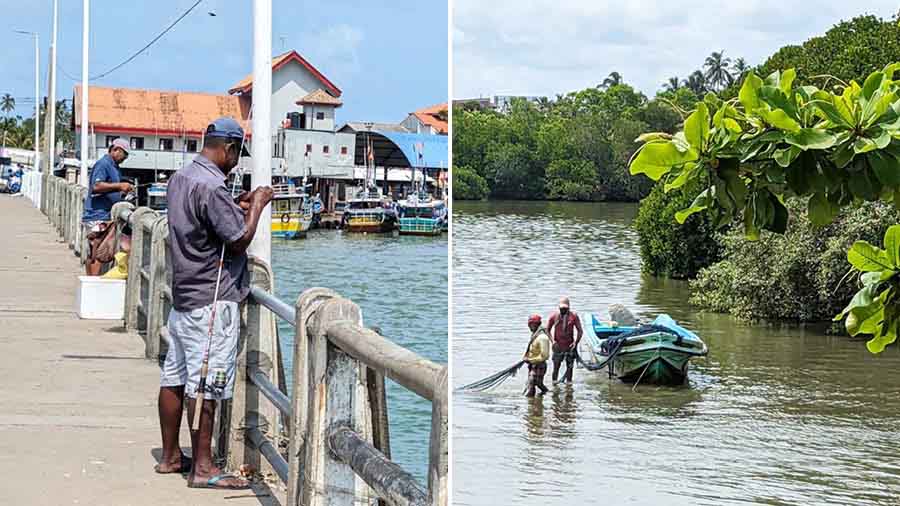 Almost everyone's a fisherman/woman in Negombo
Ashwin Rajagopalan
When in Little Rome
Negombo's Little Rome moniker is a reference to its predominantly Catholic population. It's home to some of the most significant Catholic churches in Sri Lanka. I stopped at St. Mary's Church that has an interesting amalgam of European and local design influences. Construction of this church began in the 19th century and it followed a neoclassicism style of architecture. The ceilings are painted with alabaster images of many saints.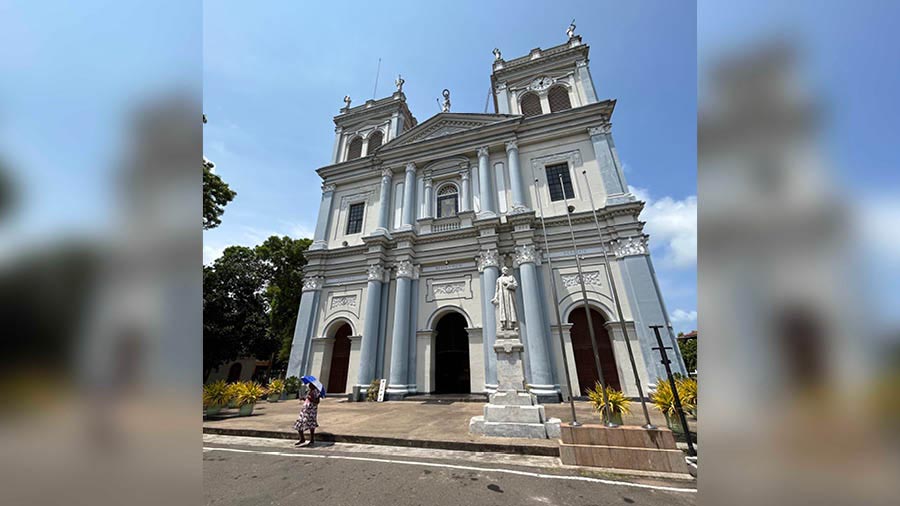 St. Mary's Church is an interesting amalgamation of European and local design influences
Ashwin Rajagopalan
Legendary sunsets
The Club Hotel Dolphin is one of many resorts that dot Negombo's long shoreline. Many of my friends in Colombo drive down here for the weekend for Negombo's seafood and also a dip in the largest pool in any resort in Sri Lanka. I spent more time staring at the waves than in this meandering pool. Sunsets are extra special during the summer and post the monsoon season. I enjoyed waking up to the sound of the waves and trying to work from the comfort of the lounge chair just outside the villa. It's tough to stay focussed on your laptop screen with these views, but I did succeed – occasionally. Many of the longer stayers also look for beach accommodation around Lewis Place and Porutota Road.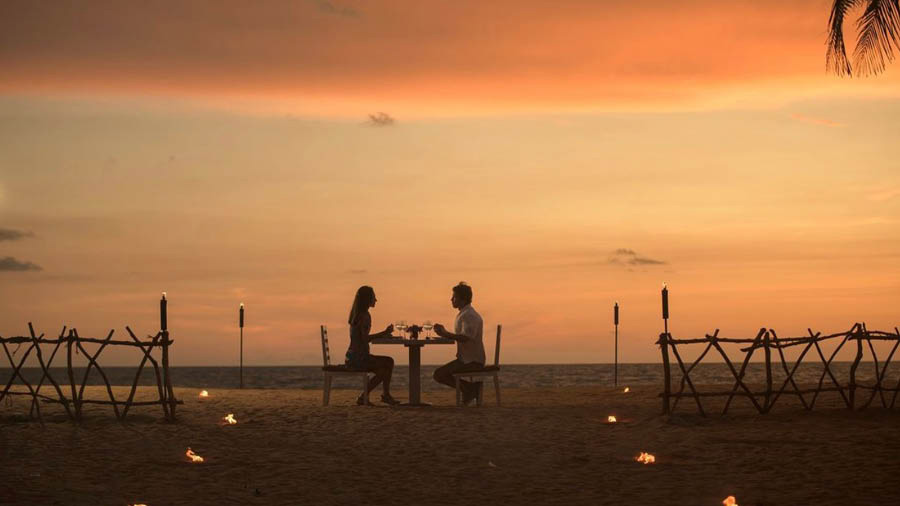 Sunsets are extra special during the summer and post the monsoon season
Club Hotel Dolphin
Hipster hangout
After catching a beautiful sunset, it was time to head to Negombo's dining and entertainment hub. Lewis Place and Porutota Road is the quintessential hipster hub where most visitors converge. Negombo's seafood plays out in popular hotspots like Coconut Primitive – the prawns and calamari are both terrific – and Lord's Restaurant. If you want more action than Negombo's vibrant nightlife, you can try your hand at jet-skiing or kite surfing. But for me, Negombo's easy vibe and close proximity to the Colombo airport make it the perfect spot to take a leisure break or a quick weekend getaway. All you need is a room with a view of the beach.