Colombo has been in the thick of the country's recent challenges. It started with the Easter bombings in 2019; the pandemic left a devastating effect on the tourism-driven economy. And then came the political upheaval. I've come back to Colombo each time it emerged from these challenging scenarios and it's comforting to see a new optimism in the air. It's a great time to be in Colombo, the city is back on its feet and the Sri Lankan capital is a great spot for solo travellers — whether you're passing through or if you want to plan a quick weekend getaway.
Time travel
Colombo has seen three European colonial powers jostle for supremacy. The Portuguese arrived first – you won't find any remnants of their occupation or the fort that was built in 1517. But the fort has lent its name to Colombo's oldest district. The Dutch ejected the Portuguese from Colombo in 1639 and stayed until 1815. The Dutch Hospital Precinct is one of the connecting links to the Dutch legacy; this tiled structure with a large courtyard was a lifeline for the occupying Dutch forces.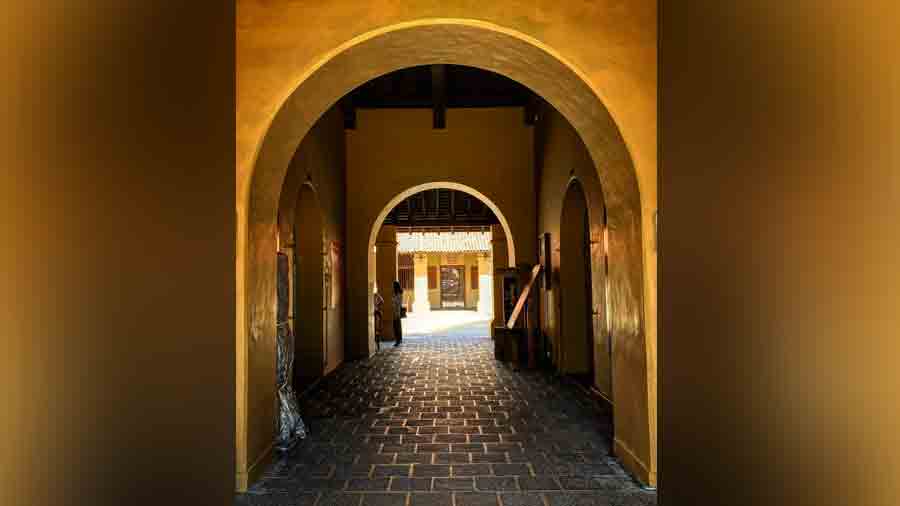 The Dutch Hospital Precinct
Now, it's a painstakingly restored retail and dining hotspot that also includes Sri Lanka's popular restaurant brand Ministry of Crab (promoted by Mahela Jayawardene and Kumar Sangakkara). It's the British influence that lives on in the Fort area.
From the original post office (GPO) built in Renaissance style in 1896, to the famous clock tower that dates back to 1856, the Fort area is full of architectural treasures. I'd also a suggest a quick stop for a G&T (a ritual for British sailors from another era) at the Grand Oriental Hotel, a shadow of its formal self, with a bar that still offers sweeping views of the Colombo port.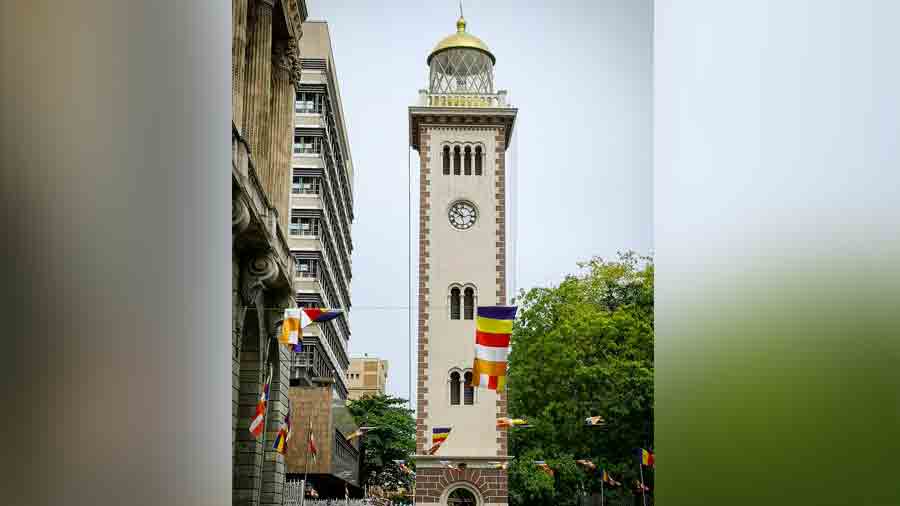 The clock tower in the Fort area dates back to 1856
Shopping adventures
Pettah is one of my favourite areas in Colombo. This busy market area is home to the Jami-Ul-Alfar mosque that dates back to 1909. This unique red and white minaret draws on Indian and Indo-Islamic architectural styles.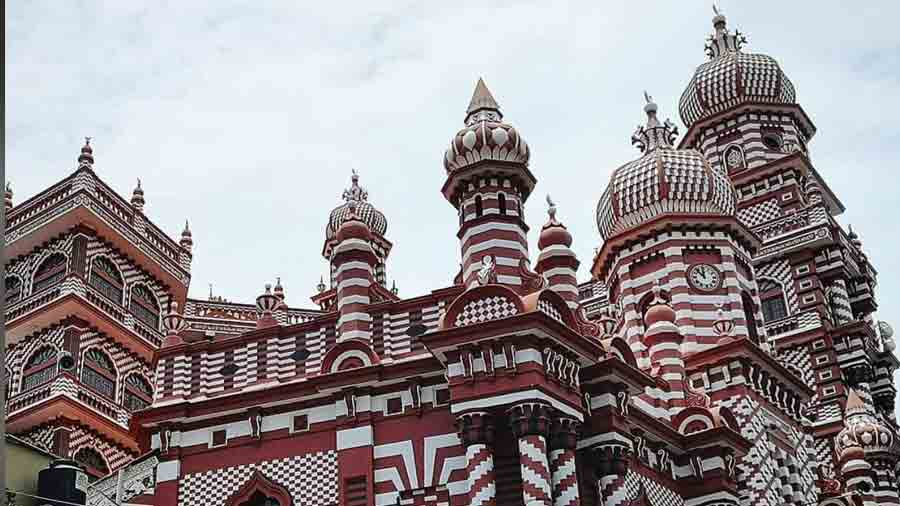 The Jami-Ul-Alfar mosque
Pettah is also famous for its spice traders. Do stock up on Sri Lankan cinnamon while you're here. Odel in Alexandra Place is a compete contrast to the hustle of Pettah. This chic shopping destination offers the best of Sri Lankan products (look for their funky flip-flops) and designer brands. One Galle Face Mall is the new world-class mall in the city and houses T-Lounge from Dilmah (one of the country's best-know tea brands), a lounge and tea bar with a selection of specialty teas and tea-inspired drinks, aside from café favourites.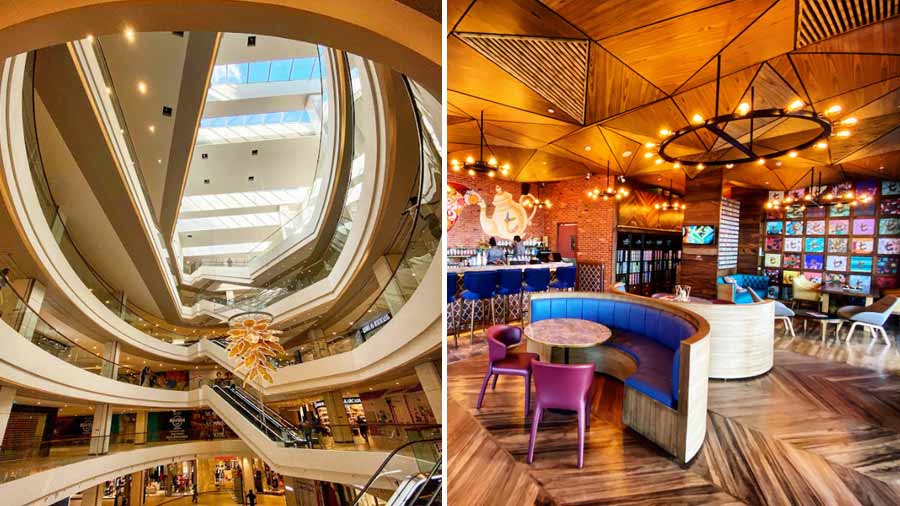 One Galle Face Mall is the new world-class mall in the city and houses T-Lounge from Dilmah (right)
Local flavours
Burgher translates to 'citizen' in Dutch — this term was used to distinguish the Dutch from a group of people with mixed Sri Lankan and Dutch descent. The Dutch Burgher Union is a colonial-era social club set up by the Burghers and is one of Colombo's quaintest heritage buildings.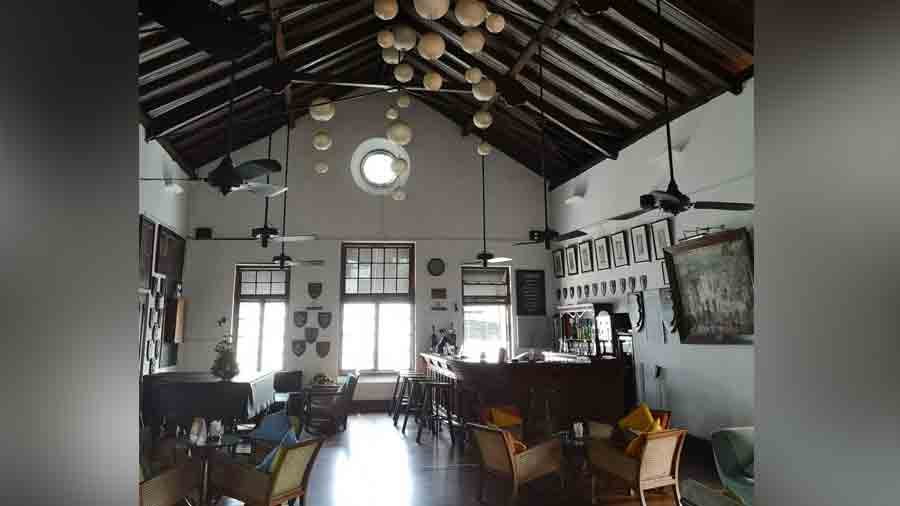 The Dutch Burgher Union is a colonial-era social club
VOC Café at the club showcases the unique cuisine of the Burghers. Do try the lamprais (that originated from the Dutch word lomprijst or packet of food), that features meat, curry and rice wrapped in a banana leaf and baked in an oven. I'd also recommend the watalappam, arguably Sri Lanka's best-known dessert.
My favourite spot for authentic Sri Lankan cuisine is Curry Pot. This casual self-serve style eatery allows you to pick from an array of curries and sides (look for the fish ambul thiyal – a sour fish curry). You are charged depending on what you pick up from the food counter.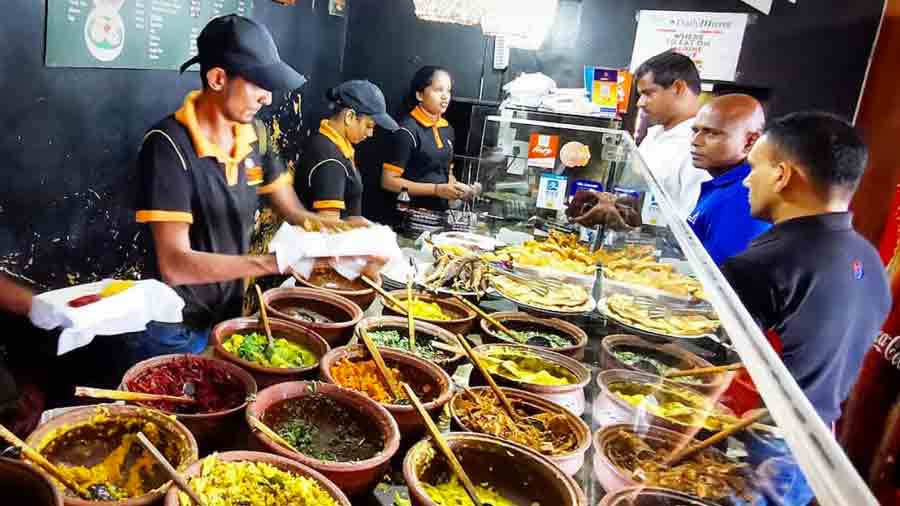 The spread at Curry Pot
Sundowners and beyond
If I have to pick one place for a sundowner, it would be Vistas at the Movenpick Hotel. You get sweeping city views and those legendary Colombo sunsets (on a clear day). The other great spot for solo travellers is the Sky Lounge at The Kingsbury, which is almost on the edge of the Indian Ocean.
The view from Vistas at the Movenpick Hotel — perfect for a sundowner
The action shifts to Park Street Mews once the sun goes down. It's easy to imagine you're in a European capital as you walk through a cobbled street under fairy lights as this strip comes alive. This was once a warehouse district, and is now Colombo's trendiest night spot, where expats and the city's hip set converge. My favourite spots here include Uncle's, a trendy bar, and Monsoon that offers Asian fare and a terrific live band on the weekends.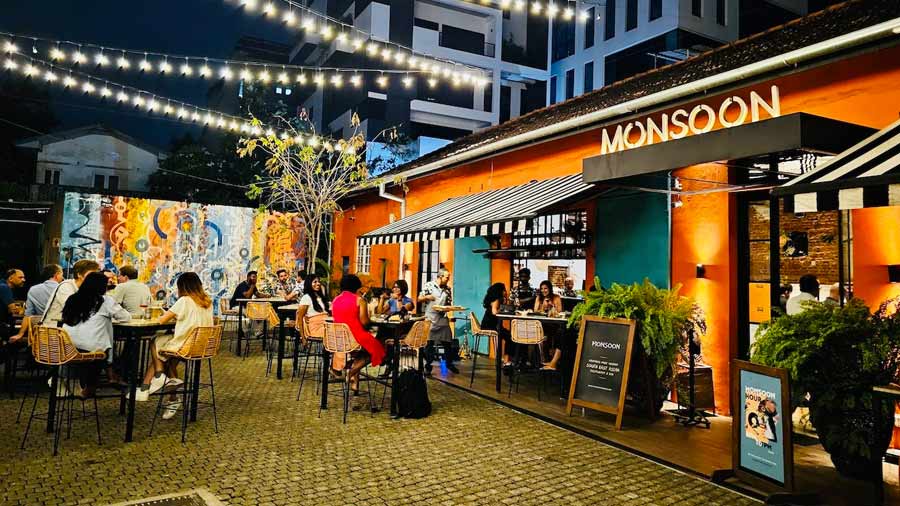 Park Street Mews is Colombo's trendiest night spot
Colombo's vibrant nightlife (casino buffs usually converge at Bally's Casino) and laidback vibe makes for the perfect solo travel destination. Getting around is easy and locals are always keen to help. But for me it's Colombo's magical sunsets. That's one reason I keep coming back.