Please pack a warm jacket and hiking boots" was the instruction from the Bhutan Tourism representative and just 15 minutes before reaching Netaji Subhas Chandra Bose International Airport I realised I had left my warmest jacket back home. Being a true blue Bong, I feel cold, very cold, so the jacket was my ticket to coming back alive.
After bouts of nervousness and making several calls to friends and family members, the airport authorities allowed me to take my jacket in the nick of time. Relieved, I went through security check, only to realise that the sole of my hiking boots had come off! "Nooooo, this cannot be happening!" I told to myself, almost in tears, because this was my most trustworthy pair of boots that I was wearing post-pandemic; I hadn't been on a mountain trip since then.
Completely baffled, I tried calming myself at the airport because I was really looking forward to travelling to Bhutan, that had opened to tourism on September 23 and I was invited by Bhutan Tourism and was among the first batch of international travellers to arrive in the country which had been closed to travellers because of Covid-19. I was super excited the night before but since morning everything was going haywire, and after several deep sighs, I boarded Druk Air with an exhausted mind.I didn't realise that I had dozed off and when I opened my eyes and peeped out of the window I saw the azure blue sky was almost replaced by green mountains. What?! I rubbed my eyes and sat up to figure that the aircraft was gliding through two mountains and paddy fields and one could almost see the tiny shadow of the airplane below just as they show in the movies. This by far was the most fascinating airport landing that I have had experienced. It could get an anxious traveller paranoid but there is nothing to worry and Druk Air a few minutes before descent played a music that had a soothing effect.
For the first time before I even got off, I saw people wearing traditional gho (men's attire) and kira (women's attire) waving and waiting to greet with a scarf, refreshments and a beautiful dance performance. After an easy-breezy immigration, I sat in the car and headed to my first hotel in Bhutan, Amankora Thimphu. Roads were bump-free, the weather was perfect and getting colder post-evening. Soon, I reached my destination.
After some cocktails and a deliciously warm meal, I checked in at my room, which had wooden walls, flooring and had the cutest fireplace. "Please open the iron flap and throw in pine tree cones and just light a match stick, the wooden logs will fire up in no time," said the polite hotel staff.
Snugged perfectly in my bed, in no time I slipped into deep sleep.
Places to visit
After a hearty breakfast the next day, I set off to visit Druk Wangyel Chorten in Dochula Pass at the wee hours. Located on the way to Punakha (former capital of Bhutan) and Thimphu, the tourist spot offers stunning views of the Himalayas and was built in the memory of Bhutanese soldiers who died during battle against insurgents in 2003. When I reached the spot, the entire area was enveloped in a thick blanket of mist and fog. The air was chilly and crisp. My guide Nim told me that the word 'chorten' stands for a Buddhist shrine and that there were total 108 shrines that were spaced out in three layers. Although foggy when we reached, the weather cleared up and it gave a glimpse of the great snow-capped mountains and, honestly, it was a sight to behold.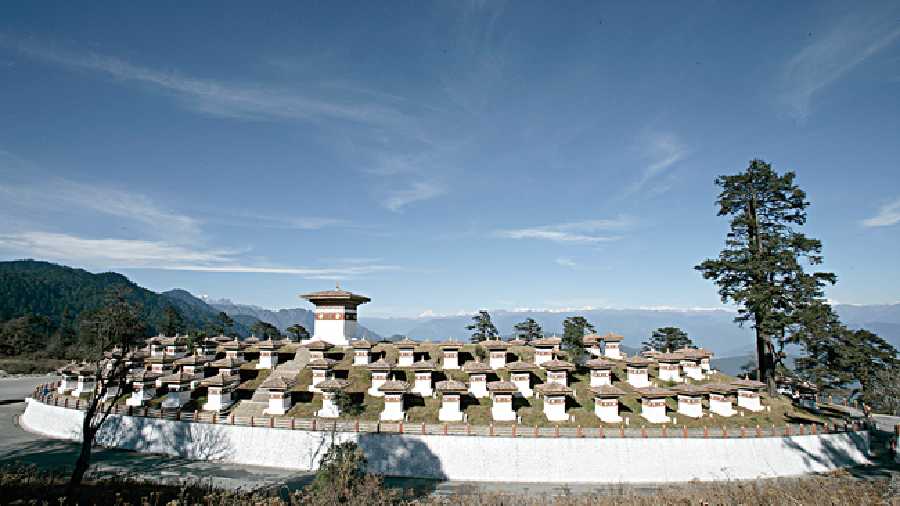 Druk Wangyel Chorten
Our next stop was the stunning Buddha Dordenma. Sitting pretty at 51.5m, the giant statue of Buddha made with bronze and gilded in gold is clearly visible from a distance. Entering the meditation hall, I was mesmerised by thousands of Buddha statuettes in various shapes and sizes that are placed inside it. One is not allowed to take pictures inside. Instead they close their eyes and meditate, which isn't hard considering how quiet the place was even with people inside it.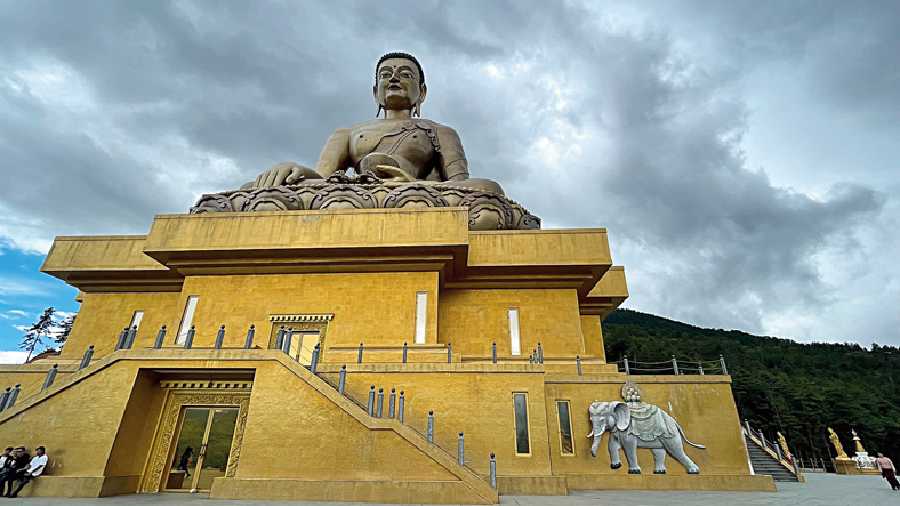 Buddha Dordenma
With a calmer mind, we drove down to the beautiful National Memorial Chorten that has a lovely story behind it. Built in the memory of the third Druk Gyalpo, this is one of the most identified landmarks in the city, thanks to the golden bells and top of the chorten. Once I entered the religious place I noticed many senior people offering prayers and meditating with prayer beads or lighting the very popular butter lamps that are considered auspicious. In spite of the crowd, it's incredible how this place is sans any garbage. Manicured gardens and birds feeding on grain can be spotted. After offering prayers, I along with my guide returned to the hotel and called it a night because the next day we were to head to Paro that was a little over an hour's hours drive from Thimphu.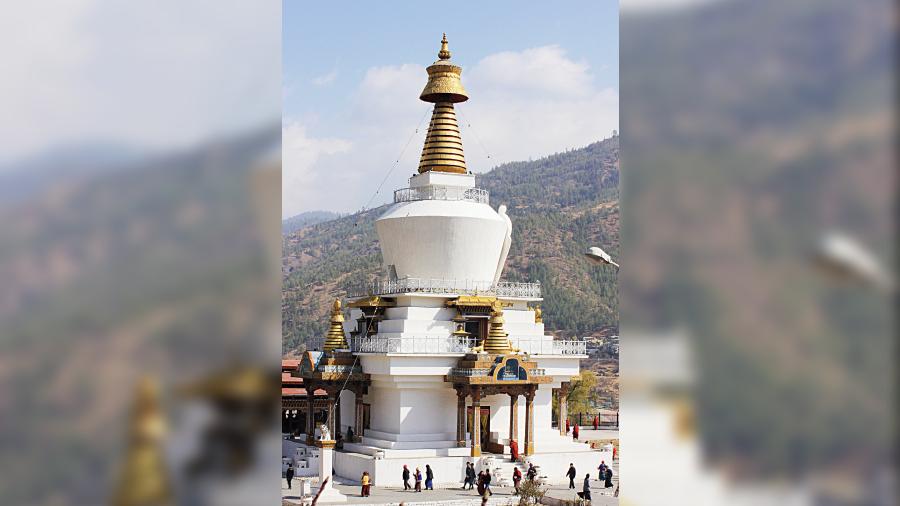 National Memorial Chorten
Morning started early and on our way we crossed Simtokha Dzong, the castle monastery which houses one of the most important learning institutes. Although I didn't enter the place, its typically Bhutanese structure with mural painting and white walls were unmissable and I was informed that this gorgeous architecture was built by Zhabdrung Ngawang Namgyel. The positioning of the Dzong is superb as it acts as the boundary to Thimphu, Paro and Wangdue Phodrang.
In some time I reached my second hotel, the stunning Amankora Paro that is located in the middle of a forest. Yes, one needs to walk deep into the forest as cars cannot enter the area.
I was particularly impressed on reaching the property as it not only welcomed me with a cup of ginger tea, something I love, it also offered a clear and direct view of the Drukgyel Dzong situated in the ridge of upper Paro. Built by Zhabdrung Ngawang Namgyal, this place back in the days until 1951 was an important base for defence but it was later destroyed by fire. "Druk is the local name for Bhutan, while Gyel means victory. This was believed to be built to commemorate the victory of Bhutan over invasions of Tibet and Mongolia," said the guide as we watched it from outside.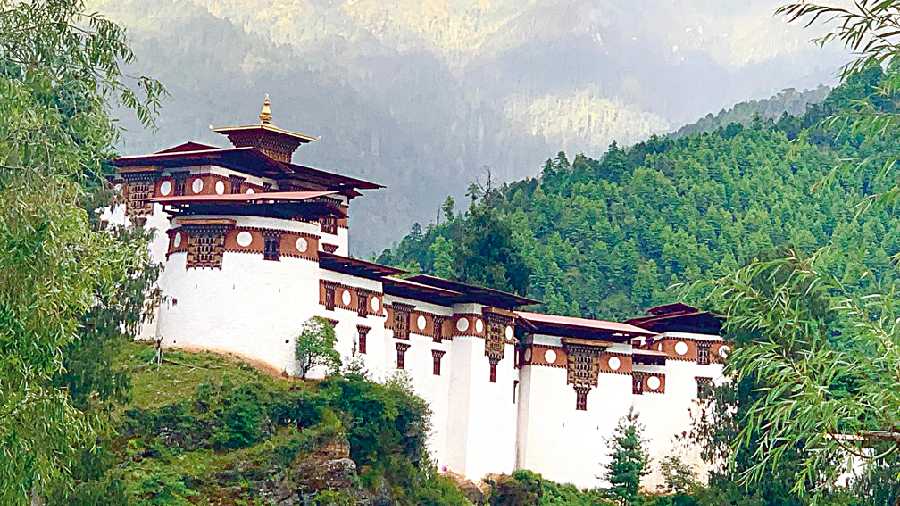 Drukgyel Dzong
My last touristy spot was saved for the end and it was a visit to Chelela Pass. The panoramic scenic beauty of one of the highest motorable spots in Bhutan is situated at around 3,988m and is located between Bhutan's Haa and Paro Valleys. Every nook and corner of this place is stunning! I was previously asked to wear heavy woollens before coming here and upon reaching I realised why! At nearly 1°C, the temperature was biting cold and I could barely feel my fingers after a point. Hundreds of colourful white prayer flags fluttered as the gusts of wind caressed them.
When we reached early morning, we couldn't see much as it was foggy, but as the day progressed we could see the valleys for a fleeting seconds from time to time, but not the snow-capped Himalayas. Sigh!
At this spot I felt happy! Happy to have no network, happy to just be in the moment, be grateful to mother nature and realised why the Gross National Happiness is taken so seriously in Bhutan and why it ranks higher. For me the carbon-neutral Bhutan is a super win! I inhaled deeply like never before in recent years and could almost feel my lungs say thank you!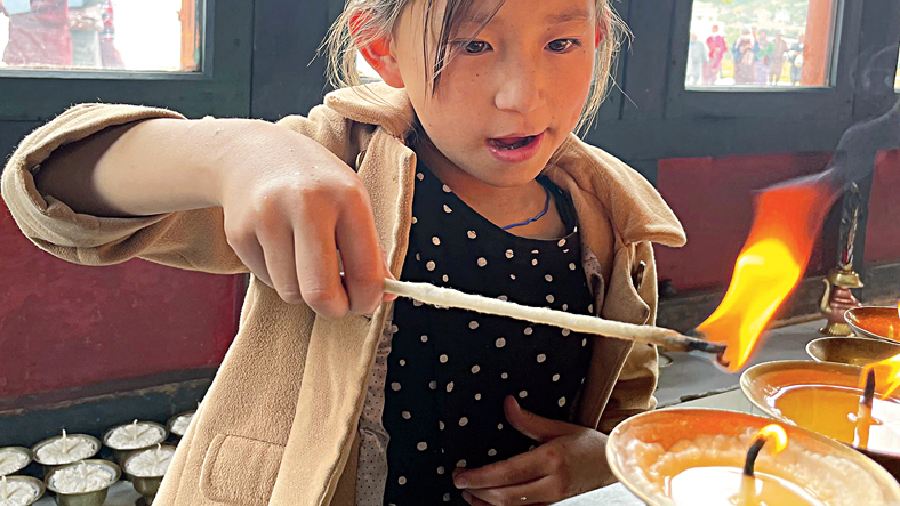 A girl lighting a butter lamp in a monastery
Things to do
During my stay in Thimphu and Paro, there were a lot of experiences I indulged in. Some were simple but they were experiences that stayed with me. One such was picnic by the Chalela Pass, sitting by the Paro River and soaking in the peaceful beauty of the place in the lap of nature.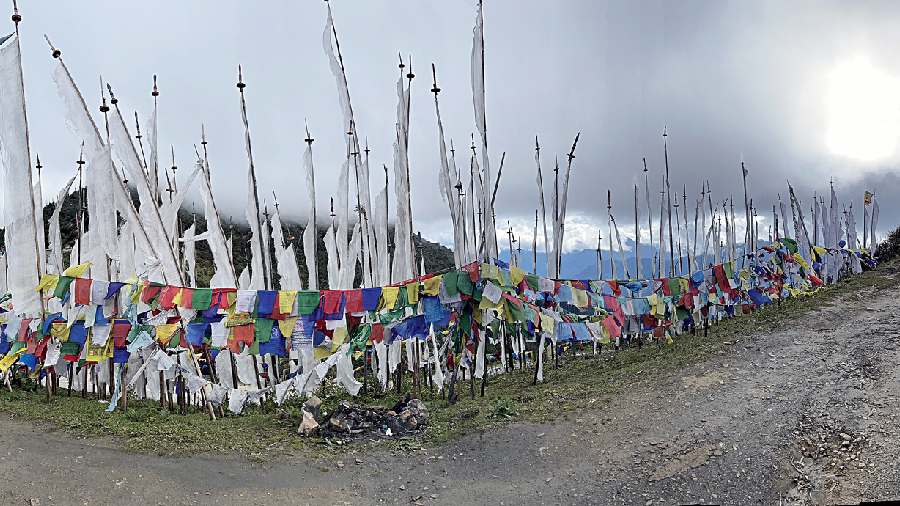 Chelela Pass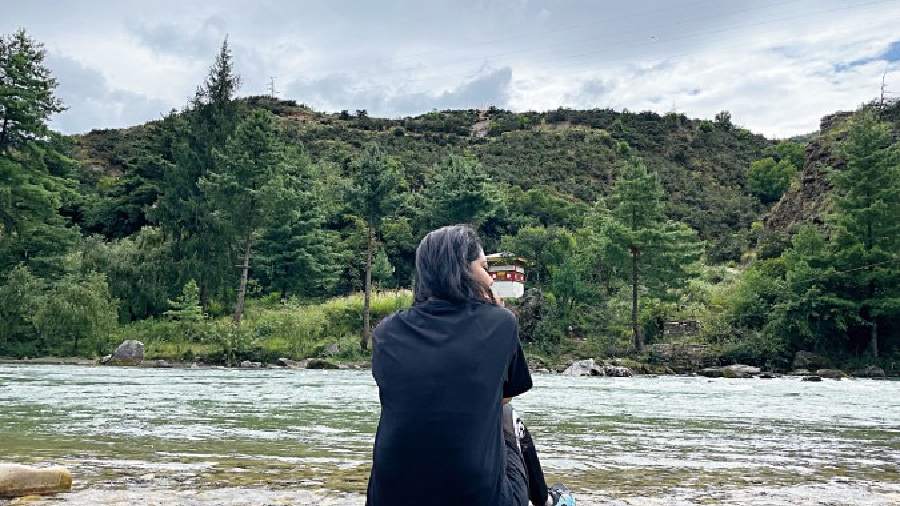 Picnic by the Paro River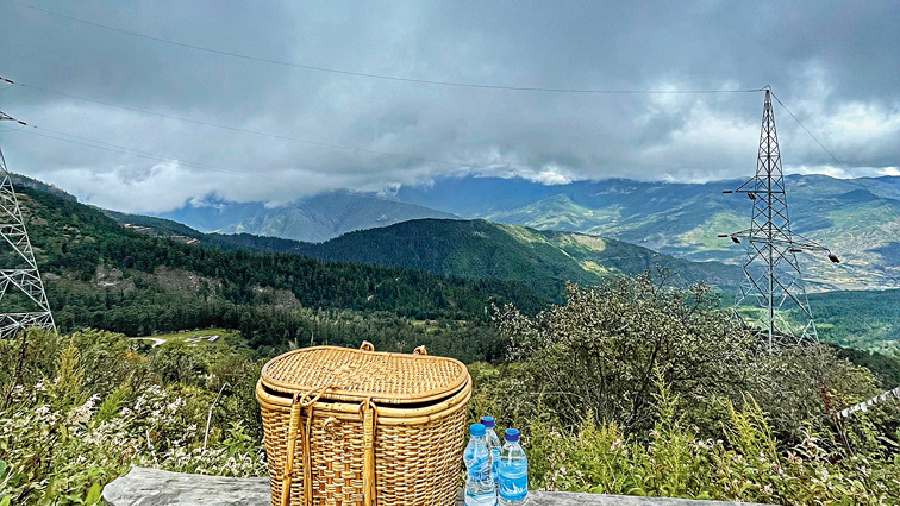 A view from Chele La Pass
If you are looking for something adventurous, a hot stone bath experience is a must! The traditional Bhutanese spa is commonly available everywhere — star hotels to homestays — at various prices. I was told by my friends to go for the traditional one that is offered in farmhouses to get an authentic experience. I spent 60 minutes at Tshering Farmhouse where I had the most unique experience.
Hot stone bath is not only treatment for sore body (Tiger's Nest Trek anyone?) but it will rejuvenate you from head to toe. All you need to do is get into the wooden tub filled with water, medicinal plants and let the red hot stones that are added to the other side of the compartment do its magic! One could almost see the mineral in the water. For the uninitiated, one could go with fewer stones before soaking in the water and then if you want the water warmer, all you need to do is shout "stone!" and there would be someone adding the hot stones to the water. Listen to music, read a book, or just take a nap, the choice is yours, but this one-of-a-kind experience is not to be missed!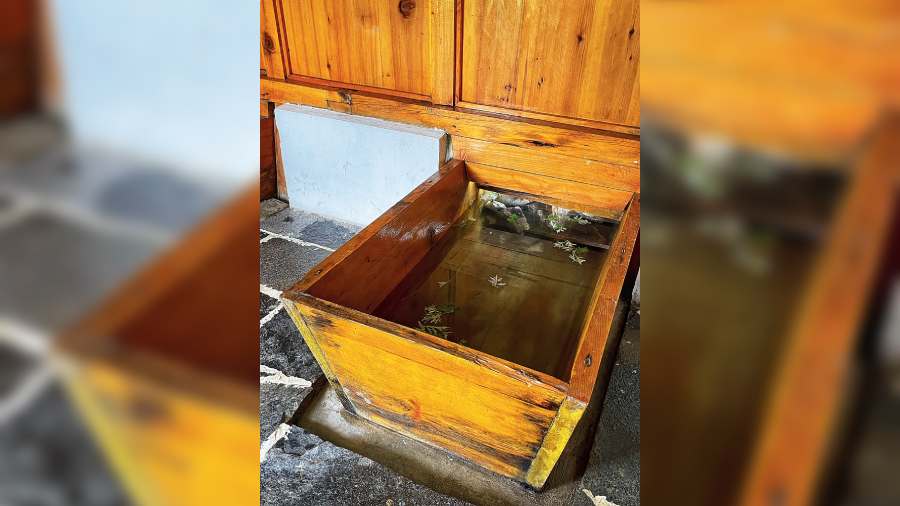 A Bhutanese spa
What to eat
Food is where the heart is and while travelling I am always looking out for local things to try because why not?! My first Bhutanese speciality was a steaming cup of suja — Bhutanese butter tea that's made with regular tea leaves churned with salt and butter. The layer of batter on top will form a glossy moustache when you take a sip of this salty drink that honestly we had four-five cups in a day to stay warm. Being a cha person who likes sugar in her tea, this one did take me by surprise right in the beginning but it slowly sort of grew on me.
While driving down to different locales one would often spot small shops selling chillies and rows of chogo! Chogo is their version of what we know as churpi. This rock-hard cheese snack is a tough one to crack but one needs to be at it gnawing till it becomes chewable. If you want to stay occupied, or keep a restless child hooked, give one to them!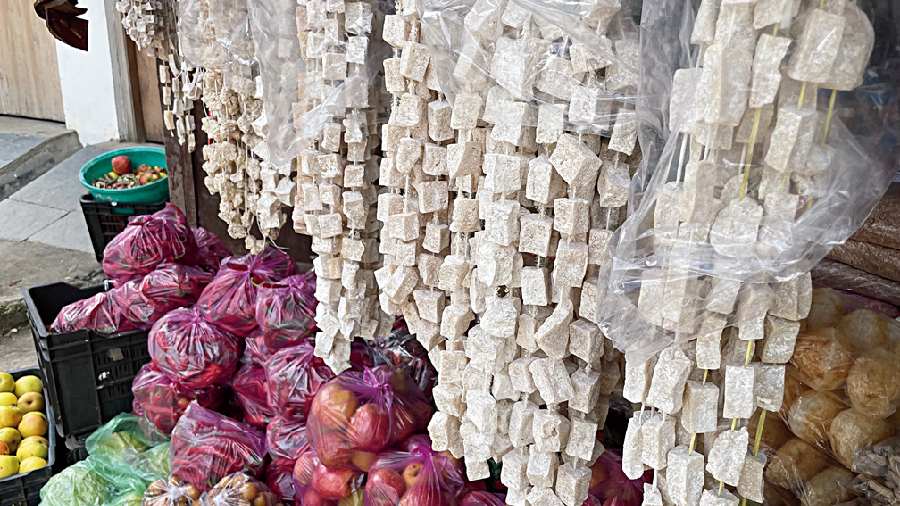 Chogos at a roadside shop
Now, when we are talking about local food, it's imperative to say that we couldn't wait to try Bhutanese cuisine. I have personally been a fan of the famed Ema Datshi, but there's more to the cuisine that just that. The first thing to know is, Bhutanese food is ideally eaten in wooden bowls and with your fingers. One of the days I dropped by the 200-year-old Tshering Farm House that's run by Thinley Yangzom who pampered us with one of the most delicious Bhutanese meals we had. Just like her warm personality, I was mesmerised by the flair of the food. There were a lot of cheese, chillies and vegetables that non-meat eaters can have. My most fave was putting together unpolished rice, Ema (chillies) Datshi (cheese), Kewa (potato) Datshi, Paksha Paa (pork, chillies and cheese), Lom (something like a saag, made with turnip leaves) and Jasha Maru (a Bhutanese chicken stew). Over the next few days, I kept trying Bhutanese dishes at various spots and every time I tried something very unique and yummy.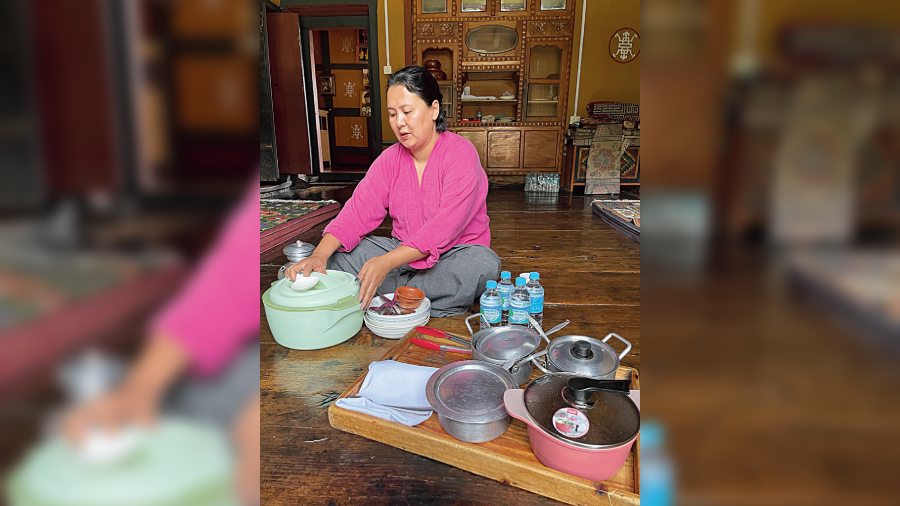 Homemade Bhutanese delicacies at the Tshering Farm House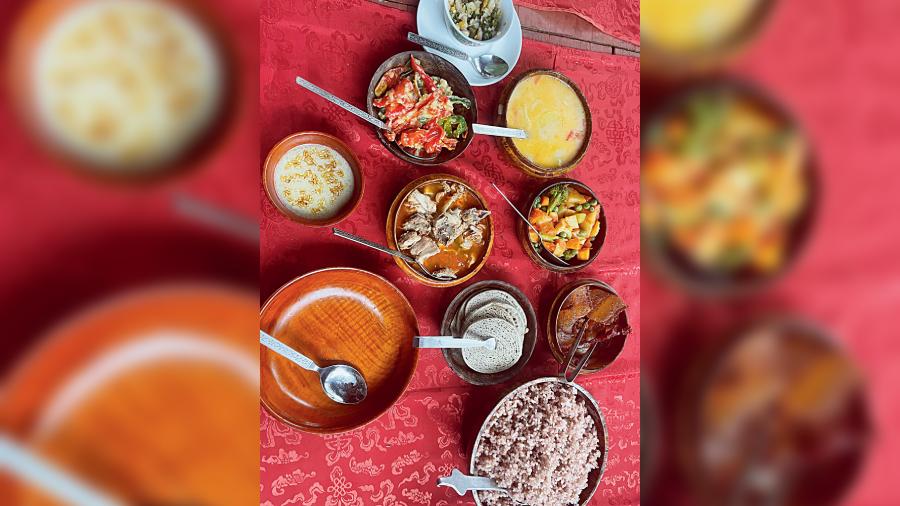 A Bhutanese spread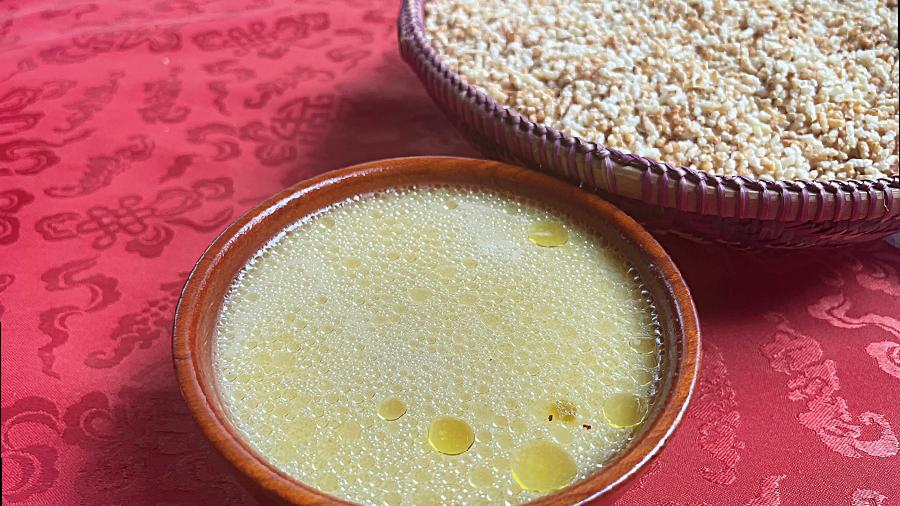 Bhutanese butter milk
Where to party
Party in Bhutan? Oh yes! Don't mistake this quiet country to be boring with no source of entertainment. Thimphu has many hidden gems with a buzzing nightlife. If you are a fan of live acoustic bands, drop in at Mojo, a popular spot where different bands perform, and to my surprise I even had someone sing a Bollywood number for me! For a nightlife experience we headed to Vivo City and I was stumped to see how the people aged between late 20s and mid-30s flocked in, all dressed up in style to dance the night away!
Back in Paro, I also checked out Namgay Artisanal Brewery that offers over six variants of craft beer. The brewery is stunning and over the weekend there are bands playing here too. One USP of this space is, it offers an aerial view of Paro International Airport and you spot flights landing and taking off if you are lucky!