Durga idols have been immersed amid cries of aschhe bochhor abar hobe, but the goddess continues to have a few permanent abodes in the state and one of them is the 23 Palli Durgabari on Harish Mukherjee Road in south Kolkata.
Goddess Durga is worshipped at this temple all year round. The gleaming ashtadhatu idol at the temple weighs around 4.5 to 5 tonnes.
"Durga Puja began here way back in 1939. Since its inception, a 14-ft-tall clay idol would be made every year by artist Jiten Pal. The existing metallic idol, installed in 1986, was built on the lines of Pal's idol by sculptor Shivnath Vishwakarma from Varanasi," said Kishore Mitra, 72, a senior member of the association.
"It is difficult to estimate the cost of the idol as devotees and members donated generously. Even the sculptor did not accept his remuneration. The sculptor has passed away and now his son Raju Vishwakarma polishes the idol every year before Durga Puja," Mitra said.
On Dashami, only a kolabou is immersed in the Hooghly instead of the idol.
Bhog is offered to the deity twice every day at 23 Palli and served to devotees. The day begins with mangal aarti and a sandhya aarti is also held every evening.
The clay brought from Varanasi to make the mould of the metallic idol has been preserved. "We wish to use it to create moulds for separate idols of Lakhsmi, Saraswati, Kartik and Ganesh someday," Mitra said.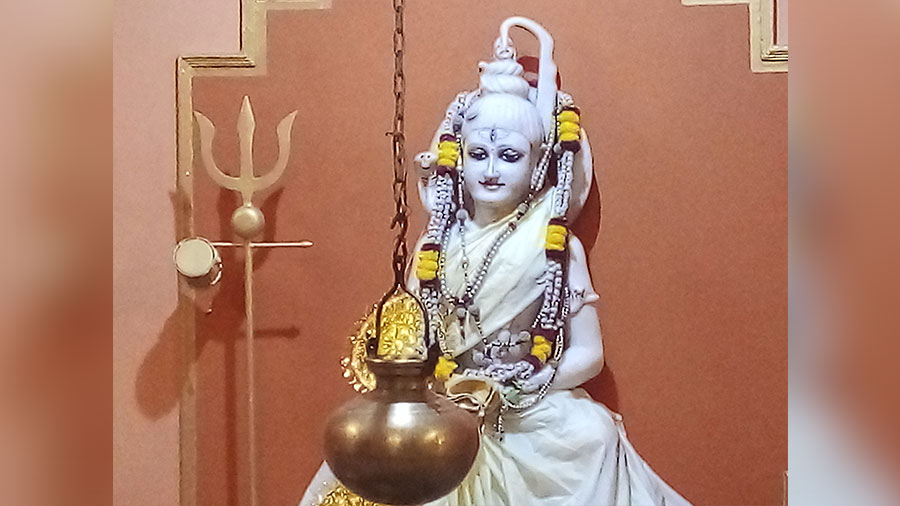 Temple premises
A Shiva temple precedes the Durga and Radha-Krishna temples on the premises. Most of the current structures came up around 1986 when the new idol was unveiled by Sri Shankaracharya of Joshimath. The platform was built in 1977. Devotees have expressed their desire to see a grand dome atop the temple, Mitra said.
Philanthropic activities
A free homeopathy clinic runs from the temple premises twice a week. An eye camp is also organised once a month and free spectacles are handed over to the needy. Apart from using the premises for religious functions, Bharat Sevashram Sangha conducts its donation camps here.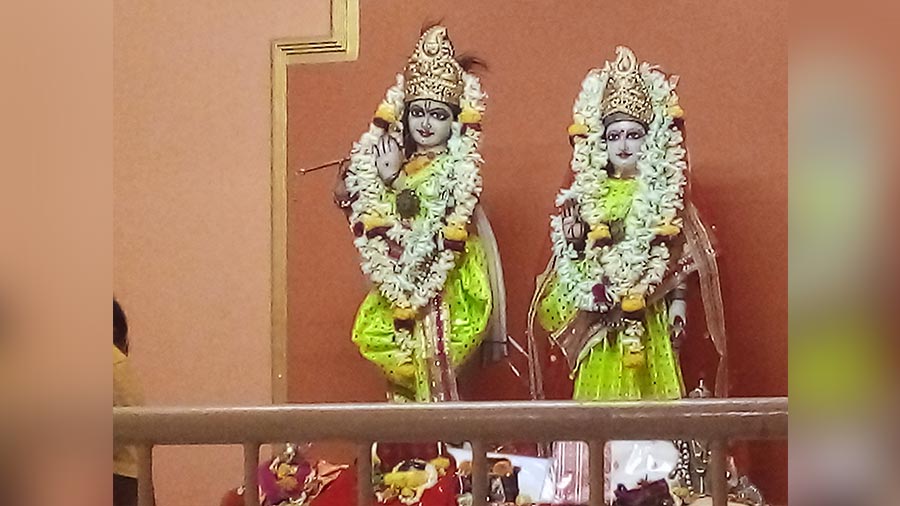 Members
The temple association currently has 200 members and their subscriptions and donations from numerous devotees are more than enough to meet the temple's expenses. Echoing Mitra's sentiments, Jaspal Singh, who lives nearby and is a prominent member of the Sikh community in the area, said he is blessed to have such a landmark temple near his home.