Before Amazon and Instagram stationery brands were a thing, a majority of artists and creatives in Kolkata would rely on Esplanade store  G.C. Laha, to stock up on their monthly supplies. The fine arts material store had a roster of rather noteworthy regulars. Besides Rabindranath Tagore and Abanindranath Tagore, several modern art pioneers like Nandalal Bose, Bikash Bhattacharjee, Maqbool Fida Husain and Ganesh Pyne have also visited the store.
Satyajit Ray has been a part of G.C. Laha's legacy too. "I have served him myself," says Siddhartha Laha, the third-generation owner. 
The heritage store still stands today, having survived the digital boom and is still a haunt for artists looking to buy their watercolours or Brustro drawing papers. The Victorian chequerboard floors have seen the footsteps of quite a few giants and there are probably more yet to come.
Past and present
For generations, Girindra Coomar Laha's family had been in the paint-making business. Girindra Coomar joined his family's business as a young boy, but he also harboured a deep interest in the world of art. In 1905, when he was all of 16, he was able to set up his own art supply shop, and it's quite a story.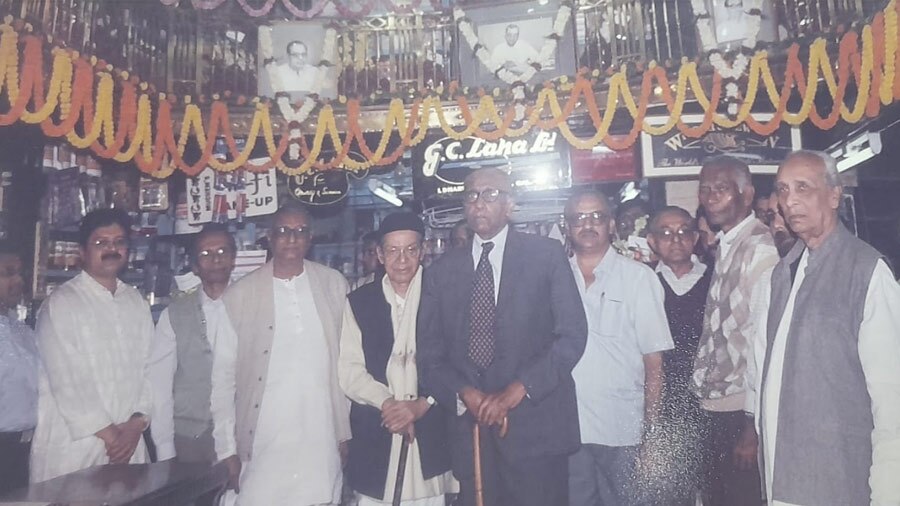 Centenary celebrations at G.C. Laha
Courtesy: Siddhartha Laha
Laha's maternal grandfather was Nabin Chandra Dutta, the first seller of colours in India (in fact, two doors down from G.C. Laha, you'll spot Akkhay Coomar Laha – another heritage store that has been selling industrial paints for 150 years). Through this connection, Laha learned about Winsor & Newton, the distinguished art-material makers from England. Laha wrote to the company and shared his intent to sell colours and artist-grade materials in India. The company sent over some representatives for verification. The shop back then was, of course, quite modest. In fact, it was so quaint that the British representatives had to search thrice before they got hold of an entryway. What really surprised them, however, was the teenage Laha, who was terribly enterprising for a 16-year-old.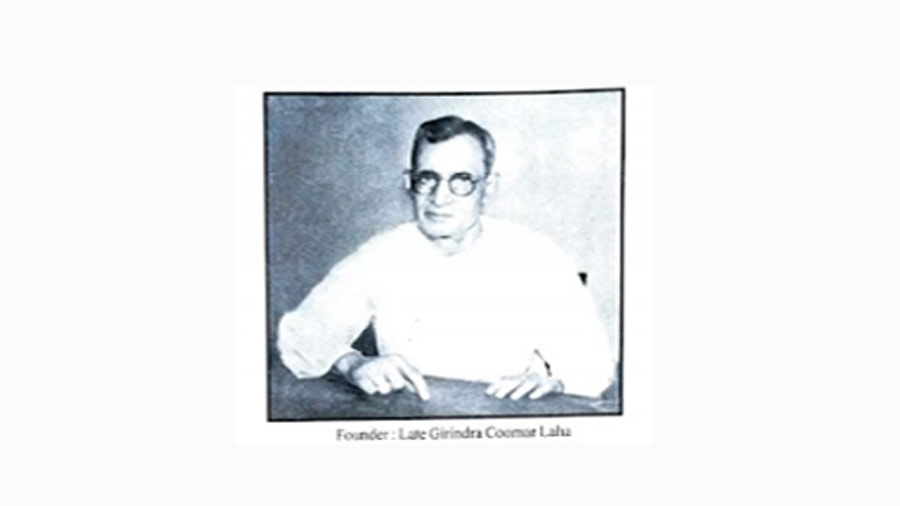 Girindra Coomar Laha
Courtesy: Siddhartha Laha
Things were set in motion and Laha remained the direct agent of art products company Winsor & Newton until Independence. The two brands had a good working relationship (the beautiful brasswork railing over the G.C. Laha counter was a gift from Winsor & Newton), but Laha had also cultivated relationships with companies like Pelikan, Daler-Rowney, Lifelong Kate and Fabriano. G.C. Laha also started stocking colours, papers and brushes from companies that enjoyed global renown for their artist-grade supplies — such as Staedtler and Faber Castell. The cherished homegrown stationery company Camel also found a place on G.C. Laha's catalogue.
The Sulekha company, famous for its namesake ink from the pre-Independence era, also produced art colours at one point in time, which was available at G.C. Laha.
The Ray connect
Satyajit Ray had a 60-year-long relationship with the store, which began right after he returned from Kala Bhavan. In fact, filmmaker Sandip Ray — who contributed a piece for a commemorative book to mark the centenary celebrations of the store — believes that his grandfather Sukumar Ray was also a regular.  
Back in the day, when the Ghare Baire director was still working as a graphic designer for DJ Keymer, he would frequent G.C. Laha for his stock of drawing blocks and layout pads.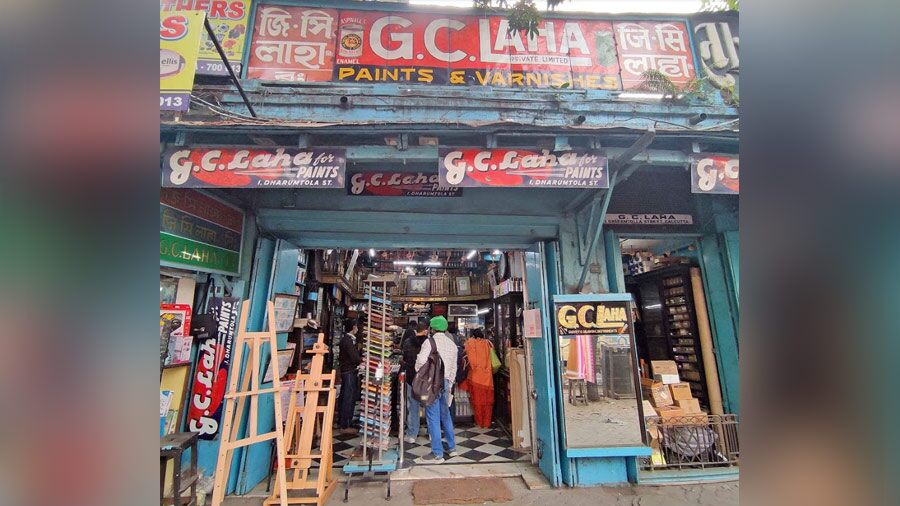 The entrance to G.C. Laha
Amit Datta
"G.C. Laha also had a very quaint and special connection with Baba's directorial masterpiece, (Pather Panchali). The storyboard of the film, which is the graphic representation of the screenplay, was done on paper procured from G.C. Laha. When Baba would go to producers, he would take this particular storyboard with him in order to show it and convince the producers to finance his movie. Today the same storyboard occupies a pride of place in Paris," the filmmaker wrote in the book.
Back then, G.C. Laha was one of the only stores that would stock imported stationery in the city and Ray swore by them for his Chinese Pelikan ink and Staedtler pencils. For his iconic posters, too, the Oscar-winner depended on artist-grade stationery from the store.
Ray also wrote about how the stationery store offered doorstep deliveries for urgent orders: "We have even placed our orders over the telephone and the shop has obligingly sent over someone to deliver the materials at our residence. This was possibly one of the first instances of home delivery in our city!"
Needless to say, this service has served the company well in the current market: G.C. Laha now accepts orders online too. You can either place the order on their website https://gclaha.art/ or WhatsApp them at 9830594838.