While belonging to a family of entrepreneurial legacy like that of the Nairs (of the famed Leela Hotels) guarantees a foundation, Samyukta Nair, 36, has mobilised that into a winning formula and has become a businessperson to reckon with. After a successful sleepwear-and-loungewear line in the form of Dandelion, she has since moved to London where her restaurant Jamavar recently regained the Michelin star. But that doesn't mean that there is any stopping her as her latest, Mimi Mei Fair, was opened during the pandemic years, at a prime London location. Her attention to detail is evident as she explained to me how she takes a hands-on approach when it comes to her work. She mentions Malcolm Gladwell as one of her favourite writers and Khaite as one of her favourite clothing brands, which make sense if you consider it as an extension of her personality — no-nonsense and insightful in their respective fields. And professionally, Samyukta, of her own admission, is just getting started with her expansion plans. So while we can't wait to watch what she does more, she spoke to The Telegraph about her journey, Jamavar's Michelin win and her future plans...
How does it feel to win the Michelin star?
It's actually been a really, really exciting and very humbling moment for all of us at Jamavar London and LSL Capital, which is now our parent company in the UK. And if I'm being incredibly honest, it's also a matter of great national pride. Our culinary director and executive chef Surender Mohan is the only Indian passport-holding chef to have a Michelin star. Ever since his move to the UK in 2018, it's been an uphill climb to chase this dream and make it happen. So it's been crazy but exciting nonetheless for us as a team.
Tell us about the moment you found out that Jamavar has won the Michelin star again?
I was on a walk when Surender called me to say that he had received a call from the Michelin Guide wanting to speak a week prior to the designated date of the ceremony. The requested time was during service hours so we set up the call on the dining table in my apartment. And pretty much very quickly, he logged on, exchanged pleasantries and they looked at him and they said, you know, well, we just want to let you know that we've awarded you a Michelin star for your craft. He was in front of the screen and I was on the other side, getting a glass of water. We were both just stunned!
Having won the star eight months into opening in 2017 and losing it as our chef moved on, regaining a star is an absolute honour. It is a testament to Surender's talent, the untiring efforts of our team and the patronage of our community that has made it possible. I always say the first one was on loan, but this one is ours to keep!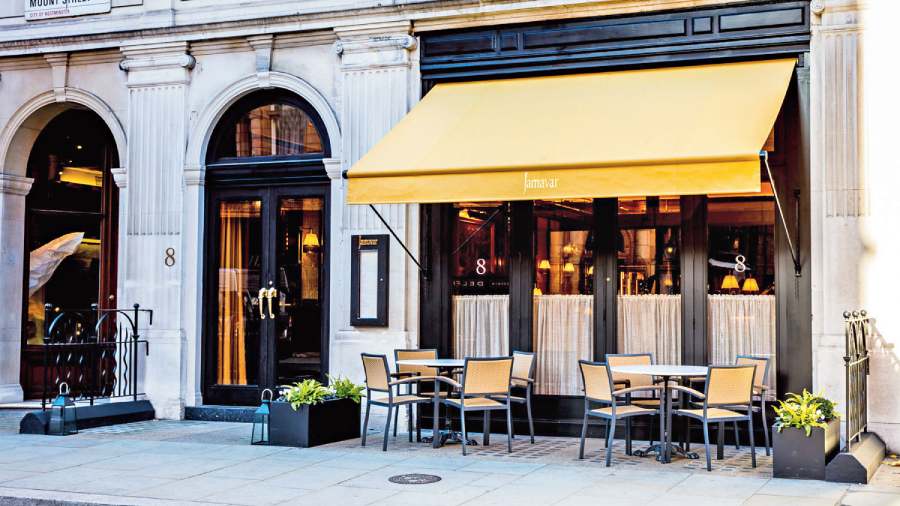 The facade of Jamavar, London
How did you start out on your entrepreneurial journey?
I think I owe a lot of it to my parents. At 23, I actually landed up having made pretty unconventional educational choices. I left home to study in London, which was entirely unplanned, to do a sociology with psychology undergraduate degree. Most people from a business-oriented family possibly wouldn't do so. It was very much like what my mother, Madhu, had done in her growing years. And then I went to the University of Nottingham to do my masters in international business, which gave me the opportunity to go to China for a study abroad programme, and really just explore and understand the cultural nuances of that part of the world that are so important, especially today. In hindsight, each degree added a layer of depth.
I came home and decided to work with my family as an apprenticeship to my mother, the then director of design and operations at The Leela Palaces, Hotels & Resorts. Having worked as a design associate on two hotel pre-openings, I realised hospitality was my calling. Shortly after, I applied to Ecole Hoteliere De Lausanne to do my MBA in Hospitality Administration. On coming back, I worked for the family business again for another year-and-a-half, working to become the head of design and operations, which is when I decided that I wanted to take on something entrepreneurial.
My father, Dinesh, has been a serial entrepreneur himself. I have always been inspired by his unwavering spirit and I really knew it was time to have something to grow and hone, something to call my own. And I think that was the starting point that really made me push the boundaries. But I mean given the education I've been fortunate to have, the on-ground experience by virtue of being present to see my parents build a legacy day in and day out, led purely by passion but aimed to ultimately strive for and achieve excellence, has really been a huge guiding force in my thought process. And it's been quite wonderful but also what inspiring stuff is made of.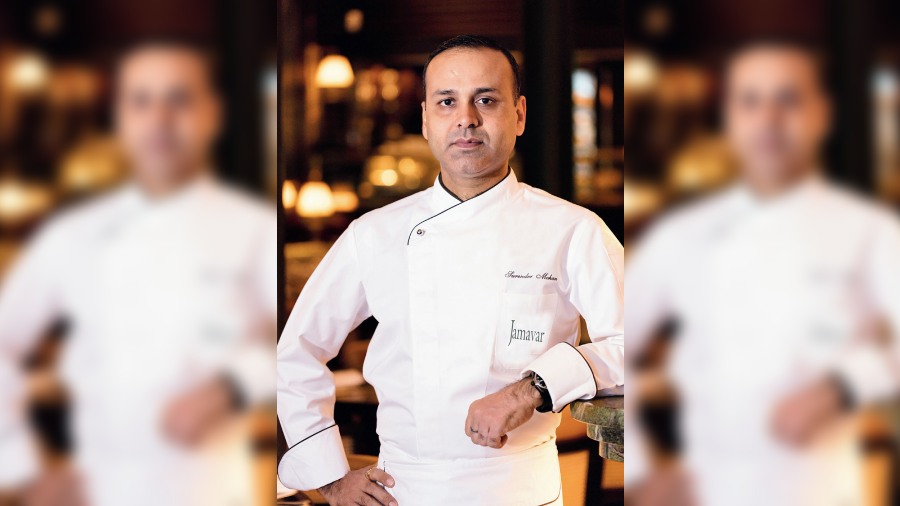 Culinary director and executive chef Surender Mohan
Is there any particular memory with your grandfather that helped you set out on your present path?
My grandfather, Captain C.P. Krishnan Nair, pretty much walked the talk; it was hard not to know what he was all about. He was larger than life and every interaction with him was just incredible. I had him till I turned 30 so I grew up very close to him and greatly engaged with him during my formative years. From where I see it, he took inspiration from everything, you know. It's really nice to be able to have that life force in front of you that constantly wanted to learn. Because we are a product of our environments and unintentionally, or intentionally, we constantly pick up cues that become subliminal in daily life.
I say this quite often, my greatest learnings have been at our dining table. I lived with my grandparents, growing up. My parents and grandparents would always have interactions on several levels during meal times that ranged from design trends to the newest things in hospitality to new restaurants and hotel openings to designers and the latest in technology. As an entrepreneur, I truly believe if you really live your dream on a daily basis, you're never going to find yourself in a rat race playing catch up. And I think as a family, we truly did that as can be seen in a careful manner that The Leela was honoured to become The World's Best Brand as voted by Travel + Leisure, USA World's Best Awards Survey.
As we turn a corner, our continued strive is to bring that excellence across all our brands at LSL Capital as well. There's no denying that seeing your work be appreciated on a global scale, where it contends with some of the world's best, is wonderfully gratifying.
What are your personal interests? Are they an extension of what you do?
I enjoy reading, music, art and design immensely and draw from them constantly. To me, one's creative juices flow from the same place but what really changes is simply form. My mother grew up in Europe and my parents lived a large portion of their early married life internationally in New York. During my growing years that really was our second home. So when you grow up with the privilege of experiencing a foreign country at a young age, you really get this full-bodied experience about tradition and culture that's not just theirs but also your own. It makes you see things from a global lens.
My grandfather has been in the army, and as a family, we have always been extremely proud to be Indian. I immensely enjoy India's diverse culinary climate but also its craft heritage, which is probably what makes me always champion everything India-centric. My personal interests are very much influenced by those I grew up around and I feel very blessed to be able to draw from them constantly.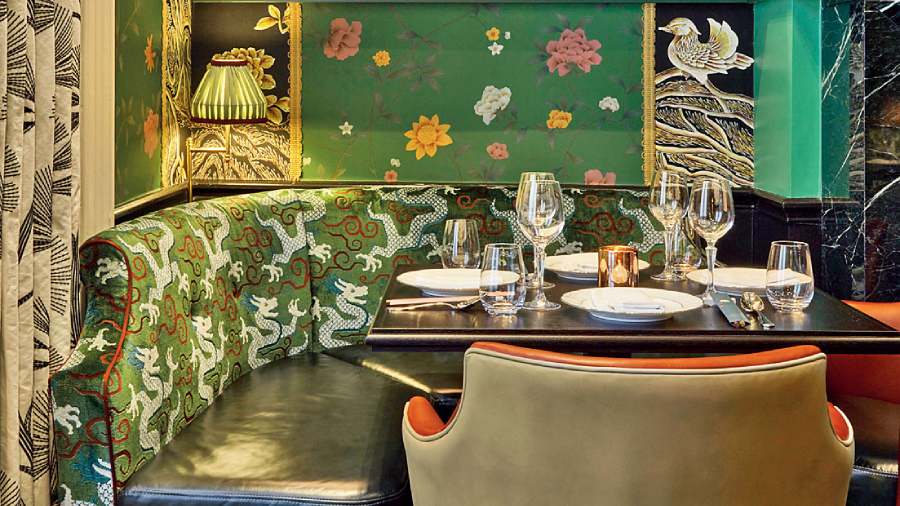 Snapshots from Mimi Mei Fair
So what led to the creation of Dandelion when you were already working with your family?
Dandelion started on a very personal note. I landed up being in New York on a holiday when we lost my grandfather. I wasn't able to stock up on essentials, which included a lot of pyjamas and flew back to India overnight. I looked for options on coming back and noticed a distinct lack in this niche — cool, comfortable and chic loungewear or sleepwear was just not available. Given my family roots in the garment business — my father grew to be one of the largest export houses of its time — I thought 'You know what, I'm just going to make my pyjamas'. And that's how Dandelion started, on a whim!
Many of my friends lamented the absence of a stylish and affordable range of sleepwear in India and prohibitive shipping costs made it harder to have them shipped over. What few options prevailed were in fabrics that were utterly unsuited to the Indian climate — rayon, for instance, and I cannot possibly imagine how that might be conducive to our climate let alone a good night's rest. Early on, I knew I wanted to create something one would associate with beauty and strength, two personal ideals.
'Dandelion' is derived from French — it means 'lion's tooth'. To me, it signifies strength although most people associate it with a flower, or something delicate. With sleepwear, I wanted to create a brand that merged function, delicacy and refinement — and the image of a dandelion conjured all of the above to me. Today, years later, although still known for its humble roots in sleep, the brand has grown into other categories such as Dandelion Living and Dandelion Day, which draw from the above ethos as well.
How did the restaurants happen then?
My father had an investment that he was already involved in as a silent partner. Unfortunately, at the time, that didn't really work out, which is when he said, 'I'd love to make it an Indian restaurant' and bring Jamavar, the brand he coined that first opened doors at The Leela Palace Bangalore in 2001, to the Mount Street site. My mother and I loved the idea as London was always home for me and I jumped right in and it sort of all just came together.
I'm 36 today. He's 66. In so many years, we've never worked together. And even when I worked in the family business, I always worked very closely with my mother. But really, it's been an incredible journey. He is my parent and partner and I could not imagine being here or doing this without him. This is a gift of a lifetime and I am truly grateful for the opportunity to live my dream every single day.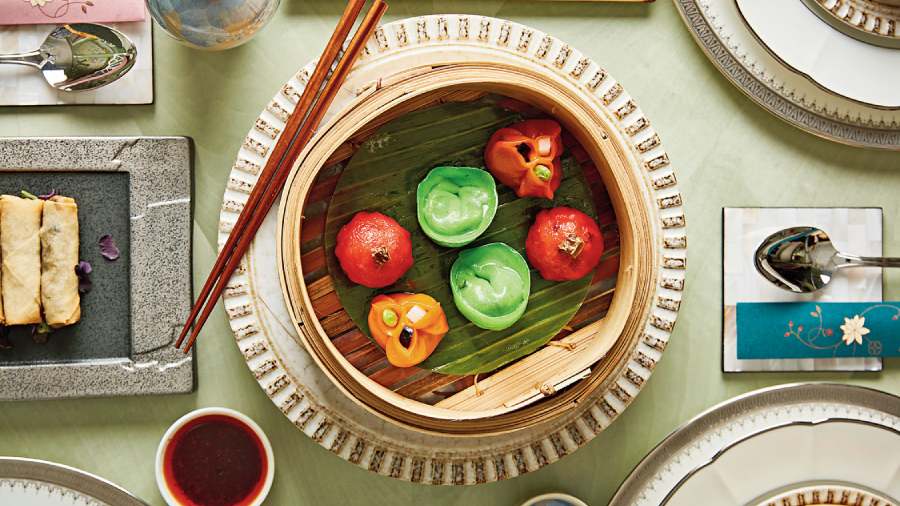 What was your vision for Jamavar?
Jamavar London opened in 2016 on Mount Street in Mayfair. Undeniably, it's one of the most coveted addresses in London and nestled amidst some of the most discerning. Inspired by the Viceroy's home in Delhi, Jamavar London was created to be a series of intimate dining rooms spread across two floors. Drawing upon vibrant colours of Jamavar shawls, rainforest Emperador marbles, dark timber panelling, as well as mirrored embellishments in celebration of the Indian textile techniques, Jamavar London is our homage to palatial India.
While Jamavar London reflects the essence of its Indian siblings, the culinary programme is evolved and adapted to suit the sophisticated palate of the London diner and world traveller. Our resident bar team constantly looks at updating our wine list and is focused on innovation and creates bespoke cocktails best suited to accompany Indian food. The vision was to successfully combine our established Indian hospitality heritage with a highly talented kitchen team, striking interior and enviable location to showcase a snapshot of India as I know it and I am so proud of.
Tell me about Mimi Mei Fair. How did you envision that, especially with the pandemic?
When I undertook the study-abroad programme in China during my Masters, it was when the bullet had just been launched. It was almost 14 years ago and was a totally different world as we know it today. I spent about six weeks across Ningo, Nanjing, Hangzhou, and Shanghai and I was utterly fascinated.
In terms of cuisine, Chinese seemed like a natural springboard — everyone knows it, has an opinion about it and has their favourites very much like Indian food. It's also something I immensely enjoy as I used to frequent Hong Kong and Singapore when I was younger. We hadn't had an opening since Bombay Bustle in 2017 and were on the lookout for a site. My father recommended I go see this Curzon Street site, which was an Indian restaurant housed in a Georgian townhouse. I walked in with Tom Strother of Fabled Studio, our design collaborator at LSL Capital, and knew right there that I wanted it to be a restaurant envisioned as a maximalist living space in a Chinese home. We knew it would be an ambitious and tough project but it's also probably some of our best so far.
MiMi means secret in Mandarin and Mei Fair is a Chinese way of spelling Mayfair, which is where it's located. Right after we acquired the site, a month later, we had a huge construction hoarding on the building next door with a transformer placed in front of us. I was like, 'Oh my God!' But that's London! This meant naming the site got a little harder as we wanted something unique and worked as a team to come up with it. I couldn't have found a better name for the site — it's feminine, fun and embodies the space and the culinary concept that references Empress MiMi's travels across Mainland China, Hong Kong and Singapore as she made her way to her London home away from home. Our executive chef Peter Ho is Chinese-Singaporean and we wanted to tell a story that not only covers the Chinese provinces of Sichuan, Cantonese, Hunan and Fujian among others but also focuses on the globalisation of Chinese cuisine as we know it.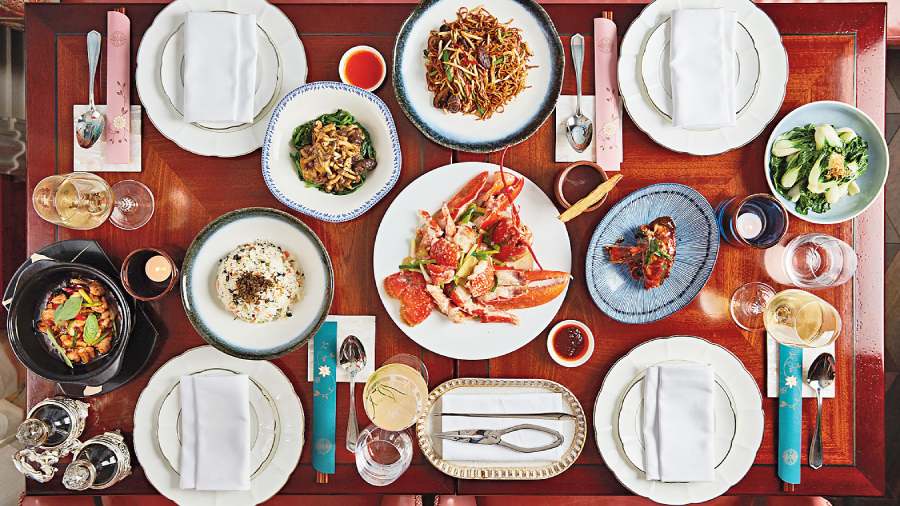 Things such as developing the menu and so on... are these aspects of the restaurant that you also personally take interest in?
If you look at me from the outside perspective, you will say that I am the CEO at LSL Capital. Unlike a traditional role, mine includes wearing many hats: conceptualising concepts, ideating on design, developing the food programme, overseeing operations, storytelling and communication — so it's all of it. My father always says, 'the devil is in the details' and it's very much my nature to get quite immersed in anything I do. There is nothing that goes on a menu without my approval, from the way it's written, priced and communicated I'm involved on all fronts. To be honest, we choose to undertake a boutique approach and these are such details to pride ourselves on, as it really sets a strong foundation. I don't know if I will continue to be able to do it with this much fervour as we grow, because we've got quite an expansion plan for the coming years. But it's really exciting to be part of something so intrinsically and see it grow from strength to strength.
How has it been navigating these tricky waters during the pandemic, as a business person?
The UK has been a lot easier to navigate during the pandemic as they had a furlough, given how badly the hospitality sector was hit. While that was such a relief, the other side of the coin is Brexit, which is a harsh reality that has completely changed the way businesses operate. Not to forget, we currently also have a war so a post-pandemic world is nothing like what we know. We are all developing different skill sets and I think it's testing us all, but probably for the greater good or so I'm hoping.
I was stuck in India for a year-and-a-half. For someone like me who lived between the UK and India and found herself travelling a lot, that's long. Having time with my family and friends, and just being able to really unwind and reassess was a gift because pre-pandemic, everyone was just very much in a hurry. And to be honest with you, we made a few acquisitions during this time that made me realise that it would be an injustice to myself if I didn't go after my dream because anything half-baked shouldn't be served. In April last year, literally, when the borders were closing, I picked up my bags and I left. To think this April made it a year since I made the move to live in the UK is absolutely crazy. I guess life comes full circle when you least expect it!
Pictures: Courtesy of Samyukta Nair