An entire episode from the Mahabharata intricately etched on an 11-inch-long conch shell. This is the handiwork of Bablu Nandi of Haatagram village in Bankura, who was recently selected for the National Award in recognition of his talent (he will receive the award in person in December). At the centre of this award-winning conch shell is a carving of Krishna and Arjun in their chariot. This is followed by the Biswaroop Darshan scene, where Krishna shows Arjun his universal form or Viswaroop. The carving continues on to depict Karna's struggle to pull out his trapped chariot wheel on the Kuruksheta battlefield, followed by Bhim's gada fight scene at the edge of the shell and Krishna's pratigya bhongo at the tip, along with much more.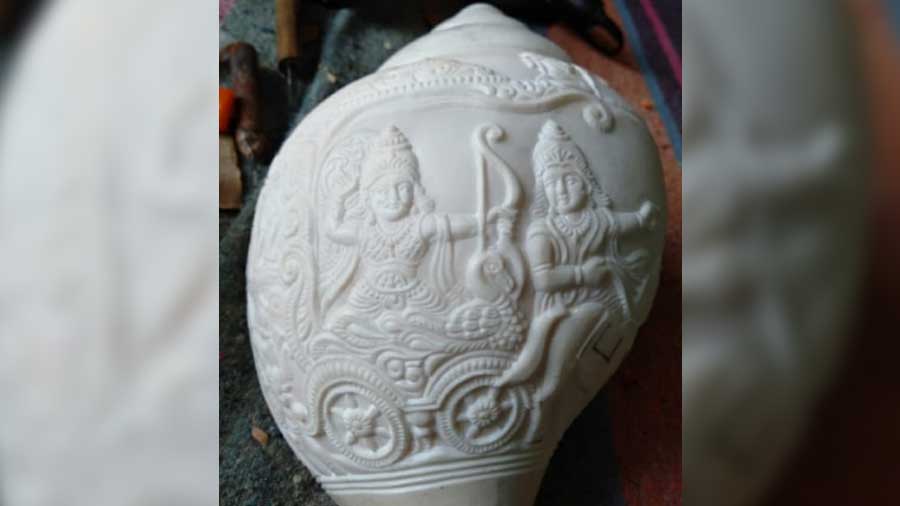 A carving of Krishna and Arjun in their chariot
Courtesy: Bablu Nandi
The traditional conch shell, or shankha, is a ubiquitous part of Bengali households, and its sound marks the ritual lamp lighting in the evening or shondhe pradip in most homes. For Nandi, whose family is part of the Shankharu community and have been in the shell crafting business for generations, it is his canvas. Bankura has a history of shell art, and for Nandi, it is family tradition. He had a knack for carving from a young age and would carve on wood and rocks. His father taught him about shells, and he began making conch shells, bangles, decorative trinkets and other commercial items.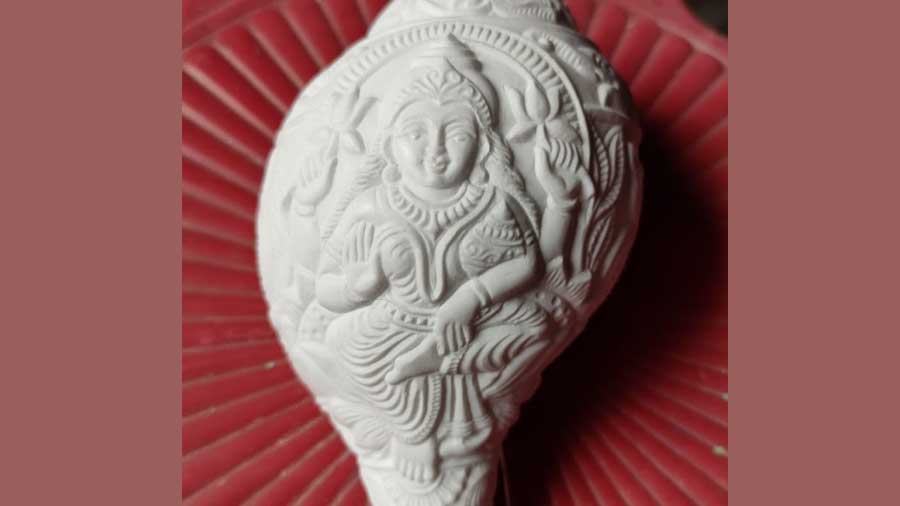 Goddess Lakshmi engraved on a conch shell
Courtesy: Bablu Nandi
However, he wanted to do more and began training in khodai, or engraving work, with his school teacher Bangshidhar Mondal, who was a student of artist Haripada Kundu. Nandi began with carving wood, but found it difficult to work with its different forms. He also wanted to keep his family tradition alive and decided to start engraving shells. His inherent understanding of working with shells and his knowledge of engraving came together perfectly in his new creations.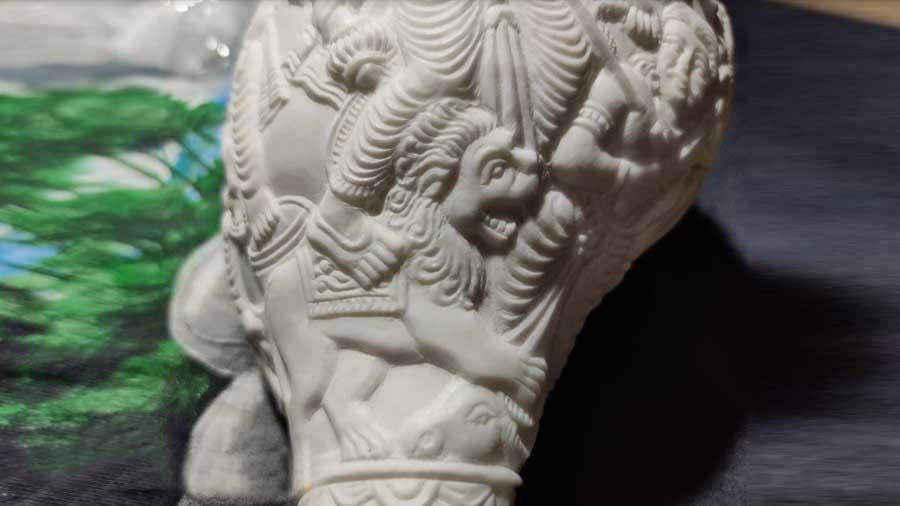 The attention to detail is staggering for such a small canvas
Courtesy: Bablu Nandi
Way back in 1992, he first engraved Bhismar Sarasoja on a conch shell. He submitted his work to district- and state-level competitions, but was met with disappointment. The next year, he carved the story of human evolution, from the Stone Age to modern times of sakkhorota or literacy, and his work was acknowledged at both district and state levels. A national-level award became his next dream. He submitted his work many times, with carvings on multiple subjects including women empowerment, agricultural development, etc, but with no luck.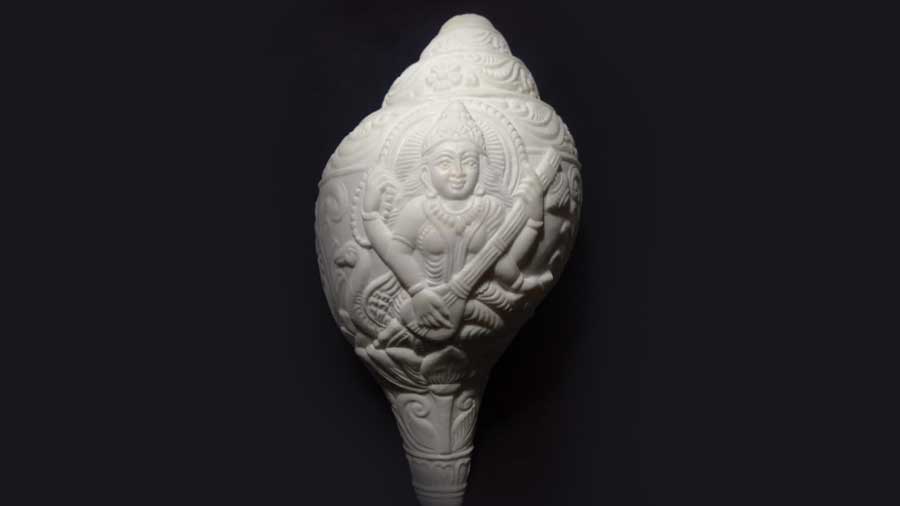 An engraving of Goddess Saraswati
Courtesy: Bablu Nandi
In 2018, he started engraving the Mahabharata on a conch shell. It took three months to complete the work, after which he sent it for an award consideration to the Kolkata office. In a few days' time, he got a call saying his work had been selected as an entry for the National Awards. A call from the zonal office a few days later informing him of his win was a dream come true and he is looking forward to collecting his award in person in December.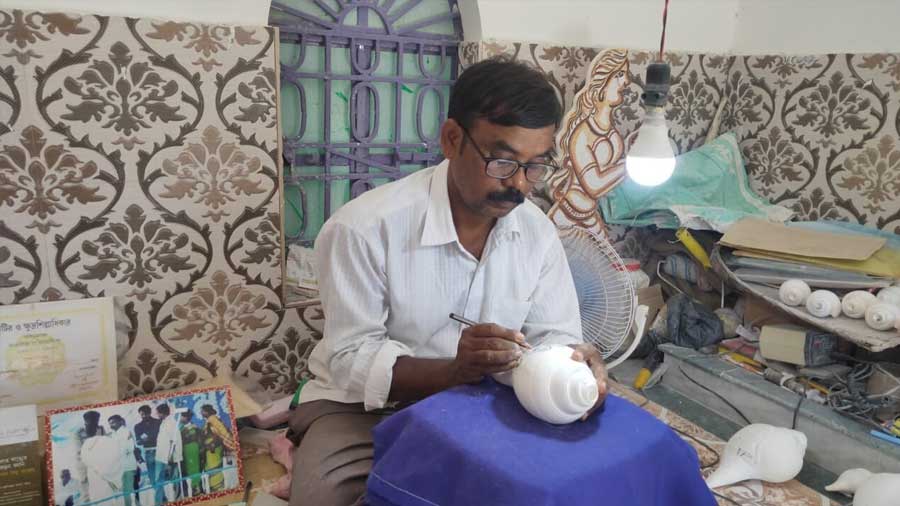 Nandi in his workshop
Courtesy: Bablu Nandi
In the meantime, he continues his work from his home. Apart from his epic masterpiece, Nandi also carves various designs and mythological scenes on conch shells, and makes decorative items from oyster shells. He has also trained women from nearby communities in this handicraft, and along with his wife, they now make different items in his workshop.
Like most other crafts, the pandemic has hit the Shankharu community hard. They did not receive help during this time and sustaining a livelihood has been difficult. But Bablu Nandi has been nurturing his brilliant craftsmanship through it all. Now, this award has not only accomplished Nandi's dream of taking his art to another level, but added a new feather to the cap of Bankura.