With Dol falling on a Friday, it's been a double dhamaka this year! Just like us, Tolly stars too put the start of the long weekend to good use, with a day full of colours, fun and merriment. Be it Abir sharing some abir with his social media fam, Subhashree and Raj sharing moments with their little one, Dev facepalming drenched in colours or Ritabhari's Ideal Holi, T-towners had an eventful Holi.
Abir Chatterjee
Abir wished his fans with a maatir thala full of abir on Dol.
Sahana Bajpaie
The singer shared a sneak peek into her Santiniketan Dol, posing with her daughter Rohini. The mother-daughter duo sure know how to nail the Basanta Utsav OOTD!
Dev
Just like us, even Dev felt 'Social media peer pressure' to post a Holi pic!
Raima Sen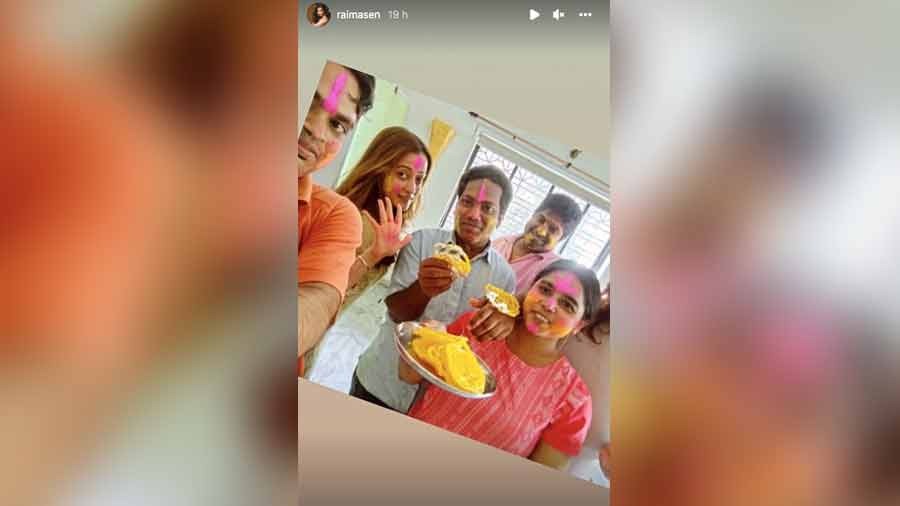 'Mishti mukh' is a must on Holi, and Raima savoured the day with jilipis and abir.
Paoli Dam
If this is not the prefect Holi photo, then what is? Paoli, in a white salwar suit and printed dupatta, also shared an easy-breezy fashion tip.
Subhashree Ganguly-Raj Chakrabarty
Little Yuvaan sure had a gala time at his fam jam this Holi. Raj and Subhashree's little munchkin in a white panjabi-pyjama is cuteness summed up.
Gourab Chatterjee-Devlina Kumar-Anindya Chatterjee
These F.R.I.E.N.D.S. had a blast in Santiniketan, drenched in abir. The celebs gave major fashion goals with Gourab in a fitted kurta-dhoti, Anindya in a laal panjabi and Devlina in a yellow floral sari.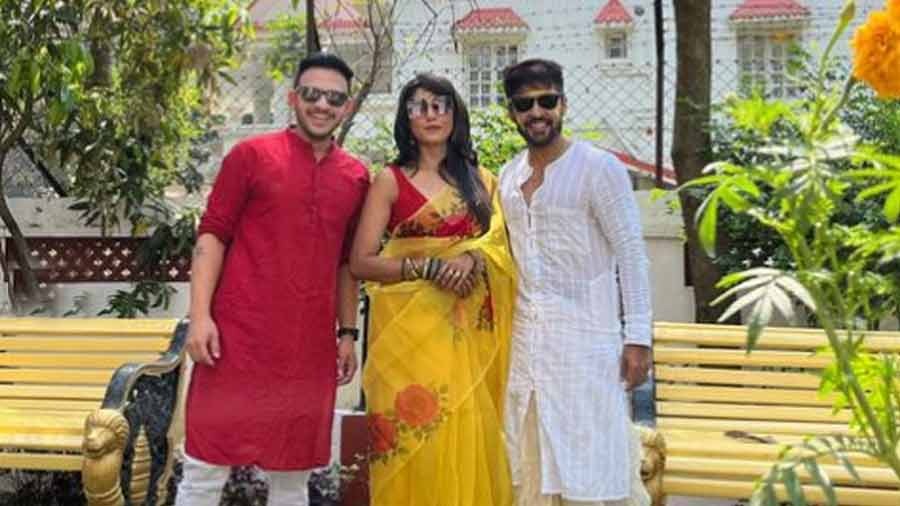 Ridhima Ghosh-Gaurav Chakrabarty
It was raining love and colours for Gaurav and Ridhima. The couple shared moments of their rong khela, making netizens go 'aww!'
Sohini Sarkar
With Arnob's soothing voice singing Phagun haway haway in the backdrop, Sohini had a special Holi.
Ritabhari Chakraborty
Ritabhari shared a glimpse of her Holi spent with the students of Ideal School for the Deaf.
Ishaa Saha
In a basanti sari and with golapi abir smeared on her, Ishaa painted a pretty picture.