Pranati Nayak's resoluteness is infectious, one that reassures that 'where there is a will there is a way'. The gymnast daughter of a private bus driver, hailing from Midnapore, is ready to fly to Tokyo Olympics, having bagged a berth through the continental quota in May. "Where I come from, there wasn't much awareness back when I started," says the 26-year-old, whose first international tournament was in Russia, 2008. Pranati's success, however, has turned the tide. "In the last couple of years, there is a lot of enthusiasm," says the Indian Railways employee who loves badminton too and does just a bit of make-up for her performances. "I can't do make-up very well, but since there are lights, I do a little bit," she says. The simplicity adorable.
Though she's had only a couple of months to prepare for the mega event and will give it her best, she already has her eyes set on the 2024 Paris Olympics. "Shobai je shomoi chhare, shei shomoi aamar bolte gele shuru. I think I'll be able to sustain," she says. We wish you all the best!
Congratulations! You will be leaving for Tokyo this week...
We might be leaving from Delhi for Tokyo on July 17. Khub bhalo lagchhe. I have been to Japan to compete in Junior Asian Championship in 2010, but going for Olympics feels absolutely different.
You are only the second Indian woman gymnast to qualify for the Olympics. That's pressure, right?
Definitely a lot of pressure since everyone is expecting I would do as well as Dipadi (Karmakar who had a fourth place finish in Rio Olympics). I will definitely try. I am not that tense now. Let's see what happens.
How are you preparing?
We have completed the schedule. Khubi koshto kore charte apparatus complete korte perechhi. If someone is unfit or out of practice for 10-15 days, it takes a couple of months to get fit. I had only two months to prepare. Kintu kore niyechhi. Practice is going great kintu mone hochhe ek du maash pele khub bhalo hoto. I am training six hours every day.
When this piece of news came in, I was desperately looking for a multigym, which would have helped me greatly. There is, however, no such facility in Midnapore.
So, you were active and fit during the lockdown... 
I was, but not to that extent, since I was facing accommodation problems. My home is in Midnapore. I was staying in a rented house (in Calcutta, since Sports Authority of India in Salt Lake was shut due to the lockdown; post her qualification, 'SAI gave her special permission to train on its premises') and had to do all chores by myself. And, I had never cooked. Ja parchhi nijer moto banachhi, khachhi.... That was a challenging phase. May be all that was leading up to this and that's why I was put through the ordeal.
An Olympics berth has been your father Sumanta Nayak's dream... 
He is ecstatic and has asked me to put in my best. In fact, he was in tears. When I couldn't score 48 in the World Championships, he was the most heartbroken.
He has seen my discipline even during the lockdown. Maybe we have had visitors, but instead of chatting with them, I have focused on my hour-long training. He may have taken a lot of pain to drop me off to SAI (Sports Authority of India, Salt Lake), but kokhono khatte dekheni, because parents were not allowed inside, and he loved my discipline during the lockdown. Baba was very worried and I too would get upset that all my friends are training in the Calcutta clubs. He helped create a structure out of bamboo for my practice and did whatever he could within his limited means.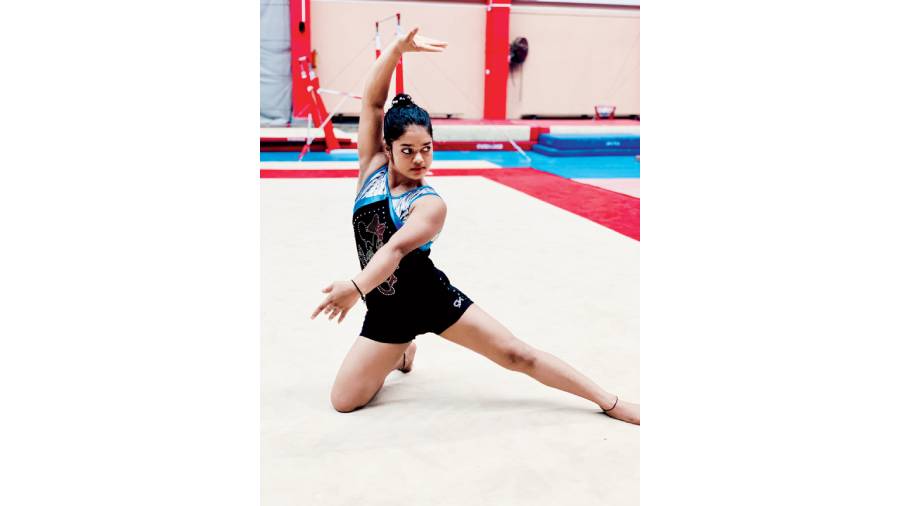 How old were you since you started learning gymnastics?
I was six. I trained at home for a year and have been at SAI from 2003. My mother was into yoga and she says that same love is reflected in me as well. I was a very naughty kid. Bhoy petam na. I would swim across large ponds and climb trees. Prochur maar kheyechhi. I loved gymnastics from the get-go... that I am running, jumping! I thought it was yoga. After training in SAI for a year-and-a-half, I could pronounce 'gymnastics'.
What are your favourites in gymnastics?
I am at my best on the apparatus bar and I am known for my vaulting. In India, Dipadi (Karmakar), Aruna Reddy and me are international medallists in vaulting. Vaulting e amader shujog shubidhe beshi. In international events, we usually tend to score our lowest in bar, but I love the bar. Gymnastics is changing every day, so the basics are important. If the basics are solid, it helps in the long run.
Now the infrastructure is a lot better. I follow renowned gymnasts on Instagram and love looking at their videos. Among my favourites are Simone Biles and Nadia ma'am (Comaneci). Of course there is Dipadi, our queen.
And outside of gymnastics?
I like Sachin sir (Tendulkar) a lot and Saina Nehwal.
How do you keep supple?
My sir teaches me yoga and we vaulters, because aamra beshi spring taani or board e jump kori, our body is tight. So, stretching is important. I work out in the gym twice a week. We work on our ankles because for the floor exercises, a lot of impact is on the ankles. Gymnastics is almost like a full-body workout, so we don't need to visit a gym that much.
What's your diet like?
I haven't had to let go of anything. Personally, I eat less. Aamar sir ra boke boke khaoay. I don't take extra protein as I am allergic to milk and eggs. I take protein bars now. I consume paneer and lots of fruits. Rice is for afternoons and at night, I have roti. I want to maintain a consistent 45kg weight.
Are you studying?
I attended a regular school till class IX and then completed my 10th and 12th from an open school. I am pursuing my graduation (BA general), which is very important.
You are also the only earning member of your family. How are you managing it all?
Onek kichhu shamle niyechhi (laughs). I have married off both my sisters and it has all happened because of gymnastics. Sometimes I feel, dhur aar bhalo laage na, but then my spirits lift in a couple of days.
You love dancing and music...
I put on music and I do all my chores. I like songs by Neha Kakkar, Sonu Nigam, Arijit Singh. Hrithik Roshan is the best dancer! I am a huge fan. Koi... Mil Gaya is my favourite Hrithik Roshan film. I am listening to Akshay Kumar's latest songs now. I like emotional songs... (sings a few lines of Jo bheji thi duaa).
What are your dreams at this point?
I am determined to get medals at 2022 Asian Games and Commonwealth Games. I still have a year. In future, I want to stay with sports.
Picture: Jai Kishore Singh
More about Pranati
Competing at the senior international level since: 2014
First international medal: Bronze at Asian Gymnastics Championship, Mongolia: 2019
National medals: More than 100
Senior National Championship: Gold, 2019
National Games: 1st position, Kerala, 2015