Lakshmi Rana 
The initial days of lockdown
I was working back to back before Covid hit us. So, it was great in the sense that everything calmed down. It gave me a lot of time to spend with my family, which probably hasn't happened for so long. You are also completely focussed within. Though it's been disastrous for many in many ways… for the first two months, it was great. My husband was here. Post that I have been giving a lot of interviews and have been talking on Instagram about the future of fashion. There was so much of pending work left. I sorted a lot of trash out of my house. I have been working a lot on sustainability and conscious fashion. So, basically everything that I have ever wanted to do and that would never come along because I was constantly travelling and working... I did utilise it well (laughs).

Professional apprehensions
This has happened to everyone. Yes, the fashion industry is one of the worst hit and I know that things are going to change, but I also know that we as human beings are resilient enough to come back and we as Indians are resilient enough to come back even stronger. I have started doing a few shoots. Of course everything is being done very professionally. I did the Tarun Tahiliani virtual show, which was done very professionally. Slowly shoots are happening. I don't think shows are going to happen very soon. Everybody is going to start working on the virtual format. This also gave me the time to start working on own company. So, yes, I have plans! I have always been very calm and collected and I believe that everything has a reason and time. I have been telling the freshers what they need to do to up their game, the ones who are trying to enter the industry. I know of girls who have given up their houses as they are not been able to pay rent and people who are struggling and going through depression and I have been talking about how to handle it. This gives us time to work on ourselves and increase our talent base and not depend on modelling alone as a job. A model can be a fabulous influencer and blogger as well. A lot of models are now doing styling and make-up videos.

The Tarun Tahiliani show
My only apprehension was about the safety standards. I knew I was ready for work. (At the set), everybody was wearing the right kit. We were advised to get our own food. The brief was different. We had only about six models in the show. Every little thing was sanitised.
For the first time in my life, I was relieved that the crowd was missing (laughs out loud). In my head, I was like, 'I touched this and I need to sanitise'. I think I must have scraped off my hands with the sanitiser that day. I knew there were three-four cameras on us, but, I must tell you, it was so much fun. You are looking amazing and you are without a mask (in so many months)… (laughs). The fittings was one girl at a time. There were no rehearsals. My fittings was done in one hour. It is usually five hours. It was actually easier. I might get used to this honestly! (Laughs) It was recorded. Tarun told us to be ourselves. My first feelings when I walked out was hallelujah! Thank god!

My anchor
My family. Finally I gave them the time they deserve. I am lucky to have my family around me. I have always believed throughout my career that it is very important to have a balance between work and personal life. I have held by the believe and it has proved good to me during these tough times. And, my friends... I have been speaking to each of them.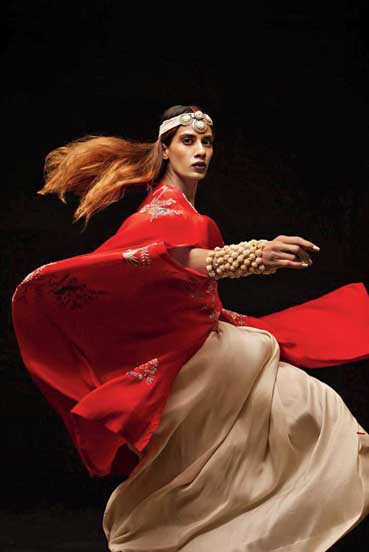 Sony Kaur
Sourced by the Telegraph
Sony Kaur
The initial days of lockdown

When it got shut down, I was in shock honestly. I was preparing myself for Lotus Make-up India Fashion Week (presented by FDCI) and I was about two days away from travelling for it. I was supposed to go to Jaipur and then I got a message that the Fashion Week has been postponed. During Lakme Fashion Week, we were hearing about coronavirus and that it was spreading crazily. We were scared but had no idea that this was something so serious. When events started to get postponed, it was a bit weird and a little scary and slowly more jobs started getting cancelled. March is the peak season for us. It was badly hit. We thought things would get back to normal in a month or so and that a cure would be out soon. Then you just realised it's going to take more time.

Professional apprehensions
There is not much work happening in Bombay because if you talk about fashion, Delhi has a lot of designers. Bombay is more commercial, TV and all of that. I have my base both in Bombay and Delhi. I have moved to Delhi now where my cousin lives, for work, because it keeps you going. And, the rents are very high in Bombay. When you are not earning much, it doesn't make sense to pay that rent. Now you are not earning too much, but you are not spending too much either. I haven't shopped for anything in these months, which is strange, no eating out, no vacations.
I have done a show recently for Tarun Tahiliani. That's one of my first jobs after four months. Crazy.

Unprecedented times
We were all going through mixed emotions. There is so much happening. You are on social media 24x7. There is nothing else to distract you. I have been trying to meditate and stay positive, doing a lot of yoga, but you still can't help it. It's out there. We have started respecting things we never paid attention to before. Stepping out and having coffee is a very casual thing. When I went out for coffee after five months, I felt like crying!

The Tarun Tahiliani show
We loved it. It was not even 10 per cent of the crew that's usually there at fashion shows. Usually the green room has all the female models, but this time they put us in different cabins. We were talking to each other through glass screens, which was weird. When we were doing the videos, we didn't know how it's going to look. It was more like a rehearsal for us, but when we watched the show, it looked exactly like a fashion show, as if we were walking there.

Alternative career options
I want to do something in the creative space, but I am not sure what. I wanted to get into fitness. Now you have to come up with new ideas as the world is changing. I am spending a lot of time making DIYs and have started painting, art and craft. Sometimes I feel like painting and sometimes, writing or learning a new instrument, but the biggest motivation is that the vaccine should be out. (Laughs)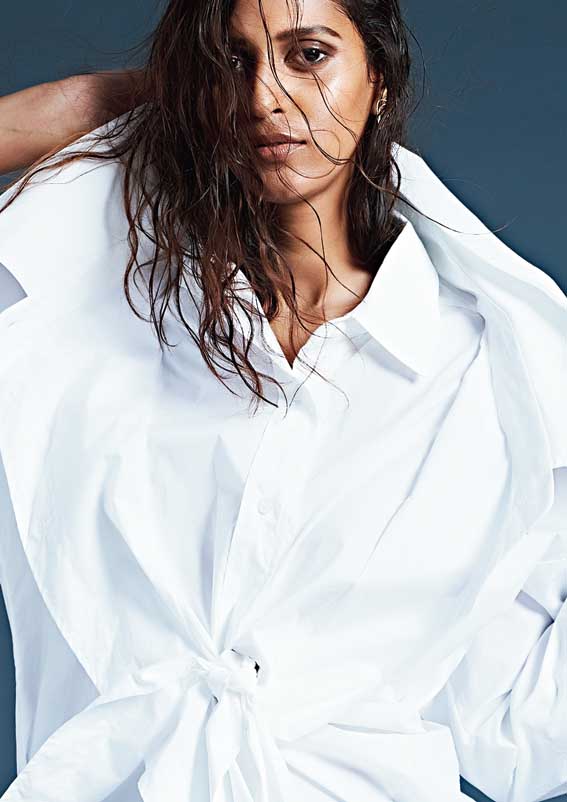 Mitali Rannorey
Sourced by the Telegraph
Mitali Rannorey
The initial days of lockdown
We moved out of Bombay (Mitali is married to Calcutta boy Avishek Das) thinking this would happen and it did. I don't think anybody expected it to go on for so long. There were speculations in the beginning that it probably wouldn't end in the next six months. It sounded like: 'What are you saying?! How can we sit at home for six months?' So, it's about living in fear every day because now people you know are getting it.

Professional apprehensions
I think we are independent women, paying our own bills. So, for me it was a bit of a shocker that for the next few months, I won't be working. We get paid on every job and we don't have a fixed income. When work starts, we are the ones who will be called back first because people won't forget you easily. Work was never my concern and it has started. Quite a few friends of mine in Delhi have been working every other day in shoots. You can't expect shows to happen now. I have got some queries, but I don't consider it safe to travel at this time. At the end of the day, I need to come back home, either to my old parents in Bangalore or my elderly in-laws in Calcutta. I don't want to be a threat to them. It's best to stay at home till things are a bit under control.

Alternative career options
Right now it's not on my mind and anyway, I am a telecommunications engineer, so my brain never sits idle. I am helping my husband with research about his projects.

Keeping busy
When I am really bored, there is Netflix. I knew zero about cooking. Now, I have gathered a little bit of knowledge about that!