Madar Tala Colony in south Calcutta's Tollygunge area is not very far from the two biggest golf clubs of the city — Royal Calcutta Golf Club (RCGC) and Tollygunge Club. Within it is a basti or slum like any other. Vegetable vendor on one side, meat shop on the other, a pedlar on a cycle van selling rat poison, a tyre repair shop, row upon row of cellular houses, sagging clothes lines heavy with laundry.

Locally, this settlement is known as "Caddiebasti". Caddie, as in the person who lugs a player's bag and clubs during a game of golf, for a fee. "Two hundred caddies live here with their families," says Mohammed Rajesh. He is 40-plus, started out in his pre-teens as a ball boy. His father was a caddie too and his grandfather as well.
It is 9am and he has just returned after caddying for his regular clients since 5 in the morning. Now he is sitting at the doorstep of his one-room residence. His smartphone is playing a Hindi film song from the 90s.
Rajesh says a caddie has "fixed" clients who pay him on a monthly basis. Temporary clients pay them according to club rules. The rates depend on expertise, though all training is largely informal, picked up from watching a father or an elder brother.
Rajesh talks about how RCGC organised classes for him and his colleagues last year. "It was about the rules of the game and etiquette. Then we had to take an exam, for which we were marked and, thereafter, assigned categories. Some of us were in category A and others in category B," says Rajesh. "I am in A," he adds after a moment's hesitation and just then a pressure cooker at a neighbour's goes off loudly, as if whistling in appreciation.
Sundar Kanti, 34, has recently been promoted to category A, but he has lost some clients — not everyone wants to pay extra bucks. But the caddies appear to be a united bunch. "If you pay less, no one will caddie for you," Sundar threatens some invisible bad client, his tone near rebellious.
Pappu, reed thin, in his twenties — he refuses to share his last name — looks younger than Rajesh and Sundar. And though it is difficult to imagine him shouldering a burden of almost 12 kilos on his frail shoulders every day for many hours at a stretch, fact is he has been caddying for the last eight years. He has seven fixed clients, he boasts.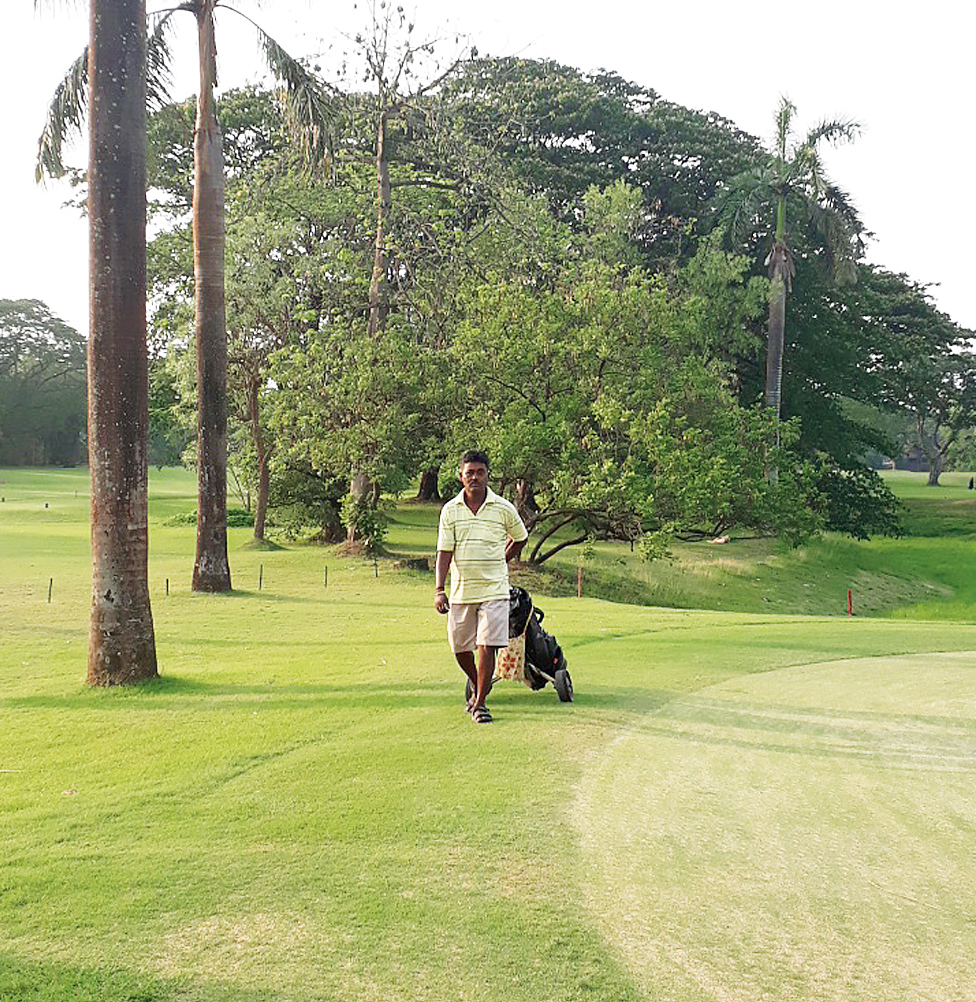 Sandip Dey, a caddie at RCGC loves to play a shot or two of golf
Manasi Shah
Fifty-year-old Sandip Dey seems to be sulking — whether that is his general demeanor or he is just tired, we cannot say. "A caddie has to fetch water for the saheb, clean the ball, hand him the club, hunt for the ball and fetch it," he rattles off dispassionately.
The luxuriant golf course of RCGC is filled with cotton shrubs. There are cotton stubs, which can easily be mistaken for tiny golf balls. Sandip says, he is in this profession because he loves to play a shot or two. "Some clients let me," he says, clenching and unclenching his fists. "Part of our job is also to humour clients," interjects Goutam Hazra, 32. "It is a time-consuming sport and morales tend to wane," he adds.
What about women caddies? Sheikh Halim, Raju Sardar and Sharif Ali, caddies all, break into a smirk as if it is a great joke. "There are no female caddies in India. But if you go to Thailand, America, you will find them," 28-year-old Raju manages, in between giggles.
It is afternoon by now. The men of Caddiebasti are returning from "duty" in droves. They are dressed in tees, bermudas, some of them still have their caps on — all markers of the elite workspace they are part of and yet not quite part of. Some like Pappu will stray time and again — he says he tried his hand at various odd jobs — only to succumb to the lure of walking the green stretch.
Rajesh's T-shirt reads "the Takeoff". But his chatter and possibly dreams too don't soar beyond golf. So what if his 12-year-old son is immune to golf's magic? "You would have heard of Shiv Shankar Prasad Chawrasia," he asks reverentially. Chawrasia is an Indian professional golfer; since 2008 he has won six Asian Tour events. Rajesh points eastwards and says, "He used to live there [in Bikramgarh] before he became so famous. His father was the greenskeeper at our club. And before he started to play, he was one of us, he used to work as a caddie."