Mohalla rap: Drakes and Jay-Zs of Khiderpore rise
Young Muslim rappers are writing the reality of their 'hoods in Calcutta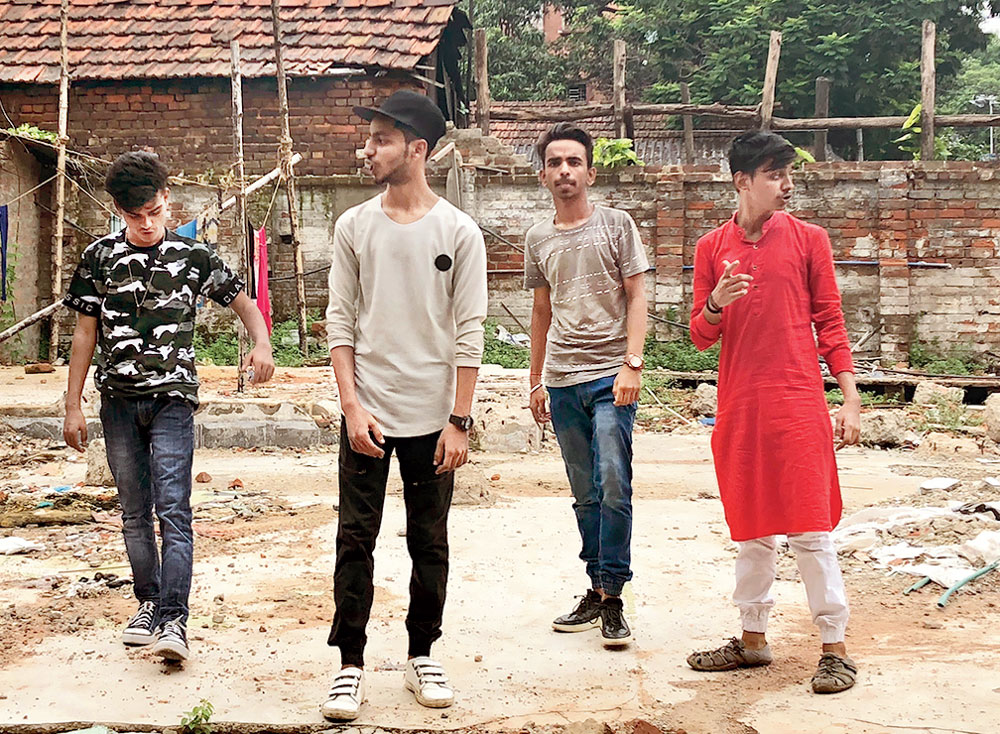 The Inchoates from Pilkhana
Picture: Manasi Shah
---
Published 27.10.18, 06:49 PM
|
---
Huzaifa has an air of confidence and a quiet pride. He has released 10 raps in 17 months. The issues are pedestrian but ones that every person in the neighbourhood can connect with — waterlogging and electrocution during monsoons, women's safety. He talks about how the new rappers don't know much about the hip-hop culture. He loves Eminem, Drake, Nas, Machine Gun Kelly. He has been memorising numbers by American rappers since he was in high school. Later, he took part in jamming sessions. He adds, "But at times I do listen to Divine or Knuckle Dusta [both Mumbai groups] from India."

Huzaifa's songs are original, after all he has been a professional rapper with a radio channel. He tutors students to pay for his video shoot and recordings. Unlike the Pilkhana and Khidderpore numbers, Ilaka Rajabazar has a more defiant edge. It goes, "Rajabazar me aa ke humlog ko kaun gaali de/Ek jhaapad denge be girega Maulali me... Kaat kaat ke baat denge/ghaat ja ke bhasaa denge..."
Another number, Meri Aapi, talks about the loss of his sister at a young age and merges into the government's silence on molestation and rapes. "Allah ne aapi ko chheena yu/Kyunki meri aapi yaha neeche bade khatre me hoti/Ladke chhedte rehte… Khuda na khaasta/kahin uska bhi rape ho jaata/toh insaaf meri behen ko aakhir kaun dilaata?"
Khan Records is not a rap group, strictly speaking. Their song choices are a mixed bag of slow romantics and hard-hitting raps. They are also not affiliated to any particular geography. The group expands and shrinks at will. That day at Chandni Chowk, we meet five of them — siblings Asif Alam and Shaaz Alam, college student Saqlain Ali, and high school students Zeeshan Hasan and Tausif Khan.
Zeeshan is excited about the upcoming Bollywood film, Gully Boy. "It is inspired by Naezy and Divine," he gushes. Tausif wishes to be like Badshah and Raftaar, who rap regularly in Bollywood movies.
The duo talks about diss tracks, apparently very popular with Calcutta's rappers. A diss track is a song intended to disrespect people, in this case other rappers.
These rappers don't talk in terms of fan base, only views. "The population of Khidderpore is 10 lakh. If even half of them watch our videos, we are famous," says Minaj, whose Khidderpore Basti has to date clocked over seven lakh views. Ilaka Rajabazar has four lakh views.
That is the thing that all these young people seem to have in common — a hankering for fame. Not necessarily as a means to anything, but fame for fame's sake. Fame like Divine and Naezy — to put it in their own words.
And it seems it is because of fame that their families, initially resistant to the idea, have also come around. After months of cajoling, Amin's father, who is head of the department of a medical college, gave in. Iftikhar took a while before telling his parents. Later, however, his father bought him a second-hand camera. His principal, however, had asked him to take down his videos.
On the one hand, Huzaifa's mother says, "Muslims mein music ko haraam mana jata hai… In our faith, music is considered to be haraam." On the other hand, she has been most supportive of her son. She tells us how young boys knock on their doors every now and then and ask for "Huzaifa bhai". She says, "Achchha lagta hai."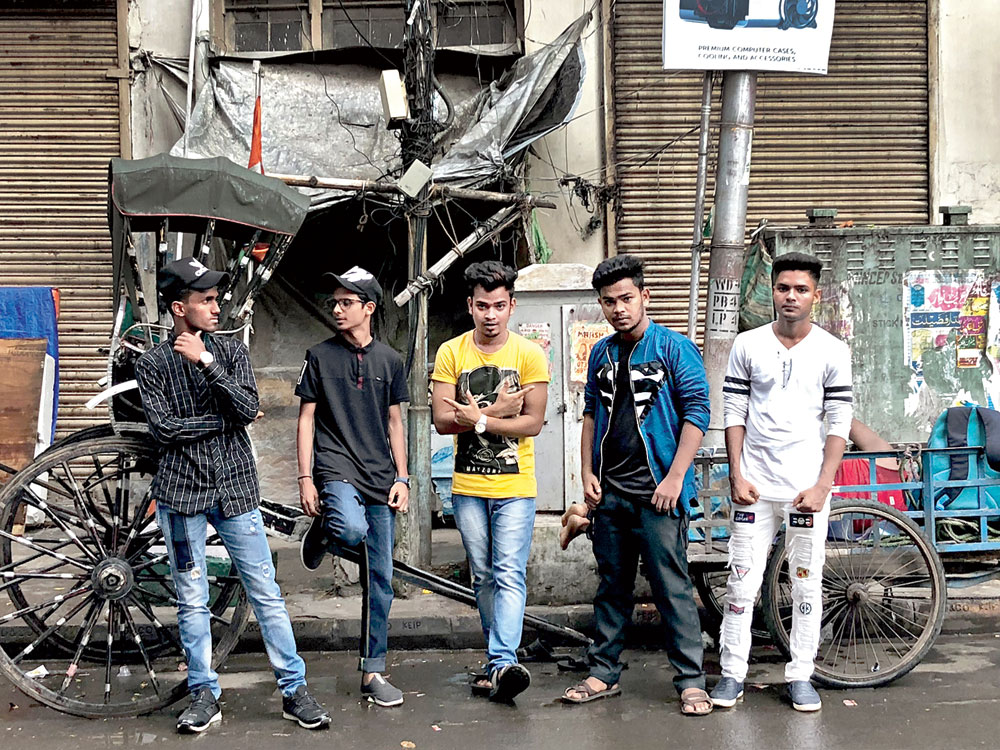 A ping lands in the inbox. It is a link to a YouTube video of two skinny teenagers, both boys, rapping. One of them is wearing a white tee, a snapback, shades, a thick silver chain. The other one has on scarlet canvas shoes, ripped jeans and a sleeveless jacket flung on his bare torso. The lyrics are in, wait, punk Hindi. They run thus: Khidderpore basti/maare zabardasti/...kaan se/shaan se/ baat sun dhyaan se/...zyada din rehna hai toh reh beta theek se/ varna tereko fek denge Howrah Beeridge se. The backdrop keeps changing to the rhythmic beats — Vidyasagar Setu, a slum area, the dock. The number is titled Khidderpore Basti.
Khidderpore is a locality in west Calcutta. A frenetic YouTube search throws up similar videos, more such tracks — or raps as they are referred to. The young rappers are all city boys. There's the group Khan Records with songs titled Aukaat, Harkat, Yeh Kolkata Hai. One of them goes: Yeh Kalkatta hai/mohalla/sab ek number/moh-alla ek number/par kaam/do number. We keep going down the song trail and find other groups, individuals, rapping along the same vein — Awessum Frankie's Ilaka Rajabazar and Yeh Hai Pilkhana by The Inchoates.
The content is similar, the style varies slightly, and the backdrop changes — deserted alleys, crowded buses, squabbling strays, schoolchildren playing ball.
Each video is around three to four minutes long and has thousands of views. From north to south and east to west, each song is a critique of a neighbourhood. Either by design or by coincidence, these are all Muslim-dominated areas.
The Inchoates live on the other side of the Hooghly, in Howrah's Pilkhana. Group member and lead rapper Iftikhar Ahmed, whose rapper-name is Ifti, says, "Amin sat with the dictionary to find a name that describes us. Inchoate means imperfectly formed." Amin Nashat is a first-year student of The Calcutta Unani Medical College and Hospital, and the second wheel of the group. The other two are Shashi Balmiki and Mohammad Sajjad — they handle the camera, recordings and direction.
We are in Rajabazar looking for Awessum Frankie. A young man with loopy glasses, a blue cowl neck tee and gelled hair greets us at the mouth of the congested bazaar. This is Mohammad Huzaifa Reza, who goes by the rap alias of Awessum Frankie. There is a story behind the alias as we find out while walking towards his house. "I was nicknamed Frankie and awesome was a common compliment. Also, I wanted to be unique, so I spelt the name differently." He also talks about how it is a good name to use on a clothing line or merchandise. "You know, for the future," he shrugs.
We turn into a lane adjacent to a chai shop and stop at a three-storey building. On its second floor is a two-room set, the Reza residence.
The drawing-cum-bedroom has two chairs. As we take a seat, Huzaifa brings us a glass of soft drink. His mother, Nafisa Jabeen, chides him for serving it in a steel tumbler instead of one of the glass ones kept aside for guests. Huzaifa's father, Mohammad Shoib Reza, also joins us.
Huzaifa's parents say they had no idea what rapping was until recently. They didn't know their son was into rapping until Eid last year, when his first single, Ilaka Rajabazar, was released. "He would tell us he was going to play table tennis or football, when he was actually going for his recordings," Nafisa says, wiping sweat from her forehead with her dupatta.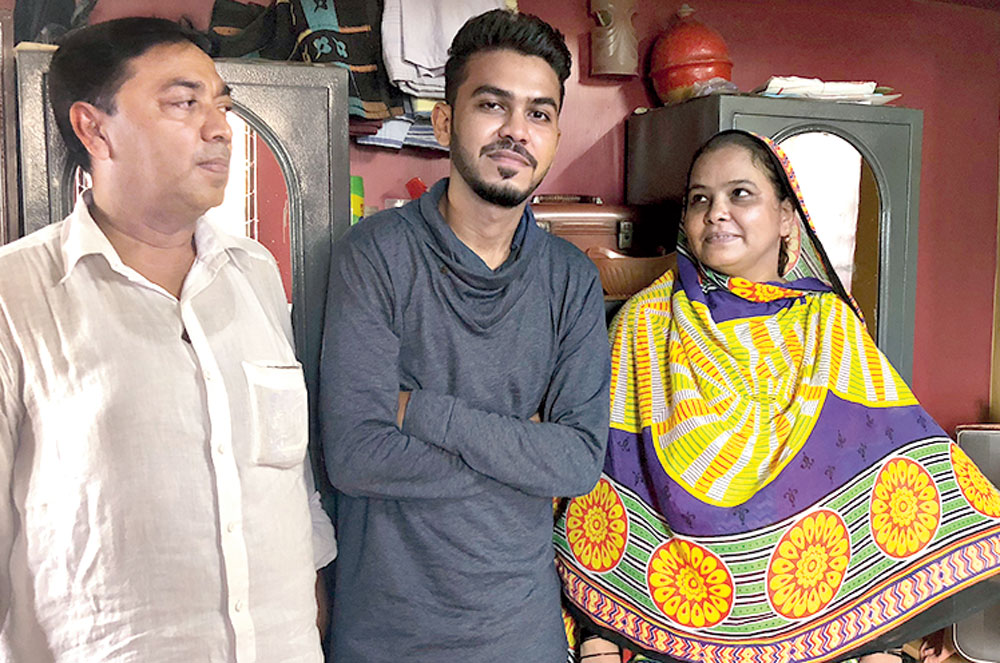 We are sitting in a biryani place in Pilkhana. It is owned by Amin's uncle, so there is no pressure to order, the boys reassure. The restaurant is sandwiched between a butchery and a cycle repair shop. The waiter slap-bangs thick glasses of cold water on the marble tabletop and disappears. In the next couple of minutes, it becomes clear that Amin is the spokesperson; he is always the first to answer a question. Once in a while, Iftikhar interjects. But the other two remain quiet.
We learn that in 2016 they shot their first video, Pilkhana Boys, in the secluded Namakgola area using Shashi's smartphone. They then mixed the music on Iftikhar's laptop. Amin's house was their studio, and in the absence of a microphone, they used a chhanni or tea strainer — for clear audio recording.
The track is about temptations, the easy vices of gully life. It goes: Pilkhana boys/hai ye sheron ka ilaka/kare nasha hum/jo bhi galli mile faka. Yet another song, Yeh Hai Pilkhana, is about the different kinds of people who inhabit the area — eve-teasers, fence-sitters, the violent sorts. Other raps are Harkat, KhalBali, Thoda Alag; they are complaints — to the government — responses to Mumbai rappers and pop philosophy.
From mixing songs to handling a tripod, The Inchoates learnt everything off YouTube. When we ask who their rap gods are, Iftikhar says, "Underground Rappers, Divine and Naezy." Divine is actually Vivian Fernandes and Naezy is Naved Sheikh. Both are from Mumbai, both chawl boys. Both shot to fame a couple of years ago. Divine is said to be the only Indian artiste to have had an Apple Music release.
Iftikhar claims that his group started the Hindi rap scene in Calcutta. Reason? "That was the trend then. Even the Mumbai artistes were rapping about their areas." Amin adds quietly, "We focus on lyrics to inspire people."
Pilkhana is on the western side of the city. Fourteen kilometres away, in the southwestern fringes of Calcutta, is Khidderpore. It is the local address of 20-year-old Minaj Khan of Khidderpore Basti fame.
"Ilaka ke upar jab koi rap banta hai na, toh woh baaki ke songs se zyada chalta hai... Area-specific raps are more popular than other songs," Minaj tells us over phone from Siwan in Bihar. He is there to spend some time with his extended family.
Minaj is doing his undergraduate course via correspondence. He holds a full-time job as a godown supervisor at an MNC. He is not reluctant to talk about his music but he is not very forthcoming with the details either. Or perhaps he just does not have anything more to say that is not already there in his music.
The gist of his story nevertheless: Minaj never had a knack for music but one time in school, the teacher asked the class to write poems and he was the only one who could put together eight rhyming lines. He would listen to Honey Singh. And after he discovered his rhyming prowess, he began to rap. A year ago, he had rapped about the Rohingyas. He clarifies, "Lekin main zabardasti nahi likhta. Jab dil kare, kisi topic pe likh deta hoon... I write rap only when I feel like it, I don't force myself."
Minaj talks about a WhatsApp group of 80, called West Bengal Hip-Hop, that comprises different rappers — English, Hindi, Bengali — across the state.