Suman Ghosh's film Peace Haven was an allegorical journey of three friends in their 70s who make preparations for their death and ironically they realise and discover the meaning of life along the way. The narrative style of Peace Haven evolved from literature, as Ghosh, at that time, was influenced by a certain kind of literature, which portrayed absurdist existential fables. And talking about Soumitra Chatterjee, one of the leads of the film, Ghosh had said (in 2014): "Soumitra kaku is a father figure to me. As an actor he has still so much to give. Even last year I was bowled by his performance in Atanuda's (Ghosh) Rupkatha Noy. And his erudition and charm never cease to fade. I want to soak in whatever I can get from him."
On November 15, Suman Ghosh announced on social media that he had penned a book on the late Soumitra Chatterjee, and the book, titled Soumitra Chatterjee: A Film-Maker Remembers, is set to come out on the legendary actor's birthday on January 19. A candid chat with Suman....
This is the first book that you have written. Why did you decide to write a book on Soumitra Chatterjee?
My relationship with him went beyond the actor-director relationship. He became like a father figure to me, an integral part of my life. After he passed away on November 15, there was an extreme vacuum in my life... I was remembering him a lot. Then a publisher approached me, seeing my writings in The Telegraph especially and asked whether I would be interested in writing a book on Soumitra Chatterjee. I pondered over it for quite some time and thought that Soumitra kaku had always told me to look ahead in life, that work is the only solace... and then I thought that this might be a wonderful way in which to relive his memories and look forward from there.
Did you ever think of making it as a documentary?
No, writing is a more intimate process. Since it is my first book I realised it is quite different from making a film. I cherished the process enormously also.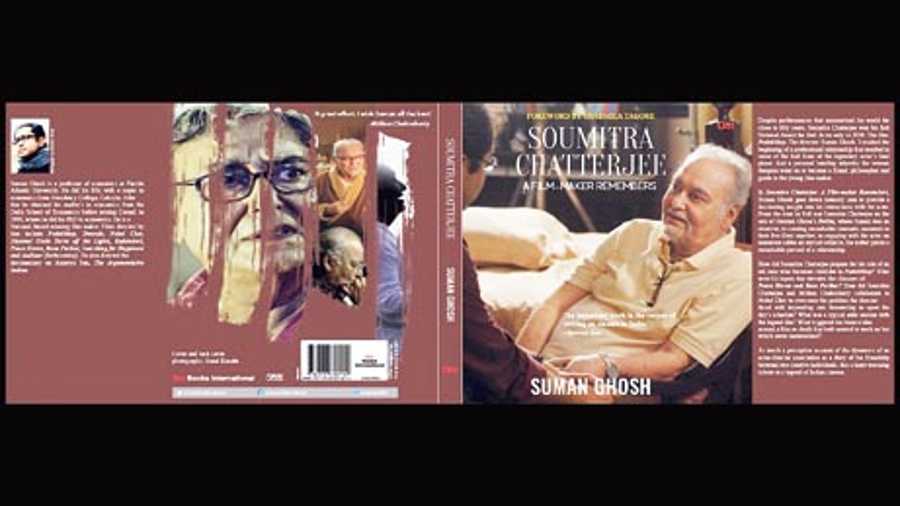 Cover of the book
How's the feedback till now since you announced the name of the book on social media?
I was overwhelmed by the response after it was announced on social media. I have got some wonderful pre-reviews of the book from very eminent people like Sharmila Tagore, Aparna Sen, Ashutosh  Gowariker, Goutam Ghose. Also Nandita Das and Mithun Chakraborty were generous with their comments about the book. I was very pleased by that reaction.
You said it was a cathartic experience writing this book. Why?
It was a cathartic experience because it was a cleansing process. And it felt nice remembering the times I had spent with him.
What was Sharmila Tagore's reaction?
My editor Shantanu Ray Chaudhuri reached out to her and she wanted to read the book first. She read the book and very graciously decided to write the forward to the book. Who better than Sharmila Tagore? She was  the actress in Soumitra kaku's first film, Apur Sansar. They had a very strong friendship and worked together in many films.