Shivani Agarwalla has come a long way from lifting kettlebells to shed postpartum weight to winning two golds at the 29th International Gira Sport Federation World Championship.
A chartered accountant by profession and a mother to a seven-year-old, Shivani has been deftly balancing family, work and sport. The winner of several awards, including the Pride of Bengal 2022 given away by the Indian Chamber of Commerce, she firmly believes the sky's the limit as long as one can prioritise responsibilities.
My Kolkata chatted with Shivani on her passion for her sport, family commitments, career and more 
Starting off on kettlebells
It was 2015 and Shivani was a new mom. Trying hard to find the right fitness regime for weight loss, Shivani was introduced to kettlebell by her coach to add variety to her exercise routine. 
"I was someone who had never visited a gym in the past. But post-pregnancy, I decided to give it a try. I met my coach Arnav Sarkar who introduced me to kettlebell. I started training with the idea of adding some variety to my gym routine," Shivani recalled.
''But for anyone looking to get into kettlebells post-pregnancy, I would advise that they consult their gynaecologist because everybody is different. And never ever lift bells without a coach around," Shivani said.
The pressures of professional life and parenting soon took over and Shivani was on the verge of giving up. ''I stopped lifting bells after a couple of months. But my coach was persistent. He called me up and said 'why don't I come and train you at home if you are okay with the idea'. Essentially, 2016 was the year I started lifting bells. Luckily, I have the fortune of having space in my house. So, I still train at home with my coach. I don't need to step out to pursue the sport other than for a run in the park," the Modern High School for Girls alumna said.
The lockdown affected Shivani's practice schedule, too. From having a coach around, she has to get used to online training. "I invested in a tripod but, more importantly, I had to mentally adjust to the fact that my coach would not be physically present. It was initially difficult but we got used to it," she said.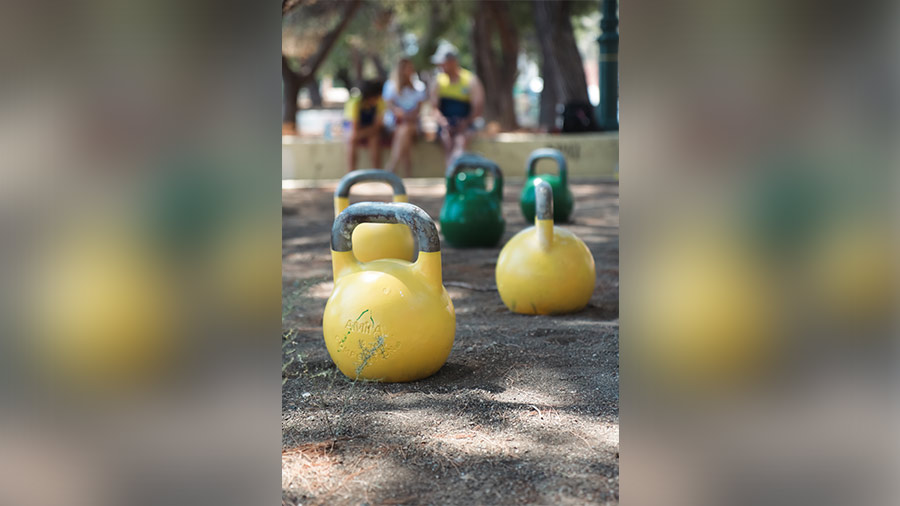 Kettlebell gets its name from the shape of the equipment.
Shivani Agarwalla
What is kettlebell?
The Russian sport kettlebell gets its name from the shape of the equipment. ''The sport got its name because the equipment looks like a kettle bell. It is made of cast iron. You have to lift the bell in a specific format under various time formats. In most international championships, there are slots of 10 minutes. There is also a marathon format where you lift the bell for 30 minutes or an hour. We have various lifts like One Arm Long Cycle and Snatch," Shivani explained.
Kettlebell is now a way of life for Shivani. "I feel it has made me mentally tough. Once you are lifting the bells, it's not just about the way you look, it requires a huge amount of mental conditioning. As a mother, the mental conditioning that it gave me has also helped in parenting," Shivani said.
Achievements and awards
Six years into the sport and Shivani already has several 'firsts' to her name. In 2018, Shivani became India's first woman world champion in the sport; in 2021 she earned her first CMS (Candidate of Master of Sports); in 2022 she earned her first MS (Master of Sports) and four gold medals.
"I first tasted success in 2018 when I became India's first Woman World Champion in Kettlebells. Next came CMS (Candidate of Master of Sports) for a lift called Half Snatch in the half-marathon format at the International Kettlebell Marathon Federation Championship in France in 2021. A one-arm long cycle fetched me the MS in Greece," said Shivani, who now has her eyes set on achieving an MSIC (Master of Sports International Class).
Shivani's greatest high was when she was awarded the Pride of Bengal by the Indian Chamber of Commerce and received a letter of appreciation from Prime Minister Narendra Modi.
"Winning an award (Pride of Bengal) alongside stalwarts like Leander Paes is a different feeling. You feel that everything that you have worked for is now getting recognised. While awards excite and inspire you to do better, you don't really work to get awards. You work to do what you want to do and then awards are a by-product of all the efforts you have put in," said Shivani.
But the Kolkata girl has had her share of challenges, too. Weather was the greatest adversity at the 29th International Gira Sport Federation Championship in Greece. "We have always been lifting in October-November in the cold weather. This time it was hot and we had to lift outdoors. It was not humid but very hot. When you have been training in a certain climate and have the air-conditioning on and then suddenly you are asked to lift outdoors, it's very difficult. My coach was very far-sighted and for the last couple of months we had stopped using the air-conditioning and, at times, we even switched off the fan. That helped," Shivani said.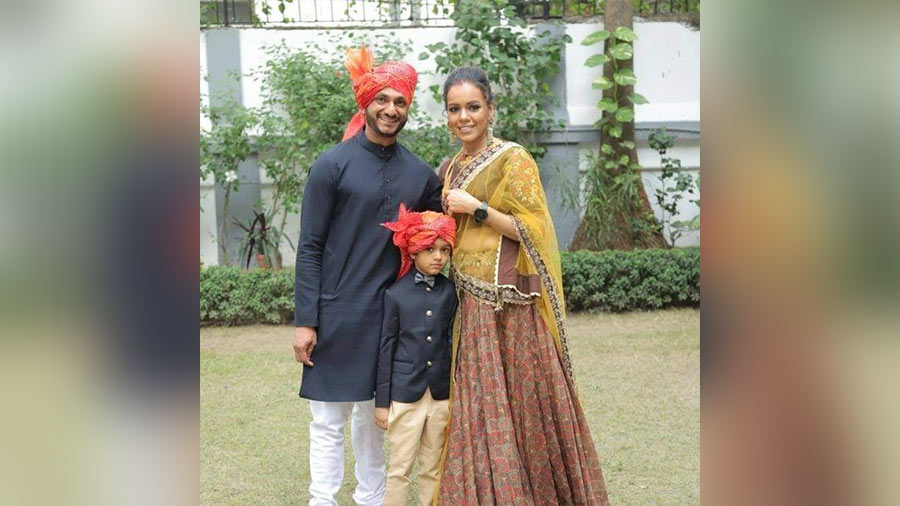 Shivani with her husband Mayank and seven-year-old son Lavik.
Shivani Agarwalla
Juggling roles
So how does she balance her roles as a mother, a chartered accountant and being a world champion in kettlebell? Shivani's answer is prompt and sure: ''I always believe in optimising, decluttering and prioritising. I believe if it's your priority, you will always do it. Decluttering starts by cleaning by category and not by items. I keep things which are important to me and let go of those which aren't. Also, I can't optimise everything. So, I prioritise,'' she said.
For Shivani, the journey of life has four wheels – personal, professional, family and social. "I love spending time with my family. Personal life is the time I give to myself. Social life, I'm still working on," said the Shri Shikshayatan College alumna.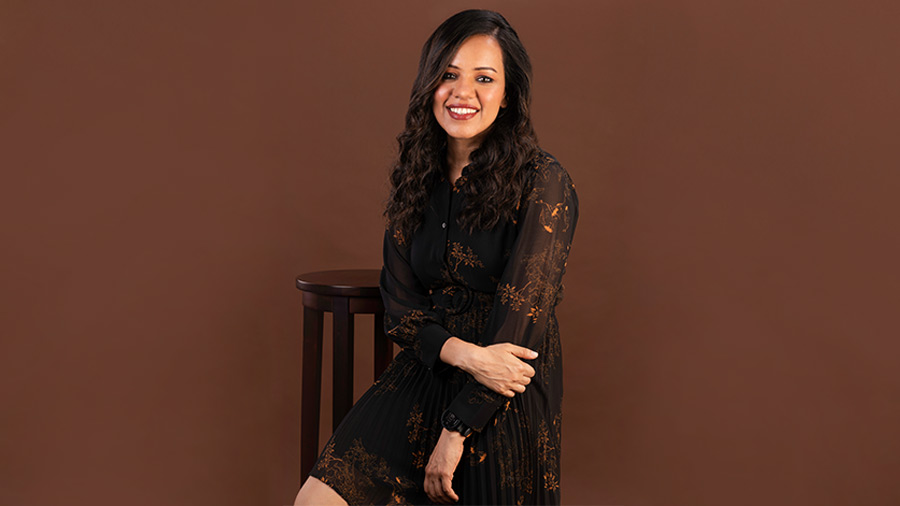 A chartered accountant by profession, Shivani believes personal life is important and realises the need to give time to herself.
Shivani Agarwalla
But the role Shivani loves the most, without doubt, is being mommy to her seven-year-old son. "I am a mother to a seven-year-old. His name is Lavik. He speaks French fluently and plays the piano very well," said the proud mother.
Shivani acknowledges that things would not have been so smooth without the support of her husband Mayank Agarwalla, a tea planter, ultra marathoner and trekker.
"It is said that behind every successful man is a woman, in my case I cannot undermine the role of my husband. There are certain societal norms that we are expected to abide by. My husband has an establishment in Kolkata but his work keeps him in Assam. But he was very clear that since I was a CA and I had worked hard to get that degree, I needed to work on that as well," Shivani said. "My husband is the motivational star of my life. It is he who said I should go ahead and lose some weight post delivery and then I joined the gym and met my coach."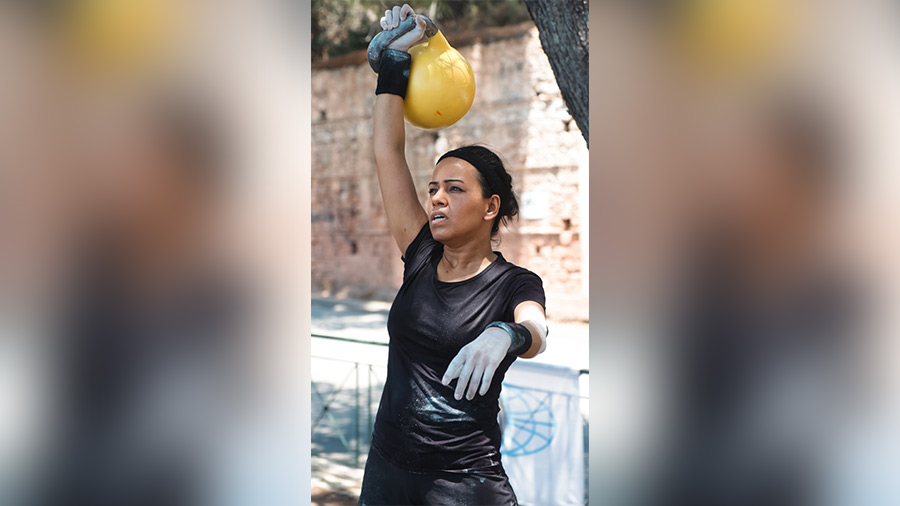 Shivani has her eyes set on an MSIC (Master of Sports International Class) and knows only hard work and perseverance can get her there.
Shivani Agarwalla
Road ahead
Shivani believes that kettlebell has a bright future in the country and a lot can be achieved through systematic infrastructure. She recommends anyone willing to pursue the sport to just go for it. ''There is so much potential in the sport because of its versatility. But we lack a proper federation in the country. Once we have that, I think sky's the limit. Kettlebell is one of the most versatile sports. It has a very bright future for a lot of athletes. Whatever be the sport, I believe that if you are persistent you will get it, if you are consistent you will keep it," she signed off.