Sarijeet Jeet had never dreamt of becoming an entrepreneur, but adversity left him with no choice. During the lockdown of 2020, Jeet, a tailor by profession, lost his only source of income. Panta bhat (cooked rice soaked and fermented in water eaten with green chillies and red onions) was the only meal he could afford those days.
A thought soon brewed in Jeet's mind and thus was born Jeeter Tea Stall. It was some time before the bestseller Lonka Cha was added to the menu. "When the pandemic hit Bengal, everything shut down. I lost all my income. So, I started selling tea and thus, Jeeter Tea Stall was born," Jeet said.
Survival strategy during the pandemic
Jeeter Tea Stall started out like any other parar cha-er dokan. Jeet, however, always had a creative side to him and started looking for interesting ways that would set his tea stall apart from the rest. "I love creating new things. Even as a tailor, I would look for new trends and then tweak them to come up with my own designs. In fact, I'd like to call myself a fashion designer rather than a tailor. When I started Jeeter Tea Stall, I was determined to find something different to offer," said the solopreneur. 
One afternoon, as Jeet and his wife sat down for their afternoon meal of panta bhat and lal cha, Jeet dipped his chilli into the lal cha on a whim to see if the flavours worked together. "I thought it would taste good. As soon as I did it, I asked my wife to pass me a few more spices and added them to the tea. We tasted it and it was surprisingly good. So, we made more of it and took it to the stall that evening," he recalled.
'Lonka cha' an instant hit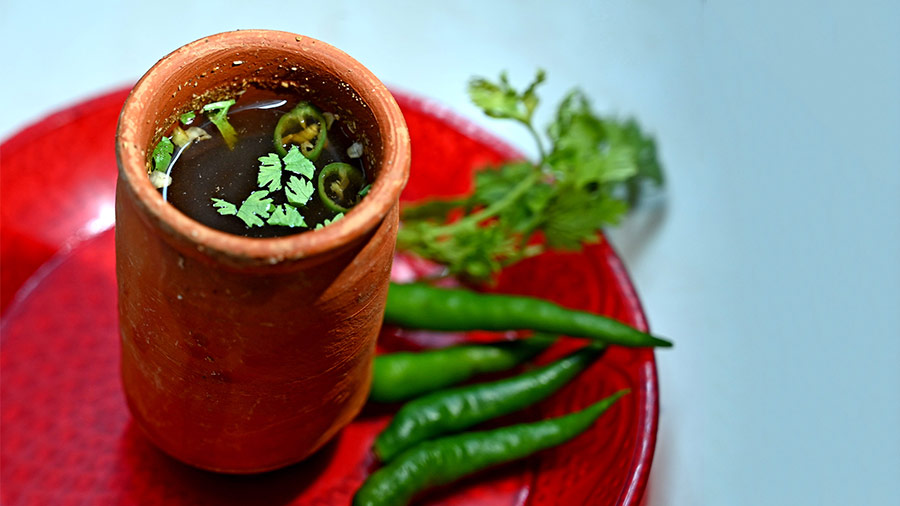 The special 'lonka cha' at Jeeter Tea Stall
Amit Datta
That evening, Jeet distributed his now-famous lonka cha among everyone in the locality and everyone loved it. The coming week saw Jeet trying out various combinations of spices in an attempt to perfect the blend. Only when Jeet was completely satisfied did he add the cha to the menu. It became an instant hit. 
"Everyone in the locality loved my lonka cha, but it became a real hit when minister Aroop Biswas and councillor Arup Chakraborty tasted it and spread the word. They told a lot of people about it and that increased the hype around it," Jeet said.
Endorsed by celebs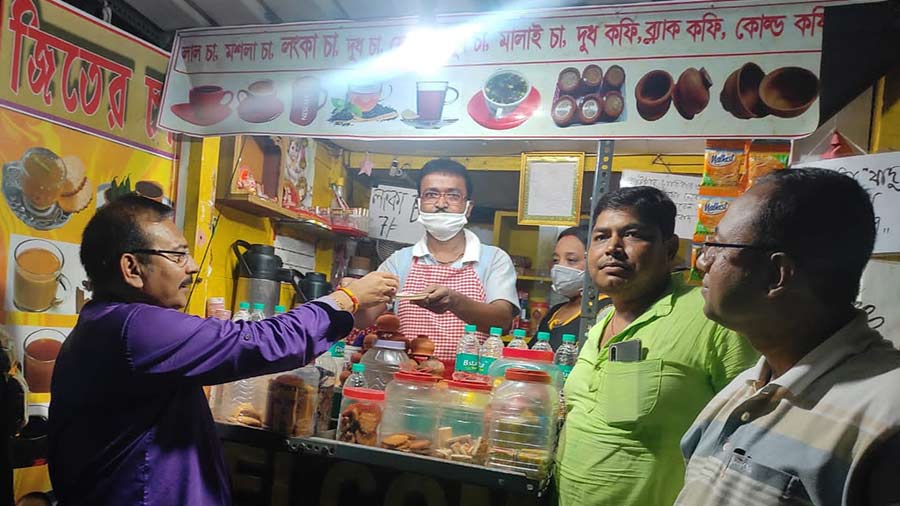 Aroop Biswas and Arup Chakraborty enjoy their favourite tea
Actress Mimi Chakraborty, too, is a member of the lonka cha fan club. "Mimi Chakraborty tasted the tea here one day and loved it so much that she called us to cater for her birthday celebration. We set up a stall at her place and served our famous lonka cha to all her friends," said a beaming Jeet. 
The enterprising entrepreneur now plans to serve his lonka cha in a cup and saucer. "Have you ever had cha served in a cup and saucer at a roadside stall anywhere in the city? We'll be the first!" said Jeet.
Taste the best
If you're wondering how a spicy tea could create such a stir in a city that loves its doodh cha or laal cha, it's the unique flavour. The lonka cha is a pungent concoction with sharp tart notes and is best described as piping hot phuchkar jol, but it still seems to have hit the right chord among people who have tasted it. 
Where: F9FR+379, Baishnabghata Patuli Township (near the Patuli fire station)
When: 9 am to 10 pm (lunch break from 2.30 pm to 4 pm)
Price: Starts at Rs 12 
Also available: Iced Lemon Tea, Lassi and Masala Coffee