All those who have been treated to Radhika Singhi's warm hospitality will swear by the love and care that comes along with her delicious meals. She has now extended it to a larger community — a natural extension of her Covid initiative — with Annapurna Food Service. "The aim is to provide mid-day meals to the needy individuals... the communities around JK Lane, where we are headquartered, daily-wage workers, children and mothers," says Radhika. The meals are free and you can pitch in too, as a volunteer or by sponsoring the meals. Radhika chats with The Telegraph about her all-consuming passion that has filled her with feel-goodness.
Hospitality is in your blood...
In my family, I have seen everyone do it. As a kid, I used to go to Kanpur where my grandparents used to live and my grandmom with the help of the staff in the house, would make at least 500 rotis every night. In the morning, we would tag along with our grandfather and go to the railway station in Kanpur and distribute roti and sabzi. That's how the day started. I must have been seven-eight years old. This has been the culture in our family... whoever comes in, has to be fed, no matter what. Food, for us, was supposed to be served. I saw it with my mother too. If something new came to the house, she would first give it to the staff and then we got our share. My uncle used to feed around 400-500 people every day. So, it comes naturally to me. People might think I am overdoing it, but that's me.
The best part of going for a meal to your place is that it's all homemade...
We have to. It cannot be sukha nashta. It has to be prepared fresh and with lots of love.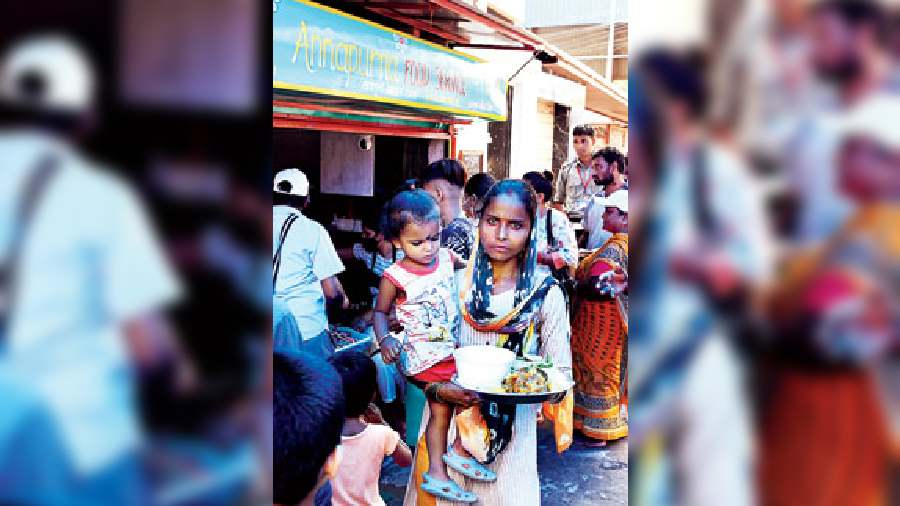 A woman with her child with freshly served food
You started feeding people during the second wave of Covid...
I thought that was the need. That's when we fed around thousands, during Covid times. Helping out people who had Covid was the plan. There was a time when every family had to feed their security staff because everyone was staying there. We make sure that all the people working for us are fed at home, but I found that people had difficulty doing that also. That's when it struck me. Trust me, if you really want to do something from your heart, it will happen.
This gentleman across from my building approached me. I had spoken to him earlier about this. He said if I was still game, we could talk about it, but I didn't know how to go about it. I went to the nearby slums and spoke to the homemakers that I was planning to start this and sought their help. They were super excited.
To start with, 250 was my target. There was a certain sum that needed to be spent and I made up my mind to curtail my expenses. I thought I have already consumed a lot in life. Everybody in my house has been supportive.
How many people are you feeding currently?
Five hundred people. I am surprised at the way people are contributing, especially the younger generation. I am so proud of them. Social media has been a boon. Till now, I haven't had to spend a single penny. This is how the universe works. We now issue cards to keep tabs since the numbers are growing.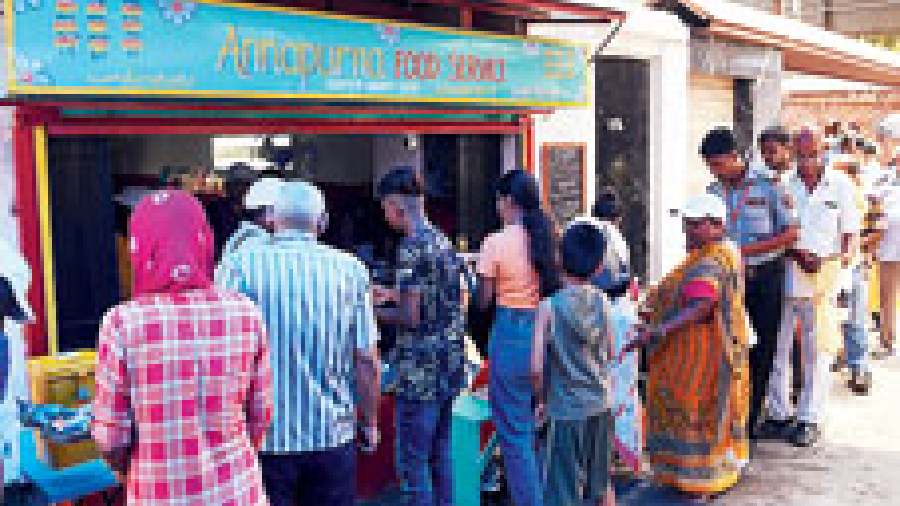 Long queue wait for quality food free of cost
Where is the food prepared?
We had started to cook in a space outside my house but then we couldn't manage. So, we've had to take up another space in the same locality. The idea is to employ more and more people from the locality. I had spoken to a local hotel guy who is now taking care of it with his team and I take care of the quality. We have a donation box too, so everyone chips in. In addition, we have local vendors. The idea is to empower the local community. If you choose to call an Annapurna-associated vendor, remember to mention that you are ordering for Annapurna for easier reference. You are also welcome to order from a store/vendor of your choice.
What's on the menu?
The meals are vegetarian. Dal-chawal and salad or roti-sabzi and salad or Chhola Bhatura or puri-sabzi. Someone or the other is sending mithai every day. There are fruits and curd. I serve and am there every day from 12.45pm-1.45pm. On Sunday, the timing is noon. Volunteers are welcome!
You have had to face criticism from certain quarters too...
A neighbour complained that it's an eyesore. I heard someone say that the poor people are getting 'spoilt' with these free meals. Society still wants to suppress these people. No one can stop anything though because the entire locality is with me.
You want to spread the word more...
Every locality should have this and then no one would go hungry. Just start by taking care of the people who work for you. If you are packing rotis for your family, pack a couple for the chauffeur too. Start feeding five more people. I feel we all are one. There is no us and them. They have so much love to give you. I feel so filled with love and compassion. The feeling is amazing. Sneha and Sakhi (daughters) are both helping me. We are also distributing old clothes and toys. We have just started a vocational training centre called Grassroots Crafts, a seed of the Annapurna Foundation, near my home where we are teaching stitching and sewing, holding mehndi classes.... We are taking part in The India Story this year where the Grassroots Crafts community will showcase their skills. We are grateful to Madhu Neotia for the opportunity.
What: Annapurna Food Service
Where: 6 JK Lane, Mayfair Road
How can you help: Hear it from Team Annapurna Food Service...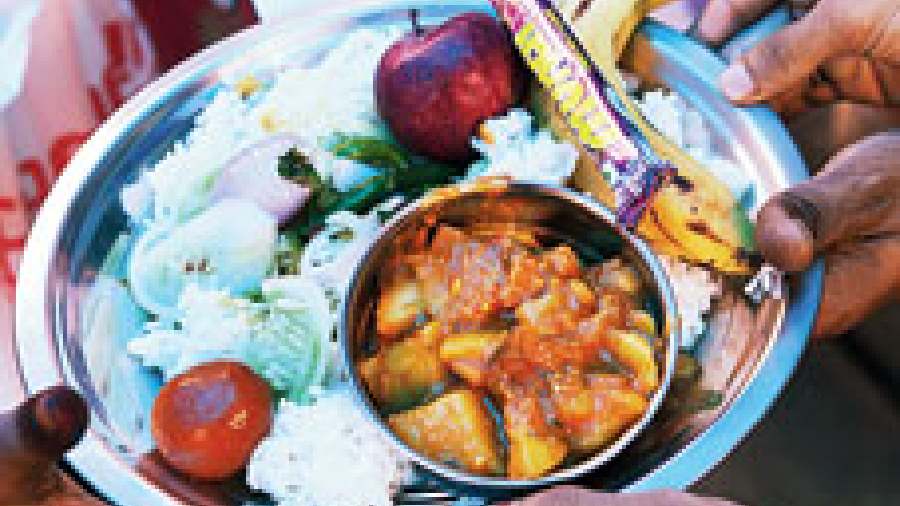 Usual platter of what is served in Annapurna Food Service
Sponsor all meals for the day: 500 plates x Rs 50: Rs 25,000
or
Sponsor half meals for the day: 250 plates x Rs 50: Rs 12,500
or
Sponsor a third of the meals for the day: 150 plates x Rs 50:Rs 7,500
or
Send us 500 pieces of sweets/fruits/snacks/juice
Send us old clothes, electronics or toys (in good condition)
Cash drop off: 3 JK Lane, Mayfair Road (sealed in envelope)For bank transfer details, UPI, vendor lists, please contact: 7980260669 or @radhikasinghi1 on Instagram