For most people, entering Pradip Deb's two-room house in Behala is first an aural experience. Neil Diamond's 1972 hit Song Sung Blue plays on a record player. Deb's speakers are clearly top-notch, but what catches both the eye and ear are his amplifiers. Deb says he has built these himself: "I love making amplifiers for artistic reasons. What I love most about making one is designing the inside. For me, it is like designing a city. If it comes down to the sound, I reckon my amplifiers are as good as any branded amplifier." There's no bluster in Deb's claim. What drives him, he adds, is "craft and the desire to rival an internationally branded product."
Deb, 62, has an eccentric inventor vibe. The year 1971, he says, was life-changing for him. Only 12 at the time, Deb started making radios. "I have made more than 100 of them," he adds proudly. Having once discovered the joys of invention, Deb remembers spending many a Durga Puja in a family friend's shop, working on some radio or another. He was hardly ever interested in pandal-hopping with his family and friends. "My father had to drag me out of the shop."
The early 1970s continued to be an important time for Deb. His love affair with sound amplifiers grew during this decade. Almost 50 years on, Deb's "passion" is showing no signs of abating. At heart, he is still a young adolescent, dreaming to be more like his inventor heroes — Nikola Tesla, Thomas Edison, the Wright Brothers and Michael Faraday. A sound aficionado through and through, Deb's custom-built amplifiers are something grand for him, a veritable Taj Mahal.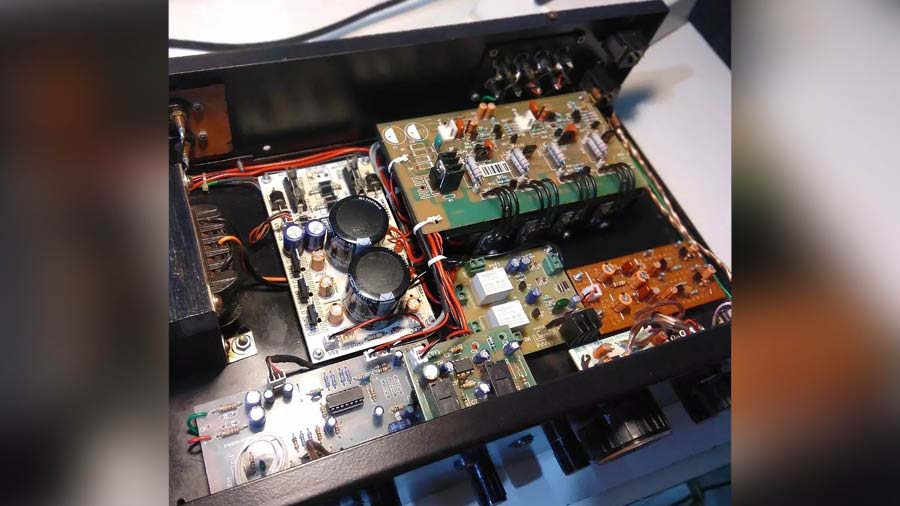 'What I love most about making one is designing the inside. For me, it is like designing a city,' says Deb
Deb credits his father, Nanigopal Deb, and his two brothers for mentoring him. "My two elder brothers, Prolay Kumar Deb and Prabath Kumar Deb, are electrical engineers. They have degrees from Jadavpur University. So, as a result, I had a lot of exposure to engineering, and I soon fell in love with amplifiers. Also, my family has always loved gadgets. That is where it all started."
Not only did Deb's father and brothers help him sell amplifiers, they also pushed him financially. Currently, Deb promotes himself and his amplifiers on Facebook. He also relies on word-of-mouth references to be discovered. He says he never advertises his small amplifier business.
Stops and starts
It is often only a good amplifier that can help you make the most of your turntable. At a time when vinyl records are making a comeback the world over, it seems surprising to hear that Deb has only two dozen-odd customers a year. Somewhat frustrated by the lack of a sound and audiophile culture in India, he says, "In this mobile phone and multimedia age, people are hardly interested in listening to the pure sound of a record player. Elsewhere, in places like Europe, America and Japan, you will see that the audiophile culture is thriving."
Though Deb is happy to have at least a couple of repeat customers — a Kolkata Police additional commissioner among them — he does not altogether discount his hardships. Having only a few clients puts a financial strain on him, his daughter, his wife and ailing mother-in-law. But always one to find a silver lining, he says, "I am content because I am surrounded by what I love."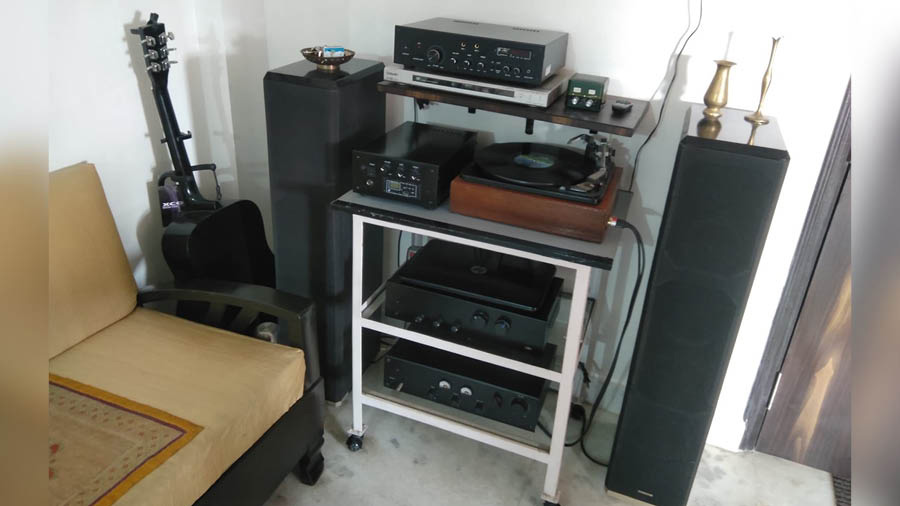 Various amplifiers at Deb's home. 'I am content because I am surrounded by what I love,' he says
Unsurprisingly, Deb is a stickler for perfection. In the past, he says, he was forced to quit some jobs when he realised his employers did not understand the intricacies of sound engineering. "For me to be efficient, there should be no interference. I need absolute freedom." Deb did, however, find some empathetic bosses at Phillips India, a company where he worked for 24 years (1984-2008) as a service engineer. His job was to find troubleshooting solutions for high-end audio systems: "If there was an audio job no else could do, I would be assigned that and I would find a solution. The working conditions were very good and the bosses treated me well."
In 1990, Deb tried his hand at business by opening a service center in Harish Mukherjee Road. "I lost money. Phillips India said they would sponsor it, but that didn't work out." He adds with a tone of finality, "I am not a businessman." More recently, he has found employment with Jadavpur University's School of Cultural Texts and Records. Here he helps digitise private recordings of Hindustani classical music. Though he had lost his job when the pandemic struck in 2020, he was rehired in September 2022. Deb says, "This is one job I like a lot. The equipment is sophisticated and there are a lot of students who come."
One for the record
Amplifiers might be his forte, but Deb is also the man one can turn to for a good record player or turntable system. A simple Google search shows that buying a turntable system (which comes with high-quality amplifiers, speakers and other high-end stereo equipment) can cause a sizeable dent in one's pocket. Denon turntables, for instance, can cost as much as Rs 64,000, while a Tanotis turntable system comes at a whopping Rs 2,48,050. A Bowers & Wilkins centre speaker alone costs Rs 9,50,000. This is where Pradip Deb comes to the rescue. He can kit you up with an entire ensemble — turntable, amplifiers and speakers — for just Rs 30,000-Rs 35,000. "My aim is to make this high-end audio equipment available to people at a cheaper price."
Abraham Mazumdar says he can vouch for Deb: "I bought an amplifier from him. He knows his job. He also does a decent job when he repairs turntables." Kolkata music aficionado Arunava Banerjee corroborates Mazumdar's review. He had paid Deb Rs 36,000 for his record player and amplifiers. "Pradip Deb was a mentor who sourced my first record player, fixed it when it broke down and showed me where and how to buy second-hand records," says Banerjee. Deb, it is clear, does much to amplify the sound of music in this city, sometimes single-handedly.