Being in an industry that puts a lot of emphasis on perception — like the way one has to look or perform — what would be your advice for someone dealing with such insecurities?
I try not to get sucked into comparison or engage in negative self-talk, which can be hard sometimes. I try my best to make music from an honest place, and pretending to be perfect is just not the truth of human experience. We're all flawed, we learn, we grow, and that's the beauty of the journey. Learning to embrace that, knowing we're all on this journey together, is what helps me to accept my insecurities. 
How do you keep yourself mentally alert and fit? What kind of things (and people) do you avoid?
Everyone is different, but the key that's the same for everyone is making sure you are looking after yourself mentally, emotionally and physically. All three. For me that means making sure I have enough time to myself to do the things that keep me feeling good, whether that be writing, painting, sleeping, having a laugh with friends, looking after my body, drinking enough water. The mind and body are interconnected, it's one big system, so I try my best to remember that. And surround yourself with people that understand you and make you feel good. That's an important one.
Who do you turn to whenever you need advice?
It depends what the advice is about, but I'm very close with my sister and lucky to have really good friends I trust.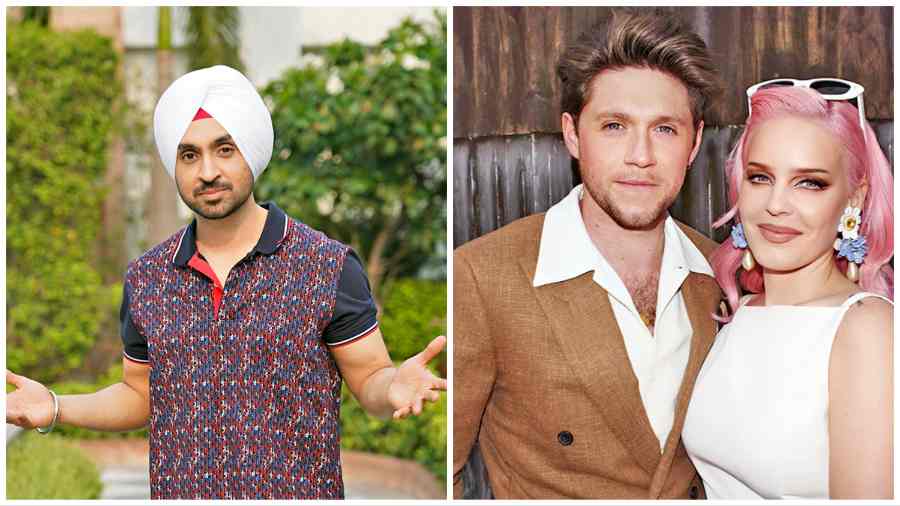 (L-R) On the track Peaches, she has collaborated with Diljit Dosanjh, Anne-Marie has collaborated with Niall Horan
Tell us about your album Therapy and what have you learned from the process of making it?
It came after I started therapy for the first time, which helped me to cope with my anxiety in a way that changed every aspect of my life. It inevitably had a huge influence on the album. I was able to understand myself on a deeper level and share vulnerabilities that I had previously been scared to share, but I learned they're all completely human.
You have worked with Diljit Dosanjh on the track Peaches. How did you hear about Diljit and how is Peaches different from what you have done so far?
We met in London when he came over; he is amazing — I loved him and his voice is so beautiful. The song is beautiful, the melodies are very different to what I've done before and so intricate.
You are a prolific collaborator. What do you like most about collaborations, be it with Diljit or Niall Horan?
They can be a really fun way of trying something new, whether musically, thematically or culturally. You get to expand yourself and I think it can be exciting for fans to have someone new enter your world and bring their own special thing.
During the lockdown you had theopportunity to write on your own but now, once again, you can collaborate in person. Do you think it was easier to focus on the writing part during the pandemic and what's the special place you have where you write songs?
Lockdown was really challenging for me at first, it took a while for meto enter the headspace of being able to write. But as writing became easier it became an opportunity to learn new things about myself away from the constant motion I'm normally in. My home is always a special place, especially after the connection I forged with it during that time, and there's a studio in the countryside in England where I wrote a lot of this new album that I love. It's surrounded by the most beautiful views.
What kind of music did you grow up on and do you remember the first record you bought?
Jagged Little Pill by Alanis Morissette is one of my earliest memories of music. I love that album so much.
Youngsters look up to you and many talk about how you have dealt with bullies in school. What's your advice for students who have to deal with bullying in school (or in life)?
The mindset of needing to drag others down to make yourself feel taller doesn't come from a happy person. The best thing to do is to recognise it's not actually about you at all, it's about them. Your people are out there.
You had a successful tour of India for VH1 Supersonic. What's your idea of music in India?
The intricacy of the melodies is definitely something that stands out to me; it's so unique and different to most Western music. It's mesmerizing.