It was the summer of 2013-14, a Sunday evening, somewhere in East Kolkata where Pandit Birju Maharaj was to perform at a private baithak with thumris and some bhaavs. I took it easy as I safely assumed that any such format would never start on time and reached the venue 15 minutes after the scheduled time. The moment I entered the hall which had some 100 people seated on the floor, I realised that the programme had already started sharp at 6pm.
Maharajji stopped and said 'Aaiye, aaiye' (Come come). I was flustered and looked around, hoping he was pointing to someone else but to my embarrassment, I realised he was addressing me. Then he said to that august audience with a twinkle in his eye, 'Inse miliye, Dilli mein rehte hain aur bahut barey officer hain. Mere programme mein late aatey hain aur phone bhi nahin uthate hain' (Meet him, he lives in Delhi and is an officer. He comes late to my programmes and does not even respond to my calls)! I felt so ashamed, but he went on immediately to say, 'Idhar mere paas aake baitho' (Come, sit next to me).
This was the man. He could never be angry with anybody; rather, he was always happy to meet people, and if it was anybody he liked, he treated that person as his friend, his equal. At his Shahjahan Road residence, he used to get restless, almost to the point of being apologetic, if we were not getting some tea or coffee along with some cookies or namkeens. This was not exclusive to this writer but to all with whom he had some connection, whether his disciple or someone not connected with the performing arts.
The most graceful form of dance
'Childlike innocence and yearning for the elusive was something innate with him – a quality which manifested in his dance'
TT archives
I happened to first see him closely in the early Eighties when my sister used to attend his workshops, which started in 1983 under the aegis of the Jalans (Padatik Kolkata). He looked simple, of medium stature, a man without an iota of flamboyance; but when he stood and showed the various mudras along with exquisite feet movements, it was the most graceful form of dance that I had ever seen. Fingers, wrists, elbow, chest, feet and finally those eyes made him complete and suddenly transformed him into an ethereal figure.
He was like a child when it came to gadgets
Little would readers know that this man was so much into gadgets and gizmos. Any new phone with a new feature or a recording device miniaturised for portability would attract his attention immediately. His disciples and well-wishers would therefore gift him with new and unique gadgets. I remember the time when he received a GoPro cam. I jokingly told him that he could wear a helmet, fix it on and go bungee jumping. He used this 'toy' in his classroom for a few days for recording his taalims or documenting a new composition. This went on for a few days and then again, he was into another gadget…. His cupboards are replete with such gadgets – from movie cameras to a Handycam to iPods, laptops or mobiles to recording instruments. He was like a child when it came to gadgets.
Hunt for a hatchback
He was also fond of driving and had a fetish for cars. Around Diwali 2021, Maharajji was very upset as he was not getting an ideal hatchback due to production delays; the Indian automobile industry was going through a global shortage in semiconductors. He was already bothered at not getting an old-fashioned Jeep or Willys due to vehicle-age restrictions in Delhi-NCR. He was angry with me and sulked like a child. Didi (Saswati Sen) and I somewhat salvaged the situation with a hatchback, but he (much to his chagrin) had to compromise on the colour and the rear wiper!
Charles Chaplin to CAPD
His obsession with gadgets led us to request the Max Saket administration to allow installing a Facebook portal and his internet dongle in his VIP suite. He made us (two of his very young disciples and me) watch Eric Campbell, the villainous man with a long beard and darkened eyes, intimidating Charles Chaplin.
His naturally curious mind for all things around him made him request one of his disciples to show him a documentary on YouTube as to how Continuous Ambulatory Peritoneal Dialysis (CAPD) was performed. This was just before his dialysis began a few days ago. He quizzed me when I told him that it would be a simple procedure of insertion of a catheter-like contraption.
Looking beyond to a limitless eternity
Childlike innocence and yearning for the elusive was something innate with this man – a quality which manifested in his dance. If art represents the majesty of creation and perfection, then Maharajji's upaj (extempore improvisation) was an extension of his pining; one upaj phrase led to the next complicated phrase and further. The extemporaneity was just a means for him to constantly create new phrases in the form of tihais and tukdas. He explained his way of looking beyond to a limitless eternity when he approached the sam (the starting maatra/beat of a cycle). I had often asked him how he could always achieve an eloquent sam. He would refer to his glance, hands and body all pointing towards his Krishna, the eternity – in a flash of the moment beyond the audience, the auditorium … unto 'Him'.
A great 'UI' between the grammar of Kathak and the learner
Maharajji was a religious man but I fear we all shall fall into the theism trap if we consider renderings of bhaav (emotional expressions) as 'religious' or even 'spiritual'. He always considered shunya the limitless consciousness and the universe as a canvas where he was the painter. One would never get to know how Maharajji teleported us to a different realm, a different dimension through his dance.
Pandit Birju Maharaj was a purist in his dance format but never explained the Kathak hardware as it is; he was an imaginative guru, a great 'UI' between the grammar of Kathak and the learner. He could connect with learners like us, the millennials and GenZ with equal ease and spirit.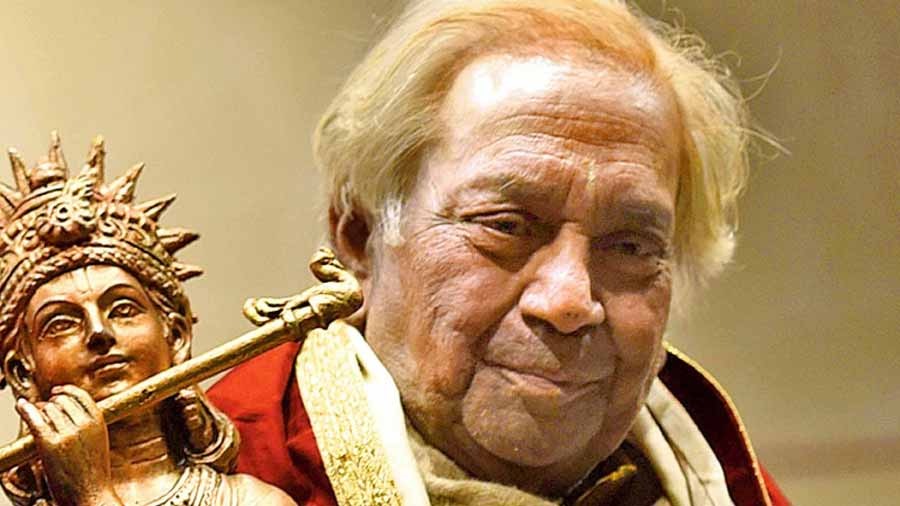 'Birju Maharaj was a purist in his dance format, but never explained the Kathak hardware as it is; he was an imaginative guru'
TT archives
This cannot be an obituary of a man with an unparalleled creative force, of a man who was caring and loving. This can only be a celebration of a guru who lit so many lamps and shall be a beacon for generations hereafter.
Brijshyam is now with his Shyam.