If you have lived in Calcutta for any length of time, you must have heard of RG Kar Medical College and Hospital near Shyambazar. Behind the hospital runs a narrow alley. It is unlikely though that you would have heard of the man who spent considerable parts of his life in that area and after whom that alley is named — Nilmani Mitra.
On the first day of the year in 1828, a boy was born in the illustrious Mitra family of Calcutta. One of his predecessors, Kashishwar Mitra, had built the Kashi Mitra Ghat in Bagbazar. The Mitras were originally residents of Gobindapur village but had been among many who had been driven out when The East India Co. decided to take over Gobindapur for construction of the new Fort William. They settled in Jelepara near Bowbazar and by the dawn of the 19th century, were living in a state of penury. So much so that the newborn, christened Nilmani, had to be raised by a maternal uncle in whose home at Barada village of Diamond Harbor he was born.
Thanks to this kind gentleman, Nilmani was ensured a proper education, something his family was in no position to provide him. He did his schooling from London Missionary School of Bhowanipore and pursued graduation from the Free Church Institution (today's Scottish Church College). Sadly, even after graduating with good marks, Nilmani could not secure a job — it is said due to his handwriting which was reportedly very bad and nearly illegible. That's when Nilmani decided to take a plunge into the unknown.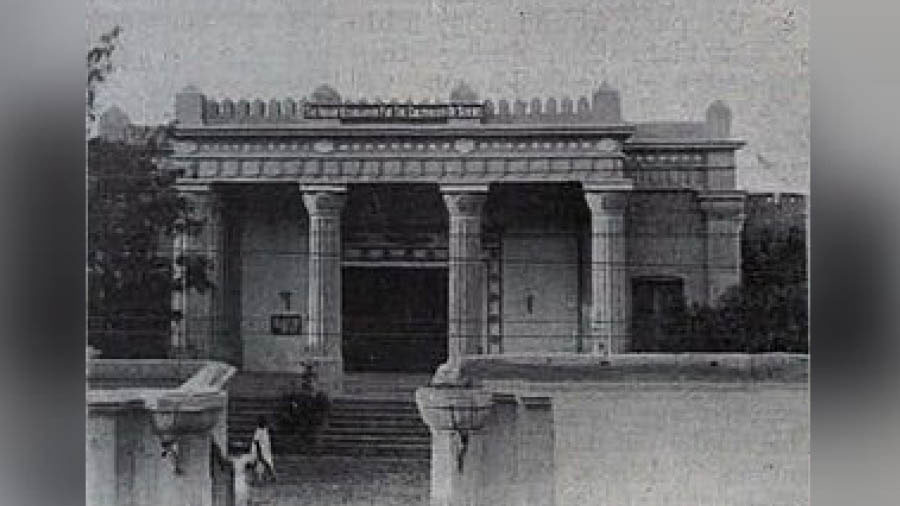 An old pic of Indian Association for Cultivation of Science
Wikimedia Commons
Roorkee Engineering College (IIT-Roorkee at present) was then an affiliate of Calcutta University. Nilmani applied and got admitted there to study engineering. When he completed his studies in Roorkee and acquired his degree, he became the first-ever qualified Bengali engineer. He started his professional career in the Ganges Canal division, going on to become the assistant architect of the Presidency Division. At the age of just 30, Nilmani Mitra became an assistant engineer. However, his unconventional views were often at loggerheads with his English superiors and he took the second bold decision of his life. He decided to leave the comfort of a government job and embark on private practice.
What followed for the next 25-30 years was a display of brilliance that wowed contemporary Bengali society. This was an age of transformation in the Bengali society of Calcutta. While the Europeans had their white town, the moneyed Bengali babus of North Calcutta now wanted to compete with them in terms of grandeur and show of wealth. And Nilmani Mitra was their secret weapon. Working as a freelance consulting architect, Mitra designed some of the greatest structures of the late 19th century Calcutta. Among his greatest creations were the buildings of Sadharan Brahma Samaj and Metropolitan Institute — both of which he did free of cost.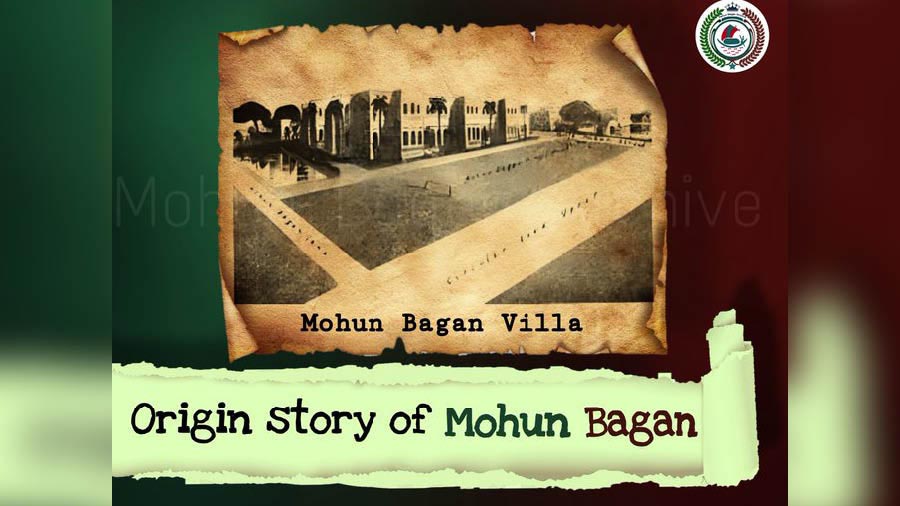 An old photograph of Mohun Bagan Villa
Mohun Bagan archives on Twitter
He also designed the building of Mahendralal Sarkar's Indian Association for the Cultivation of Science in Bowbazar free of cost and in fact, donated Rs 1,000 from his own pockets for the noble cause. Another of his legendary creations was Kirti Chandra Mitra's Mohun Bagan Villa — a palatial structure made of white marble, and where the first meeting that led to the formation of the iconic Mohun Bagan club was held. Sadly, neither Mohun Bagan Villa nor the original IACS building survive to this day.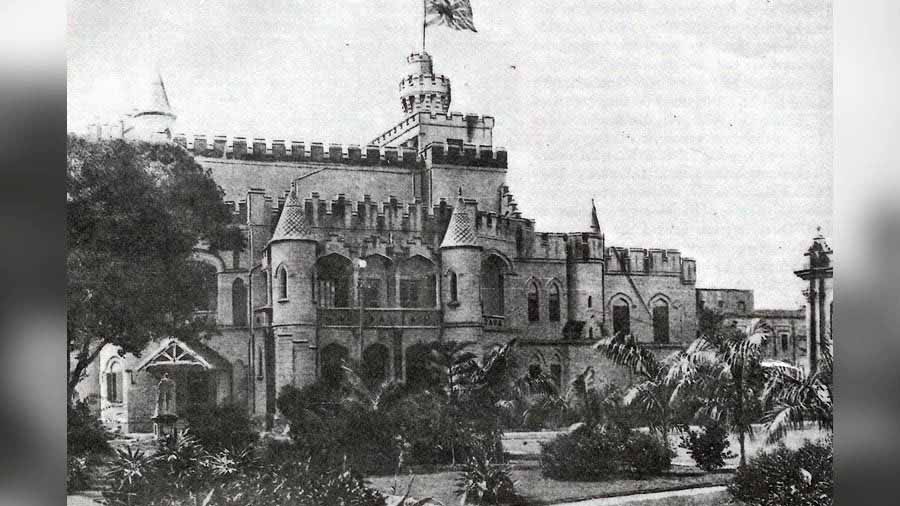 Tagore Castle of Kolkata
Astounding Bengal
Mitra designed the palatial residences of several noteworthy Bengali gentry of the time, Jatindra Mohan Tagore being one of them — for whom Mitra designed two iconic structures. The Tagore Castle of Pathuriaghata and the Emerald Bower — the garden house of the Pathuriaghata Tagore clan at 56A, Barrackpore Trunk Road which today functions as the campus of Rabindra Bharati University. Mitra also did restoration work on the Grand Chariot of Mahesh.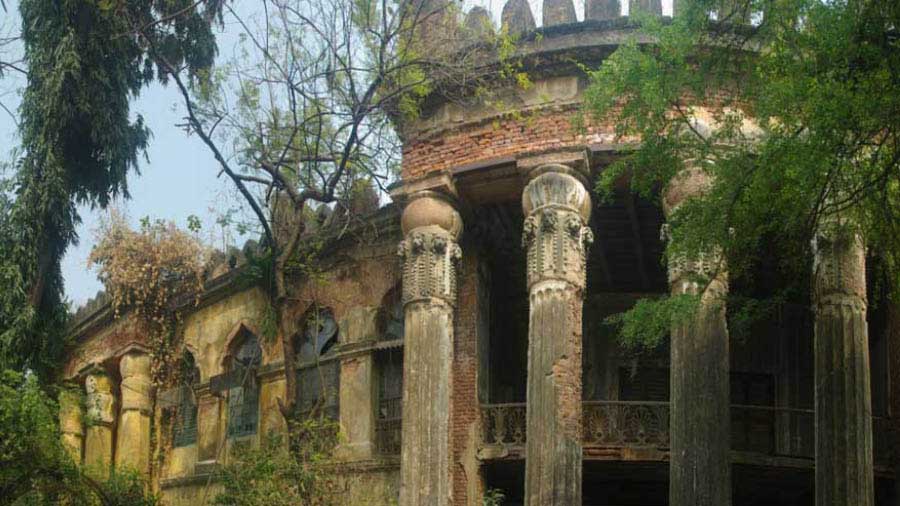 Another view of Basu Bati
TT archives
But Nilmani Mitra's piece de résistance was the wondrous Basu Bati (House of Basus) on Bagbazar Street. Shunning the prevailing European style of architecture, he created a wonderful, never-before-seen fusion of traditional Bengali architecture with Islamic construction patterns to produce a magnum opus. Basu Bati stood as the perfect example of the multiculturalism of the land as Islamic styled arches were decorated with the Hindu motif of the lotus flower. Mitra used decorative murals and plaster reliefs. He hired artisans from Kalighat to adorn the walls in paintings made in the traditional Kalighat patachitra style that gave it a unique flavour. Basu Bati, the site of some of the most remarkable events in the history of Bengal (also used as the residence of a major character in the Bengali thriller Baishe Srabon) was Nilmani Mitra's David or Last Supper.
Nilmani Mitra also played a pioneering role in the establishment of the township of Madhupur in Deoghar district (of present day Jharkhand) which originally came up as a Bengali settlement — probably explaining its later day fame in making sweets!
Nilmani Mitra was not just an incredibly talented architect but was a trailblazer and a true maverick whose life was replete with daring choices at every step. He surely deserves to be remembered with a lot more than just a narrow lane and a fibreglass bust (installed in his honour in 2010).