As you walk on Cornwallis Street, after Vivekananda Road Crossing, on the right stands D.M. Library, one of the oldest publishers of West Bengal. After crossing the publisher's office and the narrow Kishori Lal Mukherjee Lane, at no 49 stands an unassuming mansion with some eateries on the ground floor.
Headquarters of Anushilan Samiti
This mansion once housed the headquarters of Anushilan Samiti – an underground society for anti-British revolutionaries. It was shifted to this address in 1905. The code of the meeting place was "49". Led by the nationalists Aurobindo Ghosh and his brother Barindra Ghosh, the Samiti was involved in a number of noted incidents of revolutionary attacks against British interests and administration in India.
Ancestral house of Swami Vivekananda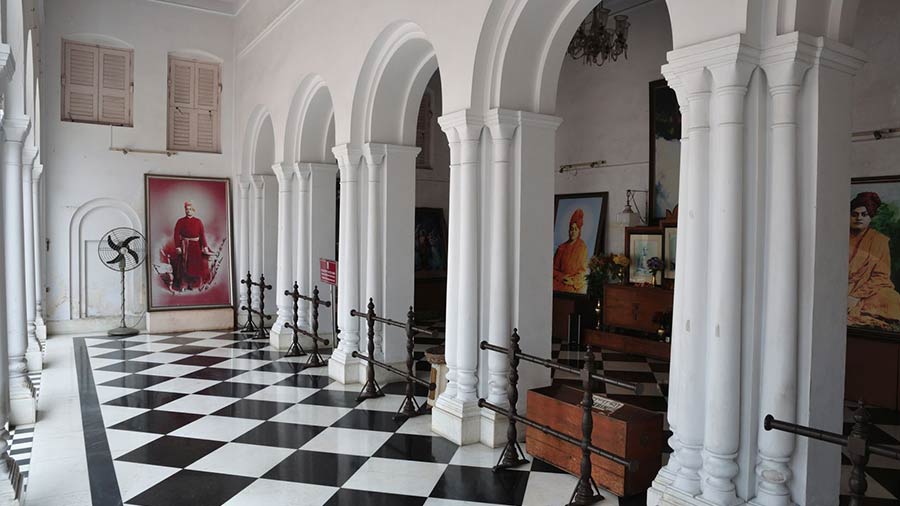 Interiors of Swami Vivekananda's ancestral house
Wikimedia Commons, Biswarup Ganguly
Just opposite to this house stands the Ramkrishna Mission, which was built soon after the ancestral house of Swami Vivekananda at 3, Gourmohan Mukherjee Street was taken over and restored by the mission. This house can be visited after 11 am.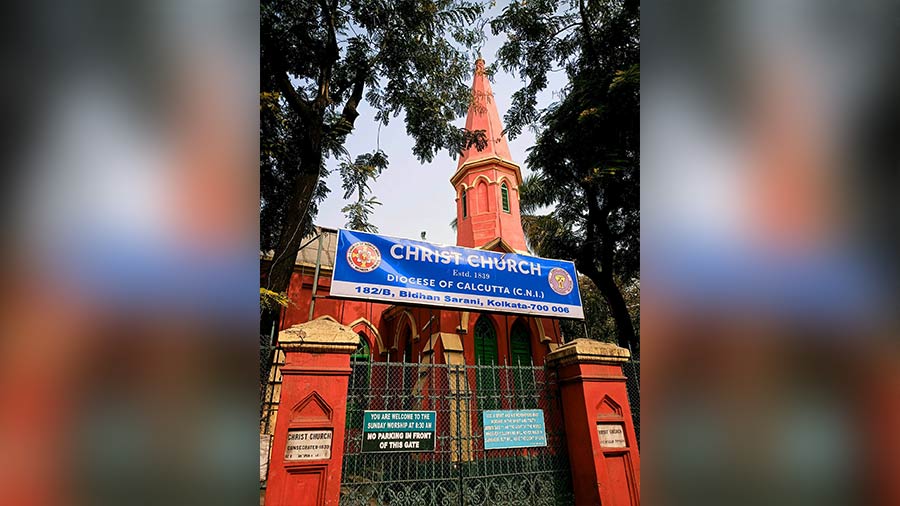 Christ Church, where Toru Dutt and her family were baptised
Subrata Ghosh
Walking further, one reaches Ramdulal Sarkar Street on the left. Another Old book shop named Baikuntha Book House stands at the junction. There's a red colour Christ Church at no 182/B, on the opposite side. The old building of the church was inaugurated in 1839 by Reverend Krishanmohan Bandopadhyay, the first president of the Bengal Christian Association who introduced prayer in Bengali here. It may be relevant to note that poet Toru Dutt and her family were bapitised here in 1862.
Hedua Park
On the other side of Cornwallis Street is the Cornwallis Square encompassing a water body used for giving swimming lessons, which is now officially known as Azad Hind Bagh and locally known as "Hedua" or "Hedo" Park. This was one of the nine water tanks which the British Government-appointed Lottery Committee constructed between 1817 and 1836. From P.T. Nair to Radharaman Mitra and Sukumar Sen opine that "Hedua" or "Hedo" originates from the Bengali word Hrad which means a huge waterbody. However, current researchers, like Asit Das, believe the name originated from the word Hoydaha which means a water body to wash horses because many water bodies built by the British were used for the said purpose.
Jimmy Laha's mansion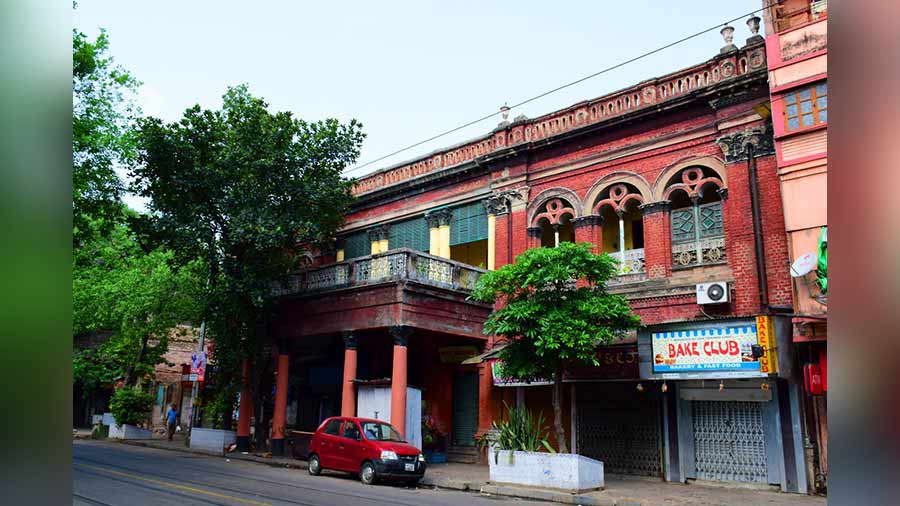 House of Jimmy Laha, where Rituporno Ghosh shot his iconic film 'Utsav'
Aritra Biswas
Further down the street, after passing by Beadon Street crossing and Bethune College on the left, there is the elegant mansion of Jimmy Laha opposite Khudiram College. The house is famous as a shooting location of many films, including Utsab directed by Rituparno Ghosh. At that time, the house was pretty run down, which suited Ghosh's requirement.
Satyendra Nath Bose's residence
Down the street, just adjacent to the Scottish Church Collegiate School is the narrow Iswar Mill Lane. Inside this lane, the house at no 22 is the residence of the legendary scientist Satyendra Nath Bose. Bose is known for his work on quantum mechanics in the early 1920s and one of his interpretation in the field of quantum statistics, i.e. Bose–Einstein statistics, is well known.
Kali temple of Hatibagan Guha family
The Kali temple of Hatibagan Guha family, built in 1850, is located just about 150 metres from Scottish Church Collegiate School at 11, Brindaban Basu Lane. World Light Heavyweight Champion Gobar Guha belonged to this family and the temple is significant because it was visited by Ramakrishna Paramahamsa.
Rang Mahal, Circareena Mancha and more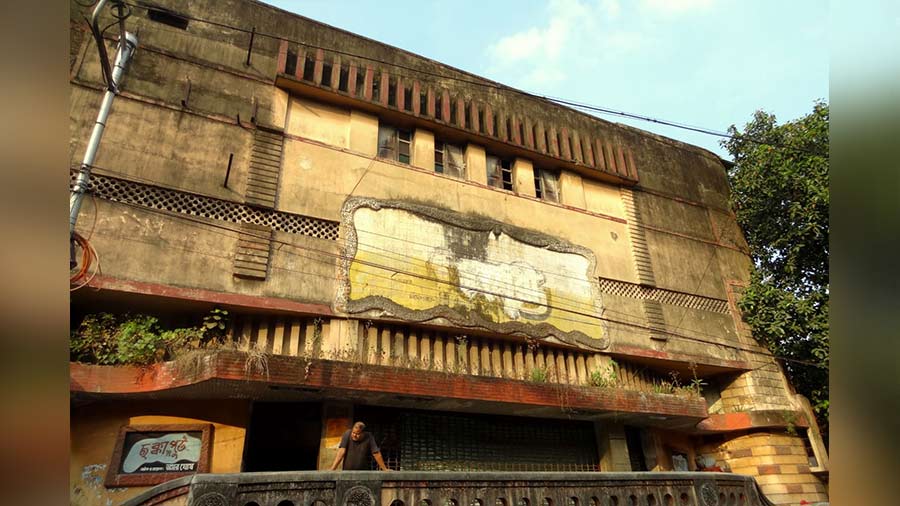 Circareena Mancha, the only theatre with a revolving stage, shut down in 2008
Subrata Ghosh
Hatibagan area was known for theatres and cinema halls. Sadly, most of the prominent theatres and cinema halls do not exist today. Close to Brindaban Bose lane, on the opposite side of the road, once stood the Rang Mahal Theatre. Inaugurated jointly by Krishanchandra De and Rabindranath De in 1931, the theatre ran successfully for many years until it got damaged in a fire in 1991 and was permanently closed down. A multi-storeyed complex stands there and only a worn-out plaque reminds us of its existence. Like Rang Mahal, Rupabani Cinema, located just a few houses down, has shut down permanently. In the adjacent Raja Rajkrishna Street, Circareena Theatre Hall, the only revolving arena theatre in Asia, has shut down since 2008. Recently, it was in the news for being a shooting venue for a film.
Ramakrishna Vedanta Math, Nati Binodini's residence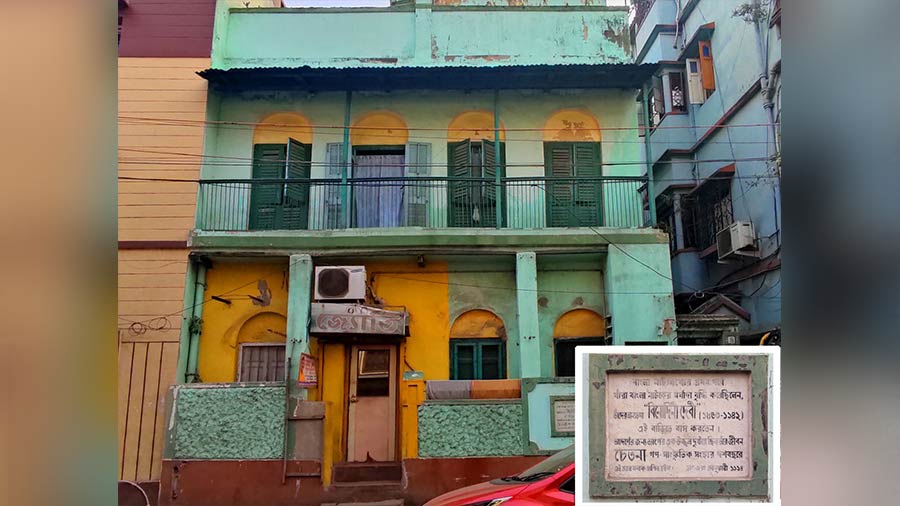 The house, where legendary theatre actress Nati Binodini lived — 3/1 Nati Bindodini Sarani
Amitabha Gupta
Raja Rajkrishna Street also houses Ramakrishna Vedanta Math, established in 1939 by another noted disciple of Ramakrishna – Swami Avedananda. The very next lane originating from Cornwallis street from the same side of the street is Raja Bagan Street. Here stands a house at 3/1, where famous stage performer Nati Binodini lived her last days. The street has been renamed as Nati Binodini Sarani. There is a plaque here as well another one on the footpath in front of 145 Cornwallis Street, which is supposed to be her birth place. Ironically, on the other side of the street stands the Star Theatre, an institution for whose sponsorship Binodini agreed to be the mistress of a young affluent Gurmukh Ray. In return, she did not even get the name "B-Theatre" as nobody wanted the theatre to be named after a "fallen woman".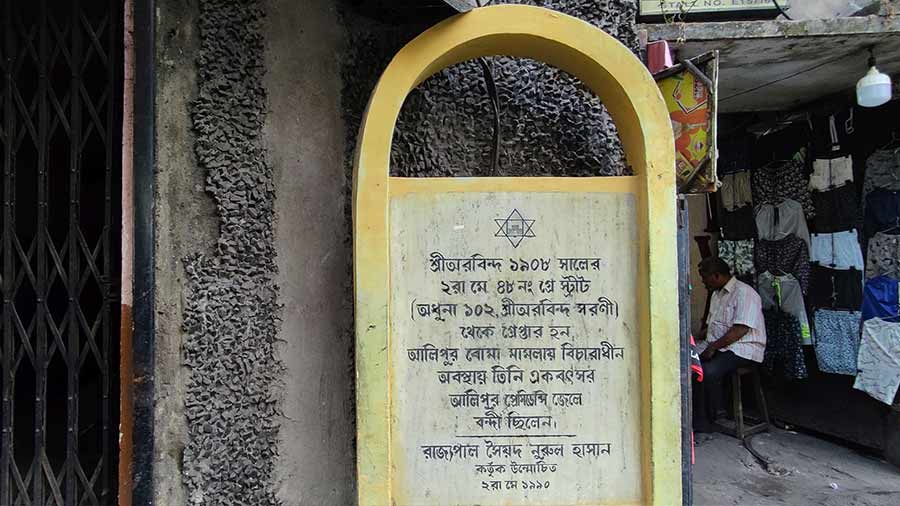 The plaque on Grey Street, which states Aurobindo Ghosh was arrested from 48, Grey Street on May 2,1908. The house is non-existent at present
Near the Hatibagan crossing, a plaque stands on Grey Street aka Aurobindo Sarani which states that revolutionary Aurobindo Ghosh was arrested from 48, Grey Street on 2nd May, 1908 to subsequently stand for trial in the Alipore Bomb Case. The numbers have changed since and the building ceased to exist.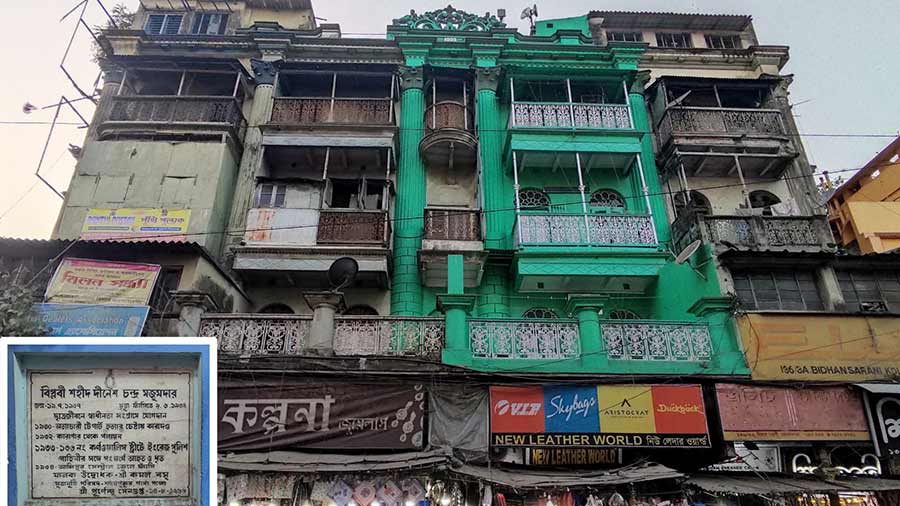 The house at 136 Cornwallis Street, from where revolutionary Dinesh Chandra Majumder was arrested
However, another house on Cornwallis Street at No. 136 still exists near Mohun Bagan Lane, where another freedom fighter Dinesh Chandra Majumder, a popular name in the 'Jugantar' party, had a gun fight with the police in the year 1933. He was injured, arrested and sentenced to death in 1934.
Mohun Bagan Villa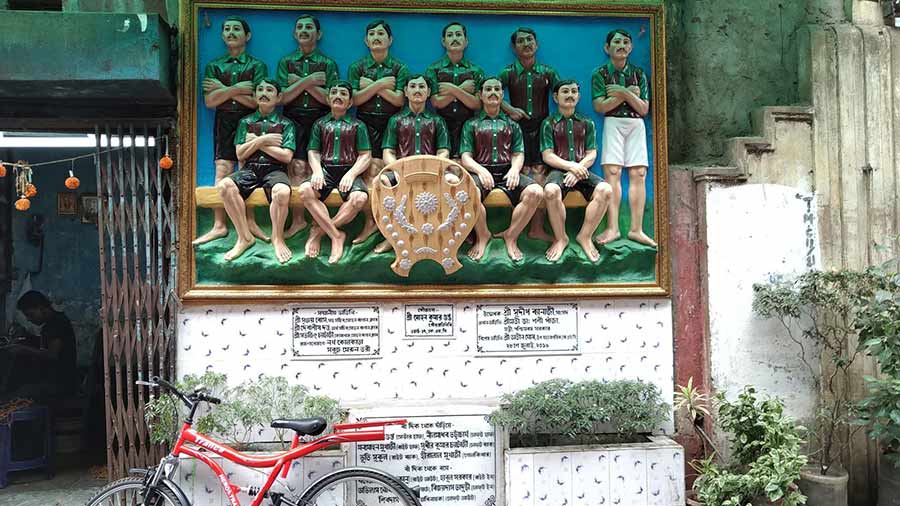 Group statue of the team members of Mohun Bagan Club that won the IFA Shield in 1911
Amitabha Gupta
The two streets in Kolkata named after a football club are Mohun Bagan Lane and Mohun Bagan Row. Once there was a garden here that belonged to Gopimohun Dev of Shobhabazar Rajbari. That's how the area was named Mohun Bagan. Jute merchant Kirti Chandra Mitra bought this property and made a huge palatial building named "Mohun Bagan Villa". After he passed away, the villa, along with the garden, went to his son, Priyanath Mitra. Mohun Bagan Athletic Club was established during his time and the club members used to practice and hold matches on this property. The lane has a group statue of the team members of Mohun Bagan Club, who won the IFA Shield in 1911.
After completion of the walk, one can try some Kosha Mangsho at Shyambazar. Popular choice would be Golbari, but I personally prefer Rupa.
Break Free Trails conducts Cornwallis Street Heritage Walks. Get all the details here