A 53-year-old architect is walking from Kolkata to Delhi to raise awareness on the role good design can play in changing lives.
Gita Balakrishnan, an Alipore resident, started her journey from the North Gate of the Victoria Memorial on February 13 morning.
Her Bengal journey has so far covered around 250km, spanning Howrah, Hooghly, Bankura and Purulia, where she reached on Monday.
In Bankura, she spent time at local homes, both mud houses and brick-and-concrete buildings.
Many residents aspire to shift to brick houses. Some others have already done that, only to realise that mud houses used to be warmer in winter and cooler in summer than the brick-and-concrete homes, said Balakrishnan.
The architect suggested simple design tweaks — like use of mud in building brick houses for better insulation.
"There are several stories of how architects and designers have made a difference to the lives of people through their sustainable interventions. I want to take these stories to more and more people during the walk," said Balakrishnan, a graduate from the School of Planning and Architecture in New Delhi.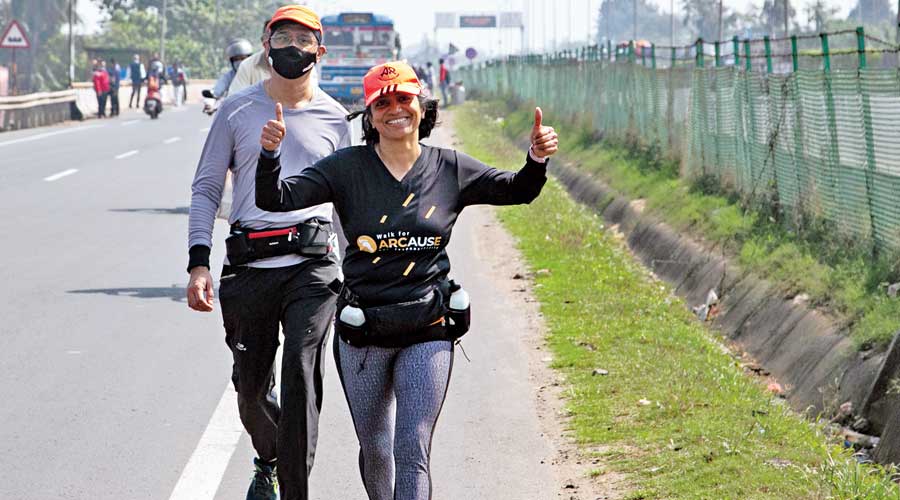 Gita Balakrishnan after starting her journey on February 13
She is looking to identify action areas through interaction with communities in villages, towns and cities along the way and "throw them open for designers to act".
Balakrishnan is on the road by 5.30am and winds up walking by noon. But her day is not over. She meets people at their homes. She is visiting schools to interact with children and stopping by at dhabas and tea stalls on the way.
Through small meetings with residents and travellers, she is showcasing a visual collage of projects that define the social responsibility of an architect.
"I keep meeting construction workers. They work on a basic design provided by a mason, who in turn gets orders from a contractor. In some cases, I find an engineer. But architecture, going by my experience so far, is an alien concept here," she said.
She plans to reach Delhi — via Bengal, Madhya Pradesh, Rajasthan and Uttar Pradesh — by the middle of April.
The 1,700-km journey, called Walk for Arcause, is also a fundraising effort for construction workers, and scholarships for students of architecture and design.
The walk was flagged off by a carpenter, a mason and five architecture students.
Balakrishnan has completed practical training at the Centre for Building Performance and Diagnostics at Carnegie Mellon University, in Pittsburgh, US.
In 2002, she started Ethos, an organisation that aims to make the architectural and civil engineering community alive to global changes.
Over the past two decades, Ethos has amassed a repository of socially relevant ideas from students and professionals. These will also form a part of the narrative, she said.
"The interactions during the course of my walk will look for ways in which the design fraternity can learn about the problems that need to be addressed," Balakrishnan had told The Telegraph before starting the journey.
Balakrishnan is being accompanied by a small crew — a photographer and an operations team in a car and on a two-wheeler.
She has completed three full marathons and multiple half-marathons.
Balakrishnan was born in Kolkata but her parents moved out when she was barely a year old. She came back to the city in her college days, before moving in with her husband, who works with the customer care division of an Indian conglomerate with diverse business interests, in 2001.
The couple have two sons, both studying in the US.