Sanju Narayan Yadav, 25, loves cricket because he loves Mahendra Singh Dhoni. Born and brought up in Ultadanga, Sanju dons the yellow Chennai Super Kings (CSK) jersey year after year with the same name and number on his back every time: DHONI 7. As a seven year old, like all children, Sanju enjoyed watching cartoons. He did not like sports and would be upset when Doordarshan showed cricket instead of his favourite cartoons. This was until his father insisted Sanju watch cricket matches because "they were interesting". Little did Sanju know that one such match would change his life and his view towards the game.
The match in question was the third One Day International between India and Sri Lanka in Jaipur, during their bilateral series in 2005. With India chasing 299, a certain No. 7 walked in at the fall of the first wicket, replacing Sachin Tendulkar. That man went on to pummel the Lankan bowling en route to an unbeaten knock of 183 off 145 balls. His name was Mahendra Singh Dhoni.
Sanju decided then and there that Dhoni would be the reason he watches cricket. From that day in 2005 till now, there has only been one name in Sanju's heart, that of Dhoni. "I don't like Dhoni because of cricket, I like cricket because of Dhoni," insists Sanju. Since then, Sanju's choice of team for the IPL has been a simple one: CSK. Even the two years CSK did not feature in the IPL, 2016 and 2017, Sanju had an easy pick: the Rising Pune Supergiant, for which Dhoni played the two seasons.
'I receive more messages on Dhoni's birthday than mine'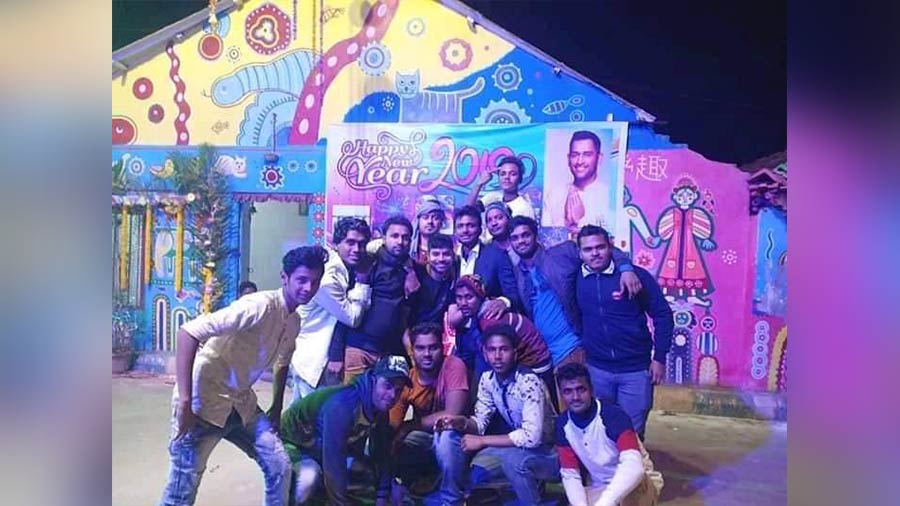 Sanju and the other members of Mahi Fans celebrating MSD's birthday
In 2018, Sanju started a fan club called Mahi Fans. The club has 50 members, who celebrate the birthdays of MSD, Sakshi Dhoni (his wife) and Ziva Dhoni (his daughter) by cutting cakes every year. "I receive more messages on Dhoni's birthday than mine," chuckles Sanju. The fan club always watches matches together and celebrates zealously every time CSK wins the IPL.
During 2016's ICC men's T20 World Cup, when India played Pakistan at the Eden Gardens, Sanju was in school. His love for Dhoni made him borrow money from his friends to buy a ticket to the game. Nowadays, Sanju gets to be at almost every game at Eden, since he works as a ticket manager for BookMyShow. On April 23 (when CSK met KKR), as the Yellow Army filled up Eden, Sanju was on duty, just like before every other IPL match this season. What followed were perhaps the most exhilarating few hours of his life.
The atmosphere that day was electric. The jersey sellers outside the stadium were giving away KKR jerseys for free, and yet, only a handful of fans took the purple and gold kit. When they were told to wear it, many took off their yellow tops and put on the Knights' kits, only to cover them up with yellow once again. During the match, once Ravindra Jadeja got out, the crowd went berserk, for it was time for Dhoni to walk out to bat. Unfortunately, for Sanju and the rest of Eden, they could not witness a signature MSD six at the tail end of the CSK innings. What transpired over the next hours, however, more than compensated for that.
'This shirt was touched by Dhoni'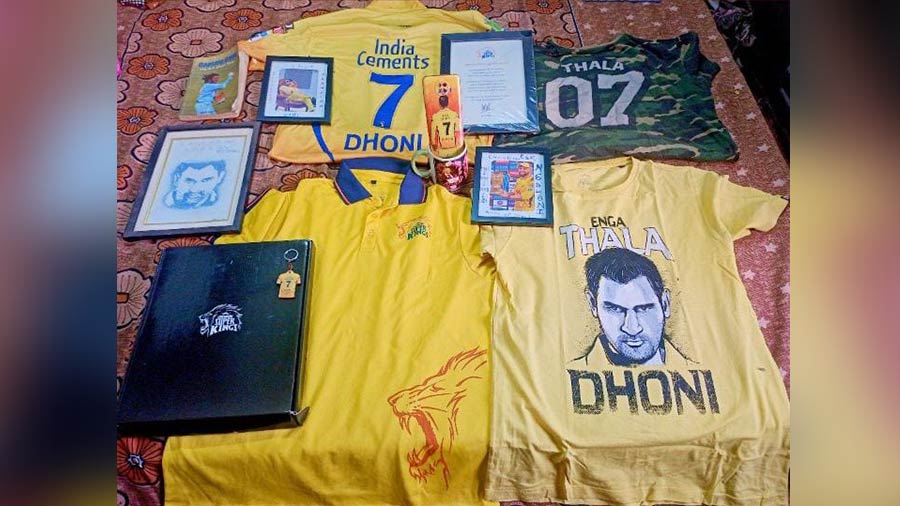 Sanju's collection of Dhoni shirts
Once the game was done, there were thousands of people waiting near the CSK bus, craving for a sight of Dhoni. Being a ticket manager, Sanju, in uniform, was stationed somewhere between the exit gate and the CSK bus. That is when Dhoni somehow spotted Sanju's phone cover and said, "I like it." Unable to control his delight, Sanju bowed down at MSD's feet to ask for his blessings. He received a couple of grateful taps on the shoulder from the man himself. Sanju has already framed his shirt from that day, with a note that reads: "This shirt was touched by Dhoni."
Over the years, Sanju has built a rapport with the teams in charge of security for the visiting franchises, and came to know that Dhoni and Co. were staying at Taj Bengal. They were supposed to fly out on April 25. On the morning of April 24, Sanju, like dozens of other CSK fans, landed up outside Taj Bengal with a picture of Dhoni (an artwork, to be precise) in hand and one of his many CSK "DHONI 7" jerseys on his back. From 8.30 in the morning till about 9.30 at night, Sanju waited outside Taj Bengal, just to catch a glimpse of his idol. In spite of several requests with the hotel personnel, he could get nowhere near Dhoni.
The artwork that made all the difference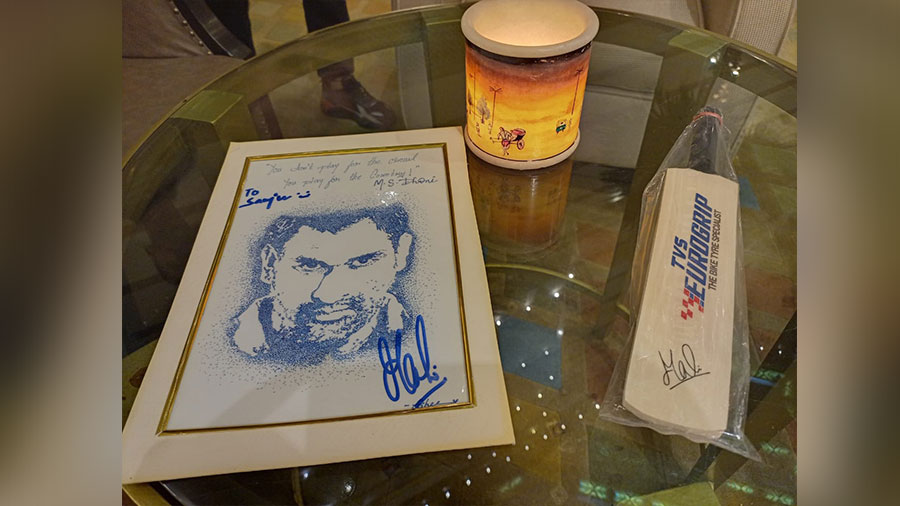 The artwork, made by a friend of Sanju, that impressed Dhoni
Finally, as the night approached its end, one of the CSK management staff spotted Sanju and asked him: "You've been waiting all day and you know you won't be able to meet him, why are you still here?" Sanju said he still had hope that he could get one fleeting glimpse of his idol. The CSK manager then spotted a piece of paper containing the artwork in Sanju's hand. It was a ballpen sketch of Dhoni made entirely out of dots by his friend as a gift to Sanju. The manager said: "He (Dhoni) likes art; tell me your name and I'll get him to sign it."
A nervous yet eager Sanju waited impatiently for the manager to return. Once he did, the artwork returned with him, containing a smiley and accompanied by a small bat, autographed by Dhoni himself. "He wishes you the best of luck for your future. He would've written as much, but that would've ruined the artwork," conveyed the manager, who added that Dhoni found the piece "lovely".
Sanju's face lit up immediately. Within a matter of minutes, a wait of 13 hours, and a fandom of close to two decades, felt worth it. Just like a cricket match, Dhoni had ensured that Sanju received a fitting ending to the most exhausting as well as the most rewarding day of his life.