"Do you know what a free hit is?"
"Can you name five other players in this team apart from Virat Kohli?"
"What do you know about field setting? Let me explain how it works"
These are just a sample of what female cricket fans hear on a regular basis, a price for expressing their passion for a game that remains a male bastion in India. "The idea that women don't understand cricket the way men do still prevails in most quarters. Quite often, my observations aren't taken seriously just because I'm a woman" says Neha Jain, 33, from Mumbai, a diehard supporter of the Chennai Super Kings (CSK) and Mahendra Singh Dhoni. "As a woman, I often get trolled for airing my views on cricket, especially on social media," says Disha Jasoria, 20, from Silvassa, a Royal Challengers Bangalore (RCB) and Kohli loyalist.
Neha and Disha are part of a burgeoning base of female cricket fans in India, but they are still outnumbered by men and their opinions on India's most followed sport. Not that this has stopped them from living their fan journeys to the fullest. With the ongoing inaugural season of the Women's Premier League (WPL) casting much-needed limelight on women's cricket in India, My Kolkata spoke to two of the biggest female cricket enthusiasts in the country to focus on their stories of loving a sport that continues to marginalise, sometimes invisibilise, women rooting from the stands.
The 2017 ICC Women's World Cup as a turning point for following women's cricket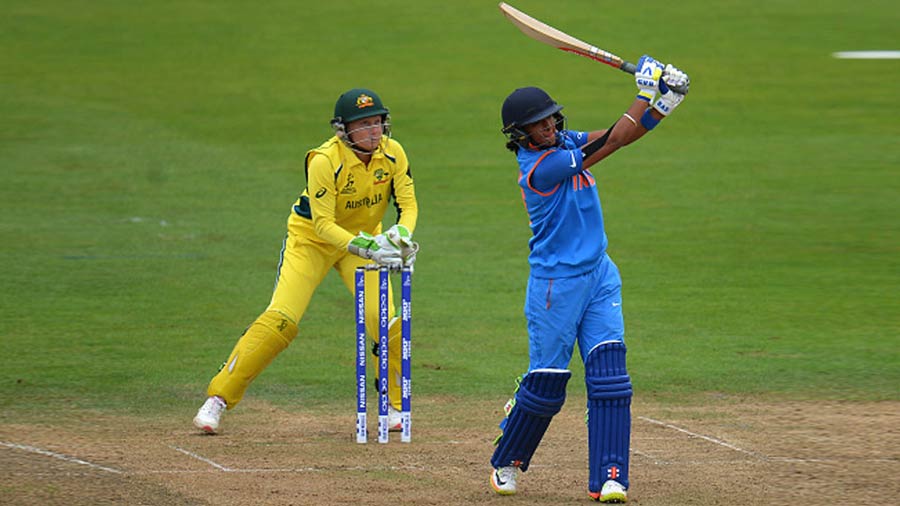 Harmanpreet Kaur's match-winning knock against Australia at the 2017 ICC Women's World Cup made many in India sit up and take notice
TT Archives
"I was constantly screaming 'Virat, Virat, Virat', and I don't remember sitting still for one second," says Disha, recapping the time she attended an IPL match between RCB and the Rajasthan Royals and spotted Kohli fielding at the boundary, within a few yards of her ecstatic self. "He turned to acknowledge me and the others bursting out our lungs for him. It was an extremely special moment," smiles Disha, whose dream it is to interview the owner of 75 international centuries someday. Neha, meanwhile, aspires to speak to Dhoni one-on-one, so much so that she would ditch a chance for a selfie with MSD just to ask him a few questions in person. "I don't want a picture with him. I want to have a conversation with Dhoni, preferably over a quick cup of coffee," says Neha.
Both Disha and Neha have been ardent cricket lovers since their childhood, a product of growing up in a typical Indian household where cricket is an inseparable part of the soundtrack of life. However, it was mostly the men that they would see in action, in tune with most of the rest of the country. Until a turning point came in 2017, when India reached the final of the ICC Women's World Cup, narrowly losing out to England at Lord's. Just before that landmark game, Harmanpreet Kaur played arguably the most spellbinding innings in women's ODI cricket till that point, a match-winning knock of 171 not out (off just 115 balls) against Australia in the semi-final. "That innings caught my attention and I started to follow women's cricket seriously," says Disha. Neha concurs and notes that the better India's women perform on the world stage, the more Indians back home will take interest in the women in blue: "Look at badminton, for instance. Indians only began watching female players once the likes of Saina Nehwal and P.V. Sindhu won laurels internationally."
'We've had conversations about equality in cricket for several years. Now, we're finally getting to see some impact'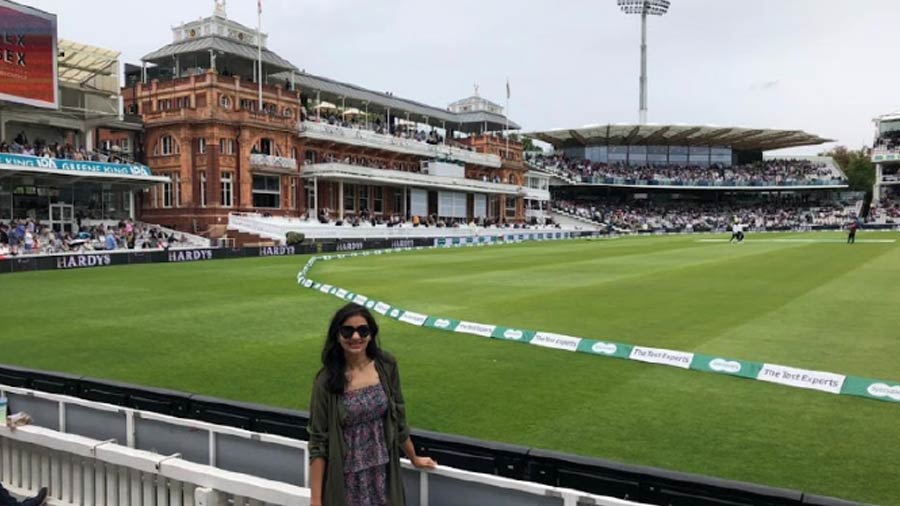 Neha has travelled the world to watch live cricket, including a visit to Lord's
Courtesy Neha Jain
Gradually, Disha and Neha evolved from just fans taking in the sport to presenters and commentators talking about cricket. For Neha, the pivotal moment came when she became a member of the Bharat Army (India's official global supporters group), before travelling to Dubai to watch India take on Pakistan in the ICC Men's T20 World Cup. "It was something I can never forget, even though India got thrashed," chuckles Neha, who was also involved in a special fan interaction organised by CSK in 2020: "A lot of the fan events had moved online due to the pandemic that year. I had been asked to join a Zoom call and was under the impression that it was some sort of PR interview. And then, out of nowhere, I saw Dwayne Bravo and Imran Tahir log in. It was a memorable surprise!"
Disha, currently a presenter for RCB's fan channels, started making reels on cricket during her first year in college. Soon enough, the reels caught the attention of other RCB fans and before she knew it, Disha was doing pre-shows for RCB's games in the IPL. "Going live was scary initially, but also immensely exciting. Over time, I've become more accustomed to sharing my thoughts on air," describes Disha.
Women carving out their space on the pitch as well as in the stands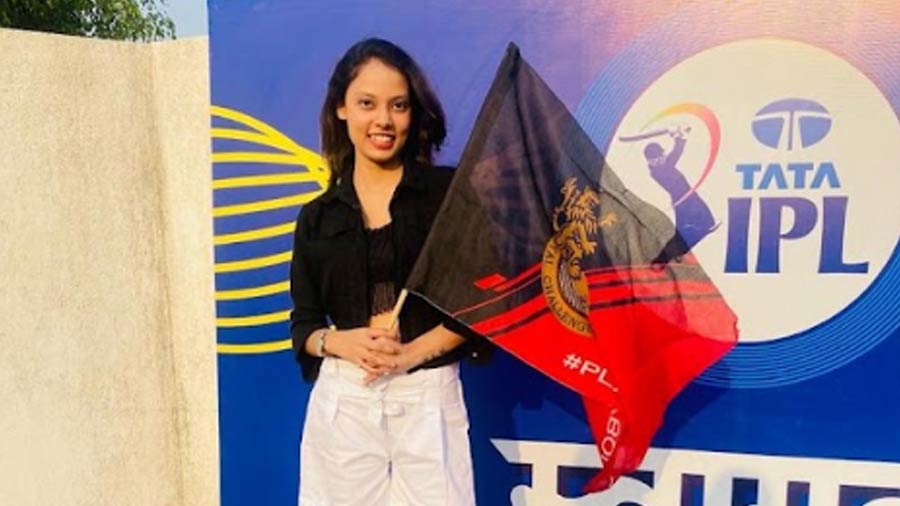 Disha is a hardcore RCB fan whose dream is to interview Virat Kohli
Courtesy Disha Jasoria
Before Disha starts manifesting a maiden IPL title for RCB and Neha prepares herself for her role in the Whistle Podu army, both of them are engrossed by the emergence of the WPL. "It's been a long time coming. We've had conversations about equality in cricket for several years. Now, we're finally getting to see some impact," says Disha. "I hope that the WPL can do for women what the IPL did for men, by turning cricketers from talents into brands and icons," says Neha. While Disha naturally has a soft spot for RCB in the WPL and the absence of a CSK franchise means Neha wants her local team, the Mumbai Indians (MI), to do well, both women are more interested in cheering on the league, instead of specific teams.
Disha and Neha acknowledge that women's cricket in India has entered a new era and that the WPL is a gamechanger, which can create a consistent audience for the women's game outside World Cups and other high-profile international tournaments. "We need to give the WPL time to grow, but it's my belief that it will eventually play a vital role in eliminating gender discrimination in cricket, including the unconscious bias that women are subject to," says Neha. "With the WPL, we're one step closer towards showing that women aren't behind men when it comes to cricket, that a superfan doesn't only have to cheer for men. She can root for a woman, who is carving out her own space on the pitch, just as she is doing in the stands," concludes Disha.
The Women's Premier League can be watched live on JioCinema, Sports18-1, Sports18 Khel, Colors Kannada Cinema and Colors Tamil