Fifteen years of trials and tribulation, of joy ending in pain and hope giving way to agony. Fifteen years of waiting for the Royal Challengers Bangalore (RCB) to win the IPL, only to keep on waiting. Such has been the journey of millions of RCB fans, including myself. And yet, every season we pick ourselves up and go again, wondering if our time has finally come. As the 16th season of the IPL gets underway, it is a familiar feeling of daring to believe again, step by step over two months. But will this time be different or will we be subject to the same story once again?
The life of an RCB fan is not an easy one, but we remain proud. We are proud of what we have achieved, the memories we have created, the brilliance on the field and all the love off it. RCB may not have won the IPL trophy, but they have won and rewon countless hearts with a brand of cricket that has been bold, even breathtaking, as compelling as it has been chaotic. The fact that the IPL returns to its usual home and away format this year means the electrifying atmosphere of the M. Chinnaswamy Stadium in Bengaluru will be back. Even though I am a Kolkatan, I have felt the incredible atmosphere at RCB's home ground through a TV screen almost 1200 miles away, and cannot wait to relive it this year.
IPL's biggest entertainers have found perfect moments, not perfect stories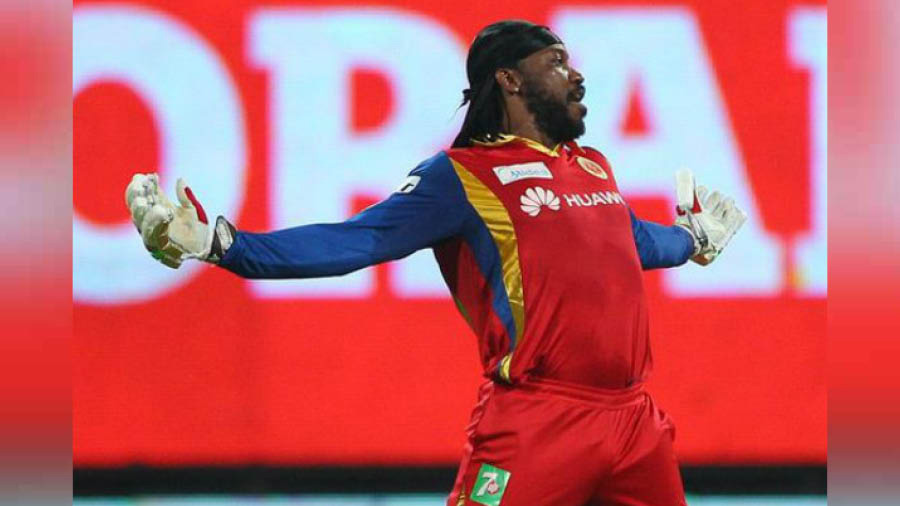 Chris Gayle still holds the record for the highest individual score for RCB as well as in all of T20 cricket
BCCI
For a decade and a half, RCB have been the IPL's greatest entertainers. A big reason why so many neutrals also love the team. Remember the time when RCB put on a mammoth score of 263 (against the Pune Warriors in 2013), the highest in the competition's history! A performance that included the [Chris] Gayle storm of 175 not out, still the highest individual score in T20 cricket. Or that fateful season in 2016 when Virat Kohli single-handedly decided to try and wrestle the trophy home for RCB, finishing with record-breaking numbers of 973 runs in a single campaign, with four spellbinding centuries to his name! Or the time in 2012 when AB de Villiers entered beast mode and clobbered Dale Steyn to all parts of the ground during a scarcely believable over that yielded 24 runs! 
Batting exploits aside, RCB have also been blessed with some of the best bowlers in the world. From Zaheer Khan to Mitchell Starc, from Anil Kumble to Yuzvendra Chahal, from Wanindu Hasaranga to Steyn, there has been no shortage of magic moments with the ball either. My only regret is that these moments have not come together often enough to cap off the perfect story. We have lost three finals (2009, 2011 and 2016), and each time, these match-winning moments have eluded us when we needed them the most.  
Sometimes I understand why so many fans of other franchises think that RCB supporters are deluded. We back the same team every year, just to see them lose. Speaking for myself, I do not even have a regional loyalty to my fandom. Technically, I can switch colours and try supporting someone else, right? Turns out I cannot. Because somewhere in all the pain that has come with supporting RCB, there has also come resilience. A power to withstand disappointments and soldier on. Herein, I might even take the liberty of comparing my situation with what fans of Argentina's football team underwent for decades. For 28 years between 1993 and 2021, they did not win a single major trophy, losing five finals along the way. And then, out of nowhere, three triumphs followed in the space of two years, including the FIFA World Cup in Qatar in December. It is only a matter of time before perseverance pays off for RCB, too. Only a matter of time before Bengaluru goes berserk, with its traffic coming to a standstill out of pure elation for once. Or so I tell myself. 
When I look back, I remember the values RCB have taught me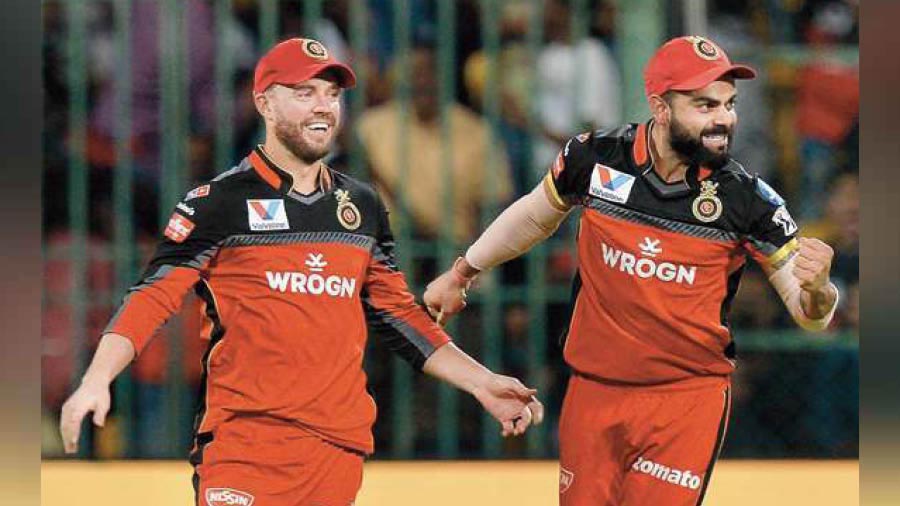 AB de Villiers and Kohli's bromance has been one of the highlights of being an RCB fan
TT archives
But fandom is more than just results. When I look back at my experiences of watching RCB, I remember the values that my journey as a fan of the franchise has taught me. For instance, the bromance between Kohli and de Villiers and how two of the finest in the game can get along effortlessly, feeding off each other's success without any ego or envy. Their partnership in Mumbai in 2015, when the duo put on 215 for the second wicket, is something I can never forget.
I have had the pleasure of watching RCB twice in person, both at the Eden Gardens, with both matches yielding victories. There was the 2019 match that saw Kohli notch up his fifth IPL century, bringing Eden to its feet. And then there was the first eliminator from last season, when another century grabbed the headlines, this time from young star Rajat Patidar, sending RCB through to the second qualifier. Returning home with a sore throat had never felt better, but what surprised me was the passion in Kolkata for RCB. Streets were lined with red in the land of purple and gold and RCB chants could be heard on both sides of the Vidyasagar Setu.
Coming to this season, I cheer more in expectation than hope. Over the last three years, RCB have got rid of their yo-yo tendencies to become a stable side that is not reliant on one or two individuals. With Faf du Plessis reinventing himself as a powerplay smasher as well as an astute T20 leader, with Glenn Maxwell taking more responsibility, and with Hasaranga and Harshal Patel capable of picking a wicket at any point, this is a new RCB that knows how to function as a unit. This also means that Kohli, no longer captain, is liberated.
There is nothing I want more from the IPL than to see Kohli's arc of glory come to its rightful fruition. The only player in IPL history to play for a single team for 15 years (soon to be 16) deserves that one winner's trophy. In case he misses out again, his greatness will not be diminished, but his story will.
And so with our hearts full of anticipation and our voices eager to be cracked, we go once more. Entering the 16th season as the 12th man (unfortunately, not an impact substitute!) with the assurance that even if we fall again, we will rise anew, with more and more of us committed to the cause. That, after all, is the RCB way. Win or lose, we always stay.