In Kolkata's Haltu, an engineer assembled his dream, burning the midnight oil not in his workshop, but in his small apartment kitchen. There, he cooked up a storm, developing countless recipes for his cloud kitchen, The Harmony Pot. Subhojit Sen, with degrees in mechanical and thermal engineering, left his job to follow his passion for cooking. His journey took him from some rough days to the renowned MasterChef India platform, earning him the tag #Cookgineer. Now, back in Kolkata after making it to the Top 9 on SonyLiv's MasterChef India, Subhojit joined My Kolkata for a chat about his culinary journey so far, and more.
#Engineer to #Cookgineer, bread to biryani
Subhojit's passion for cooking sparked when he saw a roadside vendor tossing chow mein in a wok. Already an ardent chow mein hogger, he was instantly enticed by the skill of capturing flying noodles. That's when he thought, "I must try this." Back in 2011, while pursuing a bachelor's degree in mechanical engineering at Bengal's Saroj Mohan Institute of Technology, Subhojit cooked for his college mates, nurturing his passion for food. Cooking was his succour on his lowest days, and his way of conquering the challenges life threw at him. But it was only during the lockdown that he truly began to take cooking seriously. "The area where I live has many bachelors living around. During the first lockdown, there was a dearth of bread. I started making bread at home and distributed it among my neighbours. They loved it so much that they offered to pay for more."
From kneading dough to making biryani, Subhojit's passion for cooking rose like a perfectly baked loaf. "During the lockdown, I made some biryani when people couldn't go to restaurants. The first lot sold like hot cakes and people asked for more! Selling chicken biryani brought in a handsome amount that I donated to the state's Covid relief fund." The biryani orders kept coming, nudging Subhojit to expand his menu.
Amidst all this, he got the unfortunate news of being laid off from his job in Haldia. That's when he decided to focus on setting up his cloud kitchen, now known as The Harmony Pot. Once again, cooking came to his rescue during what would have otherwise been the darkest phase of his life as an unemployed youth from a middle-class family. "It wasn't easy. When orders started pouring in, I struggled with home deliveries as I only had a cycle then. I used to deliver food on my cycle. After the lockdown, I bought a scooty and started delivering all over Kolkata," recalled Subhojit. The journey had its bumps but this Kolkata boy was on a mission to prove that resilience can take one anywhere.
The journey called MasterChef India
Subhojit's journey with MasterChef India began last year but he could not go beyond Top 36, even after being applauded for his flavours by the judges, when he first earned the moniker #Cookgineer from Judge Ranveer Brar. "Last year I missed getting the apron with my name written on it. I felt deflated, but that only fuelled me to fight stronger this year," he said.
This year, breaking into the Top 9, gave his dreams new wings. However, he faced stiff competition from not only fellow home chefs but also popular cooking influencers with massive social media following, who had experience in innovation and plating. Yet, Subhojit continued to win the hearts of the judges through his knowledge of flavours and his maverick innovations in the kitchen.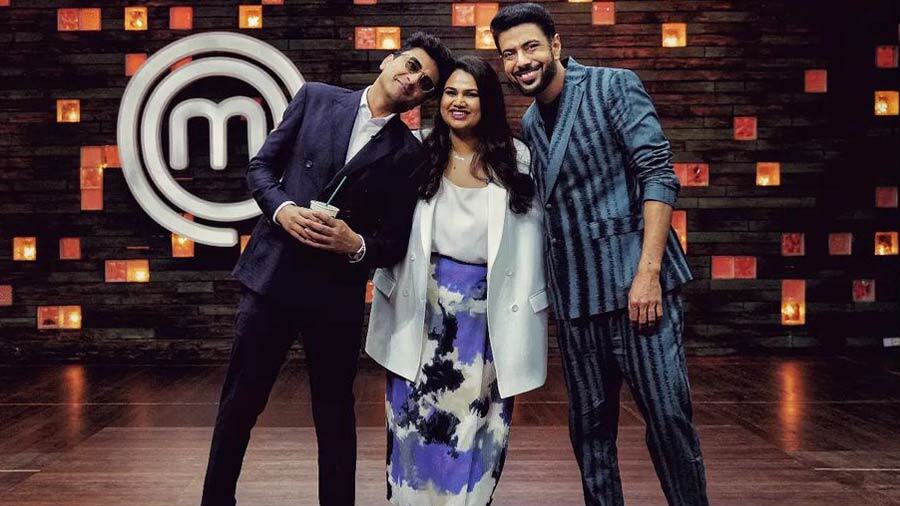 'My weakness was baking, so I learned a lot from chef Pooja Dhingra. Chef Ranveer Brar has a vast knowledge about Bengali cuisine so that's where we could connect. Chef Vikas is an incredibly humble and lovable person from whom you can learn a lot,' shared Subhojit about the celebrity judges
Focusing largely on promoting Bengali cuisine, Subhojit whipped up several dishes with an innovative twist such as Kobiraji and Panch Phoron Posto Chicken on the show. Reflecting on his roots, he said, "Growing up in Bengal, I have been eating food cooked by my mother that has been largely Bengali cuisine. In Bengal, cooking techniques are very precise and when it comes to the gravies, we have some of the finest dishes where the spices are fine and you don't get bits and pieces in your mouth. I wanted people to know more about Bengali food. I want people to understand that Indian cuisine is not just north Indian or south Indian food!"
Chhanar Payesh in Choux Pastry? It's all about innovation
The engineer-turned-home chef refuses to confine his dishes to the usual flavours. "I want to offer new flavours to the people. That is why I started doing weekend menus where I had the time to ideate new dishes for my customers." His signature dishes like Bekti Paturi with Pineapple and Dhonepata stems and Hinge Dudhe Kancha Ilish are innovations that followed months of studying ingredients and recipes. On MasterChef India Season 8, Subhojit garnered accolades from the three judges — chefs Ranveer Brar, Vikas Khanna and Pooja Dhingra for his Bhaja Moshla Chicken, Chhanar Payesh in Choux Pastry and Chingri Malai Curry Dumplings.
Describing how he develops recipes, Subhojit said, "Every region has its own favourite ingredients and unique methods of using them. I study the flavour profiles of the ingredients and how they are used in different dishes. Although I cannot travel the world to physically taste them, I read books to understand how I can incorporate new techniques and forms to elevate our own Bengali cuisine."
Takeaway from the show and the way forward
The 29-year-old's run on MasterChef India ended last Friday when he got eliminated in the 'black apron' challenge by Chef Garima Arora, a previous judge on the last season.
Despite this setback, Subhojit's flame continues to burn. Looking forward, he said, "My journey has just begun and I wish to use all the knowledge and experiences I gathered from the show to expand my cloud kitchen. Ultimately, I dream of having my own restaurant someday."
Throughout the show, we saw Subhojit receive appreciation from the celebrity chefs. On his elimination, chef Vikas said, "This the beginning of your new identity, not just in Kolkata but all over India and the world. We cannot wait to celebrate what Subhojit does next."
Back in Kolkata, Subhojit is gearing up for more kitchen experiments and is set to spice up winter with several food pop-ups. Who knows? Soon we might all be lining up at a MasterChef restaurant too!