At first sight, Jyotirmoyee Saha looks unassuming. She comes across as a regular 22-year-old pursuing a Bachelor of Technology (BTech) degree till you look beyond her quiet exterior to find a gritty young woman. 
Ever since she was a little girl, Jyotirmoyee — who lives in Khardah, North 24-Parganas — dreamed of becoming an engineer but was forced to pause her dream when her father lost his job early in the pandemic. "Our family struggled a lot and things were tough. The admission test for government colleges wasn't held and private colleges weren't an option since the fees are so high," says Jyotirmoyee, who did her schooling in Sodepur. Unfortunately, her education bore the brunt of her family's financial woes. She quickly realised that if she wanted it on the front burner, she needed an out-of-the-box solution. 
And this paved the way for Kolkata's first female phuchkawallah. 
"My father had some space in Khardah which was nice. So, my brother and I decided to make something out of it," said Jyotirmoyee. She didn't want to go down a mainstream route, since she felt most markets were already saturated. Instead, she identified a gap — phuchkas in a dine-in set-up — she capitalised on it. "I started out in October 2020 with seven varieties of phuchkas. I kept my menu different from what was available with a normal parar phuchkawallah. That, along with the fact, that you could sit comfortably and eat phuchkas is what caught everyone's attention," she said.
Jyotirmoyee was 20 years old at the time and exhibited a natural knack for entrepreneurship. In October 2020, when the city was grappling with the pandemic, phuchkas weren't available anywhere. So ফুচকাwala became a hot ticket. It was a quaint cafe in Khardah and a tempting pick on food aggregators. "We experimented at home to come up with the final menu. This was a fun process — we came up with a few really tasty options and a few really mad ones," laughs the phuchka fanatic. Anything simmering in the Sahas' home kitchen from chicken curry and chingri malaikari to ice cream topped with Nutella was stuffed into the crisp shell of a phuchka and tasted.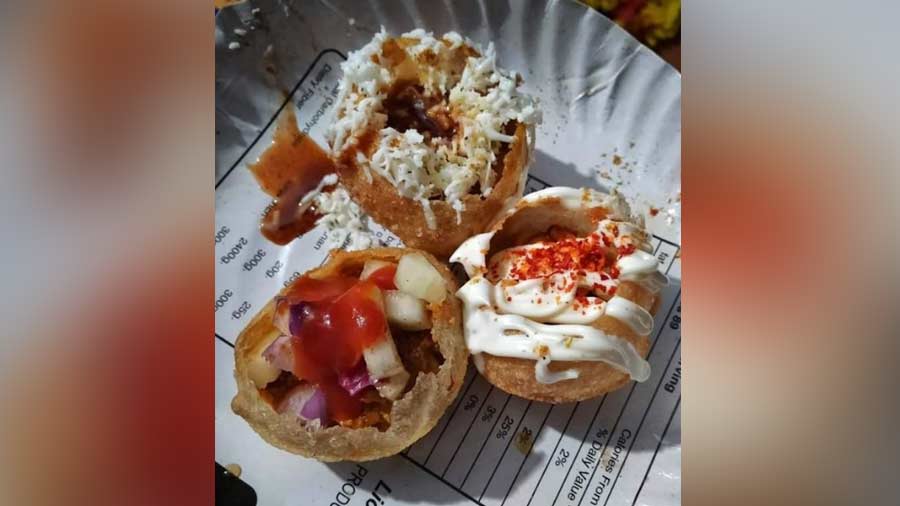 Chicken, corn and Bangladeshi 'phuchka'
Seven concoctions made the final cut — Chicken Fuchka, Corn and Cheese Fuchka, Ice Cream Fuchka, Bangladeshi Fuchka, Chocolate Fuchka, Dhaniya Fuchka and Dahi Fuchka. Now, there are a total of 12 options that pique interest with the Chingri Fuchka (prawns in a creamy malai curry garnished with coconut shavings) in the top spot. Other popular picks are the Chicken and Cheese Fuchka (a dry, spicy chicken fry drizzled with cheese) and the Corn and Cheese Fuchka (classic buttery corn topped with a generous amount of cheese). "My mother adds a little magic to the Chicken and Cheese Fuchka which makes it a bestseller!" says Jyotirmoyee, whose personal favourite is the Corn and Cheese Fuchka.
The story behind how ফুচকাwala got its name is rather hilarious. When she shared her entrepreneurial plans with her father, he responded in a manner similar to every other Bengali father, "Eto koshto kore manush korlam, porashona shekhalam, phuchkawallah hobi (After all the effort I put into raising and educating you, you want to be a phuchkawallah) ?"
Jyotirmoyee saw no harm. In fact, she took pride in being a female phuchkawallah. She's eaten phuchkas — a combination of sour and spicy is her favourite — twice a week religiously for as long as she can remember!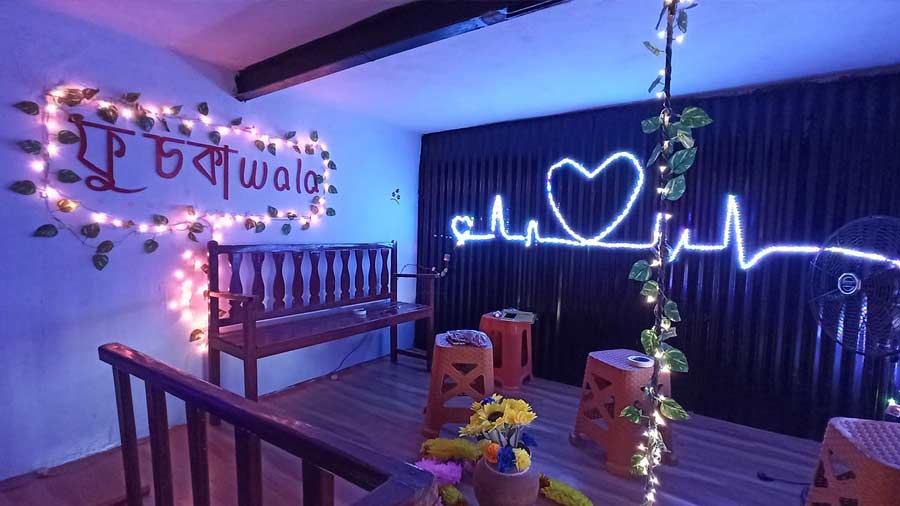 A look at the interiors of Phuchkawalla
When ফুচকাwala needed to be marketed, the 20-year-old took social media by storm. "Social media was important because we needed to reach out to people and tell them that we exist. Another reason why it was important was to show that we're following all norms and that it was safe to order from us," she said. ফুচকাwala put out engaging content which attracted a huge following and, in turn, a host of customers. Today ফুচকাwala has around 31,000 followers on Facebook.
ফুচকাwala now runs as a family business. Jyotirmoyee's brother Debjyoti has been involved with the business since its inception. Her father Sridam handles the accounts, her mother Sushila is in charge of the menu and her sister-in-law Poulami picks up the social media content.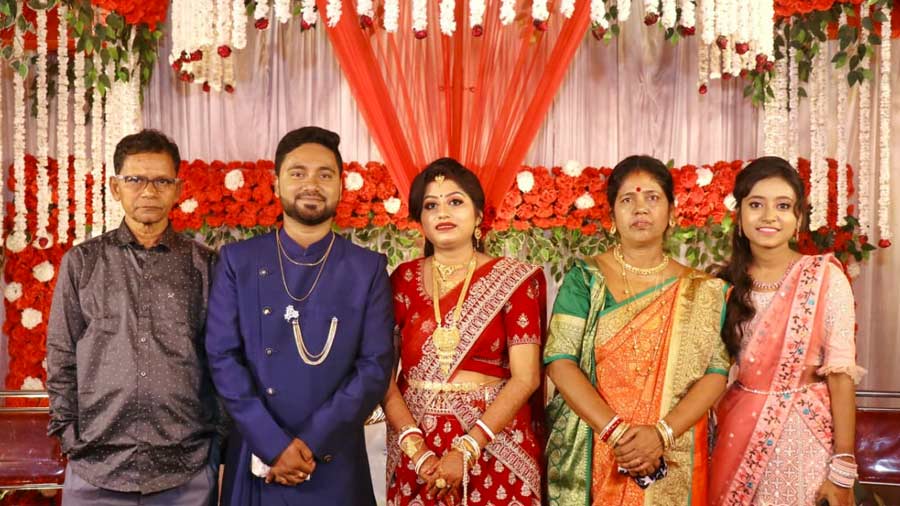 The Sahas — Sridam, Debjyoti, Poulami, Sushila and Jyotirmoyee
In the span of a year, this young go-getter has supported her family through its worst phases, spearheaded a flourishing venture (they just opened a second outlet at the Kankurgachi Pantaloons food court) and financed her BTech degree."This will always be my biggest accomplishment," says the second-year student at Future Institute of Technology, Sonarpur. She is also set to receive the youngest women entrepreneur of the year award, an award given out by AEMPL and GEM Enterprises, in Dubai on September 18.
"ফুচকাwala has given me many things but the thing that brings me the most joy is the customers' love for my food. When I see people's expressions change after one bite of my phuchkas, that's the best part of this whole experience," smiles the resilient phuchkawallah.