Kolkata is a city where every nook and cranny has a rich historical anecdote to go along with it. Calcutta Houses, is a documenting initiative of three friends — Manish Golder, Sidhartha Hazra and Sayan Dutta — on Instagram. The photography project captures the present state of heritage houses that represent a diverse set of stylistic influences from the time these residential structures were built, providing a means of comparison for people experiencing life in Kolkata for the first time.
My Kolkata spoke to Manish Golder, co-founder of Calcutta Houses, to understand the objective of documenting Kolkata's changing cityscape through its houses and the initial challenges of doing so, to unravel some of his biggest learnings in the course of this photography project that began in 2014.
Edited excerpts from the conversation follow…
My Kolkata: It must have been a challenging transition from your documenting days to starting Calcutta Houses?
Manish Golder: I had been documenting without a conscious focus on something. Like any other photographer on the lookout for what moves them and what they admire, I would approach a subject with the same headspace. But increasingly it became clear to us that old houses in Kolkata were disappearing at a rapid rate, leading us to this journey of documenting houses.
Initially, there was a lot of insecurity regarding disputed properties, and a lack of trust in our own agenda beyond creating an archive. It's been over a decade now of doing this, and there's a certain credibility that comes along the way, visible when people approach us to document their homes.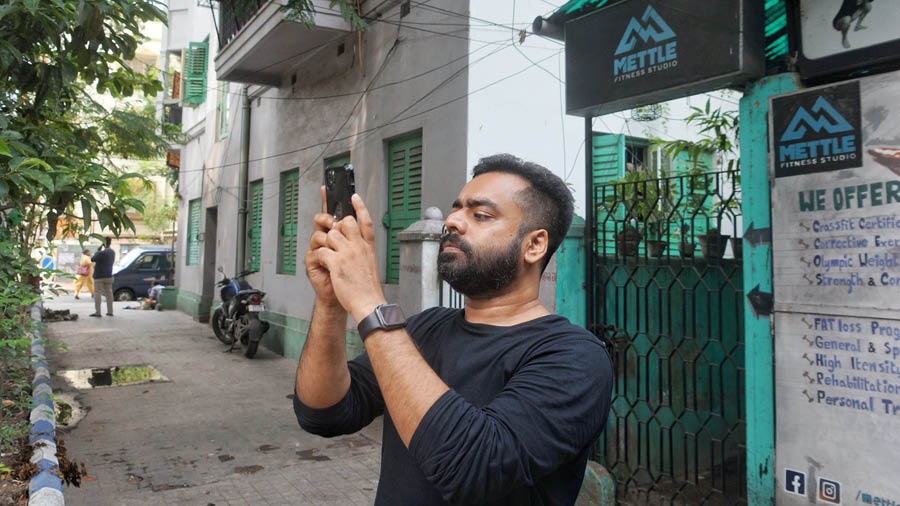 Manish Golder on a walk through a neighbourhood of old houses
Soumyajit Dey
What's the kind of on-foot research does one need to do for such an escape into the past?
Rather than escaping into the past, I want to capture the present. The houses are definitely a marker of the past but they also exist in the present time and place. From what I recall, John Berger, an English art critic and painter, had said, 'A critic needs to be objective in order to be relevant to the past, present and future.'
What are the biggest learnings during your explorations that have stuck with you?
There have been several strange experiences we had, including how people felt when their houses were being photographed. I realised it had also something to do with the heritage buildings status declared without consulting the main stakeholders — the residents and tenants living in these houses. The heritage tag was more of a burden than a gift, which became more and more evident with my interactions with such stakeholders.
I also got to know the problems these household owners face in their effort to preserve these structures that are nearly 100 years old. While many intend to maintain these magnificent buildings, they can't, due to the migration of youngsters from Kolkata for economic reasons, making daily maintenance nearly impossible.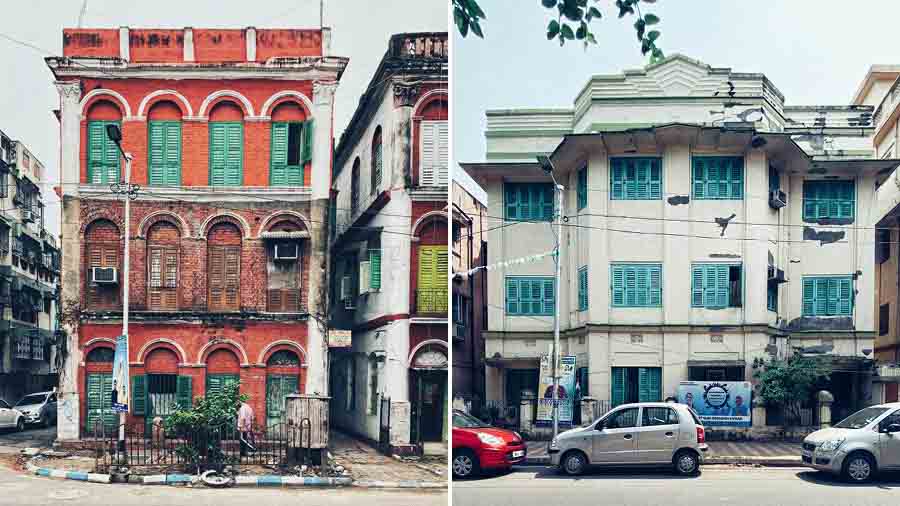 Home documented by Calcutta House at Harish Mukherjee road, and (right) a residence at Kavi Bharati Sarani
Amit Pramanik
What was the primary objective of putting out illustrations of old city houses on Instagram? And, has your presence on social media helped you achieve that objective?
Some of the illustrations were done by Sayan (Dutta). Later, people (who connected with Calcutta Houses on Instagram) also created illustrations based on the photographs I had taken, which has been deeply encouraging as it inspires the community of independent artists in the city.
Social media, specifically Instagram, an inherently visual medium, has allowed us to create and display original content, which generates interest within the right community of audience. This is an exercise by itself, and I have consciously done it by implanting my own aesthetic, and moulded the entire Instagram feed, according to that.
To bring out yesteryear illustrations of houses, what needs to be done from the desk of Calcutta Houses?
Some of the illustrations were inspired by the pictures that I had clicked, while others were done by Sayan. Many of his illustrations would focus on windows and doors, which was a result of finding a website called 'Windows of NewYork' that was doing similar work. This all started during the early days of Instagram.
What are your other passions?
Music, art, painting and cinema. Among these, cinema is an overwhelming passion. I like to read and write about it. Having directed a few ads in the commercial space, I admire the process of filmmaking. Reading and football have also been constant areas of interest.
If you were to choose one house whose architecture has left an impression on you regarding the city, which one would it be?
There isn't one single house. Having seen so many of them, I have noticed they are never the same even if they are adjacent to each other or were built in the same time period. The variety in the styles of houses one finds in Kolkata is itself exciting yet chaotic, and that is where the beauty of the city lies.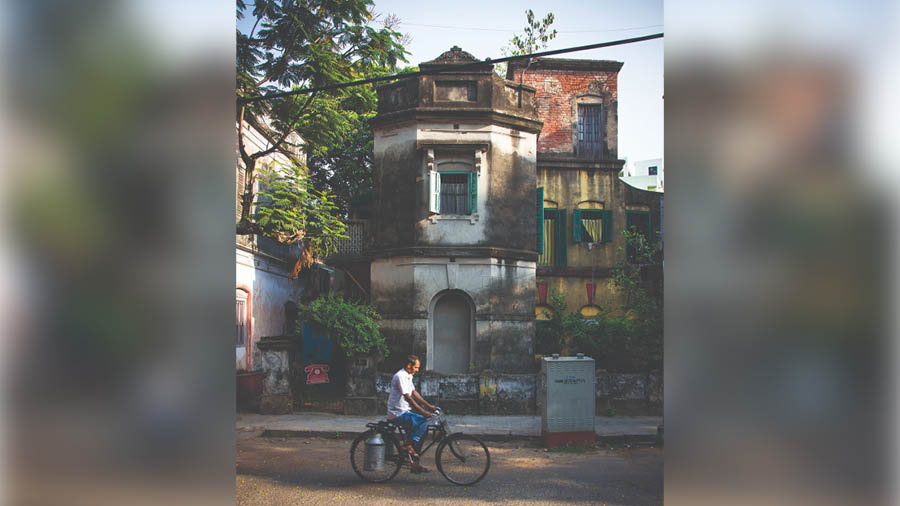 House on Aswini Dutta Road.