In 2018 the 'Victorian Gothic and art deco Ensembles of Mumbai' earned UNESCO recognition as a World Heritage Site. Some of the city's emblematic art deco buildings include Regal cinema — India's first air-conditioned theatre.
Kolkata also has its share of art deco landmarks. You've probably admired Victoria House (at Chittaranjan Avenue, Esplanade) that is now the headquarters of the Calcutta Electric Supply Corporation (CESC). Victoria House was built in the 1930s and was part of a wave that began just before the Great Depression.
Art deco demystified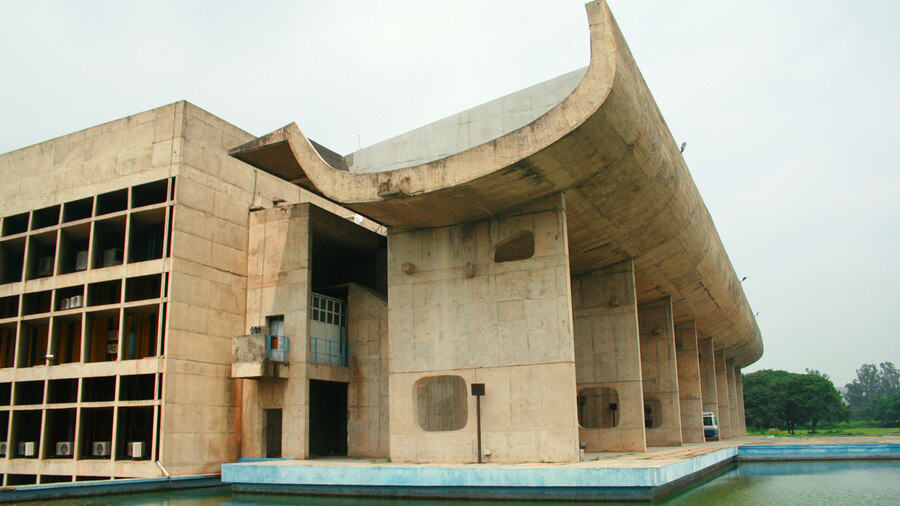 Le Corbusier is credited as the architect of the city of Chandigarh. In picture, the Palace of Assembly, Chandigarh
Wikimedia Commons
It was probably Le Corbusier who first used the term 'art deco' as part of a feature for his journal L'Esprit Nouveau. He was writing about the famous International Exposition of Modern Decorative and Industrial Arts that was held in Paris in 1925. It wasn't until the 1960s that art deco as a term gained currency, and oddly enough it was a reference to a design style that proliferated in the 1920s. 
Art deco was characterised by its sleek, linear, often rectangular forms with curved ornamental elements and sometimes gaudy colours. It began as a luxury style with expensive materials like silver, ivory and lacquer but toned down somewhat after the Great Depression of the 1930s when mass-produced materials like plastic started to take over. However, the unique blend of elegance with functionality stayed. 
Art deco spread like wildfire — furniture, jewellery, industrial design; but it was architecture that was the most visible sign and one that has survived to tell the tale of a glorious era in design.
Chicago — where the skyscraper was born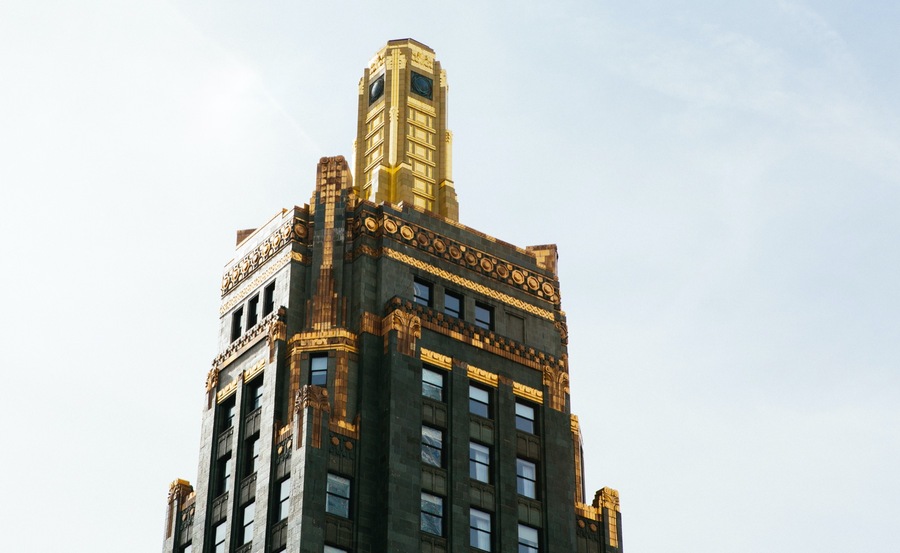 Chicago's Carbide and Carbon Building, now the home of the Hard Rock Hotel, is an example of luxurious art deco architecture
Courtesy: choosechicago.com
New York might be the quintessential skyscraper city, but it was in Chicago that the first skyscraper was ever built. When the city's Home Insurance Building (ten stories tall) was constructed in 1884, it became the first building in the world to use structural metal in its frame.
I explored Chicago's fascinating skyline with the Chicago Art Deco Society. They organise walking tours that crisscross the city centre taking you up and close to some of the city's art deco gems. It was in Chicago that I rediscovered my love for art deco architecture.
The best views of Chicago's architecture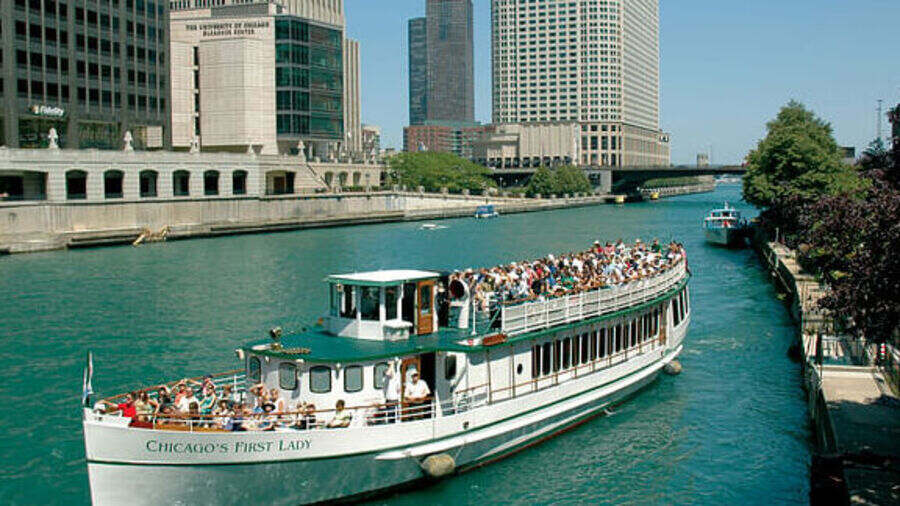 The best way to explore Chicago is on a boat tour
Courtesy: choosechicago.com
I'd recommend exploring Chicago's art deco architecture on a boat cruise. There are quite a few operators, the architecture tours from operators like Cruise Chicago typically last 75 to 90 minutes taking you through the Chicago River and Lake Michigan. This tour doesn't just cover the art deco buildings but also other iconic buildings allowing you to stitch together a fascinating history of Chicago through its magical skyline.
Chicago's landmarks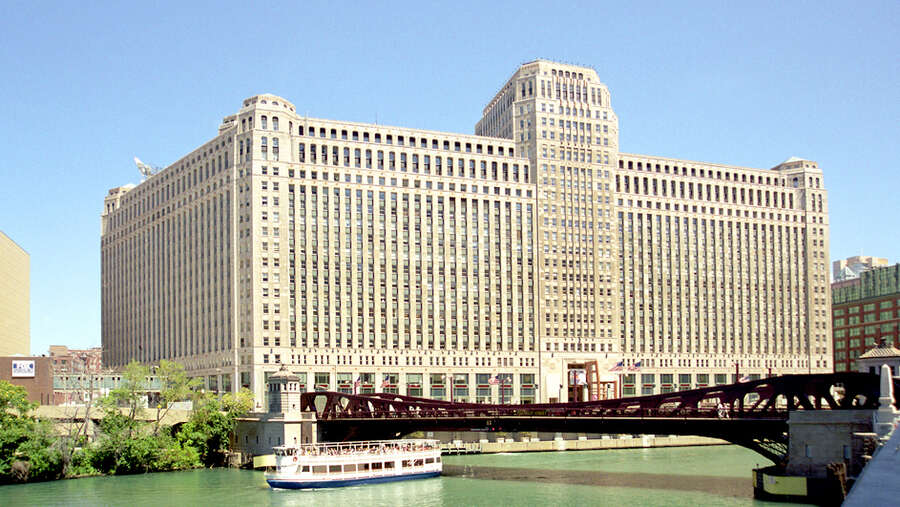 Chicago's TheMart building
Courtesy: choosechicago.com
The Carbide and Carbon Building was the first art deco building to catch my attention. Designed by the Burnham brothers, this building stands out thanks to its golden top and facade, with a hint of green. The Chicago architecture guide believes it was designed to resemble a champagne bottle with 'real' gold-leaf. The building is now home to the Hard Rock Hotel.
Look out for TheMart (Formerly Merchandise Mart), another art deco landmark. When it was built in 1930, it was the world's largest building (spread over four million square feet) until it was surpassed by the Pentagon in the 1940s. Two of Chicago's instantly recognisable buildings from the 1920s don't quite fit into the art deco mould — the Wrigley Building constructed in the 1920s and the Tribune building, a neo-Gothic skyscraper
Keeping art deco alive in Kolkata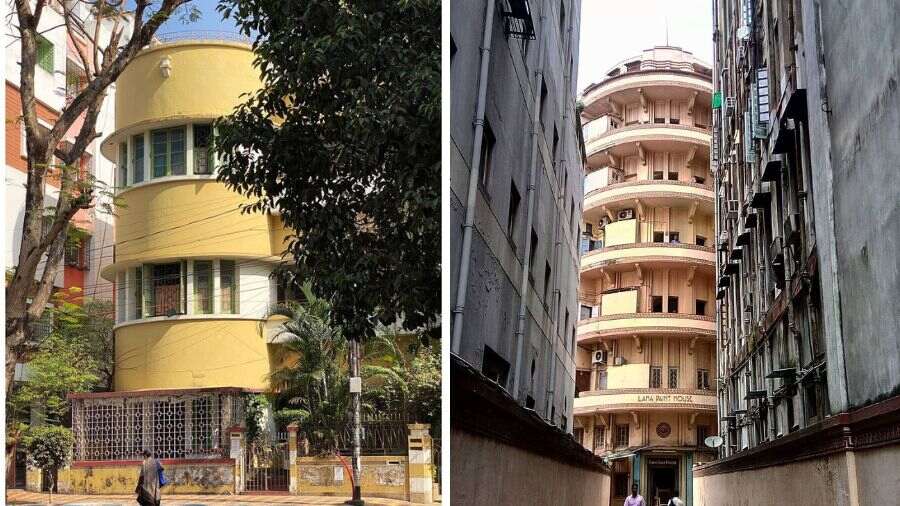 L-R: A house in Lansdowne Terrace with art-deco features; the Laha Paint House, an Indie-deco landmarks in central Kolkata
@calcuttahouses/Instagram, @calcuttaartdeco/Instagram
The irony of Chicago's art deco architectural movement, just like with other parts of the world, was that none of the pioneering architects at the time realised they were part of a distinctive style that would come to be known as art deco much later in the 1960s. Indian metro cities as well are dotted with many such unassuming art-deco specimens as well.
A lot of residential buildings in Kolkata adapted art deco design elements in the 1950s and '60s inspired by the Metro cinema and its facade. The Instagram page Calcutta Houses documents some of these old architectural gems.
Social media groups on Facebook and Instagram such as Calcutta Architecture legacies and Calcutta Art deco, dedicated to the city's art deco heritage are doing their best to raise awareness. Recently, renowned architect Hafeez Contractor announced Nexome Tripura, a residential development with an art deco design slant. Developments like this should revive interest and hopefully Kolkatans will start looking for art deco treasures in the city that include standout buildings like the Laha Paint House.