History can be lacklustre without the right storyteller. Tuhina Chatterjee, a 23-year-old Kolkatan, retells the tales of the city's archaic facades through beguiling illustrations in an attempt to relive the magic of old-world 'Calcutta', and in turn, perhaps convince young Kolkatans that the City of Joy is truly effervescent with joy.
Chatterjee's Instagram art blog — Calcuttascapes — tries to capture the charms of the past, along with the occasional holud taxi, tin mini-bus and rickety rickshaw.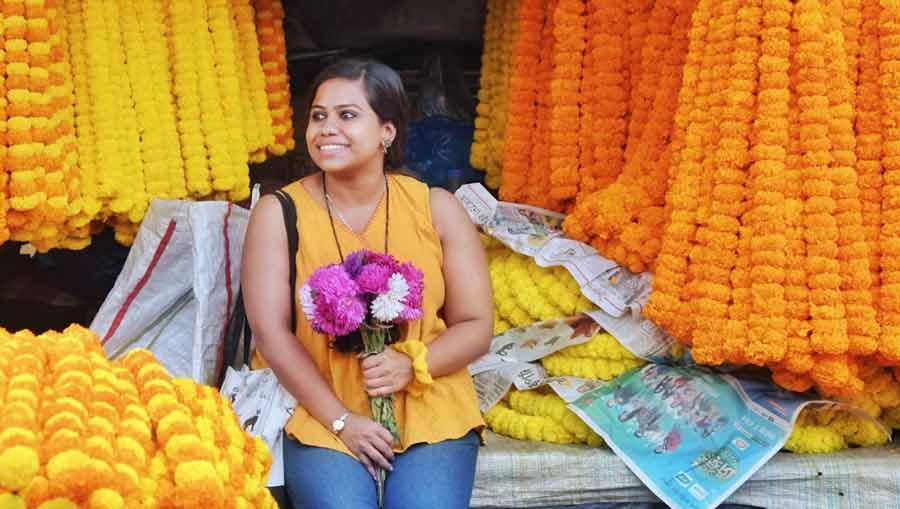 Tuhina Chatterjee of Instagram art blog Calcuttascapes
Courtesy: Tuhina Chatterjee
'I want to make young Kolkatans appreciate Kolkata and its history'
Chatterjee's journey with art began at a young age, when she, like most other true-blue Bengalis, took art classes on the weekends. "I was born in Kharagpur and moved to Kolkata when I was two. When I was a child, I used to travel across the city with my father and he would always point out old buildings and give me a short history of them, which captivated me. I have always been in love with the city and it's unfortunate that most people my age don't feel the same way. I hope to change that by influencing people the way my father influenced me," says Chatterjee.
From a young age, the artist has explored the lanes and bylanes of Kolkata, unearthing hidden gems and fascinating stories. A convent education and journalism degree later, she now works with Calcutta Walks — an eco-friendly tourism agency that helps tourists discover the city on walking tours. Trotting around Kolkata, while on the clock, has allowed Chatterjee to continuously uncover distinct facades to sketch and portray on Calcuttascapes.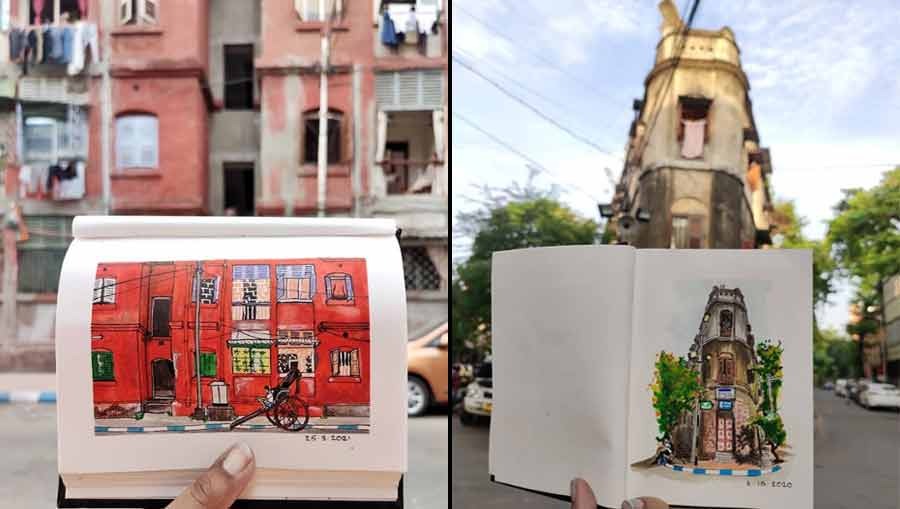 Bow Barracks and Shyambazar
@calcuttascapes/Instagram
"Hundreds of people walk past beautiful buildings everyday, but are unaware of their beauty. The one beside The Rangers Clubhouse (behind Raj Bhavan) used to house the city's first Italian restaurant — Peliti's. People walk past this building without so much as looking at it. I want to make young Kolkatans appreciate Kolkata and its history. But how will they appreciate it if they're not aware of it? Calcuttascapes is about making the youth connect with the city and its history," says Chatterjee.
All in the small details
Chatterjee has always loved snaking through Kolkata. She believes that her explorations as an adolescent was a catalyst to the immense love she has for Kolkata.
The nitty-gritty of things has this artist in awe. "One just needs to pay attention to the details and the brilliance of the city will appear," she says. In her opinion, the beauty of the Howrah Bridge is not the bridge itself, instead, it's the thrill of walking on it against the stream of traffic. "That's the frame worth capturing," she explains with a smile.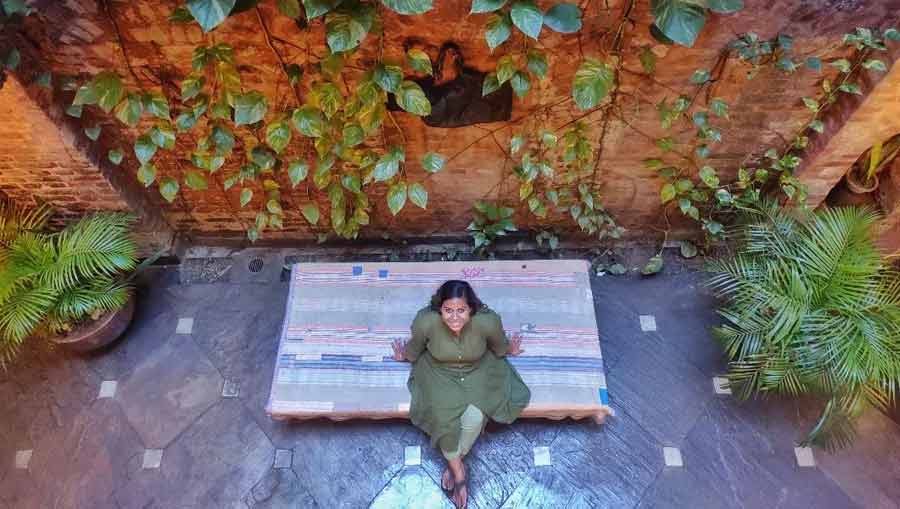 'I have always been in love with the city and it's unfortunate that most people my age don't feel the same way,' says the artist
Courtesy: Tuhina Chatterjee
Even now, Chatterjee often meanders through the city on expeditions. "I roam aimlessly round the city in order to explore," she says. She once boarded a bus heading towards Bagbazar but jumped off mid-way at Girish Park because she found the locality intriguing.
Oh Calcutta, you beauty!
Many believe that the old-world charm of 'Calcutta' is confined to north Kolkata. Through Calcuttascapes, Chatterjee depicts the sprawling mansions of south Kolkata, the cluttered and commercialised areas of Bhowanipore, the temples of Kalighat and of course, the silhouettes and facades of north Kolkata. "If you look closely, you'll find that old-world charm everywhere," she affirms.
"Kolkata is too byzantine to fully capture. Even if I spend 10 lifetimes trying to draw the beauty of Kolkata, I won't be able to," laughs Chatterjee. "I think people my age should show a little more appreciation and love to the city. People should understand that language, rituals and caste don't matter as much. It's the city that matters," she says.
Yearning for '80s Calcutta
Chatterjee aims at bringing back a glimpse of the simple life of 'Calcutta' through her watercolour artworks. "A friend recently asked me: 'If you could go back in time, which era would you go to?' and my immediate answer was 'Calcutta in the '80s.' That may be a dream for me but not for Calcuttascapes," smiles the talented artist, explaining, "Calcuttascapes will soon mirror the '80s — when trams ran every six minutes, silver tin buses galore and people donned simple cotton sarees and dhotis."
Chatterjee's artworks, in the form of digital postcards, can be availed here.