There comes a moment in the lives of many achievers when they have to choose between comfort and challenges, between affluence and aspirations. For Kaushik Ghosh, 50, that moment came in 2012-13, when he received a golden opportunity to be the country head for a leading travel company in Qatar, a position that "in five years would've set me up for the rest of my life".
But Ghosh turned down the lucrative offer for a chance to live his dream — running a large business based in his home city, Kolkata, that would prove how Bengalis and Bengal have what it takes to produce successful entrepreneurs. Thus began his second chapter with Globe All India Services, this time as the chief operating officer (COO), some 15 years after he had first joined the company (then known as Globe Forex & Travels) as assistant manager of sales and risen to become its director in nine years.
Even though Ghosh won more votes, Jhuma won his heart
Born and brought up in Kolkata, Ghosh wanted to become either a pilot or a cricketer during his formative years. A middle-class upbringing, made difficult by his father being duped by his business partner, meant that Ghosh did not have the means to take guard or take flight. Instead, as the eldest of two siblings, Ghosh started working as a teenager to help support his family residing "in a house that kept getting smaller" in Baguiati. Having completed his schooling from Frank Anthony Public School, Ghosh enrolled for a bachelor's degree in science at Scottish Church College, which is where his life took a turn. Standing for student elections as a member of Chhatra Parishad, Ghosh faced stiff competition from the candidate of the Students' Federation of India (SFI), a woman named Jhuma. Even though Ghosh won more votes, Jhuma won his heart. As they started dating, a relative of Jhuma's suggested that Ghosh should venture into the travel industry. Ghosh's future wife then got him registered for a management course on travel and tourism at St. Xavier's College, which set the wheels in motion for what was to follow.
In 1994, Ghosh began his first job as a reservation and ticketing agent at Lionel Edwards, before shifting to work as a traffic agent at the Netaji Subhas Chandra Bose International Airport for Damania Airways. A stint with United Airlines came next, before Ghosh, encouraged by good friend and entrepreneur Manik Dey, joined Globe in 1998. After five enterprising years with Globe, Ghosh moved on to Carlson Wagonlit Travel (CWT), where his four years as associate director saw him named twice as the best leader at CWT. "That's where I learnt that Bengalis are better at a lot of things, from culture to communication to intellect. It also made me want to run a pan-India business headquartered in Kolkata," says Ghosh.
'We want to provide the best of offline and online worlds at Globe'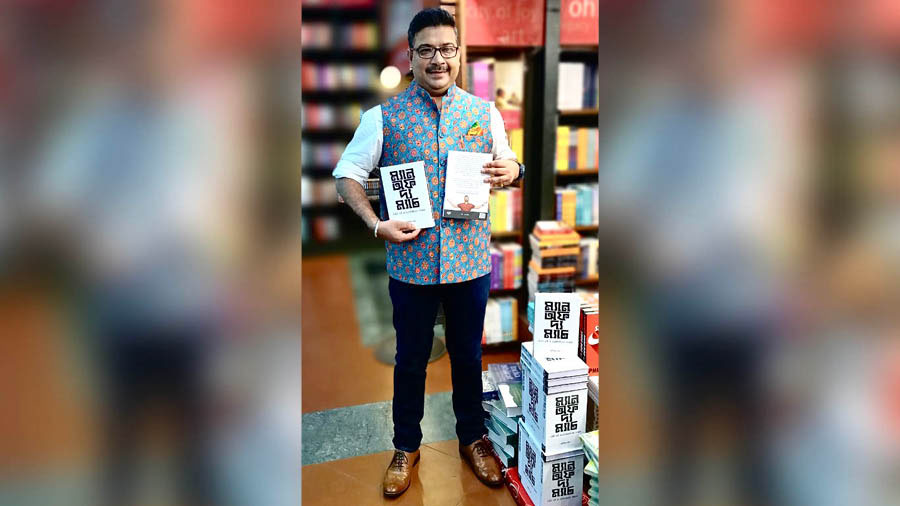 Ghosh with his first book, 'Man of the Match', which released in October 2022
Courtesy Kaushik Ghosh
Naturally, when the scope to lead a revamped Globe came up, Ghosh grabbed it with both hands. In the 10 years since, Ghosh has taken Globe to a Rs 650 crore company, which intends to surpass the mark of Rs 1,000 crore in a few years and also launch its Initial Public Offering (IPO).
During the pandemic, when travel and tourism seemed to be on life support, Ghosh's astute leadership at Globe meant that the company and its workforce grew, instead of shrinking. "The pandemic was a transformative time for us, because it allowed us to take stock and focus on long-term goals, instead of just gunning towards short-term objectives," explains Ghosh, whose back-of-the-envelope calculation suggests that somewhere between six and 10 crore Indians had their livelihoods directly impacted by the stress of Covid-19 on the travel and hospitality sector.
While Ghosh helped pivot Globe to amplify its online presence, he did not see the pandemic as the death knell for offline expansion. "We want to provide the best of both worlds at Globe. If someone wants to curate a travel plan online, we're capable of doing that, with increasing focus on artificial intelligence. At the same time, we also feel that real touchpoints matter, for they are more accountable. This is why we're developing experience centres at all Globe branches across India (11 now, with plans of expanding to 25) that allow tourists to get a detailed idea of what a place has in store for them before they physically go to visit," describes Ghosh.
'As Bengalis, we've always loved travelling, but now we're starting to become adventurous'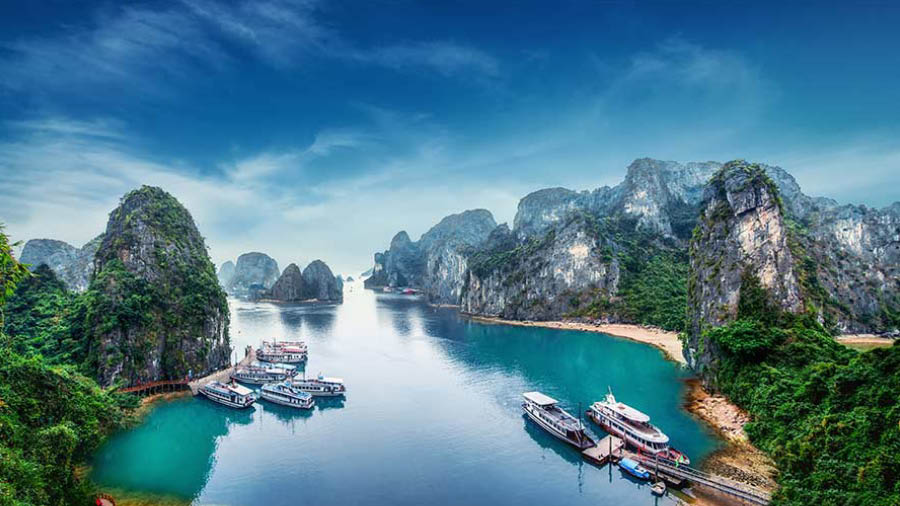 Vietnam is among the places Indians and Bengalis are travelling to frequently, says Ghosh
TT archives
A firm believer in the Bengali spirit of wanderlust, Ghosh is quick to point out that the community's travel habits are changing. "As Bengalis, we've always loved travelling, but now we're starting to become adventurous," says Ghosh, citing how Bengalis are exploring options far and wide, from Antarctica to Greenland. Among Indians in general, Ghosh pinpoints a number of hotspots that have emerged in the post-pandemic travel boom — Vietnam, Mauritius, Switzerland, Czech Republic, Kenya, Australia, among others. "A lot of the CIS (Commonwealth of Independent States) countries are also becoming attractive destinations, such as Kazakhstan, Belarus and Moldova, as they give the look and feel of Europe without being as expensive," adds Ghosh, who himself has travelled to over 50 countries, with his favourites so far being Jordan, New Zealand and the Arabic city of Fujairah.
As someone who has seen so much of the world, what does Ghosh think can be done to boost tourism back home? "We have everything we need to attract tourists. But we have to market ourselves better. In Bengal, we have mountains, beaches, tigers, Tagore and so much more. Singapore, on the other hand, has one man-made lion! But they know how to tell a story in unison. Everyone in Singapore, from the waiters to the cab drivers, speak in one voice about their land. We have to replicate that here," answers Ghosh, who would also like to see the "government to do more for travel and hospitality. The pandemic recovery packages hardly had anything for our sector, even though we're one of the country's biggest employers and contributors to GDP. When travel and hospitality isn't given enough importance, it's the overall economy that gets hurt".
'If a nobody has to be a somebody, then there's no alternative to hard work'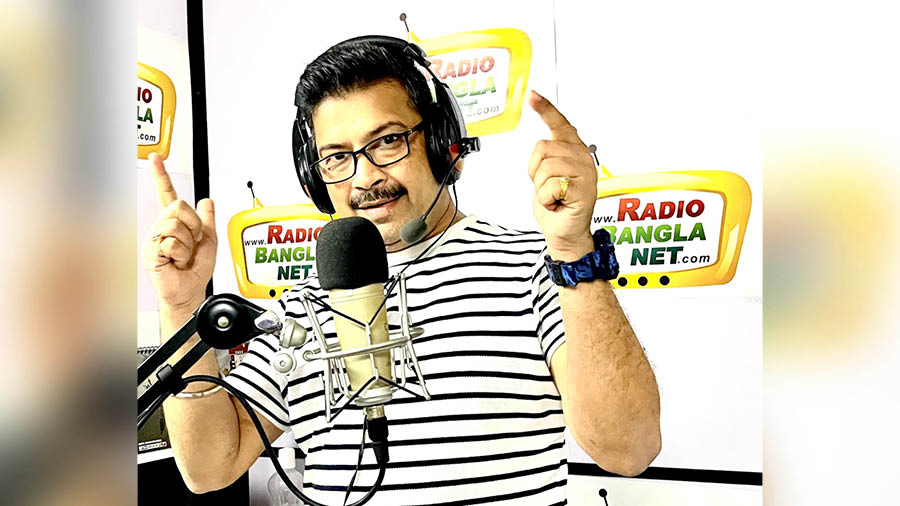 Ghosh while recording for his show, 'Globetrotting with Kaushik', on Radio Bangla Net
Courtesy Kaushik Ghosh
In his own attempt to improve storytelling around travel, Ghosh has started appearing as an RJ on Radio Bangla Net, where his show, Globetrotting with Kaushik, airs every Sunday. "The concept is to give people virtual tours of places I've been to using oral stories. It's something I enjoy doing, and knowing that close to three lakh listeners tune in every week keeps me motivated," smiles Ghosh, who is also adept at painting and playing the sitar.
Last October, Ghosh published his first book, Man of the Match (in Bengali), a memoir that captures "the life of a common man" through a documentation of uncommon obstacles and achievements. His next work, The 8H Way, is nearing completion, and will talk about the eight principles that have been fundamental to Ghosh's journey — "hard work, honesty, humility, humanity, hobbies, hope, health and holiday". Eventually, Ghosh also wants to write a book on the extraordinary feats of the so-called ordinary people, tentatively titled Heroes and Sheroes.
An advocate of ikigai (the Japanese concept of investigating one's reason for being), Ghosh still plays club cricket and has, more recently, taken to golf. At office, despite his genial and generous manner, Ghosh has some strict rules — everyone must take off their shoes before entering their cubicles, no soft drinks to be consumed on office premises, and the only gifts that can be exchanged are plants. These quirks are an extension of the sense of discipline and order that comes inherently to Ghosh, something he wishes youngsters take more seriously in an "age of impatience and instant gratification".
"You can't take shortcuts in life. It's all well to work smart, but ultimately, if a nobody has to be a somebody, then there's no alternative to hard work," says Ghosh, whose own relentlessness is geared towards a clear target: "I want Globe to be the biggest travel company in India. Right now, we're leaders in the East, but I want us to become national leaders. If and when we do it, I'll be satisfied, but I'll be even more satisfied at having done it by remaining in Kolkata."