Have you ever wanted to go to Paris just to take in the magnificence of its museums? Or fly to Rio de Janeiro with the sole intention of understanding Samba? Closer home, have the tea estates in Darjeeling caught your fancy? Have you thought of visiting Bikaner only to sample its handicrafts and sweets?
Previously, customised or curated holidays like these would require endless hours of research, not to mention an overwhelming reliance on luck so that the right person in the right place could be contacted for the right experience. Step forward, Flying Squirrel Holidays, the passion project of telecom veteran Niloy Nag, which specialises in providing seamless, customised vacations around the world. From playing on the courts in Dubai where Federer won his 100th title to wining-and-dining in Cape Town, from adventure sports in the Himalayas to the lesser-known charms of North Bengal, Niloy and his team believe in assembling travel packages that are tailor-made for the traveller and person in you.
My Kolkata caught up with Niloy, Founder and Managing Partner, Flying Squirrel Holidays, at his Ballygunge office to get to grips with his vision for Flying Squirrel Holidays, his most enduring lessons from the telecom industry, how he loves to start his days in Kolkata at Tollygunge Club and more.
Edited excerpts from the conversation follow.
Sienna Store & Cafe and Roastery Coffee House are two of my favourites in Kolkata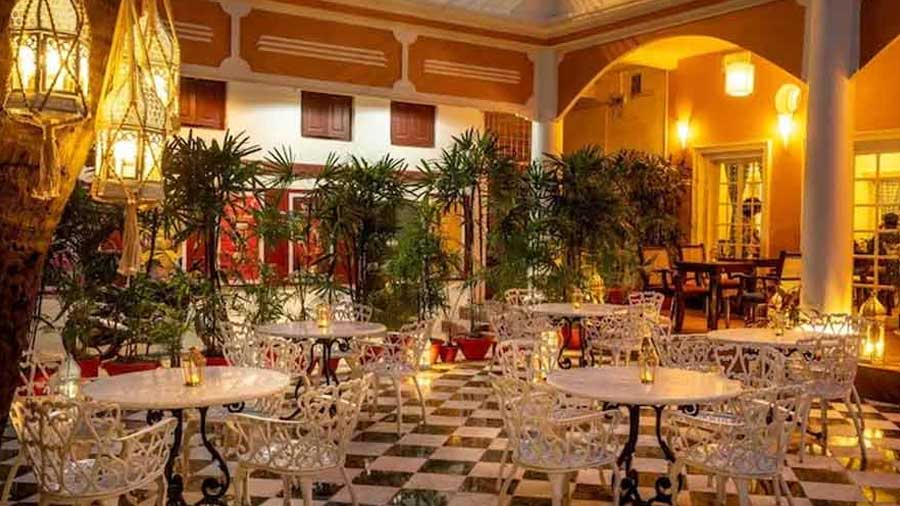 Roastery Coffee House in Hindustan Park is one of Niloy's favourite cafes in Kolkata
TT Archives
My Kolkata: Were you born and brought up in Kolkata? How long did you spend in the city before moving out for the first time?
Niloy Nag: I'm very much a Kolkata boy, born and brought up here in an old neighbourhood of South Kolkata, in the Jodhpur Park area. I did all my studies in Kolkata. The first time I moved out of the city was in 2000, to Madhya Pradesh to join Reliance Telecom after my MBA. Ever since, apart from a four-year stint in between when I was working for Vodafone (erstwhile Hutch), I've mostly been away from Kolkata. 
What are your favourite things to do/favourite places to go to/favourite things to eat  in Kolkata?
I'm mostly at work, because I want to maximise my productivity when I'm in Kolkata. But I spend a lot of time on the tennis courts. I also drop into cafes and restaurants from time to time. Sienna Store & Cafe and Roastery Coffee House are two of my favourites. The explosion of cafes is actually changing the culture, too. A lot of people are coming into cafes to work. I also spend a lot of time at the clubs. Kolkata is unique that way. You can go to a club, sit, eat and chill, without worrying about your next order.
It's easy to fall in love with Dubai
Do you divide your time between Kolkata and Dubai now? How do the two compare?
Yes, I do. I've been doing that pretty much since I started Flying Squirrel Holidays in 2014. I try to come back to Kolkata every two or three weeks. But the pandemic changed everything. I had to stay back in Kolkata for seven months.
It's easy to fall in love with Dubai. It's a city with people from more than 180 different nationalities, a melting pot if there ever was one. It's a great place to learn about people and culture. In terms of similarities with Kolkata, I'd say I feel equally at ease in both places. I'm glad to call both cities my home.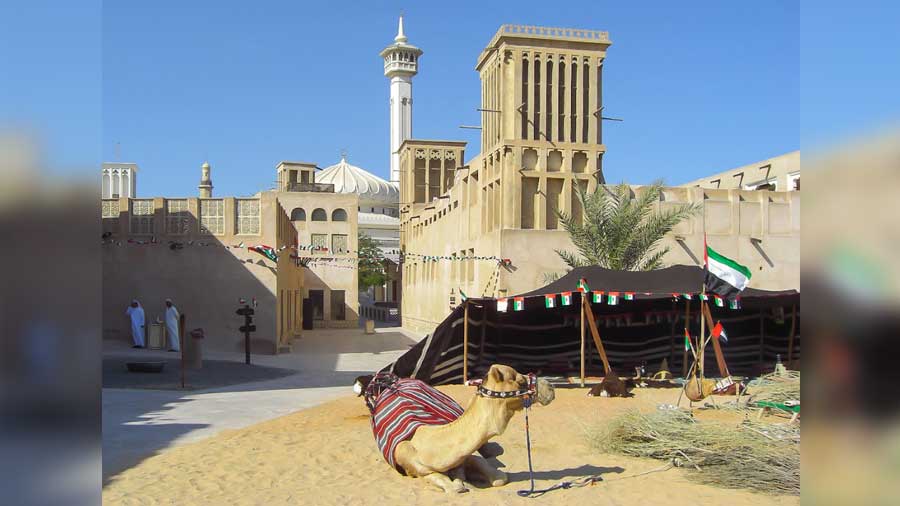 Al Bastakiya is one of the lesser-known charms of Dubai
TT Archives
All the assumptions about the UAE being a very rigid country break down when…
What are the things about Dubai that we will not find in conventional tourist guides or online? 
There's a beautiful part of old Dubai, which has been restored, called Al Bastakiya. There are some really nice museums there, everything from coin museums to archaeological museums to photography museums. There's great architecture, too, but you won't find these on a regular tourism package. Then there's the Sheikh Mohammed Bin Rashid Al Maktoum Centre for Cultural Understanding, where you can sit and have a meal with the locals, learn about their cuisine, culture and way of life. All the assumptions about the UAE being a very rigid country break down when you have experiences like these. Dubai is also a great place for adventure sports, from skydiving to all kinds of water sports to dune bashing, there's so much to do. It has also got the world's longest zip wire.
I was a part of Indian telecom when the product, and not the price, was the centrepiece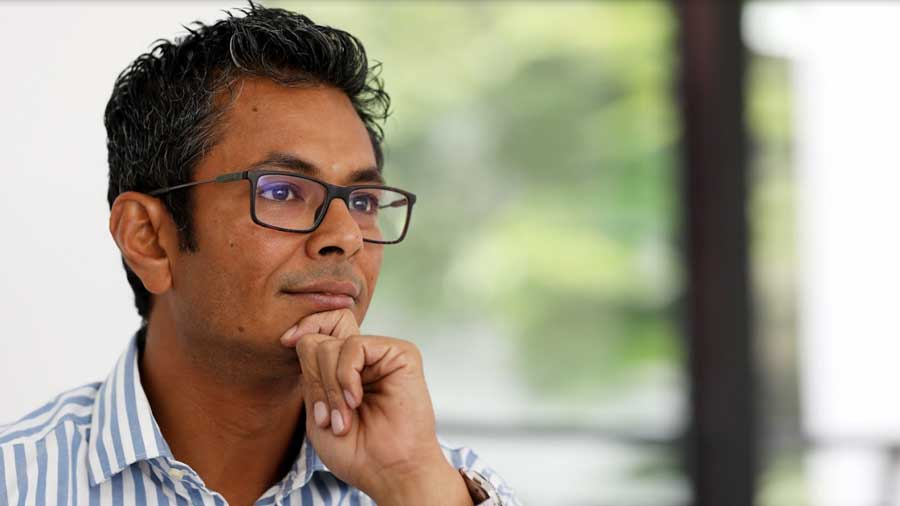 Born and brought up in Kolkata, Niloy moved to Dubai for work in 2006. Ever since his formative years, Niloy had nurtured an interest in all things marketing
Arijit Sen
Let's rewind a bit. After completing your Bachelor's in Science from the University of Calcutta, you went on to do your MBA from the ICFAI Business School. What led to the shift in streams? How did you get hooked to doing an MBA and marketing?
It wasn't really a switch, because I was always interested in brand building and advertising. From a very early age, I used to do these freelance projects in market research or advertising. Every vacation, I'd get hold of something related to marketing or advertising and immerse myself in it. It was quite fascinating for me, just to understand how people would perceive products. I took Science to keep my options open in terms of my career. After my graduation from the University of Calcutta, I got an internship opportunity with an ad agency. Then the results came out and I got admitted into an MSc course. Once the classes started, I realised within a week that this isn't what I'm meant to do. That was the lightbulb moment for me, as my interests lay somewhere else. I quit, gave up my place and continued my internship while also preparing for my MBA. That's how my MBA journey unfolded.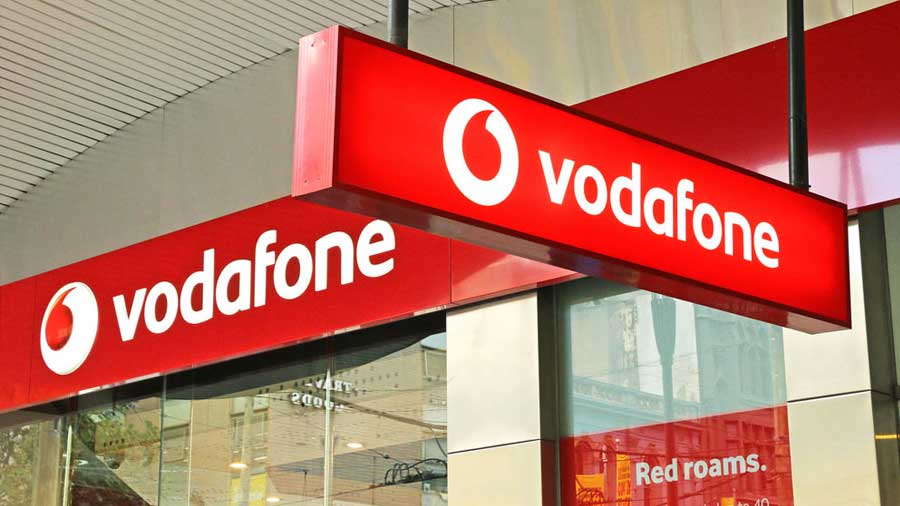 Niloy cherished learning from the best in the telecom industry while at Vodafone
TT Archives
You were the manager of marketing operations for Vodafone between 2002 and 2006 when Vodafone and Airtel were the two biggest players in the telecom field in India. How exciting was that role at that time and what sort of marketing vision did you have to stay one step ahead?
At Vodafone, I had one of the most defining periods of my career. Competition was intense and our sole focus was to keep our number one position in the market. In telecom, marketing isn't just about advertising and promotion. Marketing drives everything. Which is why marketing gave me so much exposure to other departments such as sales and finance. I got to work with some of the great stalwarts from the industry and my understanding of the telecom industry was consolidated at Vodafone.
In terms of vision, we had our own targets that we had to meet. But we also kept a close eye on our competition. Brand identity can only take you so far. After a point, you have to deliver in terms of your product, which is what we had to do. Moreover, back then, I feel there was more room for innovation in terms of the product, something that changed when Reliance entered the field and kicked off the price wars. I was lucky to be a part of Vodafone and Indian telecom at a time when the space and need for innovation and improvisation was at its highest, when the product, and not the price, was the centrepiece.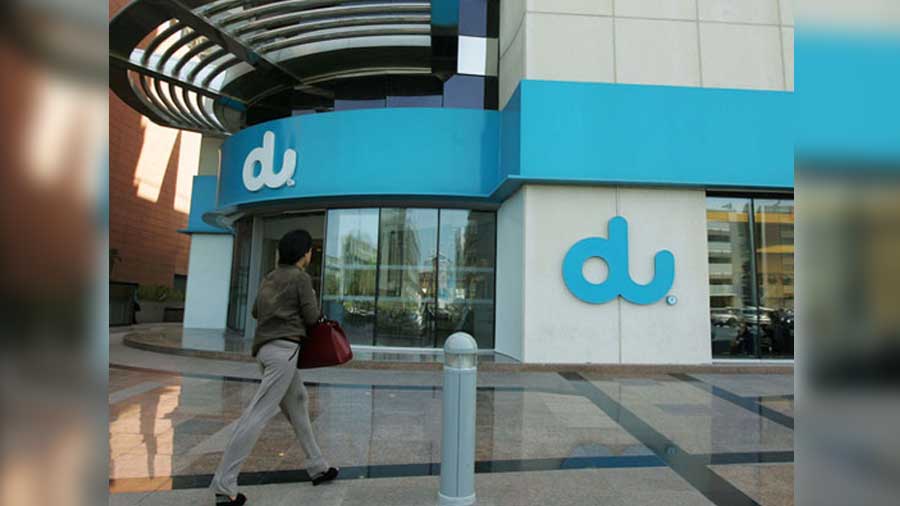 Niloy was an integral part of the team at du that challenged Etisalat's monopoly in the UAE's telecom market
du
After moving to du in 2006, the challenge was to provide a feasible alternative to the state-owned Etisalat in the telecom market in the UAE. What were the hurdles in doing so and what lessons did you learn about marketing in a completely different environment?
Etisalat was a giant, and du was a start-up that had just hit the ground back then. Etisalat initially thought of us as the new kid on the block and didn't react to what we were doing. But we had a solid plan for growth, and within a very short span of time, we touched 50 per cent of the market share. That's when Etisalat woke up, so to speak. Personally, the biggest challenge for me at du wasn't the telecom aspect, it was getting used to a new environment and culture, both of which were instrumental in my role in marketing. Telecom at the time was a sunrise industry. Dubai was buzzing, everyone wanted to get in. We had the best minds, from the Middle East, Asia, Europe, Africa, even the US. But the real challenge was to integrate into the culture and understand what worked in the market. In India, for instance, there are cultural commonalities no matter the region you're advertising in. You also have national television that can reach out to a large section of your target audience. There's no such thing in Dubai. Arabs watch their own television, as do Asians and Europeans. There are no commonalities that you can latch onto in terms of a marketing strategy. So, you've got to keep adapting and curating your message based on your audience. That was a great learning curve for me.
Tourism companies and agencies were just giving me boxed solutions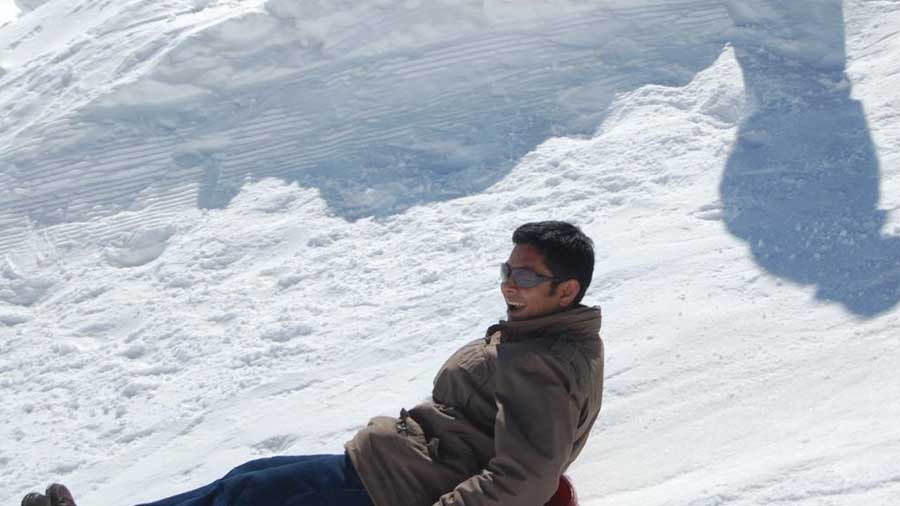 Niloy snowboarding in Switzerland
Niloy Nag
You have always been passionate about travel, but was travel entrepreneurship something you always wanted to do? What acted as the catalyst in 2014 when you founded Flying Squirrel Holidays?
I love travelling, and during the years in the UAE, my family and I travelled to some 50 different countries. I've always loved planning my own holidays, but due to work pressure, I was getting less and less time. So whenever I had to travel, I'd approach a lot of companies and agencies, both big and small. But the willingness or understanding to customise packages according to the traveller's interests was missing. If I went to 10 tourism companies or travel agencies, nine would give me a predetermined itinerary. They wouldn't even look at what I was interested in. They were just giving me boxed solutions. That led me to think: why not, in my own small way, start something that fulfils what travellers like me are looking for?
I pondered over it for a while and then decided that the time was right in 2014 to begin my entrepreneurial journey. I knew that the insights from telecom would really help me, and hence I was ready to move to a new adventure. I chose to set up my office in Kolkata for two reasons. First, I wanted to start from my roots. Second, I knew it would allow me to spend a lot more time at home, which I've always loved.
Unfenced camps in Kenya, tennis on courts where Federer won his 100th title in Dubai, wine-dine in Cape Town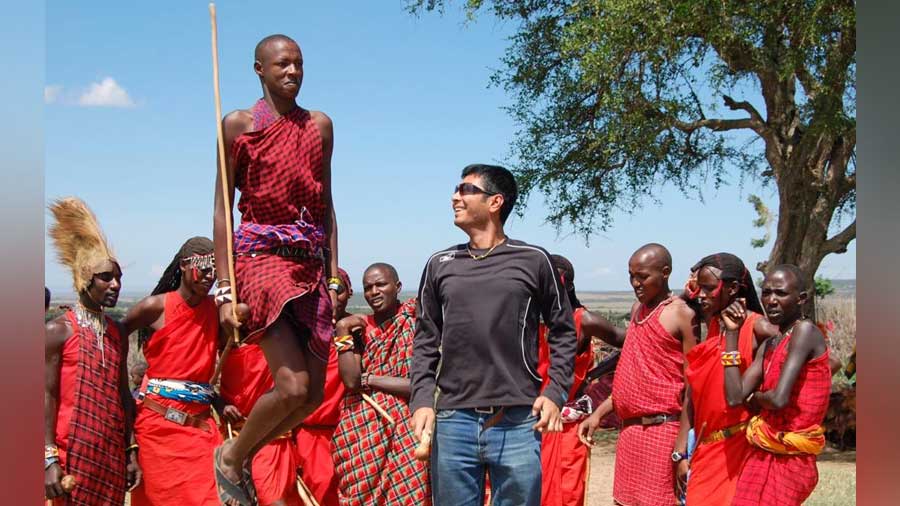 Niloy with people from the Maasai community in Kenya
Niloy Nag
At Flying Squirrel Holidays, you focus on experiential tailor-made holidays around the world spotlighting sports, adventure, wildlife, wellness and even culinary holidays. Could you give us some specific examples from these categories and what sort of holidays these entail?
I'd start with the recent one, which we've done in Kenya – a combination of wildlife and history. The experience we're providing is different because we put you up in unfenced camps. Usually, tourists are put in lodges with electric fences so that the wildlife can't get in. But we'll put you up in lodges and camps that are unfenced, which are only guarded by the local Maasais. They'll be staying up all night to guard you. We take you out on night drives in private conservation areas, which is different because Kenyan parks aren't normally open after sunset. We also acquaint you with the rich history of the Second World War in Kenya, involving the stories of many Indians and the memorials that have been built for them, not something a lot of people are aware of.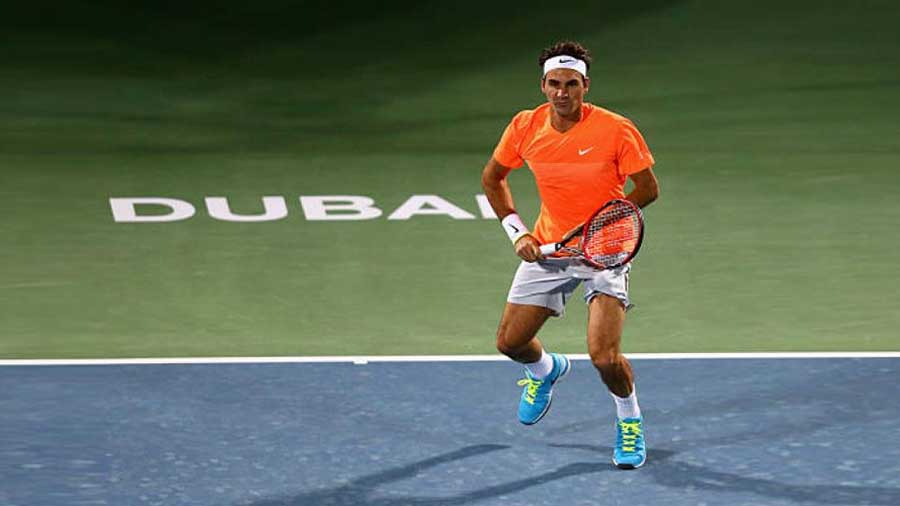 Flying Squirrel Holidays offers the chance to play on the same court in Dubai as Roger Federer
TT Archives
The second one would be a tennis holiday in Dubai. Around the time of the Dubai Open in February, where all the top players are in action, we provide tennis fans with the best tickets for the tournament. Then you can go around the city, whether it's dune bashing or taking a yacht and going into the Arabian Sea. But the best part, especially for tennis enthusiasts, is that we give you the opportunity to play on the same courts where the championship takes place. Imagine Roger Federer or Novak Djokovic playing on the court in the evening; you get the chance to play on the same court as them in the morning.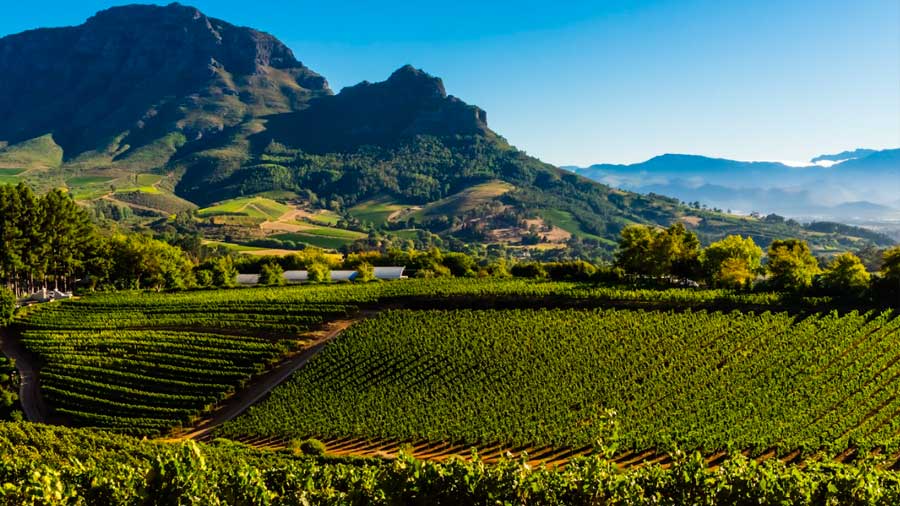 The picturesque vineyards of Cape Town, part of the customised package provided by Flying Squirrel Holidays
Blaine Harrington/Getty Images
My third pick would be a wine holiday in South Africa. Around Cape Town, there are some beautiful places in the Stellenbosch and Franschhoek areas. The idea is you go there for a few days and indulge in wine tasting and some lovely food, then head to Cape Town and check out everything the city has in store. So, it ends up being a beautiful week of wining-and-dining.
During the pandemic, we didn't stop our digital marketing activities even for a day
How important has digital marketing been to the success of Flying Squirrel Holidays, especially in the context of the pandemic?
At Flying Squirrel Holidays, we started with digital marketing quite early, when most travel companies didn't even know what digital marketing was about. When you have a small unit like we had, you can't do the media spend required in traditional media. So, digital marketing was, and remains, our best option, since it provides a guaranteed return on investment. 
During the pandemic, we didn't stop our digital marketing activities even for a day. We knew that people couldn't travel then, but we kept creating content to keep our audience engaged. We started blogs, kept up our social media posts and even built a new website. It wasn't an easy call to make, because financially, just like the rest of the industry, we weren't in a great place. But we still took the call, believing it'd pay dividends in the time to come. It took us several months of intense work to build our website, and it paid off, as our traffic increased by more than 20 times.
Vietnam is becoming the new Thailand in terms of tourist interest from Kolkata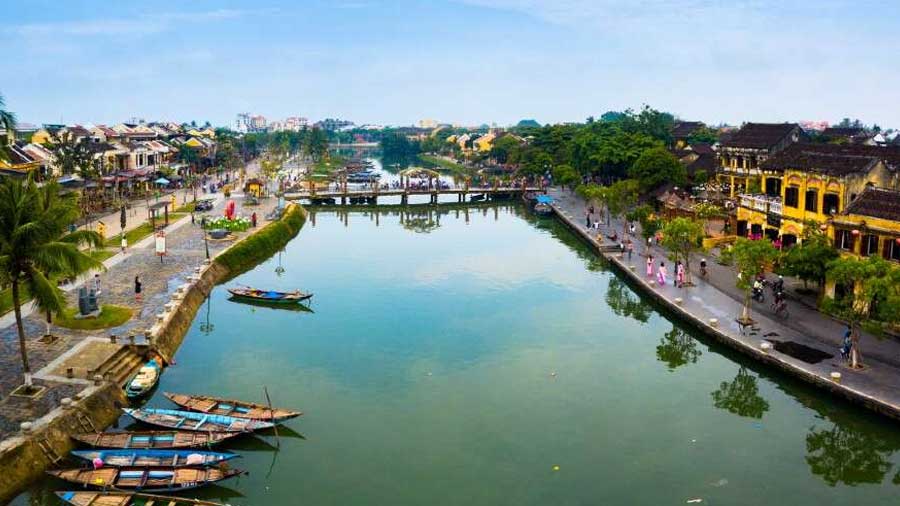 Vietnam is fast gaining popularity among travellers from Bengal
TT Archives
What travel trends from Bengal/Kolkata and into Bengal/Kolkata can you share with us?
Ever since things reopened after the first few waves of the pandemic, Kashmir has been one of the top destinations for Bengalis. Uttarakhand has also become very popular, of late. Internationally speaking, Europe is always a popular choice for those from Bengal, as is Vietnam, which is soon becoming the new Thailand in terms of tourist interest from Bengal and Kolkata.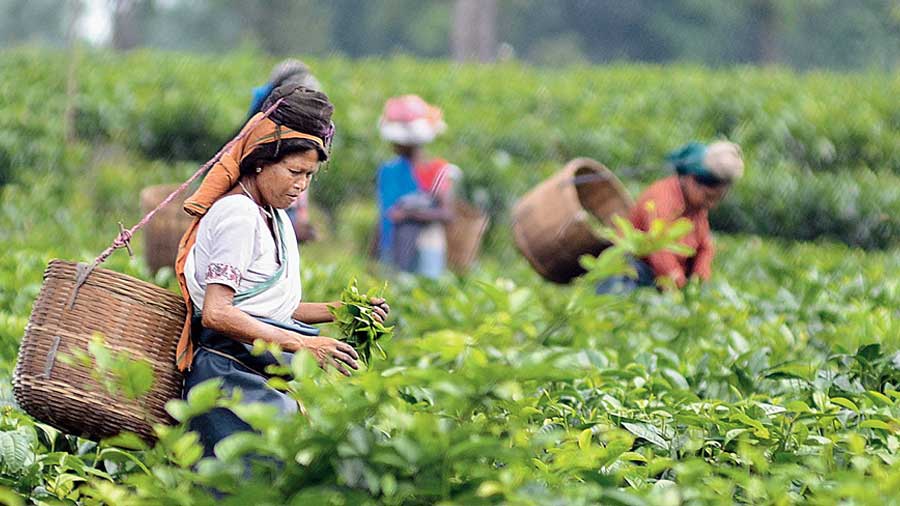 The tea estates in Darjeeling can make for a fantastic vacation destination, according to Niloy
TT Archives
As for travel trends into Bengal/Kolkata, I think Bengalis got to know their state much better over the past two years, given that travel options outside were limited. There are some great places coming up for drive-in holidays in Purulia and Murshidabad, from where you can drive into North Bengal. There's also Dooars and the hills. There are so many great properties coming up in those regions. At Flying Squirrel Holidays, we've also tied up with tea estates, such as in Darjeeling, so that our customers can go stay there in the tea bungalows and have a unique experience taking in nature, going fishing, visiting orange orchards and having picnic lunches in addition to the usual list of things people do in Darjeeling.
We need to take Bengal to the world across digital platforms, travel marts and summits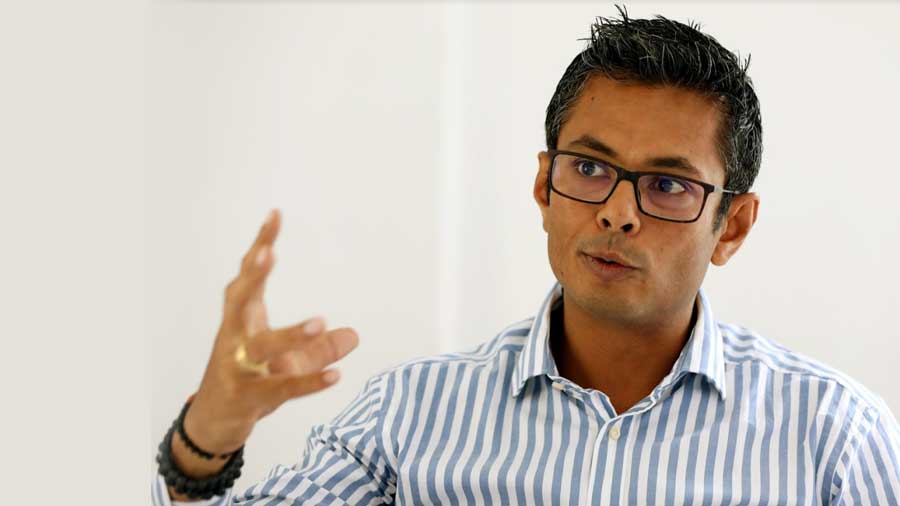 Bengal needs to tell its story better to outsiders, feels Niloy
Arijit Sen
What do you think Bengal can do to attract more tourists?
Bengal was the fifth largest tourist destination in India, as per the last count in 2019. So, we have a strong base already. Moreover, we're the only state in India where you have everything from the Himalayas to the tea gardens to the mangroves and the sea. There has been a fair amount of development in terms of new facilities, with the government refurbishing a lot of the lodges. But where we need more attention is the positioning part. We need to take Bengal to the world in the same way that other states, or India as a whole, has been doing across digital platforms, travel marts and government summits. More stakeholder engagement is required that identifies and promotes the selling points of Bengal better.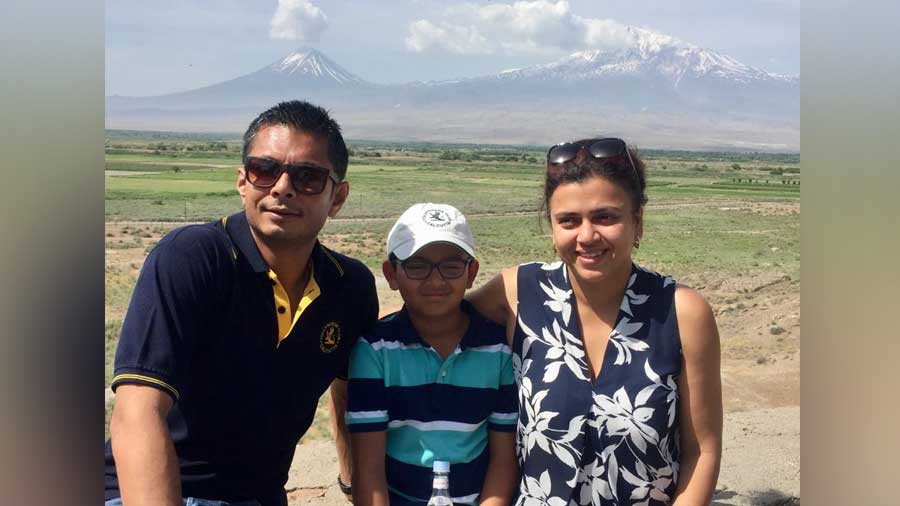 Tolly Club really kickstarts my dayNiloy with his son Aadit and his wife Esha Nag on Mount Ararat in Armenia
Niloy Nag
When not working or travelling or both, how do you zone out; what are your other hobbies or interests? And how vital is starting the day at Tolly Club for you?
I spend a lot of time playing tennis. I also enjoy walking, that's the time for me to think. I like reading, especially about people who changed the world with their thoughts. Currently, I'm rereading Steve Jobs's biography by Walter Isaacson and getting inspired again.
On the second question, Tolly Club really kickstarts my day. I play some tennis, spend some time at the gym, maybe have a cup of coffee with friends. It's the perfect start to a day. I'm an early riser and before office I can get all of that done at Tolly, which is lovely. 
A hit in the middle at Wimbledon, diving in Bali, solo trip to the Himalayas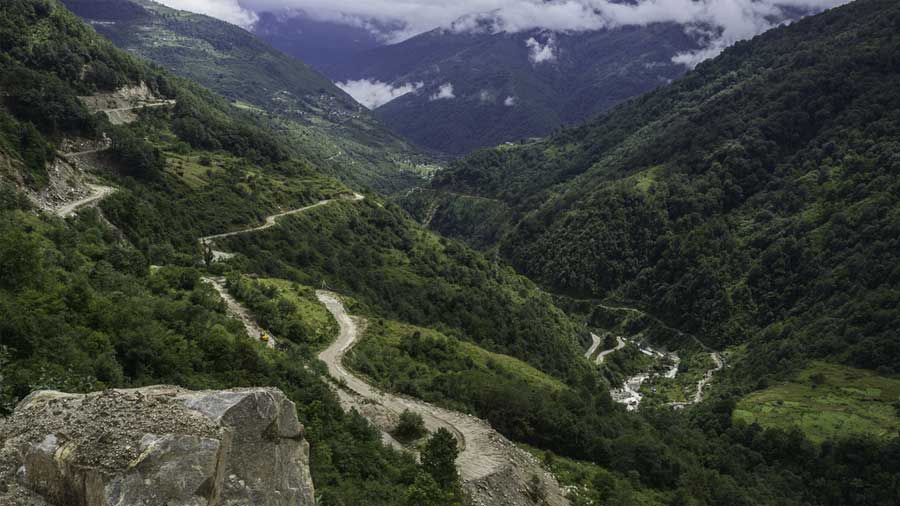 At some point, Niloy wants to embark on a solo trip to the Himalayas
TT Archives
If you could do three things in any three cities across the world, what would they be and why? Would playing tennis with Roger Federer at Wimbledon be one of them?!
Well, you don't usually take on gods! But, of course, I'd love to have a hit in the middle at Wimbledon with Federer. Even a short session would last a lifetime in terms of insights and memories. Apart from that, I'd really like to go diving in Bali. That's something that's been on my agenda for a while. The other thing that's been on my mind is a solo trip to the Himalayas, where I'd just like to walk and think. Just me, myself and my thoughts. 
Finally, what would be your advice to the young Niloys in Kolkata who have big dreams in entrepreneurship or marketing or both?
First thing is you have to find your passion, have a dream. Without that, you'll end up directionless. Then, you have to be unifocal  in terms of how you go about realising your dreams in spite of the challenges that come your way. There will be times when you want to give up. But those are precisely the times when you must continue. There's no such thing called luck and there's no shortcut to success. Hard work matters a lot, as does patience; be prepared to fall a hundred times and get up a hundred times while working on your goals . Don't give up on your dreams even when the road seems extremely difficult as success may just be around the corner.