Rishika Banerjee started karate lessons when she was just four. The 15-year-old student of La Martiniere for Girls recently emerged as the winner in the Under-16 women's category at the 11th European Open Championship of Karate Kyokushinkai organised by IKO 3 Matsushima.
Karate kid Rishika was the sole candidate from India to take part in the championship held at Santa Susanna in Spain this year.
Karate flows in her blood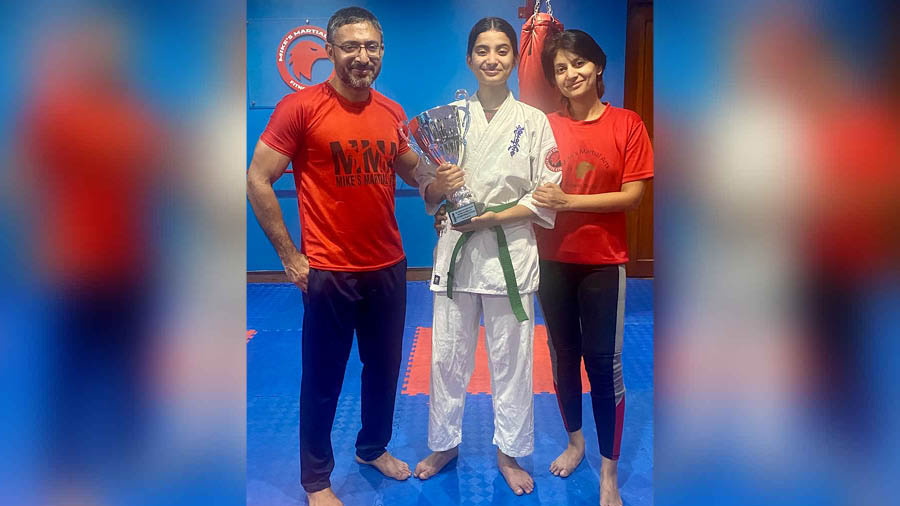 Rishika with her parents Mayukh and Sharanya Banerjee
Rishika's karateka parents were a driving force and motivation for her to not only take up the sport at an early age but to also fall in love with it.
Rishika's father, Mayukh Banerjee, is also her coach. He is a black belt in Shotokan and a 3rd Dan in Kyokushin. He has also trained in various other martial art forms internationally. He was in the merchant navy and left his profession to pursue his passion for the sport and to set up his own dojo (a school for training in various arts of self-defence), Mike's Martial Arts, in Kolkata. Rishika trains under the same academy. Mother Sharanya Banerjee is also a black belt in Shotokan karate and a green stripe in Kyokushin karate.
"I started very young and my parents were my biggest inspiration. They supported me and nurtured my talent. Their faith in me takes me ahead," Rishika said.
She started training in Shotokan style and earned a black belt after seven years of training. Simultaneously, she had started training and mastering the full contact Kyokushin style. She is currently a green stripe in Kyokushin.
Juggling academics and karate
Rishika is currently a Class X student at La Martiniere for Girls and her father terms her as an average to above average student. She tries to maintain balance between her sport and academics.
Rishika, who practises twice a day before and after school hours, said: "My board exams are next year, so it's a crucial time for me. While I can't ignore studies, I will have to also carry on with my karate. The focus will be on both. When I am studying, I only focus on it and the same applies to for karate. There shouldn't be any overlap."
Karate for the body and mind
Apart from keeping fit, Rishika has noticed that karate has helped her with personality development and mental well-being. "While it keeps me fit physically, karate has also helped me with developing concentration, confidence, patience and mental well-being."
Rishika also feels that learning this self-defence skill is important for girls. "I never had to use my karate skills but I feel safe and confident that I will be able to defend and protect myself if needed. I think every girl should be trained in karate so that they are also able to protect themselves," said the girl, who is an inspiration to many juniors at her school and karate academy.
When not Karateing, Rishika is…
"Watching movies and listening to music," she replied. An ardent fan of soft rock, she loves listening to bands like Arctic Monkeys and The Weeknd. She also binge watches on web series in her free time. The Umbrella Academy on Netflix is her current favourite show.
As a child, she also took keen interest in dancing, singing and drawing. However, as she grew up, she realised that karate was her sole passion that required more of her time and dedication.
All feathers in her cap till now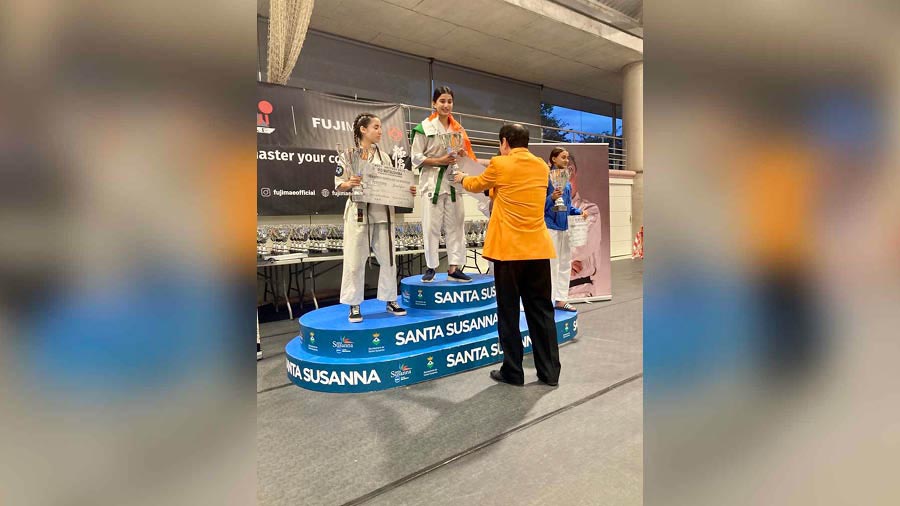 Rishika receives the trophy at the 11th European Open Championship of Karate Kyokushinkai in Spain
Rishika has several international, national and state-level accolades to her credit. Between 2022 and 2023 she has already won about five titles.
She was the champion at the All Bengal SBKR Open Full Contact Karate Cup (21 March, 2022), Arnab Memorial Cup West Bengal State Kickboxing Championship (May 19-20, 2022) and National Open IKOKS Karate Championship (Dec. 16-18, 2022). She also won the All India SBKR Open Kyokushin Karate Championship (Dec. 26-28, 2022). Rishika started the new year (2023) by winning All Bengal Open Karate Tournament (IKA) (Jan. 14-15 2023) - Champion in Kata / runners-up in Kumite.
Now, she also has the 11th European Open Championship of Karate Kyokushinkai winners' trophy on her wall of fame!
Preparing for the European Open Championship of Karate Kyokushinkai
Rishika Banerjee represents her country in the 11th European Open Championship of Karate Kyokushinkai
Rishika said that she practised harder for this championship. Although she was not nervous, she says that the zeal to win was there from the beginning. Apart from regular training, she also has to keep her weight in check. "These championships require me to be a certain weight. So for that I try to include a lot of protein in my diet and avoid cheat meals."
Explaining what is Kyokushin style, Mayukh Banerjee said: "Karate is divided into kata (or form) and kumite (or sparring). Kumite events are further subdivided into two categories – full contact or light contact. There is only one major full contact style in the world – namely Kyokushin (under IKO – International Karate Organisation). Light contact, on the other hand, has several major styles like Shotokan, Goju Ryu, Shito Ryu and so on (under WKF – World Karate Federation). It is the light contact category of karate that we recently saw debut in the Tokyo Olympics."