For 25-year-old Jyotishka Biswas, who runs the fledgling trekking company The Trekking Buddha, the mountains have always been his first love. He moved to Kolkata at a young age, but being born in the mountains of Arunachal Pradesh meant that hills have been a constant companion.
With his new venture, he has been taking people on treks to Goecha la, Sandakphu, Hampta Pass and Beas Kund, among other spots. While he has found his professional calling with this venture, Biswas' mountain adventures truly began in 2018, with a trans-Himalayan trip.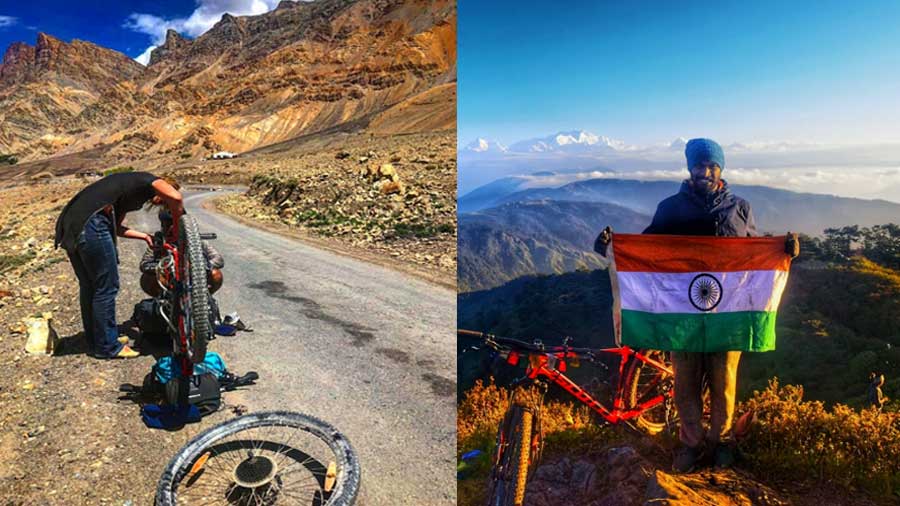 There were as many lows as highs in the 200-day journey, which spanned from the northern states of Kashmir and Uttarakhand to Sikkim and even Nepal
Courtesy: Jyotishka Biswas
Cutting through mountains
A Himalayan expedition is a dream for many and Biswas is one of those lucky people for whom this dream became a reality. The story of his journey is a little different from the usual ones though, because he traversed the 8,000-km route on a cycle. 
On May 13, he began his trip from his village Karimpur in Nadia. It took 40 days to reach his first destination, Gulmarg, travelling via Delhi and Jammu. For the next few days, Biswas cycled through the mountain routes of Kashmir valley and Ladakh. From Gulmarg, he went to Sonmarg and took Zojila Pass to Dras, which is considered the second-coldest inhabited place on Earth. Biswas then explored the winding high passes — Namika La and Fotu La — in the Zanskar range, going from Kargil to Leh. Before taking a break in Leh, he also travelled to Thang village in Siachen.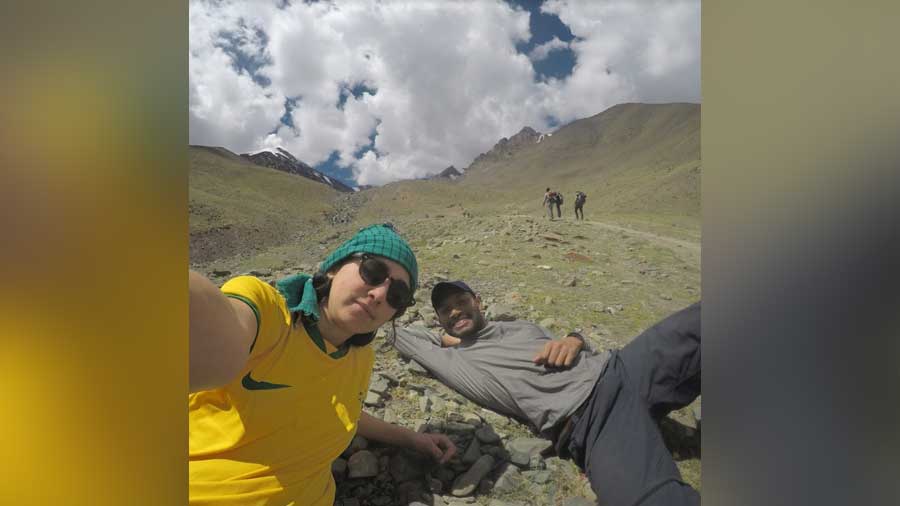 Biswas's first trekking experience was Stok Kangri, which he completed with friend and mentor Malline Vinne
Courtesy: Jyotishka Biswas
Reaching new heights
During the two weeks he spent in Leh, Biswas met Brazilian traveller Malline Vinne, who became his friend and mentor. Together, they completed the Stok Kangri trek, which was the cyclist's first trekking experience.  
From Leh, his journey took him to Himachal Pradesh. He took the route along Leh-Manali Highway, cycling to Manali through Tanglang La and Nakee La. From the Himachal hill town, he explored a few other passes on his bike, before deciding to wind down in Manali to build up his near-exhausted funds.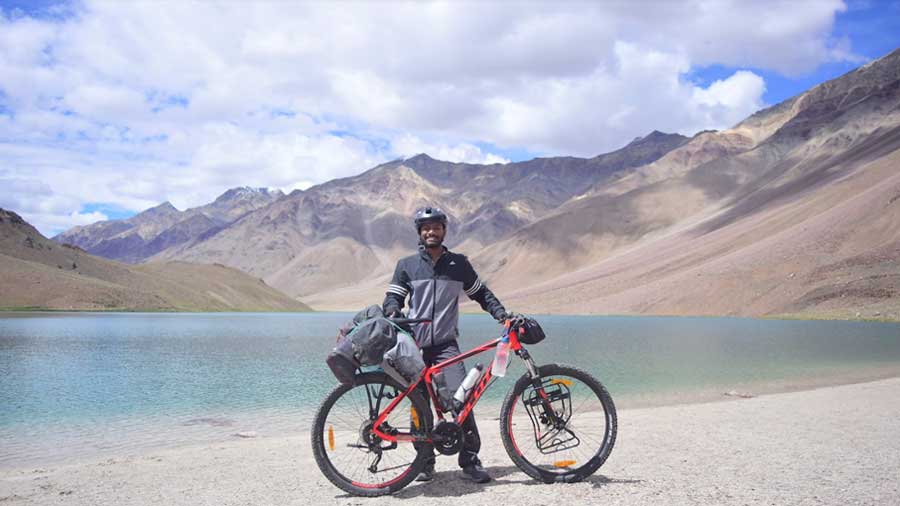 Jyotishka Biswas with his trusted bike in front of Chandra Taal in Himachal Pradesh
Courtesy: Jyotishka Biswas
Biswas took a housekeeping job at a local hostel to make some money. A welcome surprise came in the next couple of weeks in the form of support from mountaineer Satyarup Siddhanta, who offered not only financial backing but also gave Biswas moral impetus. He resumed travelling and went to Spiti valley, where he cycled to the world's highest village — with the highest post office — Hikkim, and Kaza.
From Spiti, the exploration continued with Kinnaur's Reckong Peo, Shimla, and Pokhara and Kathmandu in Nepal before Biswas headed back towards Bengal. The last leg of this cycling expedition involved exploring India's northeastern mountain roads. Cycling through Sikkim, Biswas made his way to Guwahati and then Pasighat in Arunachal. Biswas chose to end his journey in the state that he was born in at the foothills of the Eastern Himalayas. It took 200 days from the time he left Karimpur to complete this epic adventure.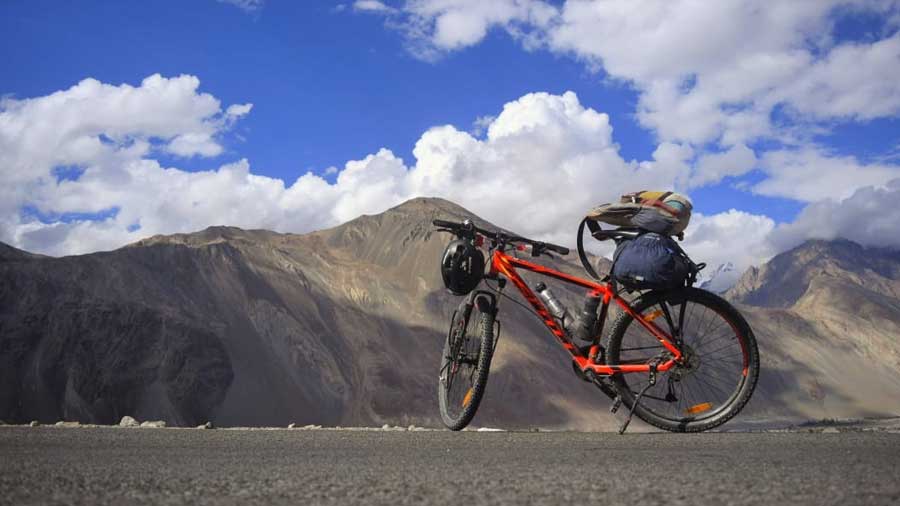 One of the stops in the journey was the Thoise airport in Ladakh's Nubra region, which is located on the only large stretch of flat land in the area
Courtesy: Jyotishka Biswas
Finding new journeys
In 2019, Biswas revisited Meghalaya, two years after his first visit and this time with his trusty bike. He travelled to Riwai near Mawlynnong, where he took up a completely new challenge — teaming up with his friend and Riwai local, Malin Khongram to organise a clean-up drive. They took to social media and helped gather funds through posts on Facebook and Instagram.
Gradually, they roped in the people of the village and began to clear the area of the plastic waste. On completing the clean-up, they contacted a local recycling company and sold the collected trash for Rs 70,000. The money was then used to rebuild the local football ground. Khongram is now employed to look after the ground and the cleanliness of Riwai.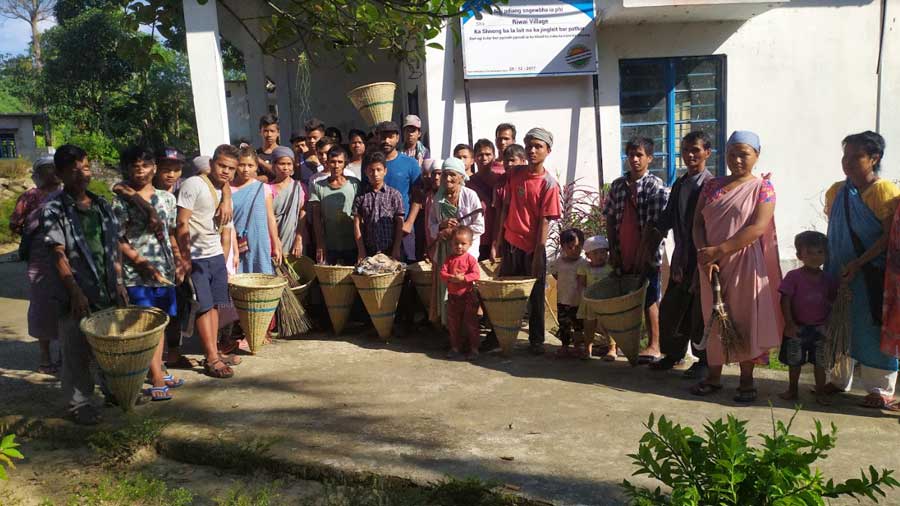 On a cycling holiday to Meghalaya, Biswas worked with the residents of Riwai village to organise a clean-up drive that raised funds to revamp the local football ground
Courtesy: Jyotishka Biswas
While spending time in Meghalaya, Biswas had already begun planning for his next big cycling adventure, this time from Kanyakumari to Kashmir. In fact, the residents of Riwai bought him the flight tickets to travel from Guwahati to Bangalore as a token of thanks.
Unlike his Himalayan adventure, for this trip he decided to use an everyday cycle that costs just Rs 1,500. He wanted to highlight that you don't always need an expensive bike to undertake a journey.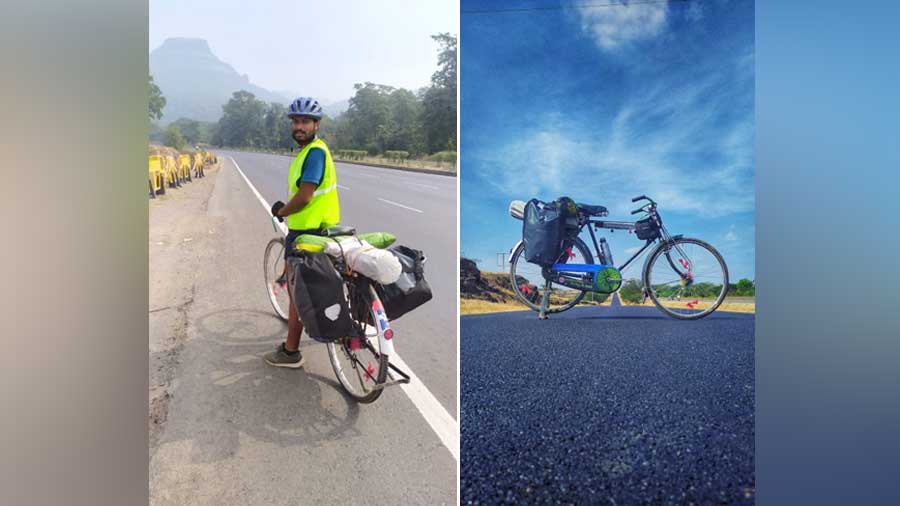 In 2019, Biswas decided to cycle from Kanyakumari to Kashmir on an everyday cycle, but had to cut the trip short due to the pandemic
Courtesy: Jyotishka Biswas
Cycling and beyond
The last two years have not been easy for travelling due to the pandemic, but Biswas managed to make a few short cycling trips. On a cycling holiday to Plassey in Berhampore this November, he met music director Shantanu Moitra and plans to go on trips with Moitra exploring the stretches along Brahmaputra, Narmada or even the Himalayas in future. Biswas also believes in travelling responsibly and wanted to highlight that along with cycling through his journeys. "Even if two people are motivated by this, I will be happy," he says.