Ambia Perveen was only five years old when she left Myanmar. She belongs to a family of Rohingyas, Muslim natives of Buddhist-majority Myanmar. The 40-year-old tells The Telegraph over email, "I was labelled a 'kalar' [a Myanmarese racial slur used for immigrants] even by my teachers."
"Kalar" is a term equivalent to nigger, says Ro Nay San Lwin, who was born in the Buthidaung township of Rakhine and raised in Yangon, Myanmar's largest city. Lwin is a Rohingya too and lived in Myanmar till 2001. He is 40. His experience is not very different from Perveen's. "We were subjected to humiliation. Even the neighbourhoods and streets were not safe for us," he says.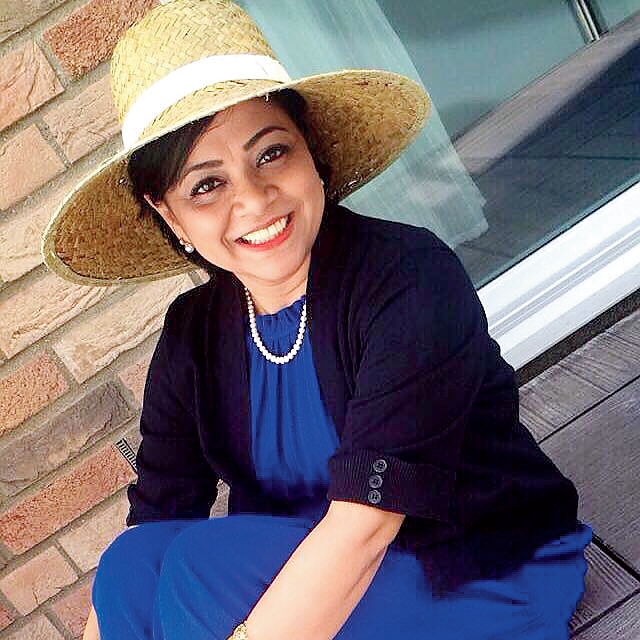 Ambia Perveen was only five years old when she left Myanmar
Image: The Telegraph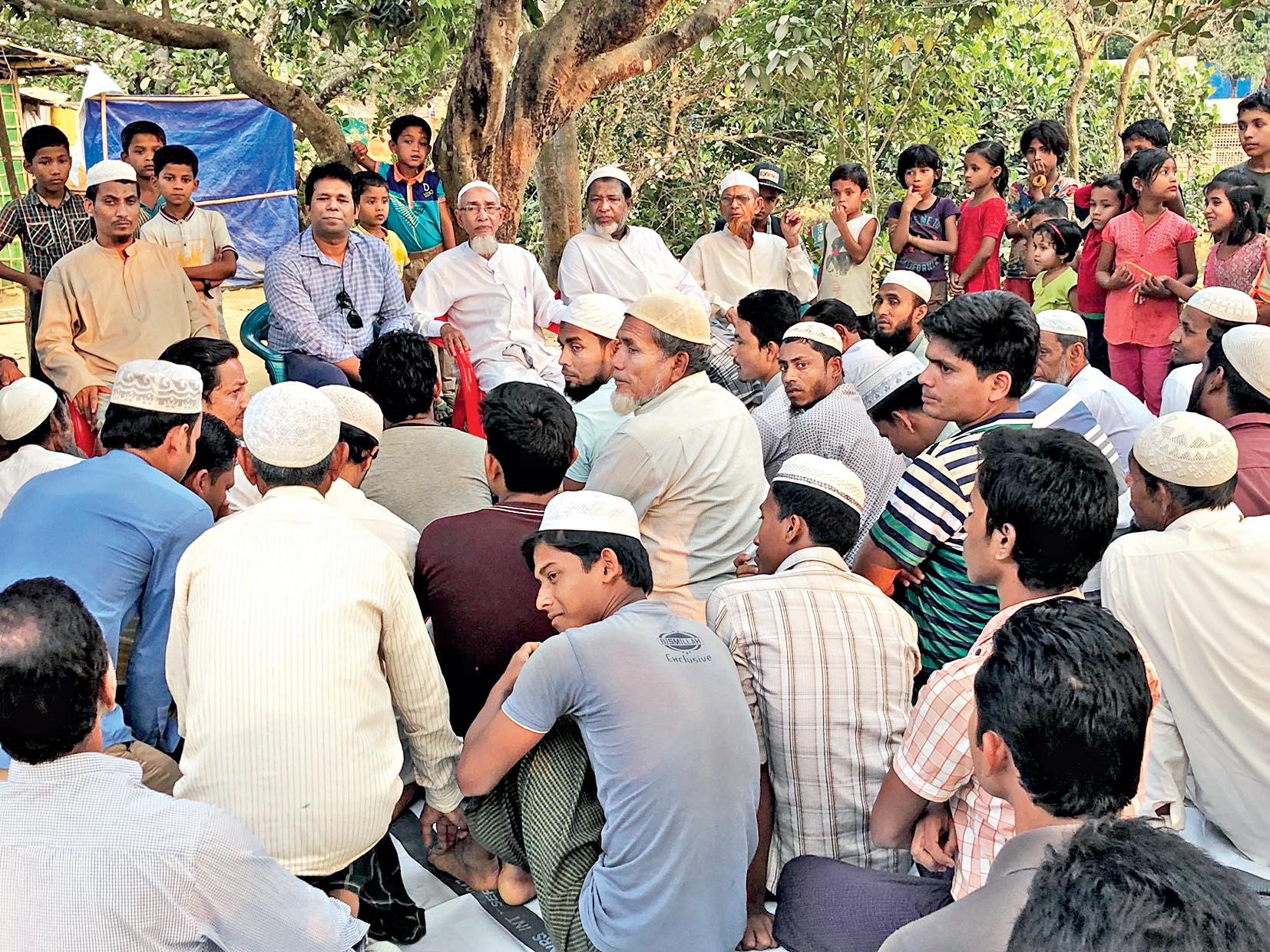 Tun Khin with Rohingya leaders at a refugee camp in Bangladesh
Image: The Telegraph
Perveen is based in Schleswig in Germany. Likewise Lwin, though he does not reveal his location for security reasons. Both have been lucky to get a new lease of life after escaping discrimination and atrocity in the country of their birth. And now, by way of payback, they are trying to help over 10 lakh displaced Rohingyas who have fled to Bangladesh.
Lwin, who is a full-time activist, has been campaigning for the Protected Return to Protected Homeland plan — an initiative floated by Rohingya activists across the globe. Perveen, a paediatrician and child psychiatrist, has been urging the European Council for "a clear and unequivocal response" on the atrocities on Rohingyas by recognising it officially as genocide. She also wants the European Union (EU) to bring in a trade embargo and temporarily freeze all EU projects in Myanmar until the Aung San Suu Kyi government accepts Rohingyas as citizens.
"We have been knocking at the door of the United Nations (UN) and the western world. Even the UN Security Council has an abundance of evidence [to prove] that the Myanmar government has been persecuting Rohingyas," says Perveen, who is vice-chairperson of the European Rohingya Council, an organisation established in Denmark in 2012.
London-based Tun Khin, who was born and brought up in the Rohingya-dominated Arakan state, and has witnessed atrocities, set up the Burmese Rohingya Organisation in the United Kingdom along with others way back in 2005. Its goal: to tell the world about the human rights violations in Myanmar. He has since briefed the US Congress, the Swedish Parliament, the European Commission and the UN Human Rights Council about the misery of his community. "Our focus is to find a permanent solution... instead of just talking about repatriation," says Khin, who was forced to leave Myanmar in 1997.
Human rights violations against Rohingyas began in the mid-1970s. They suffered crackdowns, rape, torture, arson and murder by Myanmar security forces. In 1982, lakhs were rendered stateless when a nationality law excluded them from the list of communities considered "indigenous". This move restricted their access to education and health services. They lost their right to vote and practice their religion freely. Subsequently, many fled to Bangladesh, India, Malaysia, Thailand, Saudi Arabia.
Perveen argues that there is historical evidence aplenty that Rohingyas are ancient inhabitants of Arakan. Their existence can be traced back to 700-800 AD. She is trying to hold up that history before the rest of the world.
History says many Arab ships were wrecked near Ramree island in the Rakhine state — the early name for the Arakan province in western Myanmar — during the rule of Mahataing Sanda (788-810 AD). The crew and traders were Muslims and they were sent to Arakan, where they settled down eventually. As per The British-Burma Gazetteers of 1879, many dargahs were found along the Arakan coast. There was other evidence to show that the Muslims of Arakan were mostly descendants of slaves captured by Arakanese kings. Muslim prisoners and slaves from Bengal and north India were also brought to Arakan to serve as mercenaries in the Arakanese Army.
The term "Rohingya" can be found in a 1779 research carried out by Francis Buchanan, a British medical doctor, researcher and traveller.
Till the early 1970s, some Rohingyas held important posts in the Myanmar legislature. Lwin's great-grandfather was a member of the Constituent Assembly and Khin's grandfather was parliamentary secretary. According to Perveen, there used to be radio programmes in the Rohingya language till the mid-1960s.
Perveen's family used to live in Yangon, where her father worked in a government-owned factory. She recalls, "Once we went to visit my grandmother in the Arakan state, the government never allowed us to go back to Yangon. They did not allow my father to continue his job. We were forced to leave the country. We went to Bangladesh first and then Pakistan, Saudi Arabia, the UAE and then Germany." Lwin's parents worked in the education department. "There were no promotions for Rohingyas in government jobs. Sometimes, teachers boycotted the children. We were strangers in our own land," says Lwin. Rohingya activists claim that over 3.5 lakh Rohingyas are still living in camps in the Arakan state.
As life became difficult in Myanmar, Lwin's father shifted to Saudi Arabia in 1993. In 2001, Lwin started working in Saudi Arabia. In 2007, his Myanmarese citizenship was scrapped. In 2011, he got political asylum in Germany. Today, he is a co-ordinator of the international group, Free Rohingya Coalition.
Lwin visited the Rohingya camps in Bangladesh earlier this year. He says, "We are trying to facilitate formal education for the children; they must not languish in camps forever." Perveen and her two sisters, Anita and Yasmin, both doctors, are all set to visit the Rohingya camps soon.
Over 10 lakh Rohingyas, driven out of the land of their birth by the Myanmar Army between 2012 and 2017, are living in camps in Bangladesh. Facing international pressure, Myanmar signed a repatriation pact with Bangladesh, but the process that was supposed to begin in January is yet to take off.
In April, one Rohingya family was taken back by the Myanmar Army but there were allegations that the family worked as spies for the armed forces in the refugee camps at Cox's Bazar, Bangladesh. Now, Rohingyas are being offered national verification cards — meant for foreigners.
When Myanmar social welfare minister Win Myat Aye visited the Rohingyas at the Kutupalong camp in Cox's Bazar, their leaders there handed him a 13-point charter of demands. This included, among other things, abolition of the National Verification Card, citizenship and closure of all camps for internally displaced people at Arakan and Sittwe.
Saudi Arabia-based computer network engineer Soe Thu Moe, who runs the site aungaungsittwe.com along with Arakan-based blogger, Aung Aung, has extended family in Kutupalong camp in Cox's Bazar. These days he is using his website to publish news stories related to the Rohingyas. "The idea is to make Myanmar a multi-cultural country. We don't want persecution of people based on race and religion," says Moe, who left Sittwe town in 2002.
It seems, despite being thousands of miles away from Myanmar, Rohingyas abroad continue to live in fear. Lwin says he does not like to use his Muslim name for fear of being mistaken for a Bengali from Bangladesh. He has been facing threats from Burmese Buddhists.
But nothing can stop the diaspora from working for their displaced people. "Our people must stand on their feet, that's the goal," says Lwin. Perveen agrees. "We want to empower our youth so that the next generation is not lost in transition camps."