Yogi's Gorakhpur has become a cow sanctuary
Yogi Adityanath's favourite cow, Nandini, has been moved to Lucknow, residents annoyed with bovine intervention say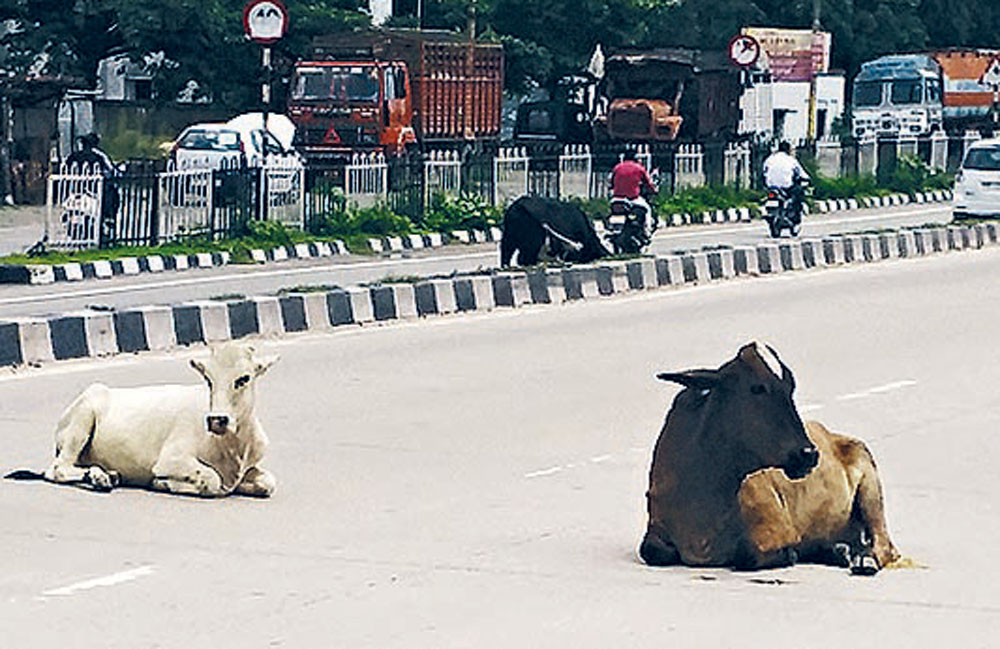 Cows relaxing on NH 28 between Gorakhpur and Lucknow
Photo: The Telegraph
---
Published 27.10.18, 05:30 PM
|
---
Not long ago, a special ambulance service was launched by the state government for injured cows. But a senior official at the local Baba Raghav Das Medical College tells me that most of the trauma patients at the hospital are those who injure themselves after bumping into a straying bovine or those who have been hit by a speeding vehicle while trying to save one.

Not just that, cows often enter hospital wards, saunter into the Emergency. "But you can't complain," says the official haplessly as he stares at the notepad, one with the image of a smiling Adityanath on it.
While taking a rickshaw ride from Basantpur to Golghar, I ask the rickshaw puller, "There are so many cows here, people in this city must be worshipping them?" He retorts, "Who will worship them, Madam!" He adds as he pedals away, "Itna pareshaan kar diya hain inhone. Inke liye traffic jam ho jata hai. Lekin inka aap kuchh nahin kar sakte hain… They have made our life hell. These cows create terrible traffic jams but one cannot say anything or do anything about them."
Next day, the taxi driver takes me to Adityanath's Gorakhnath math, but entry is restricted for some reason. Instead, I find myself being regaled by the locals with stories of the math.
They tell me how this math is the epicentre of the Hindutva brigade and how its former head, Digvijay Nath, was arrested for inciting Hindus to kill Mahatma Gandhi barely three days before his assassination. It's an open secret that the math always calls the political shots in Gorakhpur. Apparently, BJP's Upendra Dutt Shukla lost the Lok Sabha by-elections after Aditynath vacated the seat because Shukla was not the mathadheesh's choice. A shopkeeper tells me that while the math promotes the Hindu versus Muslim agenda, most of the caretakers in the gaushalas of the math are Muslims.
Once again, the discussion revolves around cows. The taxi driver also knows something about the cows of the math. Adityanath's favourite cow is one Nandini, who used to live along with 500 others in the gaushala here but has now been taken to Lucknow, he says.
Adityanath had earlier promised to move all the stray cows of Gorakhpur to Lucknow but nothing has happened. Didn't he propose to build shelters for cows across districts, I ask. "Wait and see, what all he builds and when," he says, this time with not a little annoyance. He adds, "The CM has also promised to build flyovers and expressways, you know…"
It is not difficult to read his mind. Gorakhpuris don't want those flyovers and expressways to be crowded with cows.
The moment I land in Gorakphur and step out of the one-shed airport, I am reminded of an essay, supposedly penned by an IAS aspirant from Bihar. The topic is the cow. The essay, in problematic English, read somewhat like this: "He is the cow. The cow is a successful animal. Also he is four footed. And because he is female, he give milks, but will do so when he is got child. He is sacred to Hindus and useful to man. But he has got four legs together. Two are forward and two are afterwards. His whole body can be utilised for use…"
Gorakhpur is swarming with cows. On the roads, lone cows stand brooding. There are also small clusters, seemingly immersed in confabulation. I must admit, at times I felt intimidated by their broad faces, wide mouths and big noses. Even if they disappeared from a particular junction, it did not take me long to understand that they would reappear soon enough.
I desperately want to share a laugh with a local on this matter, but I am scared as this would mean I am ridiculing cows. I may just get lynched, who knows? After all, I am in the land of Uttar Pradesh chief minister Yogi Adityanath, who also has the distinction of being five-time MP from Gorakhpur, and he has expressed his love for cows time and again.
He has espoused the importance of gau raksha, or cow protection, on several platforms. He has never criticised the self-styled cow vigilantes who have allegedly killed Muslims and Dalits for skinning cows or storing and eating beef. Instead, he has encouraged them to do more than raise slogans.
Someone I interviewed says what has been on my mind, "Please don't say anything about cows. This is Gorakhpur, they can even kill you…" Gorakhpur is like a cow sanctuary, where human beings are in real danger. The rickshaw pullers, bikers, pedestrians, everyone pulls along with extreme caution through the narrow roads negotiating past the holy cows.