When change is the only constant, dynamism is your biggest asset. Over a career that has already spanned around 15 years, Chand T. Mazumdar has optimised her dynamism to enter several industries, from journalism to consultancy, from policy research and advocacy to marketing. While Chand is the first person to admit that "luck has played a major role in my journey", what are the other factors that have made her who she is today? Additionally, what lies at the heart of what she calls "my love-hate relationship with Kolkata"?
On a typically sultry late-May afternoon, My Kolkata spoke to Chand, presently the head of export enablement and marketing at Amazon India, to zoom in on her professional ascent, how Kolkata initially alienated her, how she gravitated to Bengali literature and more.
Edited excerpts from the conversation follow.
Though I love my name Chandralekha, I never truly associated with it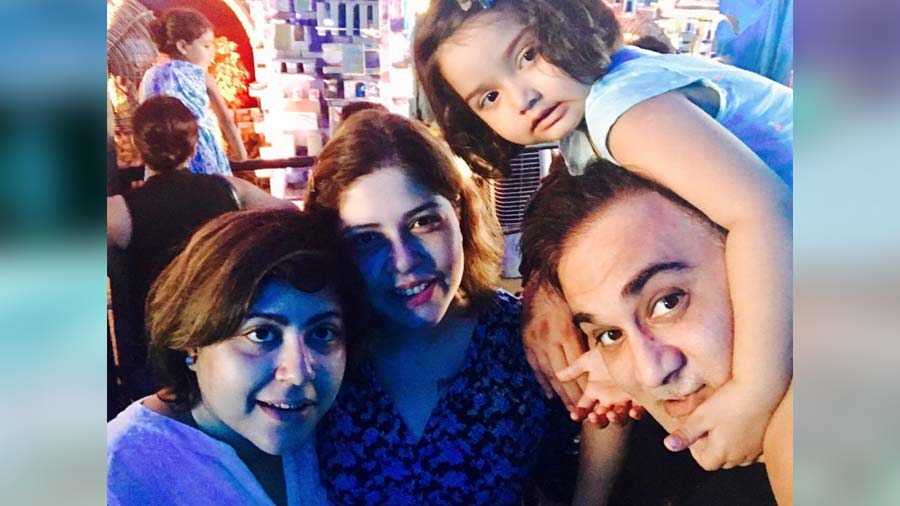 Chand with her sister Ria, her husband Jay and her daughter Rai, whose name was inspired by Chand's love for kirtan and devotional songs
Courtesy: Chand T. Mazumdar
My Kolkata: When you left the city for the USA, Kolkata was Calcutta and Chand was Chandralekha. Now that you are back in the city, how do you look back at the journey that Chand has made from Chandralekha?
Chand T. Mazumdar: It's quite funny how I never thought about this. Before leaving the city, I'd say Calcutta more often, but ever since I've been back, I invariably say Kolkata. But it's definitely been an unconscious change in terms of how I address the city. As for my name, I must say that even though I love Chandralekha, I never truly associated with it. In addition, people used to botch my name, more so abroad. Then there's my maiden name, Tulal, which is now my middle name, and is apparently shared by just 130 people across the world. I've struggled a lot with Chandralekha and Tulal. So, for purely practical purposes, I refer to myself as Chand Mazumdar (Mazumdar being her husband's surname) or Chand T. Mazumdar, which is much more convenient. 
As for my journey itself, I look back with a lot of gratitude. Whatever I've been able to achieve has been possible because of all those who have blazed a trail before me, especially female professionals in all the industries I've worked in, as well as those who've stood by me through thick and thin.
I'd always come back to Kolkata with mixed feelings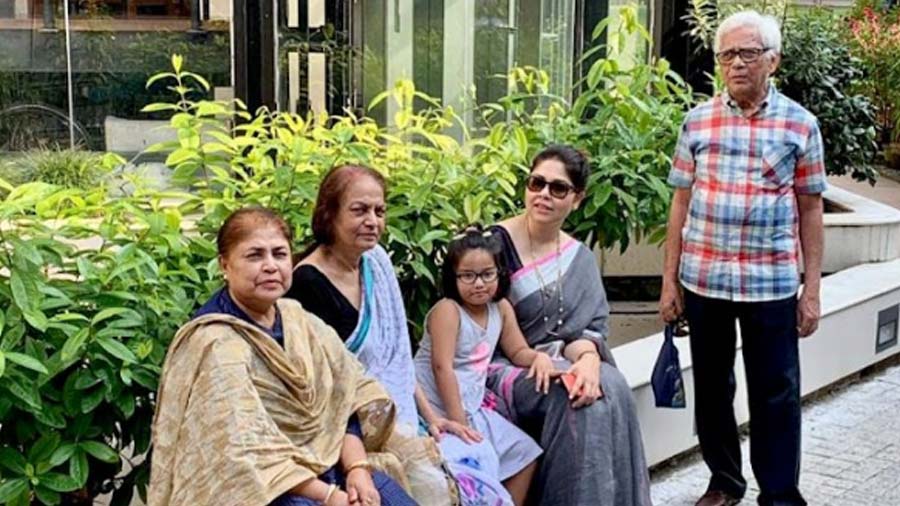 Chand with her (from left) mother, mother-in-law, daughter and father-in-law at the Lake Club, Kolkata
Courtesy: Chand T. Mazumdar
In this phase, when you are dividing your time between here and Bangalore or sometimes Delhi, what does Kolkata mean to you today?
I was born in a hospital on CIT Road, but my ancestral home was in Sodepur, where I used to live till I was 12 years old. At that time when I was growing up, Kolkata was mamarbari for me, because my maternal house was in Bagha Jatin. Then, in Class VII, I joined Ballygunge Shiksha Sadan (BSS) and started living in Kolkata. Initially, I felt somewhat alienated in the city. The fact that I was bullied at school and college, both of which were in Kolkata, didn't help. Once I moved out of the city in adulthood, first to Mumbai and then to the US, I'd always come back with mixed feelings. I wanted to prove myself to Kolkata, almost in a redemptive capacity. Over time, I've developed a peculiar love-hate relationship with Kolkata. Because of my formative experiences, I have memories in the city which aren't very pleasant. At the same time, I love the charm that Kolkata exudes. I love how it still retains its soul.
I really like the Sienna Store & Cafe, but currently my favourite spot is Bunaphile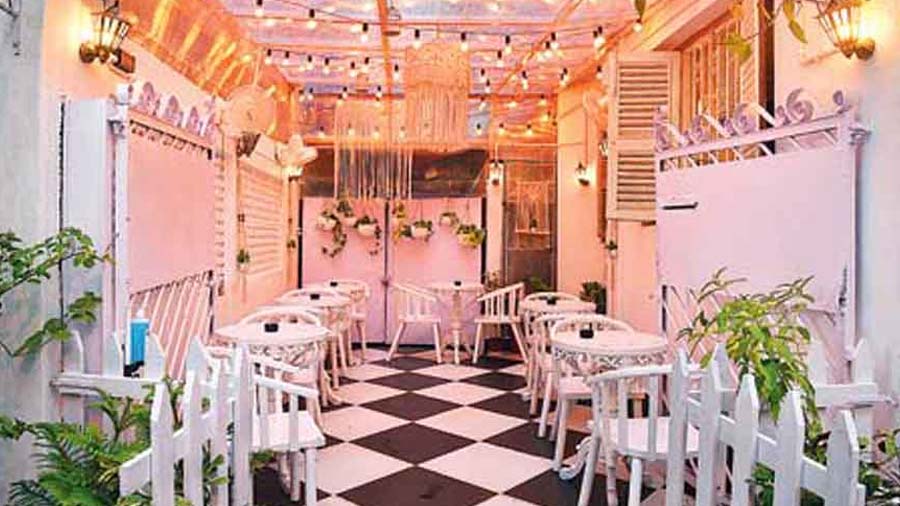 Bunaphile is currently Chand's favourite cafe in her neighbourhood
TT archives
What is your take on the explosion of cafes and eateries in the Purna Das Road-Hindustan Park-Southern Avenue zone where you live?
Since I lived around Georgetown in Washington, D.C, I picked up walking everywhere, from work to university. So, living and walking around in a vibrant neighbourhood comes as a natural extension to that. However, while I love the neighbourhood, I'm not a big cafe-hopper and only visit a few of them from time to time. I really like the Sienna Store & Cafe, but currently my favourite spot is Bunaphile. I'm not much of a restaurant person and nor do I enjoy partying. So, cafes and social clubs are always a fun way to hang out for me with family and some close friends.
I could never have imagined getting my first job in America because of knowing Bengali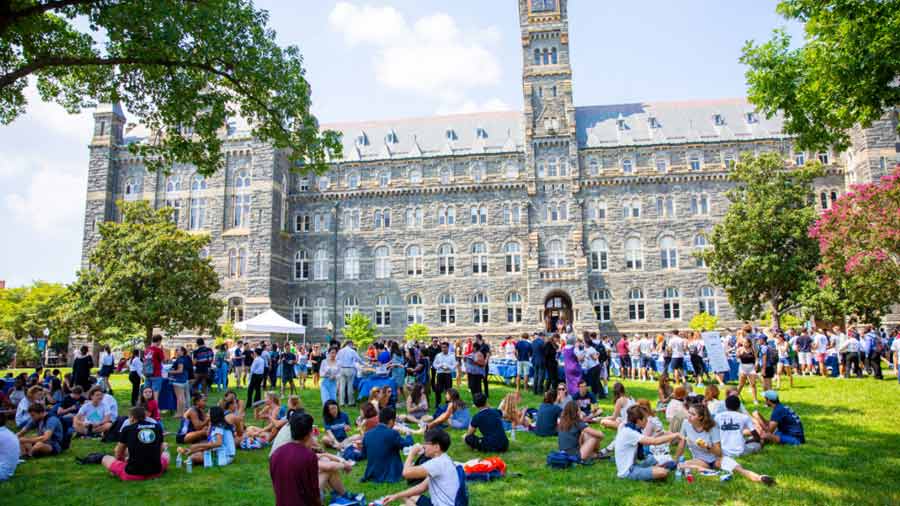 Chand feels she learnt more about India while in the US at Georgetown University than she had done back home
Georgetown University
Could you briefly tell us how you ended up going to the US? And how important was your Master's programme in Public Policy from Georgetown University in shaping your career?
After college and an MBA, I worked at a bank for some time, but didn't really like it. Then I worked with The Telegraph, which I loved. Whenever I think of Kolkata, I look back fondly on my time with The Telegraph. After Kolkata, I wrote for The Telegraph in Mumbai where I covered the stock markets, and that's where I met my future husband (Jay), who was settled in the US. Once in the US, I initially wanted to become a Wall Street journalist. I got a job, too, but was asked to cover the oil and gas beat to begin with, which would've required me to move to Houston, Texas. I didn't want to do that, so I let go of that chance and worked my way through a few customer-facing jobs. That experience actually helped me understand the people and the culture in the US much better.
Gradually, with the help of the likes of Saumitra Dasgupta at The Telegraph, I learnt about the world of public policy in 2008. As I delved deeper into the sector to understand how I can use my skills and experience to get a footing, I found a portal that was looking for Bengali speakers for geopolitical analysis at Georgetown University – which became my stepping stone in the world of policy. Come to think of it, I could never have imagined getting my first job in America because of knowing Bengali! And now that I think of it, to answer your first question – maybe that was the unconscious reason for referring to Calcutta as Kolkata.
As part of my project at Georgetown, we were actually looking at potential viral outbreaks, which, in hindsight, seems so much more consequential. We also looked at political tensions during the time, including the Arab Spring. And all this was before the rise of social media. While doing so, I realised that if you worked at Georgetown University, you were entitled to a fully-funded Master's programme at the university. That's when I decided to pursue my Master's in Public Policy from Georgetown.
At Georgetown, I understood the importance of quantitative analysis in policy making and after graduating, I joined JPAL in New Delhi in 2012, where I got to work with some of the greatest minds. Another interesting part of my time working and studying at Georgetown was the amount of information I acquired about India and the sub-continent, both as part of my research for work and my graduate thesis. I learnt way more about India while being in the US than I had ever done back home.
Finding connections between different disciplines is important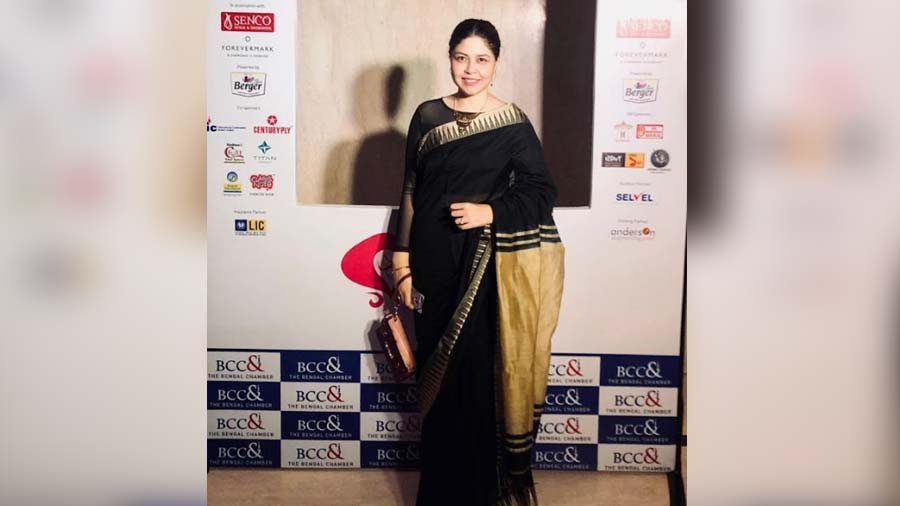 Chand feels that her ability to look at the bigger picture has held in her good stead throughout her career
Courtesy: Chand T. Mazumdar
You have worked in so many sectors, from media to consultancy, marketing to policy research and advocacy. Which sector have you enjoyed working in the most? What do you think are the overlapping skills that have helped you adapt to these different sectors?
Along with skills, I'd say what has held me in good stead is my ability to keep looking at the bigger picture. I feel that everything is interconnected. I had read somewhere that if you look at human evolution and keep going back in time, you realise that it's all about history, and then geography, and then chemistry, biology and physics (in that order). I've always felt that finding connections between different disciplines is important. Across my career, I've seen how my skills as a journalist have proven useful in advocacy, how my analytical qualities have aided me in policy. It's this interconnectedness that has helped me adapt more than anything else. 
As for which sector I've enjoyed working in the most, I'd say I love what I'm doing right now. This is mainly because in my current role at Amazon, I'm getting to deploy everything I've learnt in the past, from my experience in journalism and media to my time working on policy and research. On top of that, I'm also getting to learn marketing, which really makes things exciting!
Uber is a service you desperately need in a country like India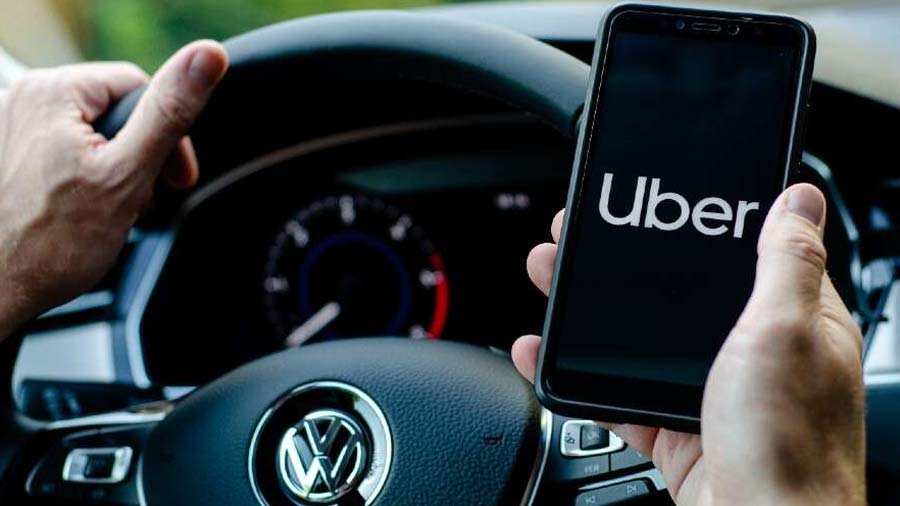 Chand explains how Uber created a disruption after entering the Indian market, making it more challenging for regulations to keep pace
TT archives
Before Amazon, you looked after mobility and public policy at Uber India for three years, which meant dealing with all kinds of regulations. How exciting and how frustrating was that?
I've always believed in Uber's mission and that it's a service you desperately need in a country like India. When you're inventing something or disrupting a sector, there are always new and unexpected learnings. The key to navigating regulations is to realise this and take it in your stride. One specific issue with regulations concerning Uber was that there had been very little by way of policy or laws governing public transport in India. Once Uber came in, it created a disruption, and as we know, tech usually outpaces regulation everywhere. So, dealing with scenarios where regulations were trying to catch up with the march of tech through Uber was challenging. But it was compelling, too.
At Amazon, each day you get to learn something new; the 'Day 1' philosophy is incredible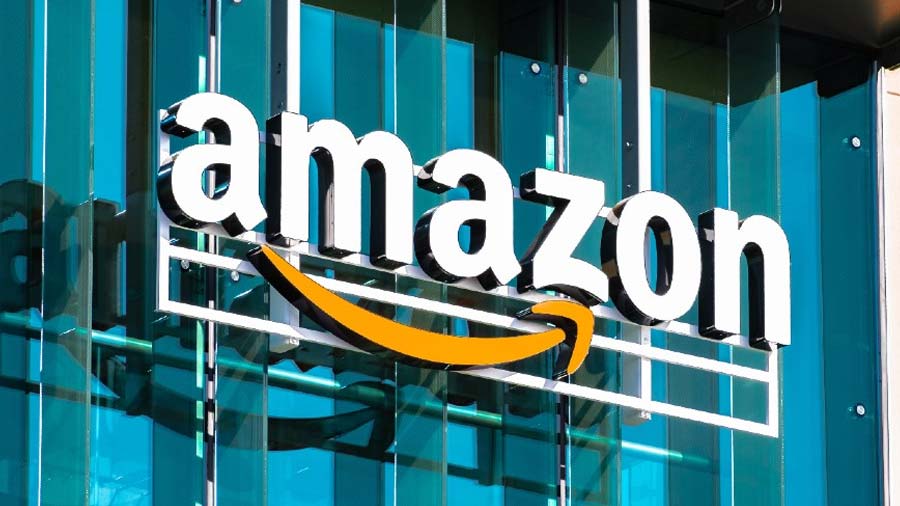 At Amazon, Chand regards the biggest challenges to also be the biggest opportunities
TT archives
What exactly are your roles and responsibilities as the head of marketing and export enablement, global selling for Amazon?
I look after export enablement and marketing. As part of marketing, I play a role in bringing new sellers on board at Amazon who can register on our global marketplaces to add to their revenue and growth. Export enablement requires me to identify and solve the challenges that exporters face, which my team and I try to do by innovating or partnering with other companies or governments.
What do you see as the biggest challenges and opportunities in working with one of the largest companies in the world? 
I know it sounds cliched, but sometimes the biggest challenges are also the biggest opportunities at a place like Amazon. One of the great things about being at Amazon is that each day you get to learn something new, in part because of all the great minds that are there in the company. Amazon's "Day 1" philosophy (where you treat every working day as your first in the job) is incredible.
Collecting high quality data is no joke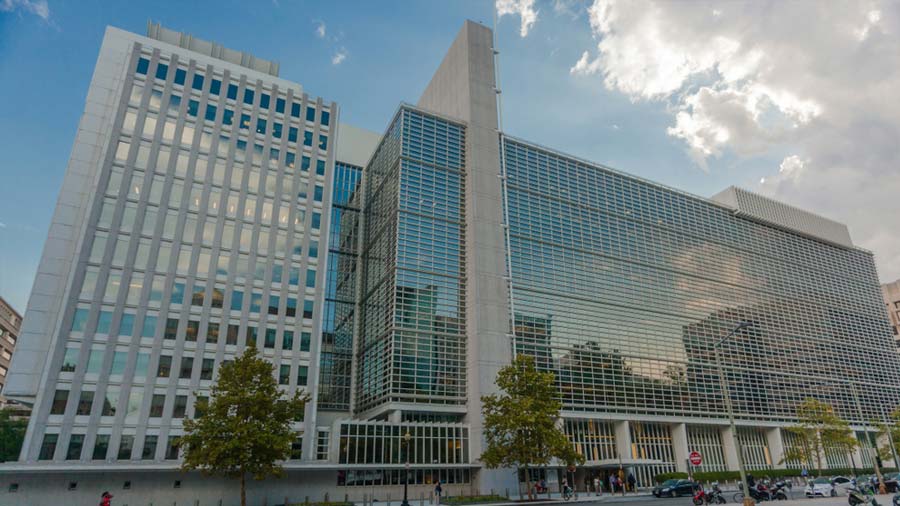 Working at places like the World Bank was almost like running mini-enterprises, says Chand
TT archives
You have worked as an Evaluation Consultant, first at the International Food Policy Research Institute (IFPRI) and then at the World Bank. What were your most significant takeaways in that role? 
I think what really stood out was the sheer scale of the projects. Because of the intensity of the data collection process and everything that it involved, from securing funding to managing logistics, the work almost resembled running mini-enterprises. Collecting high quality data is no joke, and that's something I learnt to appreciate while working at JPAL and later at IFPRI and the World Bank.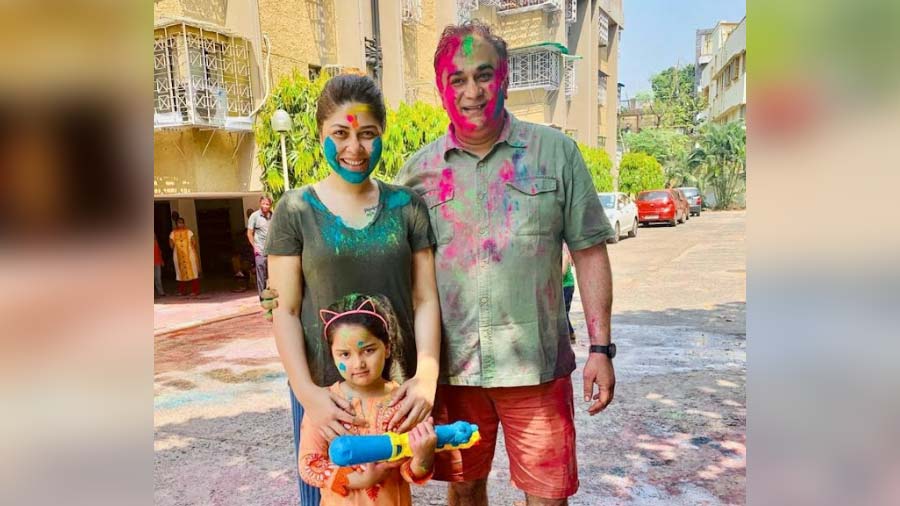 Chand is grateful for the exposure she had while working in the US and interacting with people from all over the world
Courtesy: Chand T. Mazumdar
You have worked extensively with and in the private sector in the US and India. What are the biggest differences in the work culture in both countries? 
In terms of the sectors I've worked in, the work environment in the US is more diverse, which means you're developing connections with people from across the world. I've worked with colleagues all the way from Japan to Brazil, so that kind of exposure has its own value. Whereas, in India, it's different and that comes with its own set of learnings. I've loved working in both countries and have had the pleasure of collaborating with amazing teammates. But to some extent, I also believe that the experience you have depends a lot on the kind of people you wish to seek out yourself.
I want to make sense of life after death through a combination of science and spirituality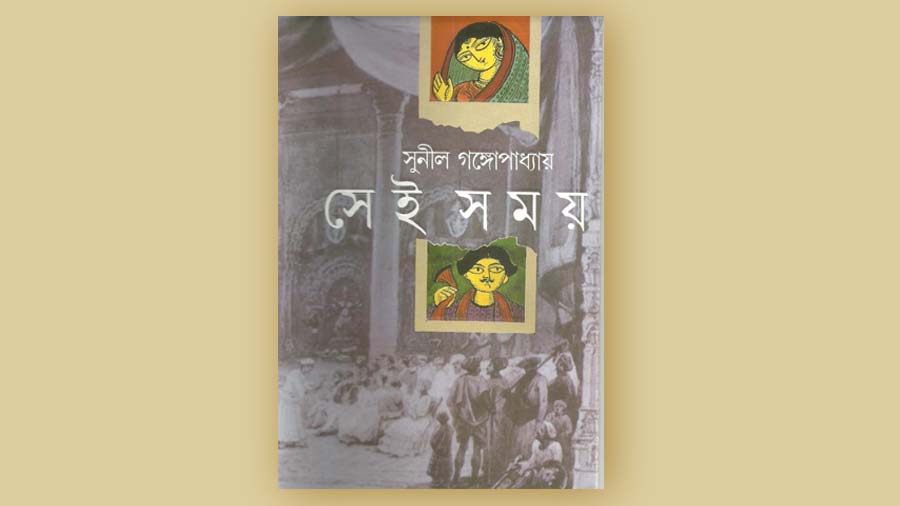 'Sei Somoy' by Sunil Gangopadhyay is Chand's go-to book in terms of Bengali literature
What are your hobbies and interests? What do you do to zone out?
I just read, both for work and in my leisure time. I've been that way since I was a child. Earlier, I used to read a lot of fiction, but now I've shifted mostly to non-fiction, at least in English. Since my father introduced me to the world of fiction, I've struggled to read fiction ever since he passed away. After his death, I feel I wanted to make sense of life after death through a combination of science and spirituality. But I'm glad about how after I came back to India, I got a chance to rediscover Bengali literature. I lost my father within a few months of coming back to Kolkata, but I was lucky to find another friend and mentor in the city, who patiently helped me with exploring Bengali literature. I'm also trying to practise Vipassana meditation and had recently gone for a 10-day course at Dhamma Ganga in Sodepur. 
Any books you have liked recently that you would like to recommend to our readers?
I'm currently reading Yuval Noah Harari's Sapiens, which is fascinating. The last Bengali novel I read was Gora. But if I have to pick a favourite, it'll be Sunil Gangopadhyay's Sei Somoy, where I'm haunted by the character of Bindubasini because of all that she represents about the struggles of being a woman.
Own up to your choices… don't settle for half-measures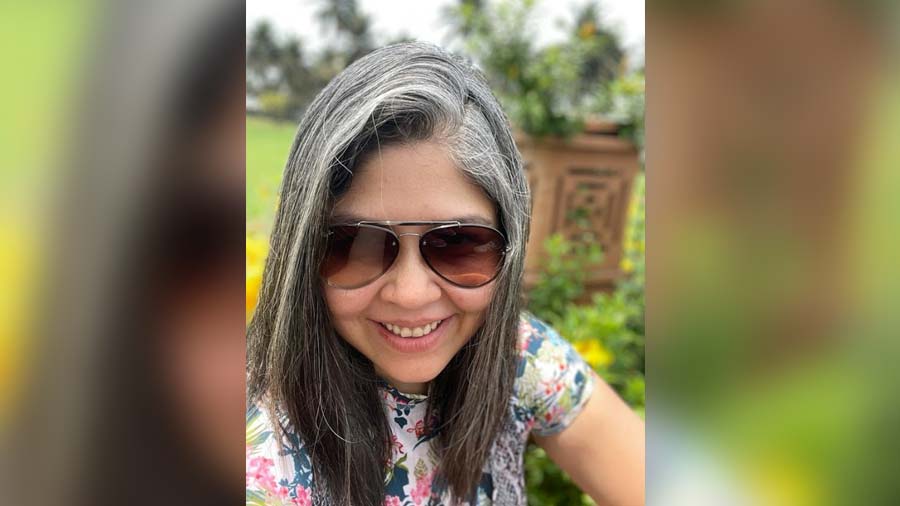 According to Chand, it is important to not be too harsh on oneself
Courtesy: Chand T. Mazumdar
Finally, if a young Chand/Chandralekha is reading this in Kolkata and aspiring to a diverse and dynamic career path like yours, what would you tell her?
Whenever you change something and take a major step in life, there are innumerable invisible challenges to that. So, what I'd like to say is that you have to own up to your choices. At the same time, don't be too harsh on yourself for the things that you get wrong. Taking risks isn't easy, but if you believe in something, don't settle for half-measures. Moreover, don't assume that your problems are just your own. Over time, you'd see that a lot of people have felt the same way. And to close, I'll say again that I've been lucky to always have people in my life who have taught me valuable lessons and propped me up in their individual ways – I am eternally grateful for their kindness.