When Zoya Parvin was drafting the script for the inter-house drama competition in school, she didn't dream that 15 years later she might be scripting her very own short film. From gaining a certain proficiency with Hindi (she's come a long way from asking for "Murgi ka roll") to mastering the unspoken rules of the Mumbai local train, this Kolkata girl has been steadily working her way up the pecking order of the film industry. After having assisted on 24, Sacred Games and Gully Boy, amongst others, she has recently written and directed a short film which is now out on Amazon miniTV.
Clean is a subtle exploration of complex sibling relationships juxtaposed against the backdrop of substance abuse. "I think we should regard it as something that one can recover from and believe that there is a life beyond that," says Zoya. "Here, we have two sisters, where one is trying to move past her addiction and there's the other who's had to deal with those consequences and is kind of tired of it. And yet in a sibling relationship, you're almost biologically programmed to love the other person."
The Backstory
As an adolescent, Zoya had always been interested in telling stories, though she didn't dream that filmmaking might be a viable career option. "If I'd known at 12 that I could be a filmmaker, I would have started filming on the first phone I received," says the Loreto House alumnus. What she was told, as children often are, is that she "can't". In this case, it was implied that she can't in fact be an elf on stage; she was too tall, too large, too much? A decade later in Mumbai, she discovered too much wasn't a problem. Too much enthusiasm is what she had, supplementing what she lacked in experience. 
As an intern, she was told to "walk the actors" which meant nothing to her then but it gave her a sense of purpose anyway. She was also told to make a call sheet, which she'd never done before. "It's basically a document that's sent out before the next day's shoot. It gives us an idea of which scenes to prepare for, what time actors are going to arrive, when to expect lunch break, and all of that. I learnt that as an intern, you help firefight all the time."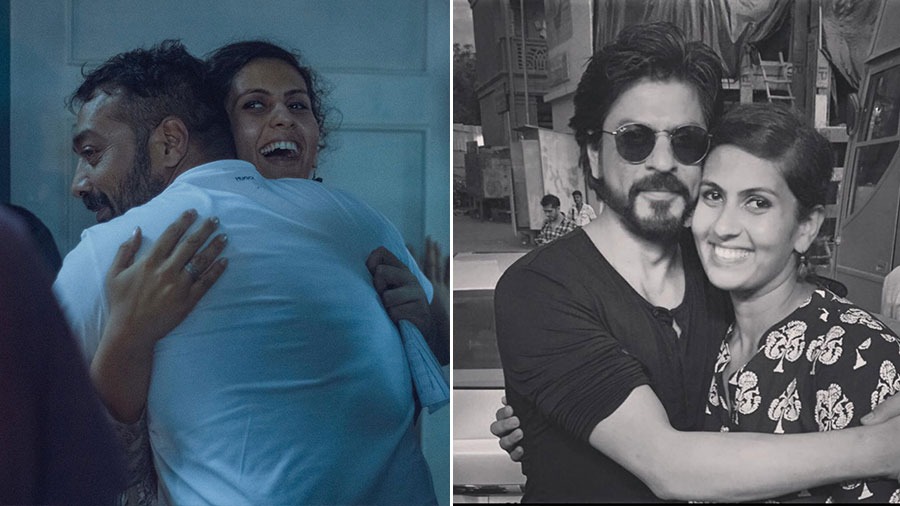 (L) With Anurag Kashyap on the sets of 'Choked'. (R) With SRK on the sets of 'Raees'
The firefighting prepared her for her work as second assistant director on 24, Raees, Gully Boy and later as first AD on Sacred Games, Choked and the Ghost Stories vignettes by Zoya Akhtar and Anurag Kashyap. "The thing is, I love being an assistant director. A lot of people look at it as only the stepping stone to being able to direct their own movies, because what an AD does is bring to life the director's vision. But I think it's such a cool day job to have… I actually love the high-stress situations," laughs Zoya, going on to mimic just another day at work – "Hi, I can't talk to you right now because I'm going to go blow up two cars!"
'This is what I want to do, I want to take creative risks'
Working with Kashyap and Akhtar have been the highlights of Zoya's career. "I can't walk away from any of these experiences without being really grateful for having had the opportunity to work with them. It's been most rewarding and it makes me feel very privileged," admits Zoya.
Later, it was Kashyap who encouraged Zoya to work on her own project, which is how Clean came to be written in three days. "This is the kind of film that I want to tell, the story that I want to create. At the end of the day all of us have stories to tell whatever it is. I believe that when you work on things that are different from what you would personally create, you end up finding your voice."
Besides pushing her to write and direct her own short film, Anurag Kashyap also wrote the dialogues for Clean. Having dived into the choppy waters of film direction under his watchful eye and then learning how to swim, Zoya likes to pay it forward sometimes, with Zoom sessions for young people aspiring to be assistant directors. She discovered during the pandemic, when she stayed home with no work for the first time in eight years, that there were a lot of people who wanted to learn the ropes.
The learning process is, of course, constant. Before she got on the sets of Clean as a director, Zoya was nervous. She had to learn to let go of all the first-AD practices. "As a director you get to disengage from the logistics and concentrate on the creative. And I discovered that I love it. This is what I want to do, I want to take creative risks."
She's also learnt to trust herself, even though sometimes she forgot she was directing the short film and found herself stepping back from the sets when everyone else was asked to clear!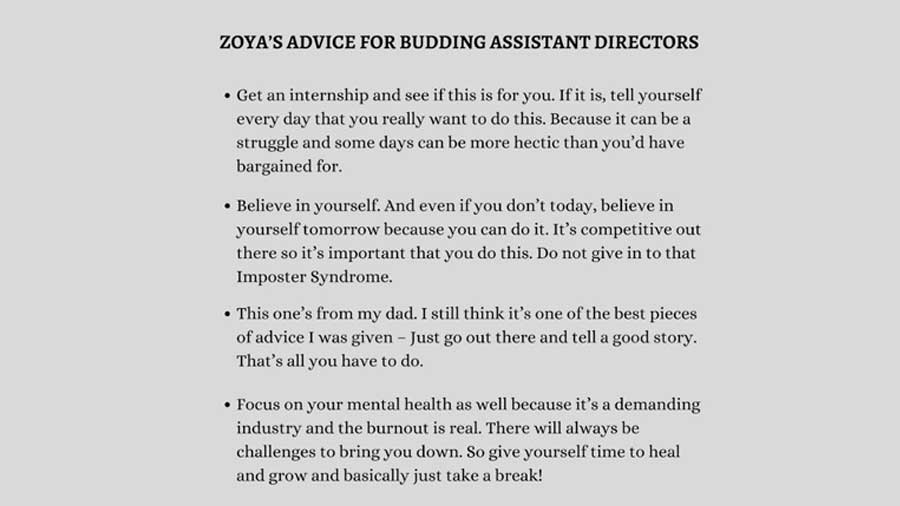 The city of dreams vs daydreams
It took a pandemic for Zoya to discover that she likes to bake and cook. Besides making movies, she's also been making dark chocolate bread, strawberry gateau, salted caramel-apple galette, or perhaps just a Muhammara. And when she sits down to breathe (which is not very often, despite above advice), scenes from Kolkata come floating back to her in a stab of nostalgia – the church attached to her alma mater Loreto House, rolls from Golden Spoon (which, for Loreto girls, have always taken precedence over rolls from Kusum's), the breakfast table at home…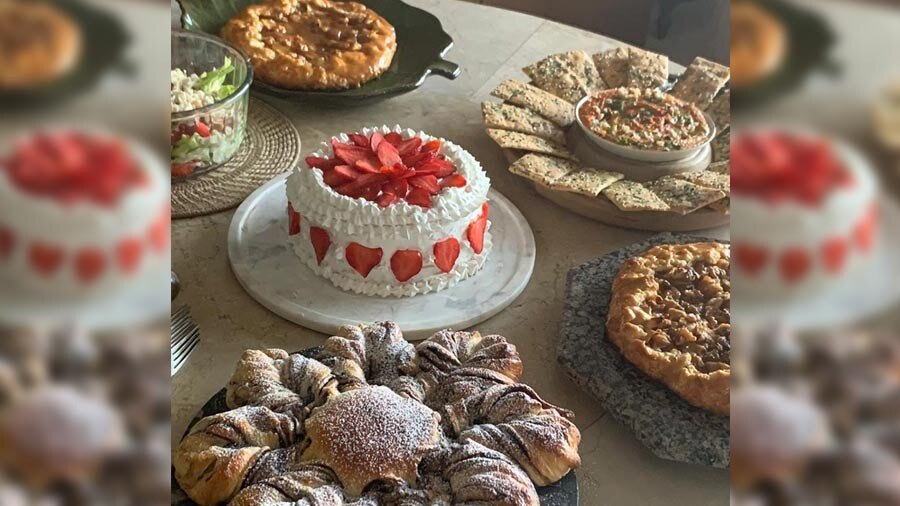 Getting used to new sets during the pandemic…
But the fast lane doesn't allow her to wool-gather too long. "It actually is the city of dreams," she says about Mumbai, even while often dreaming about Kookie Jar. Zoya is currently working on writing a feature film – if only that 15-year-old girl scribbling a script for Kennedy House knew what lay ahead.