Winning is as much an instinct as it is a process. Serial winners not only know how to execute the right thing at the right moment, but also possess the unteachable knack of owning the grandest occasion.
On May 28, Rafael Nadal was in the stands at Paris' Stade de France to witness Real Madrid get past Liverpool in the UEFA Champions League (UCL) final and claim their 14th European Cup, twice as many as second-placed AC Milan.
Eight days later, Real Madrid shirts bearing the number 14 graced the Philippe Chatrier Court in the French capital as Nadal outgunned Casper Ruud in straight sets to seal a 14th Roland Garros title, eight clear of second-best Bjorn Borg in the open era.
Out of their eight Champions League final appearances since the rebranding of the competition in 1992, Real have won all eight. More impressive still is Nadal's record of never losing a final at the French Open. A perfect 14 out of 14.
But how exactly do they do it? What goes into making success so repetitive that it becomes the norm? My Kolkata looks to find the answers by analysing what constituted Real and Rafa's latest triumphs and the victory potion that is Formula 14.
The magic of myth-making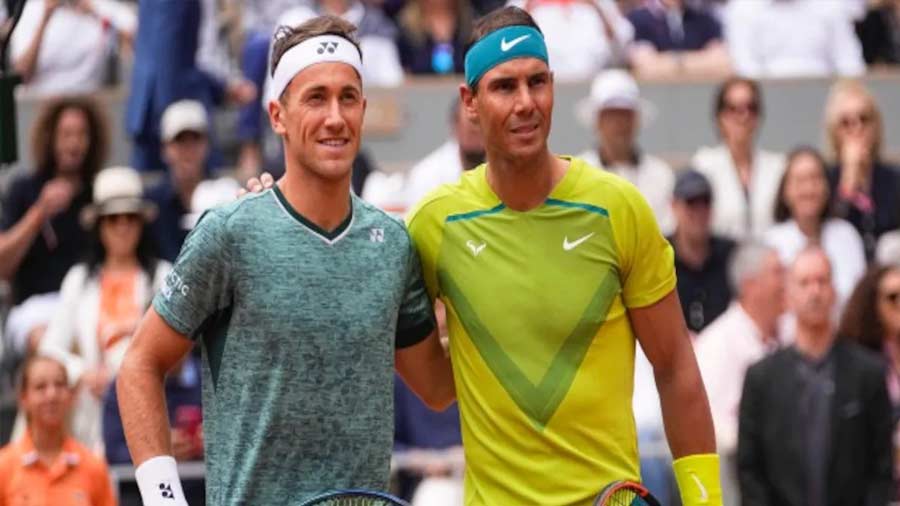 Casper Ruud was in attendance as a fan when Nadal won the French Open in 2013
Roland-Garros
"This is the first time I've faced you, so now I know what it's like to be the victim…there will be many others," said Ruud after Nadal beat him 6-3, 6-3, 6-0 on Sunday. Ruud's devastating defeat was proof of how they do not teach you the secret to beating Nadal on clay at the Rafa Nadal Academy, where Ruud had trained in his younger days.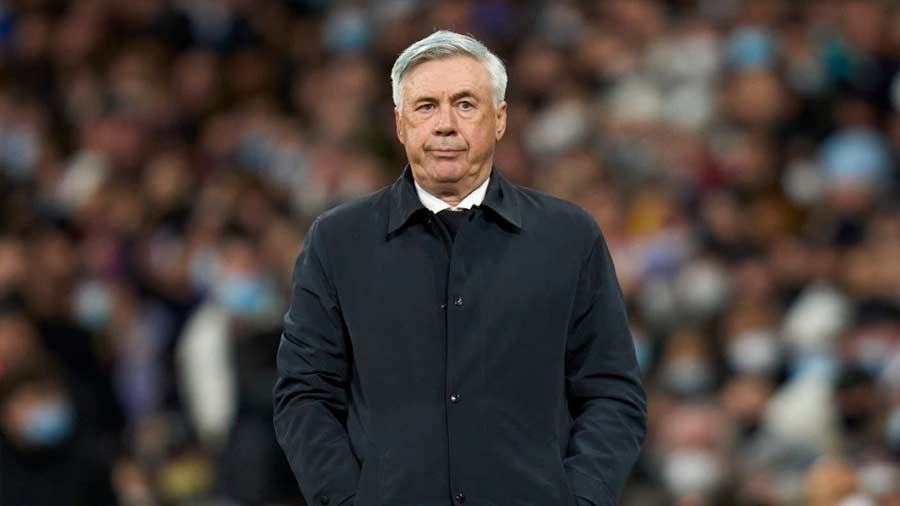 With four Champions League titles to his name, Carlo Ancelotti has become the most successful manager in the history of the competition
UEFA
"We don't play finals, we win them," said Carlo Ancelotti to his players on the eve of this season's Champions League final, hours before Real's Vinicius Junior would snuck in behind Liverpool's Trent Alexander-Arnold to net the only goal of the game. Just like that, Real had done it again, triumphing in a tournament that is inextricably linked to their heritage as Europe's most decorated club.
The myth of Real in the Champions League and Nadal at Roland-Garros is not merely one of invincibility — it is one of inevitability. It does not matter if Real or Nadal are playing well. It does not matter who is at the other end. It does not matter if the pitch is too patchy or the court is too fast. In the end, Real and Nadal win because they are supposed to.
Digging deeper than the rest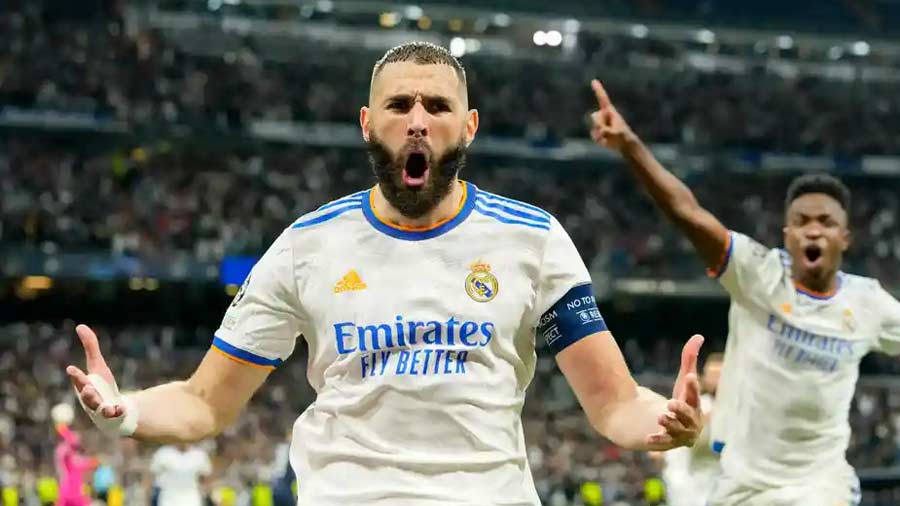 Real Madrid produced three of the most sensational comebacks in UCL history en route to the final this season
UEFA
2022 has not been a vintage year for Real Madrid. With an ageing side that has lacked a distinct style of play, Real were humiliated by arch-rivals Barcelona in La Liga in their own backyard in March. But they took that loss in their stride, before adding to their spectacular comeback against Paris Saint-Germain (PSG) in the Champions League's round of 16 with even more implausible turnarounds against Chelsea and Manchester City.
The likes of David Alaba, Luka Modric, Toni Kroos and Karim Benzema, veterans in the twilight of their careers, seized the most tense moments with authority and application, calming the rest of the team down. When Real had their backs against the wall, their manager Ancelotti put his faith in the senior players and rarely changed the game plan, all the while strutting along the touchline as if walking an imaginary dog with his left eyebrow permanently raised.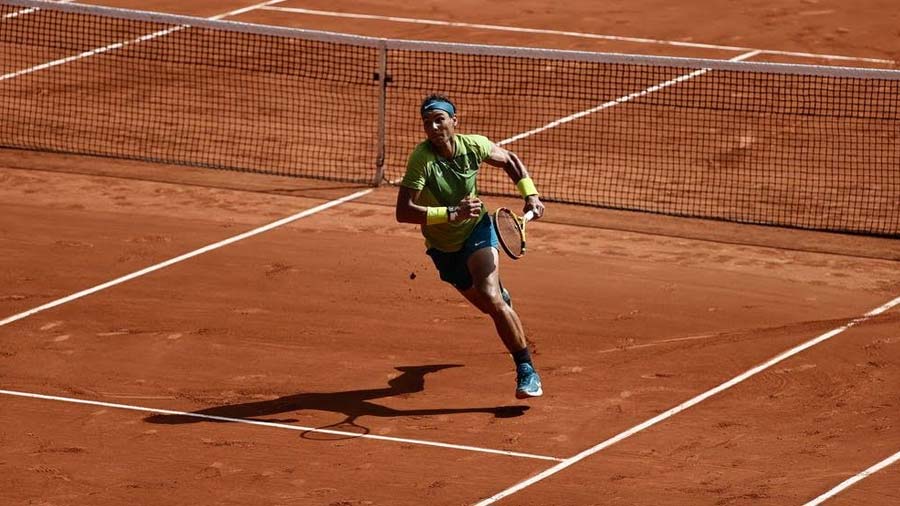 Nadal chasing a lob played by Ruud in the final
Roland-Garros
As for Nadal, 2022 is the first calendar year in which he has won both the Australian and French Opens. But that does not mean he has been at his dazzling best. After being ruled out for most of the second half of last year, Nadal has been plagued by a foot injury all through this one and did not have anything like the clay court practice he is used to ahead of Roland-Garros when fully fit.
Nadal's win in Melbourne, which broke his Grand Slams tie with Roger Federer and Novak Djokovic, carried an asterisk because the former was absent and the latter, unvaccinated, was denied a chance to play by the Australian authorities.
In Paris, however, nothing came easy, with Nadal taking on top 10 players in each of the last four rounds. For the first two sets of the final against Ruud, it felt as if Nadal had forgotten his serve in the dressing room and had to rely far too much on his fallible backhand. But come the bagel that was the third set, everything started clicking into motion as Nadal put on a clinic, even indulging in the odd serve and volley setup to show that he still had it all.
Whenever they struggled, both Real and Nadal went back to the basics of Formula 14: keeping things simple (which, for Nadal, still involves half a dozen ticks before his serve!), playing to their strengths, and digging deeper than the rest to absorb pain and pressure. Once the tricky situations were resolved, everything else simply fell into place, as it invariably does for them.
The golden chapters ahead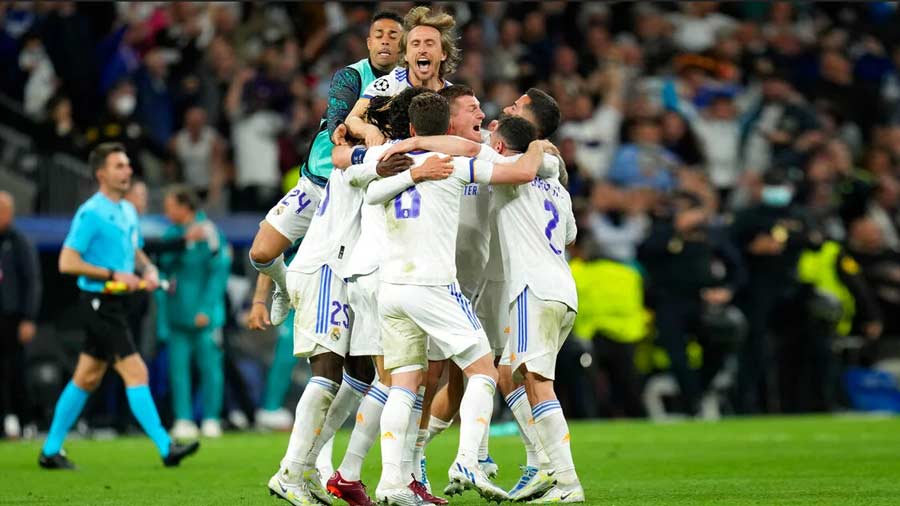 Real Madrid are expected to splash the cash in the summer transfer window
UEFA
Spanish and European champions Real Madrid should have a busy transfer window this summer, with all the money saved up for French forward Kylian Mbappe (who turned them down to stay at PSG) ready to be spent on reinforcements across the pitch.
In Ancelotti, they have the most successful coach in the history of the Champions League, and come next year's final in Istanbul, Real will be contenders once more. It is worth noting that the last time Real unseated another club to become UCL champions, they went on to claim three titles in a row, a feat yet to be matched before or after. Now that they are back at the pinnacle once more, a similar run of sustained glory is the next target in sight.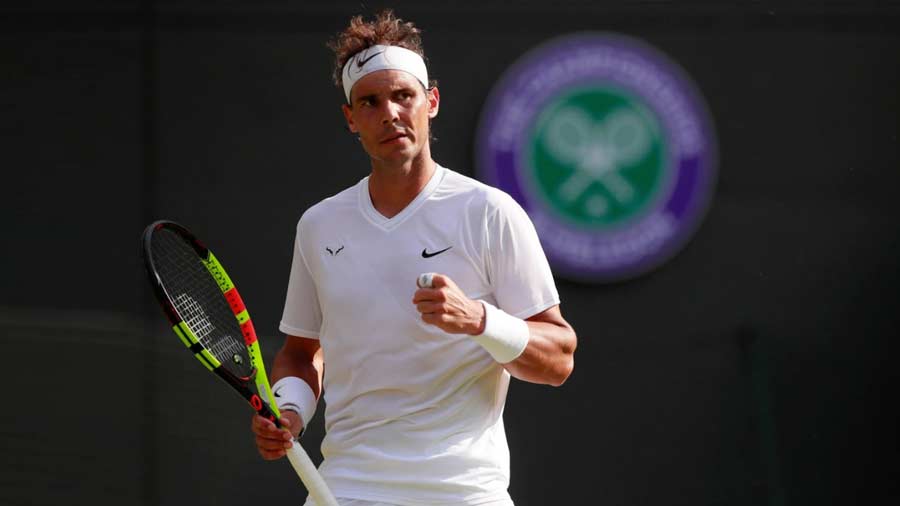 Nadal is likely to compete at Wimbledon this year, though his chances on grass will be far slimmer than those on clay
Wimbledon
As for Nadal, the oldest men's singles winner at the French Open, there is still no clarity over how much the 36-year-old has left in the tank. While he has hinted that every Grand Slam he plays these days could be his last, the tennis he keeps producing firmly rebuts the idea that the end is near.
Even though the grass courts of Wimbledon may not prove particularly profitable for Nadal, expect the 22-time Grand Slam champion to be in the running for the US Open in September, before the prospect of eat, sleep, win and repeat is dangled once more in Paris next summer.
While the golden chapters ahead may yet tell greater tales, it is worth acknowledging the absurdity that two of the toughest sporting competitions have served up in the modern era. Real Madrid in the Champions League and Rafael Nadal at the French Open have normalised the exceptional, converting winning into an art that feeds off its own self. In doing so, they have carved out a legacy which, while incomplete, has already become impossible to match.